THE QATSPY GOLFER'S PAGE

By: Charles W. Boatright
First, I would like to acknowledge the PGA, sponsors, and organizers of the 1973 Greater New Orleans Open Invitational that honored a group of unsung heroes that served our country with dignity, and respect in silence during the Vietnam War that was honored at a PGA Pro-Am. This is something that we needs to continued.
Before the title was The Zurich Classic of New Orleans, this tournament was called The Greater New Orleans Invitational Open from 1939 to 1979. At its conception in 1938, it was named The Crescent City Open. The winners of this tournament reads like who's who, of professional golf world with names like Sam Snead, Byron Nelson, Ben Hogan, Lee Trevino, and Jack Nicklaus just to name a few. But in March of 1973 it played host to one of the most remarkable amateur Veteran golfers during the Pro-Am.
What was more remarkable about this Pro-Am was it honored the POW's of the Vietnam War that were just released on February 12, 1973 from The Hanoi Hilton in Hanoi, North Vietnam. A few of the POW's accepted the invitation to play in the Greater New Orleans Pro-Am just six weeks after their release. Six weeks earlier these P.O.W's were wearing their red stripped prison uniforms, called pajamas. One of these participants was Colonel George Robert Hall from Hattiesburg, Mississippi that was held as a POW at The Hanoi Hilton for over seven-and-a-half years. Before Col. Hall's deployment and capture in North Vietnam, Col. Hall had a single-digit handicap of four (4). While at the Naval Academy he served as the captain of the Naval Academy golf team. Before his acceptance into the Naval Academy at Annapolis, MD, Col. Hall attended the University of Mississippi in Oxford, MS.
I had the opportunity to meet, talking, and having an impromptu interview with Col. Hall in March of 2002 while I was attending a meeting with major supplier at the Hattiesburg Country Club in Mississippi. Hattiesburg is just about 80 miles south from where I live, in Madison, MS. Colonel Hall was at the country club organizing a fund raiser for the Vietnam War Veterans at the time we met. Col. Hall was gracious enough to take the time to talk with me over a glass of ice tea.
Not only did I have a opportunity to discuss his experience as a POW at the infamous Hanoi Hilton, but I was also able to asked him some questions how golf allow him to survive his seven-and-a-half year under horrendous conditions and treatment. Below is Col. Hall POW story and my interview that I was able to have with Col. Hall, an American Hero.
Some people might not recall the details of the Vietnam War, but this war produced some of the most outstanding people we have in our country and communities today. Their accomplishments and achievements should not be forgotten or diminished, and should be compared to the achievements of the Greatest Generation (Veterans from World War 2 and Korean Conflict). We can learn a tremendous amount from these Vietnam Veterans about their mental toughness and discipline.
Colonel George Robert Hall, U.S. Air Force Pilot, was shot down over North Vietnam on September 27, 1965. The reason I noted Colonel Hall's situation as a P.O.W. in an article about golf is because he used his love of golf to sustain himself through horrendous conditions of being a P.O.W., while held with others at the Hanoi Hilton. Colonel Hall with other P.O.W. were able to train their minds in the field of science, math, language, and sports. Colonel Hall particularly used golf to not only keep his sanity under adverse conditions, but to maintain his single -digit handicap in golf. This proves golf like most sports is a mental game. Even Bob Jones stated "Golf is a game that is played on a five-inch course – the distance between your ears." Colonial Hall took advantage of the 90 percent mental part of golf.
For additional background on what these men experienced as a P.O.W.'s, there is a book by Colonel Edward Hubbard entitled "Escape From the Box."
These P.O.W.'s were sociologically and physically tortured and held in solitary confinement for weeks and months, without any contact with the outside world. Their prison cells became their only world of existence. Colonel Hall took advantage of his isolation and confinement to increase his mental ability to focus, or what athletes refer to as being in "THE ZONE."
Colonel Hall was held prisoner for seven-and a-half years, until his release on February 12, 1973. During his confinement, Colonel Hall heightened his mental and visualization skills to develop a virtual golf course in his cell and more importantly his mind. This was done by Col. Hall directly linking his conscious with his subconscious mind. He imagined himself dressing for his round of golf each day by putting on his golf socks, pants, shoes, T-shirt, and golf shirt, and picking up his golf cap and bag of clubs and heading to the course. He mentally dealt with his nerves on the first tee box and played each and every hole of his home course and Pebble Beach, without missing a single sight or sound of each stroke. He remembered writing down the score for each hole. He pictured the fairways, greens, and the trees, including the rough and the speed of the greens. He even compensated for the wind to make his club selection.
Colonel Hall imagined standing behind the ball to get his alignment, going through his setup routine, presetting his wrists, and taking the club back up to the top of his swing, and then dropping the club back down into the slot. He focused on the part of the golf ball that he wanted to impact where his thumbs were. He heard the sound that the clubface made with the ball and held his photo finish position. He reiterated during his recount of his experience as a P.O.W. how he used his thumbs for the handle of the club and clubface. Col. Hall explained that he couldn't use the floor of the cell to place the virtual golf ball. For his mental recreation, he had to re-orientate the position of the golf ball from the ground up to the thumbs. He explained the thumbs were critical recreating the golf swing.
Colonel Hall mentally maintained his golf swing muscle memory, even as a P.O.W in solitary confinement. Upon his release from the Hanoi Hilton, the first thing that he wanted to do was to play his first round of golf. He did a little better than that. In less than two months from his release on Feb 12, 1973, he was playing on one of the biggest stages in golf. On March 21, 1973, Colonel Hall was invited to play in the 1973 New Orleans P.O.W. Pro-Am Open, where he shot a 76, his actual handicap. This was after seven-and-a-half years of not even picking up a golf club, or having any physical conditioning. Not many professional golfers would even consider attempting such a feat. Colonel Hall lost about 100 pounds of his total weight, including muscle mass, during his captivity and still had an outstanding performance. The weight loss was due to the P.O.W.'s daily rations of approximately 300 calories, that is a sixth of the calories the average human consumes each day. (By the way, Jack Nicklaus won the 1973 New Orleans Open.)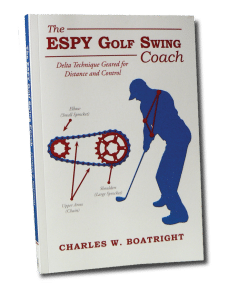 In my book, I use a conjunction of two words, mental and visualization, to create one word, "Mentalization." The mind works more effectively if it can follow a well-established sequential process of word association. This was the mental incrementalism that Colonel Hall used as a P.O.W. This mental process Mentalization allows the golfer to use one of the strongest components in their golf swing, the subconscious mind. The subconscious mind can be at its optimum capacity and capability when the subconscious mind can establish on one element at a time in the sequence of the golf swing. The ESPY Golf Swing has three very simple (E) ergonomic elements (SYNCH, PROTRACT or PRESET, and YAW) that the golfer can work on anywhere and at anytime. This is the advantage of the ESPY Golf Swing, in that the golfer can take it with them almost anyplace they are. Colonel Hall proved this can be accomplished.

By presetting the wrists (REMEMBER: the wrists are comprised of eight small bones called carpals and not the lower forearms) with the SYNCH and PRESET elements, the golfer places their hands and the club into the LOCK position as noted here in this illustration. This was a sketch done of my grandfather Homer Boatright in one of my spiral binders. The LOCK position indicates that 80 percent of the total golf swing has been completed just by using two simple elements. This is the same muscle memory that most of us developed in our baseball-type swings. The YAW and DROP elements represent the remaining 20 percent of the golf swing. Guys, it doesn't get any easier than this. Remember golf is mental game, one of Yogi Berra's best Yogi-isms, "Baseball is 90 percent mental; and the other half is physical." Matter of fact, the golfer can incorporate their baseball-type swing into their golf swing with some adjustments mainly to the lower body and hips. This is significant because the muscle memory established during the early years playing baseball are called Auditory muscle memory. This can account for 60 percent of your training for your golf swing.
The major advantage of a process like the ESPY Golf Swing is that there is no downtime. Colonel Hall again proved that downtime is not a matter of fact. Mental lapse does not have to be the case for golfers, even during the long winter months. The key is to always focus on the process, instead of the results. Results will take care of itself if the correct process is in place. Colonel Hall proved that the process of muscle memory is more essential than the results. Colonel Hall being held as a P.O.W. could not even imagine what his results of his mental exercise was going to be until the New Orleans Pro-Am, but he had confidence in his sequential process.
This mental approach to golf was verified by Colonel George Robert Hall's process, by maintaining his mentalization of his game. After his seven-and-a-half years of captivity, he played in a pro-am tournament and recorded a 76, less than two months after his release. He credited his muscle memory process during his captivity of shooting his handicap. So next time someone tells you that they focus more on the process than the results, you know exactly what they are alluding to in their statement. Now, no excuses for golf rust over the winter months!
The PGA has been working with our Veterans since World War I to help them transition back into civilian life and The Greater New Orleans Open Pro-Am was no exception to this commitment. Golf is a great venue to deal with Post Traumatic Stress symptoms.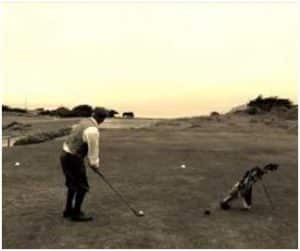 I was in the process of validating some of the research I did for a book including instruction material in two spiral binders of notes I made while playing golf with my grandfather Homer Boatright. (This photograph is of my grandfather taken at North Hills golf course in North Little Rock, Arkansas in 1948. This course was designed by Robert Trent Jones in 1938). The ESPY Golf Swing Coach that I had the pleasure of writing was based on material I gathered in three Xerox boxes included the interview I had with Colonel Hall that he was gracious enough to provide in my interview with him. The following are seven of the questions that I was able to ask and Co. Hall replies:
Question No. 1
BOATRIGHT: "What did you use as a golf club?"
COL. HALL: "I used my left thumb and a small wooden stick that I hid in my cell to represent the handle of the club, and placed my right hand around the left thumb. This also gave me the opportunity to maintain the correct grip pressure on the handle of the club and preset my wrists, as I did when I played golf on a regular basis."
Question No. 2
BOATRIGHT: "What was the key component in your golf swing to give you the most realistic feel, since you did not have a golf club or experience the results of your golf shots?"
COL. HALL: "Everything had to be associated with my hands and wrists. I could not think about the floor as the ground or as my reference point. If I could preset my wrists in the proper sequence, based on how I played golf prior to my deployment to Vietnam and my capture, I could feel how the forearms and wrists reacted during my golf swing."
Question No. 3
BOATRIGHT: "So, your point of reference was waist level at your hands?
COL. HALL: "Yes, to be more specific, my thumbs. I kept all the impact, essentially, at the level of my hands, similar to how a baseball player uses a bat to take batting practice."
Question No. 4
BOATRIGHT: "I have centered my muscle memory development on two points, the base of my wristbands and the base of the thumb and palm, called the Hypothenar. Did you center on keying in on a particular muscle to execute your golf shot?"
COL. HALL: "Yes, I read about how Ben Hogan described his Hypothenar as being a key part of his golf swing to pronate and supinate his wrists and hands to open and close his clubface."
COL. HALL'S Question: "How did you determine the significance of the Hypothenar in the golf swing?"
BOATRIGHT: "In Kinesiology, my professor, Dr. Bunch, stressed the importance of two muscles used in the baseball-type swing that could help linemen reduce injuries to the wrists. These were the Brachio-Radialis muscle and the thenars, particularly the Hypothenar. Both are unique in that the Brachio-Radialis muscle can both pronate and supinate, and the thenars are the strongest and most dexterous muscles in the hand."
Question No. 5
BOATRIGHT: "Have you ever read or seen a video series by Mr. Eddie Merrins, aka The Little Pro, where he focused on swinging the handle of the club and not the club, similar to how you use your left thumb to represent the handle of the club and the right thumb to represent the clubface?"
COL. HALL: "No I haven't, but that is interesting how you use your right thumbs to represent the clubface. The more I think about it, that goes along with the same technique of having a strong or weak grip by the placement of the right thumb. I was doing the same thing, but I did not consciously go to that level of detail, like you are doing."
BOATRIGHT: "If you think about the difference between the weak and the strong grip, most generally, it entails the placement of the right thumb on the handle of the club. That was the reason I think swinging the handle of the club is an important part to improving the golfer's game and swing that you proved."
Question No. 6
BOATRIGHT: "So you interface with your golf swing by moving the golf ball from the ground, up to your hands also?"
COL. HALL: "I found out by moving the ball from the floor to my thumb that you have a better point of reference to how you're executing the golf shot, and you have a better chance of making a realistic and solid golf shot."
Boatright: "You definitely proved that during the Pro-Am."
Question No. 7
BOATRIGHT: "I've got to ask this question. What were your guards thinking when they saw you making a virtual golf swing with your hands, arms, and shoulders?"
COL. HALL: "Probably, they were thinking that they have finally broken me, and I lost all touch with reality."
BOATRIGHT: "If I had been your guard in a country where golf wasn't a popular sport, or even heard of, I would think the same thing. That you lost your mind!"
By: QATSPY GOLF Approach
Charles W. Boatright
Madison, MS
1-888-514-1228
www.espygolfapp.com
The ESPY Golf Swing Coach– Price for Paperback $15.75 and E-Book $8.99, Hardback is also available on my website: www.espygolfapp.com/store OR your local bookstore and also:
Lulu Publishing: The ESPY Golf Swing Coach, Charles W. Boatright
Amazon.com www.amazon.com/The-Espy-Golf-Swing-Coach/product-reviews/1483416356
Barnes & Noble.com http://www.barnesandnoble.com/w/the-espy-golf-swing-coach-charles-w-boatright/1120604749
Check out my full library of BLOGS @ www.espygolfapp.com/blog or purchase your copy of "The ESPY Golf Swing Coach" @ www.espygolfapp.com/store.
Facebook – The QATSPY Golf Approach
Twitter – @cwboatright
Google+ – ESPY Golf Swing Coach
YouTube – ESPY Golf Swing Coach
Once you learn WHY, you don't forget HOW!
YouTube Videos:
https://youtu.be/ZGVNrIw_wlo (Cam & Cam-over elements)
https://youtu.be/K2FDHZ3AX9w (Figuring your proper swing plane)
https://youtu.be/TO82PMO6G8M (Developing muscle memory)
Two decisions that you can make for yourself and your kids are to get a copy of my book and place the book and a golf club into their hands. You will never look back, but only forward. You will not miss with this for yourself and/or your kids.
A Recommendation for your Golf Game:
I would like to recommend a wonderful radio program that I regularly listen to on my I-Heart Radio app on KARN 102.9 FM station, out of Little Rock, AR. They air a golf show called "Arkansas Fairways and Greens," at 7:00 AM CT each Saturday morning, hosted by Bob Steel and Jay Fox. Bob occasionally has on his show a guest named Shawn Humphries, a Professional Golf Instructor from Dallas, Texas. One thing that Mr. Humphries stresses is the mental part of golf, not focusing on the results but the process.
Until next time– Be Synched, Tee-to-Green, with The ESPY Golf Swing!