Description
Women's A-2 Signature Leather Flight Jacket: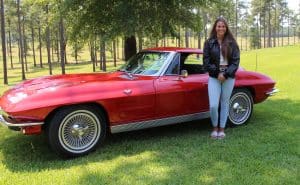 There's nothing that is more distinctive and legendary as the A-2 Lambskin Leather Flight Jacket, like the one worn by the Women Air Force Service Pilots (WASP)  during WW-2. One of the duties of the WASP was to fly aircraft to each of the (European/Pacific) theaters of war .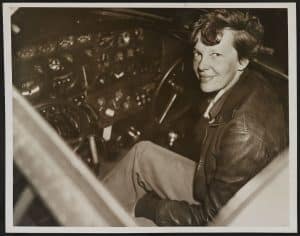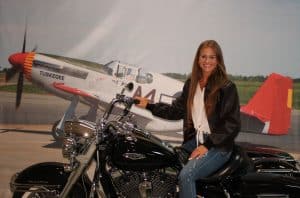 The Women's A-2 Leather Jacket was made legendary by Amelia Earhart, shown above in the photograph, an aviation pioneer, the first woman to fly solo across the Atlantic Ocean. The A-2 Leather jacket was popularized by Kelly McGillis in the movie TOP GUN. In the movie Raiders of the Lost Ark, the iconic Flight Jacket was worn by Harrison Ford with his khaki pants. You can have the same distinction, feel, and look with a Lambskin Women's A-2 Jacket that you can order as an original or have it personalized with patches and military-spec OD name tags. This A-2 WASP Flight Jacket can be ordered with ACC or SEC Teams Logo Patches starting in September of 2019.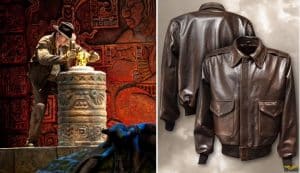 The US WINGS® leather jacket is furnished to Walt Disney in the daily production of Indiana Jones Epic Stunt Spectacular, used not only in this production and seen by millions who visit the Walt Disney World theme park each year, but used in the actual stunts. If it can withstand the daily productions of Indiana Jones Epic Stunt Spectacular, it will meet the needs and style of those who are fans of the Indiana Jones movie series.
Walt Disney, in keeping with its high standards for authenticity, specifically requests that the leather flight jacket be supplied by US WINGS®, due to the jacket's genuineness, durability, and quality of craftsmanship. The US WINGS® leather jacket stands up to the demands of this daily production.
An A-2 leather flight jacket is that perfect, casual look you want for the work week or during the weekend that can be worn with either blue jeans or chino khaki pants, for example. Enjoy the luxurious, soft feel of leather, with your option to personalize your jacket to support: the military, your team, company, event, or organization, with name tags and/or patches. Perfect for companies to recognize their associates and their customers. Nothing says it better than an A-2 Leather Flight Jacket worn by our founder and owner Sergeant David Hack below.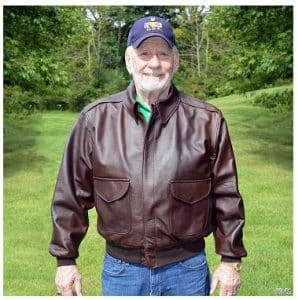 PLEASE Refer to the DRESS SIZE CHART in the Additional Information panel for the Women's  A-2 Leather Flight Jacket. These jackets come in dress sizes for your reference and convenience. DON'T forget to customize your leather flight jacket with either patches and/or names tags.

OPTION to CUSTOMIZE YOUR OWN PERSONALIZED A-2 LEATHER JACKET with ADD-ONS– Chose from ACC or SEC College team, military unit or Branch of Service patches, tags identifying you and/or your organization, or send us your own patches you want sewn-on, either for the right or left chest panels or sleeve of the jacket. You can't make a better statement than with the classic look of leather that will leave a lasting impression to your commitment to getting it done. See an EXAMPLE of a personalized A-2 Leather Flight Jacket below, featuring an EXAMPLE ONLY of my QATSPY® GOLF Jacket with military patches and name tags for your reference: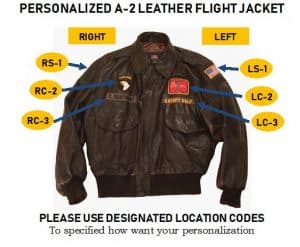 The A-2 Leather Flight Jacket featured above is my own personal jacket that has been weathered with wear.
You can select these options or select options that represent your organization, military service or support of the military, or your company.
NOTE: No returns on all personalized leather jackets with patches. Please, No objectionable or explicit patches or wording on tags.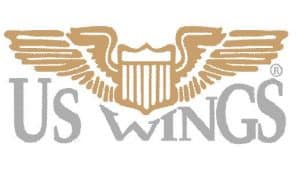 QATSPY® GOLF is an authorized dealer for US WINGS®.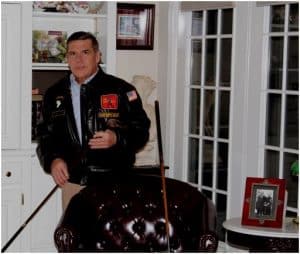 I even feature a weekly newsletter entitled INSIDE THE LEATHER SPORT PAGE that includes golf tips and Health/Fitness information. Please check out how I lost 52 pounds, or 9.0 inches in my waistline, just by following a simple diet program called the 925-MET DIET PROGRAM that is an EASY DIET to follow and to use. Not only did I lose the weight, but I have lowered my blood pressure to 112/61. More importantly, I have kept off the weight since December of 2014, at age 56. You can turn your body into a calorie-burning Juggernaut like I did.
By following the 925-MET Diet Program, you'll not only feel great, but you can save the money that you would have spent on a diet plan and buy a great looking NEW A-2 Leather Flight Jacket that will highlight your new image and fitness program. The elastic band along the bottom of the jacket helps to conform to your waistline. The 925-MET DIET PROGRAM!
In the TOOL BAR is my article entitled: How I Achieved My Health/Fitness Objectives. Not only did I reach my goal of reducing my waistline from 37.5 inches to 32 inches, I actually surpassed my goal and am now wearing khaki Chino pants with a 30-inch waistline. I encourage you to read my success story of my weight loss and follow it for yourself. Even if you don't need to lose the weight, it is a great health diet.

If you need additional information about the A-2 Leather Flight Jacket or my 925-MET DIET PROGRAM, please contact me in the comments option.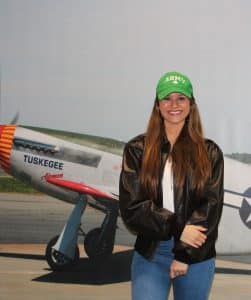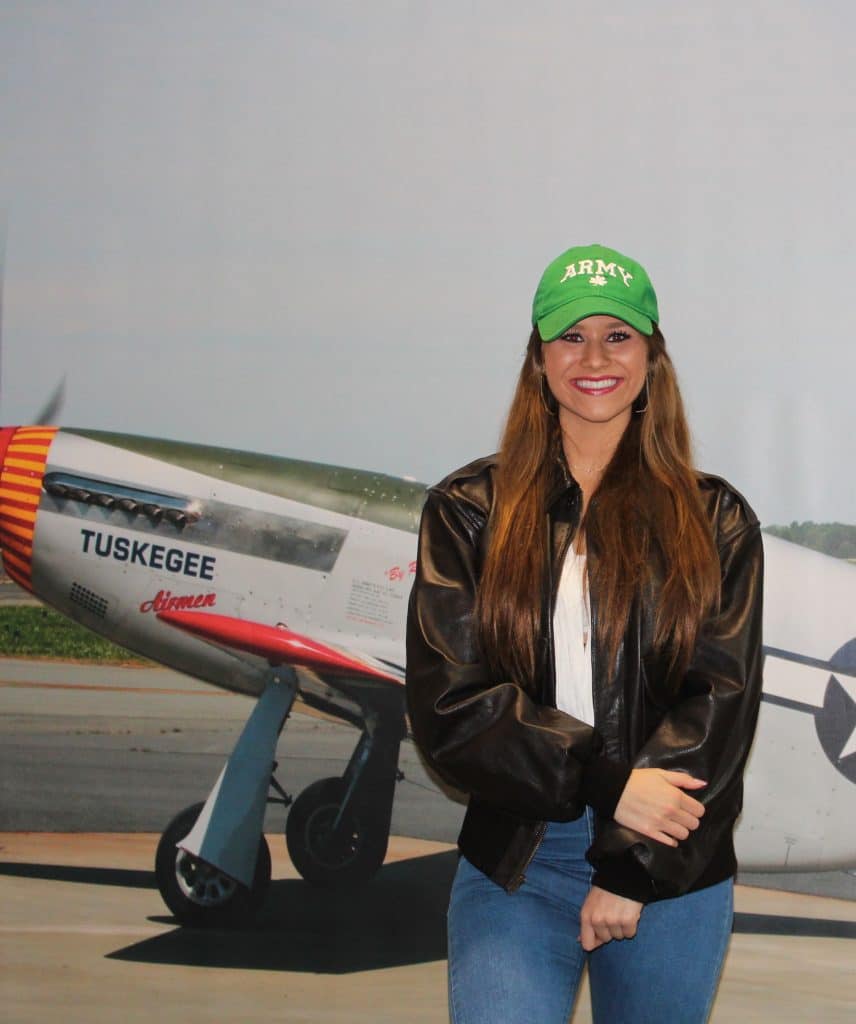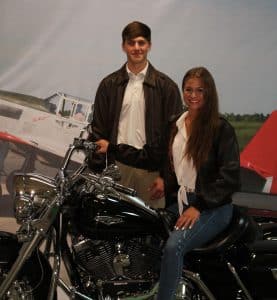 The Lambskin Leather Flight Jacket features:
100%  Lambskin leather
Snap-down collar
One piece back
One piece sleeves
Snap close cargo pockets
Stitched-down epaulets
Military spec brass zipper
Side-entry hand warmer pockets
Brown satin nylon lining
Knit cuffs and waistband
Available in Regular Fit
Color: Dark Brown
Fit: Comes in regular dress sizes from (Size 4 to 18) for Women.
PLEASE refer to A-2 Men's Leather Flight Jackets also, for that special man in your life.
Don't Forget to purchase your Aviators sunglasses to protect from UVA/UVB rays: