Description
US WINGS® The Classic Car Collection A-2 Leather Flight Jacket with Option of Front and/or Back Hand-Painted Leather Patches:
THE QATSPY® Yankee Personal-Style Traditional Apparel Quarter Masters
We specialize in Comfort, Confidence, and Compatibility in fashion.

The Classic Vehicle Model A-2 Leather Flight Jacket with Your Hand-Painted Classic Cars, Truck, or Heavy Equipment with Option of Military Insignia for your Next Vintage Car Show or to Promote Your Business

A little Background Information on the A-2 Leather Jacket
The A-2 Leather Flight Jacket was developed for the U.S. Military in the 1930's to provide protection and designation to the U.S. Army Air Corps and later to certain elite paratroopers, such as the 82nd and the 101st Airborne Units in WWII. As legendary and distinctive as it was during the Second World War, it provides the same distinction, legendary classic look, and protection today as it did then, with some updating, made with the selection of one of the World's toughest leathers, the Cape Buffalo Leather.
WE are a supplier of the A-2 and G-1 style Leather Flight Jackets to the U.S. Military
The Cape Buffalo Leather has that Old-World antique patina look and feel of the original classic A-2 Leather Flight Jacket, but even with more TRUE GRIT to last for generations as an heirloom. Whether you're attending a National Classic Car Show, Cursing the Coast in Gulfport and Biloxi, Mississippi, an car auction to add to classic car collection, or just riding your motorcycle, the A-2 Leather Cape Buffalo Flight Jacket has that perfect fit for either the lady or gentleman for any occasion that presents itself. The female models in the image below is wearing the Men's medium that I wear also, when traveling.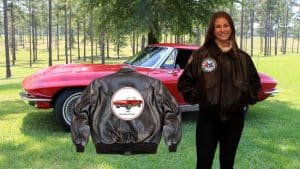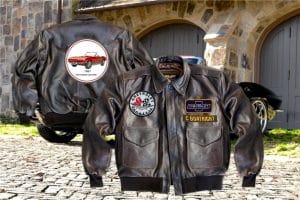 Designed By: Charles W. Boatright and Hand-Painted by the renowned Nose Art Specialist, Jim Harley
The A-2 Leather Flight Jacket can be personalized with either the Hand-Painted 10-inch and/or the 5-inch round patch(es) of your favorite car in your collection. You will be able to select either/or the 5-inch and 10-inch classic vehicle patches at CHECKOUT. Featured in the two images above is the hand-painted 10- inch patch on the back panel with the 5- inch front panel patch on either front (Left or Right) or back panel on the A-2 Cape Buffalo Leather Flight jacket that are professionally sewn on by the skilled craft-persons at US WINGS®.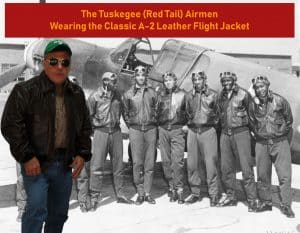 Just like the World War II pilots and paratroopers that used the original flight jacket for protection and distinction, this same A-2 Cape Buffalo Leather Flight Jacket can accommodate the open road and still be used as a great option to a Sports Jacket for attending business meeting or car shows. This A-2 Leather Flight Jacket Classic Car Collection personalized to your specifications, can be worn with blue jeans or Chino Khakis pants and still maintain the classic style you require, as I do on my business travels or take to the open road on my Harley-Davidson 1900 Motorcycle, shown below.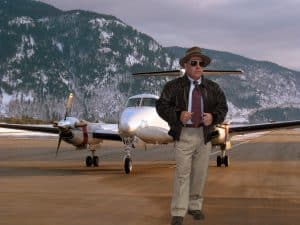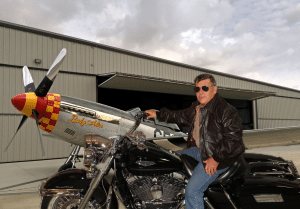 The Advantage of the A-2 Leather Flight Jacket
The original A-2 Flight Jacket was used to protect pilots and paratroopers, not only from the weather but also diseases, such as viruses. The design of the A-2 Flight Jacket had the 1918 Spanish Flu in mind when it they upgraded the flight jacket from the A-1 Jacket. Experienced pilots are too valuable to have in sick bay and out of action. The A-2 Leather Flight Jacket can be cleaned and sanitized daily, without DRY CLEANING with a simple dish detergent (1 teaspoon) and Water (8 oz.) mixture and simply wiping down the jacket and hanging it up inside or outside to dry.
You can simply hang the A-2 Leather Flight Jacket outside in the UV Rays of the sun that can eliminate viruses and bacteria. We recommend that you condition your jacket once a quarter with our cleaners and conditioners, shown below: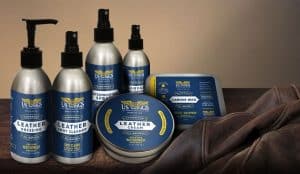 The Yankee Personal-Style Traditional Apparel Quarter Masters specializes in classic fashionable attire that isn't for looks only, but can be worn with your active schedule to ensure that you look and feel confident, comfortable, and compatible with your situation from riding a motorcycle to attending an car show exhibit or car museum. What my wife and I are wearing is the Medium, Regular Fit Men's size Flight Jacket, it can accommodate men or women with style.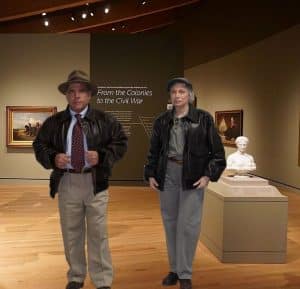 You can have a Rembrandt-style leather patch of your American Classic car hand-painted onto a high-quality leather patch that is sewn onto the front and/or back of the US WINGS® A-2 Leather Flight Jacket. The hand-painted 10- inch back patch and the 5- inch front patch are fully detailed with your classic car and any description that promotes your car, company, or organization.
I don't leave home on business or leisure without my US WINGS® A-2 Leather Flight Jacket that has my company logo and military insignia on it when I speak at corporate meetings or conventions. I carry a full line of US WINGS® Leather and Nylon Flight Jackets in my Online Store.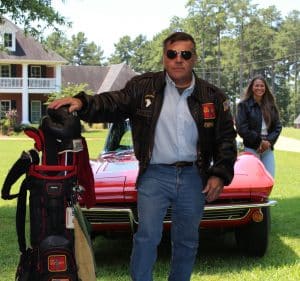 NOTE: All patches mentioned in this description including the 2nd Amendment Hand-Painted 5-inch and 10-inch diameter patches can be selected at CHECKOUT. The cost of the patches and options will be added to the total cost of the Jacket. This way you only pay for the options you select.
This 2nd Amendment Jacket can also be detailed with military insignia upon request at CHECKOUT, as shown below with 1st Cavalry Division embroidered patch for example. At checkout you will be given the opportunity to specify your U.S. Military insignia on the left or right crest or left or right arm with an addition of The American Flag (in Red/White/Blue or Olive drab Green).
NOTE: We have a limited collection of automobiles companies and models of vehicles that you can choose from just for your convenience, HOWEVER you can select from the pull down menu and select "Customer Spec" and submit either your PDF or Digital photo of your design to my Email address: espygolfapp@gmail.com, there is NO SET UP FEE! Just the cost of the hand-painted patch based on your design for the 10- inch back panel patch or the 5- inch front panel patch.
Don't forget about your U.S. Military service insignia patch that we can have hand-painted as well. These make excellent accessories to your A-2 Leather Flight Jacket.
We would have to quote any lettering you would like to have done directly on the A-2 Leather Flight Jacket. In your email to espygolfapp@gmail.com just include a PDF of your layout and we can quote you a price.
US WINGS® & Walt Disney World Connection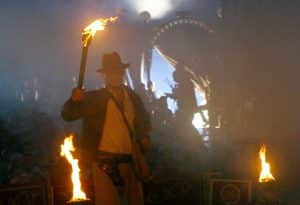 The US WINGS® Indy-Style leather jacket is furnished to Walt Disney World in their daily production of Indiana Jones Epic Stunt Spectacular, where the jacket is used in this production seen by thousands who visit the Walt Disney World theme park each week. If it can withstand the daily productions of Indiana Jones Epic Stunt Spectacular, the jacket will meet the needs of the biker who will depend on it for the protection that The Limited A-2 Cape Buffalo Biker's Flight Jacket provides.
Purple Heart Patch and Certificate
Another option to The Limited A-2 Cape Buffalo Biker's Flight Jacket is that the customer can add the Purple Heart Patch and certificate with the option of Olive Drab name tags for your name, organization, and/or military patches. Perfect for companies to recognize their Veterans, associates and their customers. Nothing says it better with class than with either the LIMITED CAPE BUFFALO MOTORCYCLE BIKER'S JACKET or the LIMITED A-2 CAPE BUFFALO BIKER'S FLIGHT JACKET, shown below with Sergeant Hack, the owner of US WINGS®.
The Purple Heart Patch and/or Certificate can also be ordered by the recipient's family, in Honor of or in Memory of the Purple Heart recipient and sewn onto the leather jacket that they purchase from US WINGS®.
Please select the interior lining Purple Heart Certificate image above to order your certificate to be sewn onto the back inner liner of your jacket. You will be asked to supply either a color copy or a color scanned copy of your certificate to US WINGS. DO NOT send your original certificate to US WINGS. After you complete your order, please contact US WINGS to provide your ORDER No. of your JACKET, and place that ORDER No. on a cover sheet that you will be sending in to US WINGS:
US WINGS Purple Heart Certificate ■ 561 E. Hines Road ■ Hudson, OH 444236 ■ PH. 1-800-650-0659
I personally have the LIMITED CAPE BUFFALO Model A-2 Leather Flight Jacket because of the various functions that I routinely attend in representing both US WINGS® and/or QATSPY® Yankee Prestige-Style Traditional Apparel Quarters Company.
PLEASE Refer to SIZE CHART in the Additional Information panel for the LIMITED Cape Buffalo Jacket.
A-2 Leather Flight Jacket, Great Advertisement Campaign
You can also personalize your A-2 Leather Flight Jacket for your company or organization with logo, names, insignias for your customers, employees, and especially your Veterans who are working with your company or are associated with your origination. You can't have a better advertisement campaign than with a A-2 Leather Flight Jacket with its own spokesperson that wears this great jacket.
See my own company jacket below: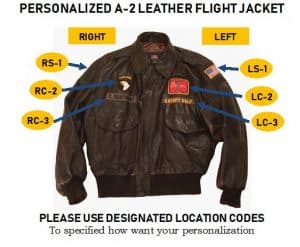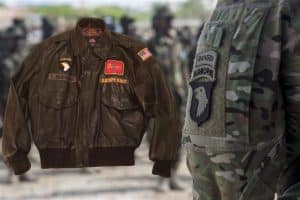 Before submitting the Classic Car A-2 Leather Flight jacket to add the other optional personal patches, a form will be sent to the customer for their approval. Your reply is important in order to process your order. We reserve the right to NOT sew on patches supplied by the customer, due to the objectionable nature of the patch.
You can select size options and Build Your Own LIMITED Jacket that represents your organization, military service or support of the military, or your company at CHECKOUT. Just go to checkout and select your size options and ADD TO CART.

Direction to Build Your Own Jacket:
After selecting Cape Buffalo Flight Jacket, ADD TO CART.
A list of patches and name tags will appear, including other associated items (i.e., Chino Khaki pants and Aviation sunglasses).
Select these items ONE AT A TIME and ADD TO CART before selecting additional options.
Each selected patch or name tag will no longer be featured after selecting and ADDING TO CART.
Other options include US WINGS Chino Khaki pants and Sunglasses.
Be sure to ADD TO CART before proceeding to additional Options.
NOTE:
On personalized jacket that you are providing a Company logo for, please allow two to three additional weeks for delivery after we receive your patch. On all other patches/tags provided by QATSPY GOLF®, please allow two to three weeks after order is placed.
No returns on all personalized leather jackets with patches. Please, No objectionable or explicit patches or wording on tags.
The US WINGS LIMITED A-2 CAPE BUFFALO BIKER'S FLIGHT JACKET Features:
100% Cape Buffalo leather (Thickness between 1.2 – 1.3 mm)
Drum Dyed
Snap down collar
One-piece back
One-piece sleeves
Snap close cargo pockets
Stitched down epaulets
Military spec brass zipper
One interior pocket
Side-entry hand warmer pockets
Brown satin nylon lining
Knit cuffs and waistband
Available in Regular and Long
Color: Antique Brown
Fit: Normal