Description
The Limited Rough Rider Buffalo Motorcycle Biker's Jacket: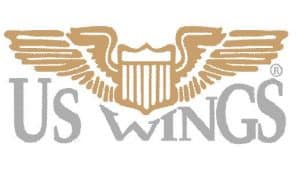 THE QATSPY® is an Authorized Dealer for US WINGS®

The Motorcycle Leather Jacket is apart of the Rough Rider Buffalo Leather Collection.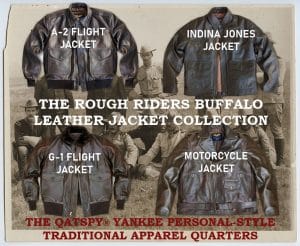 US WINGS® offers the Motorcycle-style waist belt Cape Buffalo Leather Jacket to Biker's that is along the style of Irving and Jacket Schott, Perfecto Jacket, designed for Harley-Davidson back in 1928. This Motorcycle jacket retains the vintage design, except The US WINGS is made this Motorcycle Jacket from the toughest leather in the World, the Cape Buffalo hide.
You can have the same distinction, feel, and look, in either Brown or in Black colors, that show that the jacket is tough, rugged, and durable and that describes the US WINGS® Limited Cape Buffalo Motorcycle Biker's Jacket. This Motorcycle Biker's Jacket is personalized on the back panel of the jacket, with either your own patch(es), or similar to the vintage-style Harley-Davidson or the vintage-style Indian Motorcycle rocker patches shown below (These two vintage-style patches are purchased separately at CHECKOUT), and are professionally sewn on to the back of The Limited Cape Buffalo Motorcycle Biker's Jacket by US WINGS®.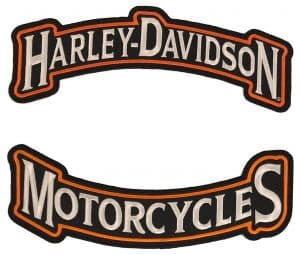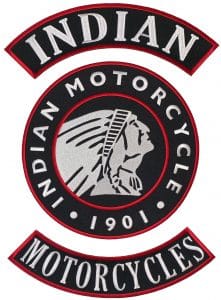 These two top and bottom rocker patches can be purchased separately at CHECK OUT, just by selecting the option of the vintage-style Harley-Davidson Biker's Patch or the vintage-style Indian Motorcycles Biker's Patch. The listed price for each patch includes the rocker patch and sewing on of the patch onto the Jacket, per customer request.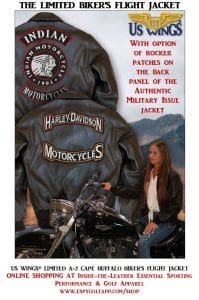 US WINGS® & Disney World Connection
The US WINGS® Indy-Style leather jacket is furnished to Walt Disney World in the daily production of Indiana Jones Epic Stunt Spectacular, where the jacket is used in this production seen by thousands who visit the Walt Disney World theme park each year. If it can withstand the daily productions of Indiana Jones Epic Stunt Spectacular, the jacket will meet the needs of the biker who will depend on it for the protection that the Limited Cape Buffalo Motorcycle Biker's Jacket provides.
The Thickness of the Cape Buffalo Leather series jackets is 1.2 to 1.3 mm. that has the weight between 4.5 to 4.8 pounds.  And yes, all of our Jackets are Drum dyed, and this Jacket is a perfect all-season jacket for the open road jacket that can stand up to all weather conditions.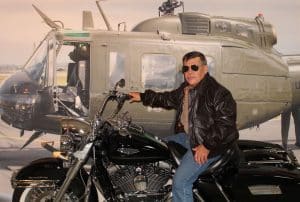 Shown above for EXAMPLE ONLY is the Limited A-2 Cape Buffalo Leather Biker's Flight Jacket that is perfect for those open road journeys, but provides the quintessential, classic look that can be worn with either blue jeans or US WINGS® chino khaki pants, that makes it the classic jacket that it is. Enjoy the luxurious, brown or black leather, with your option to personalize your limited jacket with your own patch(es), or the option of the vintage-style Harley- Davidson or the Indian Motorcycles Patches available at CHECKOUT.
I personally have the CAPE BUFFALO Model A-2 Leather Flight Biker's Jacket that I wear to various functions that I routinely attend, representing either US WINGS® and/or THE QATSPY®. You can also check out the US WINGS® LIMITED A-2 CAPE BUFFALO BIKER'S FLIGHT JACKET, just by clicking on the link.
You can't make a better statement than with the classic look of The Limited Leather Motorcycle Biker's Jacket that can be personalized that will leave a lasting impression. See an EXAMPLE ONLY below of the A-2 Cape Buffalo Biker's Flight Jacket with patches and name tags. Some of the examples are featured with military patches and name tags for your reference ONLY:
Other Military patches can be ordered from US WINGS® by selecting the Link: US WINGS Military Patches, or send us your own patches and location you wish for these to be sewn on to the limited Motorcycle jacket.
For additional patch options and/or custom patchwork for your Biker's Jacket, please visit ABC Patches by selecting on ABC Patches image. They supply both the Harley-Davidson and the Indian Motorcycle Rocker patches for the US WINGS® THE QATSPY® LIMITED Leather Jackets: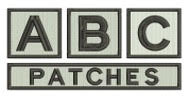 FOR DEMONSTRATION PURPOSES ONLY: The vintage-style Harley-Davidson patch is shown sewn onto the US WINGS® Limited Cape Buffalo Motorcycle Biker's Jacket, below right: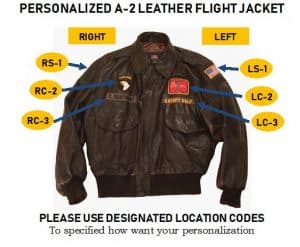 You can select size options and

Build Your Own LIMITED Jacket

that represents your organization, military service or support of the military, or your company at

CHECKOUT

. Just go to checkout and select your size options and ADD TO CART.

Direction to Build Your Own Jacket:
After selecting Cape Buffalo Flight Jacket, ADD TO CART.
A list of patches and name tags will appear, including other associated items (i.e., Chino Khaki pants and Aviation sunglasses).
Select these items ONE AT A TIME and ADD TO CART before selecting additional options.
Each selected patch or name tag will no longer be featured after selecting and ADDED TO CART.
Other options include US WINGS Chino Khaki pants and Sunglasses.
Be sure to ADD TO CART before proceeding to additional Options.
NOTE:
On personalized jacket that you are providing a Company logo for, please allow two to three additional weeks for delivery after we receive your patch. On all other patches/tags provided by QATSPY GOLF®, please allow two to three weeks after order is placed.
NOTE: No returns on all personalized leather jackets with patches. Please, No objectionable or explicit patches or wording on tags.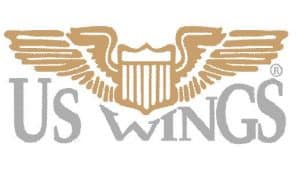 THE QATSPY® is an authorized dealer for US WINGS®, and I'm also the author and managing editor of THE QATSPY® GOLFER INSIDE-THE-LEATHER SPORTS PAGE. I use exclusively the photograph, below left, where I am wearing the US WINGS® Limited A-2 Cape Buffalo Biker's Flight Jacket in the header of each of my articles to emphasize the title "THE QATSPY® GOLFER INSIDE-THE-LEATHER SPORTS PAGE."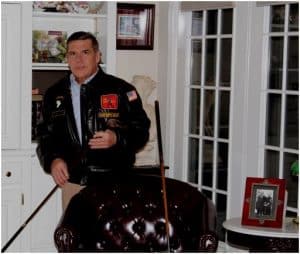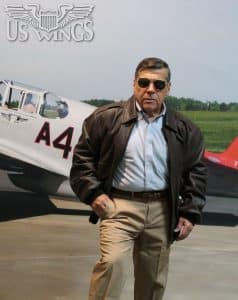 The US WINGS LIMITED CAPE BUFFALO MOTORCYCLE BIKER'S JACKET Features:
100% Cape Buffalo leather (Thickness between 1.2 – 1.3 mm)
Drum Dyed
Snap-down collar
One-piece back
One-piece sleeves
Snap close cargo pockets
Stitched-down epaulets
Military spec brass zipper
One interior pocket
Side-entry hand warmer pockets
Brown satin nylon lining
Knit cuffs and waistband
Available in Regular and Tall
Color: Brown and Black
Fit: Normal
PLEASE Don't Forget the woman in your life. Refer to Dress Size Chart for proper fit!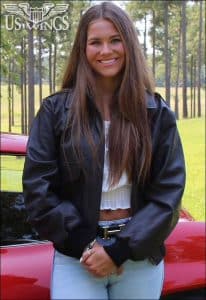 To ensure accuracy on personalized jackets, all patches and/or tags will be laid out onto the Limited Cape Buffalo Motorcycle Biker's Jacket. We will send this to the customer's Email address for their final approval before patches and/or tags are sewn on to the jacket. Please respond promptly to the Email for processing your order. Thanks for your order!
An article written by Rich Hoffman on 25Mar2014 for Overmanwarrior: Rich Hoffman is a biker that depends on the protection that US WINGS® jackets provides him on the open road.