Description
The US WINGS Cockpit® USA A-2 Cotton Bomber Jacket for Men and Women: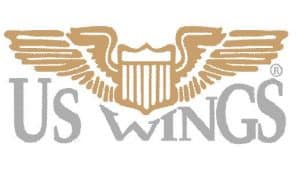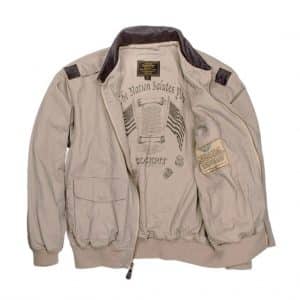 Our A-2 Leather Flight Jackets are the perfect 3-season jackets from fall through early spring attire, but for late spring and summer wear, our US WINGS Cockpit®  A-2 cotton bomber jacket is the perfect fit. It provides the same style and fit of our leather flight jackets featured below, without the weight.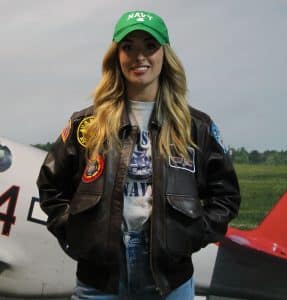 US WINGS® is proud to offer the A-2 cotton fabric Cockpit® jacket with the washable leather collar for easy care. The Cockpit® USA A-2 Cotton Bomber Jacket gives the classic look of an A-2, without the weight. This ultra-lightweight jacket is made of 100% cotton. Because of its weight, it is ideal for late Spring, Summer, and early Fall weather. Though lightweight, the Cockpit® USA A-2 Cotton Bomber Jacket offers ample protection as a windbreaker for those gusty days! The cotton A-2 jacket has a roomy, oversized fit for unrestricted comfort. Imported.
Please order our leather care items for the proper care of the leather trim collar after washing.
US WINGS Leather Cream
US Wings Leather Dressing
Cockpit® USA A-2 Cotton Bomber Jacket features:
100% cotton
Leather collar and trim
Stitched-down epaulets
Snap-down collar
Two front cargo pockets
Side-entry hand warmers
An inside pocket
Sturdy brass zipper
Color: Khaki
Fit: Full Cut
See additional information for size chart.
Our Cockpit cotton flight jacket makes a great service award for employees or as a customer appreciation item with your company logo and name of your company. Please see penalization option below.
Spring and summer months mean more outdoor activities, which are great for your health and fitness. But don't forget our American Optical Aviation sunglasses that are just as important as sunscreen is to your skin. Your eyes need the same protection and care as your skin from the harmful UVA and UVB rays of the sun. Enjoy the outdoor activates without the damage of the sun.
Personalize your Cotton Cockpit Jacket: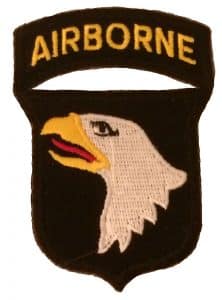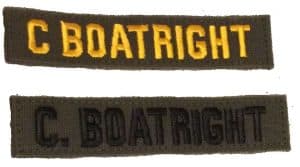 PLEASE Refer to SIZE CHART in the Additional Information panel for the Cockpit Cotton Flight Jacket Modern Jacket
DON'T forget the option to customize your cotton flight jacket just like the leather jacket with either patches and/or names tags.
You can't make a better statement than with the classic look of cotton flight jacket that personalized that will leave a lasting impression of your commitment to getting it done right. See an EXAMPLE of a personalized A-2 Italian Goatskin Leather Flight Jacket below, featuring an EXAMPLE ONLY of my THE QATSPY® GOLF with military patches and name tags for your reference: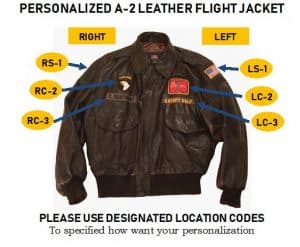 You can select size options and

Build Your Own Jacket

that represent your organization, military service or support of the military, or your company at

CHECK OUT

. Just go to check out and select your size options and ADD TO CART.

Direction to Build Your Own Jacket:
After selecting Cape Buffalo Flight Jacket, ADD TO CART.
A list of patches and name tags will appear including other associated items (i.e., Chino Khaki pants and Aviation sunglasses).
Select these items ONE AT A TIME and ADD TO CART before selecting additional options.
Each selected patch or name tag will no longer be featured after selecting and ADDED TO CART.
Other options include US WINGS Chino Khaki pants and Sunglasses.
Be sure to ADD TO CHART before proceeding to additional Options.
NOTE:
On personalized jacket that you are providing a Company logo for, please allow two to three weeks for delivery after we receive your patch. On all other patches/tags provided by QATSPY GOLF, please allow two to three weeks after order is placed.
NOTE: No returns on all personalized leather jackets with patches. Please, No objectionable or explicit patches or wording on tags.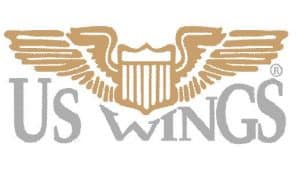 THE QATSPY® GOLF is an authorized dealer for US WINGS®.
I also feature a Health/Fitness and sports page on Golf Tips called "Inside the Leather," where I'm wearing my A-2 Leather Jacket, shown below.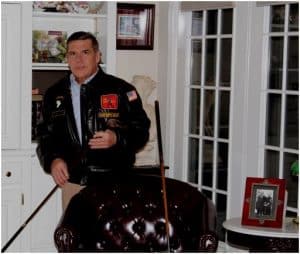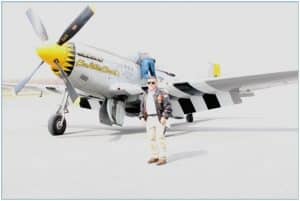 It is a pleasure to wear my leather A-2 Italian goatskin Flight Jacket to the Saturday morning Southern Heritage Aviation meeting in Tallulah, LA. This is a museum that has operational aircraft. My favorite is the P-51 Mustang that is being preflighted before it is flown. I'm pictured here with Charlotte's Chariot II that was in the 353rd Fighter Squadron in the 9th Air Force. The Southern Heritage Aviation Museum is just off Interstate 20, on LA Hwy 602. If you are passing through Tallulah, Louisiana, I encourage you to visit the museum. Phone (318) 574-2731.
I even feature a weekly newsletter entitled INSIDE-THE-LEATHER SPORT and FITNESS PAGE that includes golf tips and Health/Fitness information. Please check out how I lost 52 pounds, or 9.0 inches in my waistline, just by following a simple diet program called the 925-MET DIET PROGRAM that is FREE and is an EASY DIET to follow and to use. Not only did I lose the weight, but I have lowered my blood pressure to 112/61. More importantly, I have kept off the weight since December of 2014, at age 56. You can turn your body into a calorie-burning Juggernaut like I did.
By following the 925-MET Diet Program, you'll not only feel great, but you can save the money that you would have spent on a diet plan and buy a great looking NEW A-2 Leather Flight Jacket that will highlight your new image and fitness program. The elastic band along the bottom of the jacket helps to conform to your waistline. The 925-MET DIET PROGRAM is FREE!
In the TOOL BAR is my article entitled: How I Achieved My Health/Fitness Objectives. Not only did I reach my goal of reducing my waistline from 37.5 inches to 32 inches, I actually surpassed my goal and am now wearing khaki Chino pants with a 30-inch waistline. I encourage you to read my success story of my weight loss and follow it for yourself. Even if you don't need to lose the weight, it is a great health diet.

If you need additional information about the A-2 Leather Flight Jacket or my 925-MET DIET PROGRAM, please contact me in the comments option.
To ensure accuracy on personalized jackets, all patches and/or tags will be laid out onto the A-2 Leather Jacket and photographed. The photograph will be sent to the customer's Email address for the final approval before patches and/or tags are sewn onto the jacket. Please respond promptly to the Email for processing your order. Thanks for your order!