Description
THE QATSPY® & US WINGS® Now Feature the Hand-Painted Vintage Aircraft Artwork on our US WINGS® Leather Flight Jackets
These US WINGS Leather Jackets that features these vintage aircraft are provided to the U.S. Army with the A-2 style of the US WINGS Leather Jacket. You can buy your own Military Spec Jacket that the U.S. Military will be wearing, starting in 2020. But you can have yours to wear NOW!

These US WINGS® Leather Jackets are the same leather jackets that are being providing to the U.S. Army, with the A-2 style of the US WINGS Leather Jacket. These A-2-Style Leather Jackets are worn by Army personnel in aviation, airborne operations, and recruiters. But you can buy your own Military Spec Jacket that the U.S. Military will be wearing to feature your vintage aircraft that is hand-painted on the back panel of the leather jacket when you attend air shows, flight privately or commercial, or just attend sporting events.
These make great leather jackets to wear, not only to air shows featuring WWII vintage aircraft, but to promote your military service, business, or organizational interest. This is a great service award or gift for yourself, a friend, and for customers to wear.
For those who are connected with the military and/or aviation, these hand-painted leather jackets are a great way to show your support for these important industries and their impact they have on our country. BE PROUD OF YOUR SERVICE– you can have a variety of aircraft artwork done that also includes military insignia and company logos. Nothing makes a better statement than a hand-painted Cape Buffalo Leather Jacket at air shows, VFW, Veterans Day events, or sporting events. Anywhere you travel, this vintage aircraft artwork leather jacket with garner the attention of everyone. There aren't many leather jackets that has this fine of aircraft artwork with your personal touch added on the back panel.
These Leather Jackets have the classic look of a sports jacket, but fit right into your flight schedule, without you being overdressed and comfortable. These look great with both Chino Khakis or blue jeans or on the open road on a Harley-Davidson or Indian Motorcycle, that I'm wearing in the two photographs below. Remember, it was the Veterans returning home from WWII that made the classic A-2 Leather Flight Jacket legendary as a motorcycle jacket.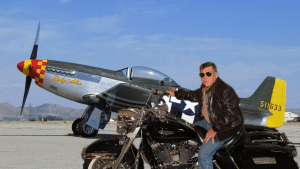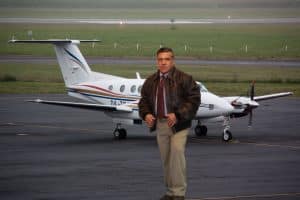 THE QATSPY® and US WINGS® have opened up a Custom Art Department, where we have formed a partnership with the renowned Nose Art artist Jim Harley. Not only is Jim an outstanding artist, he is also a pilot for the Collins Foundation and flew B-17's, B-24's, B-25's, and my favorite aircraft, the P-51 Mustang.
Jim Harley uses only the highest quality paint that never chips or peels to ensure that your US WINGS® Leather Flight Jacket will become a treasured masterpiece and family heirloom. This will be a leather jacket that you will be proud to wear for years to come to promote your personal, business, or organization interest while you travel around the country.
Vintage aircraft artwork, or your customized image that is hand-painted onto your jacket, will become a very effective means to promote or sponsor an interest, company, or organization, and is more effective than any ad agency can provide. In addition to the vintage aircraft artwork and custom images hand-painted on your US WINGS® Leather Jacket, you can also have contact information added.
Remember, each jacket comes with its own spokesperson (YOU) that can provide a personal endorsement of your business or organization's mission.
Three Decades of US WINGS Providing Hand-Painted Nose Art
US WINGS® has established over a 30-year track record of producing hand-painted artwork on their leather flight jackets. This includes providing hand-painted leather flight jackets to The Flying Tigers, including Dick Rossi (original member of the AVG Flying Tigers and Fighter Ace).
This US WINGS® Leather Jacket has been on display at The Flying Tigers Museum in Zhijiang, China since 2003, donated to the museum by Mr. Rossi himself.
US WINGS® Collection of Leather Jackets Hand-painted Logo- Great for Companies or Organizations Promotional
Customers can select from our four (4) US WINGS® Cape Buffalo Leather Jackets at checkout to have their selected vintage artwork that includes, military insignia, company/organization logo, or other aircraft hand-painted onto their jacket above. We have as drop downs the classic E-75 Stearman, P-40, and P-51 art featured, BUT the customer can submit a digital photograph to us at espygolfapp@gmail.com of their aircraft they would like to have hand-painted onto their leather jacket.
The drop down menu includes your custom artwork, where you will choose to submit your digital photograph or PDF File to espygolfapp@gmail.com and please, in the subject of email, put your name and Order Number where we can track it through the process. This way we can tie your custom image to your order.
If you are selecting one of the standard aircraft in the drop down menu, just put in the body part of your email, any other notation you would like to have under the artwork, like shown below.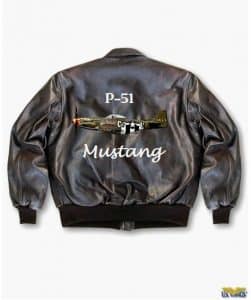 You can capture this same sense of identity and pride on our collection of leather jackets.