Description
Our new US Made Reusable, Bulk Order Washable Protective Logo Masks are a must for protecting you and those around you for Businesses and Schools.
We can print your organization, corporations, or businesses, schools/universities, and law enforcement & government agencies onto your choice of Red or Black Cloth Masks. The No Setup FEE.
All orders over 100 count, includes FREE Set Up FEE. You can just submit your PDF image of your logo to espygolfapp@gmail.com with your order Number where we can track your order. Please include the ORDER No. that is issued to you when you place your order. An example is THE QATSPY® Black Reusable Black Mask for an example below: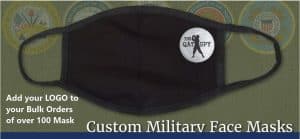 For the foreseeable future, as we get back up and running as a nation and still control the spread of the viruses, we will have to wear masks in areas where people gather to reduce the possible spread of viruses, especially in school setting. This reusable, washable mask will allow us to meet the CDC requirements for wearing a mask and still get our lives back to some degree of normalcy, without having to shelter-in-place. In the case of schools getting back up a running is a must. We can't allow our kids in public or private school setting to not get back into the classrooms.
This reusable and washable mask will give you a fashionable option to get back to your life and social structure, both in work, school, and leisure. A great recommendation is to have several of our QATSPY® US WINGS® masks at home, in the office, and in your vehicle to ensure you and your kids are equipped to protect yourself, them, and others while on the go. To make sure your mask remains sanitized, you can keep it in a plastic bag and wash it on a regular basis. And also remember to wash your hands and keep them away from your eyes, nose, and month. These three measures can go a long way in protecting yourself and others.
CAUTION

: Concerning Cloth and Sports Jackets
With the reusable, washable cloth face mask that will be required for certain public places, attention needs also be given to the wool-blend and cloth sports jacket that is customarily worn for business and leisure wear, especially for tailgating during the fall and winter months. The wool-blend fabric sports jacket and cloth fabric jackets are the perfect breeding ground for bacteria and viruses and also have to be dry cleaned periodically, but this is difficult to do on a daily basis or when needed.
A great alternative to the wool-blend fabric sports jacket and cloth jackets is our US WINGS® A-2 Leather Flight Jacket that can be sanitized with a solution of simple dish detergent ( 1 teaspoon) with water (8 oz.) and wiped down, as needed, during the day. The original A-2 Leather Flight Jacket was designed after the 1918 Spanish Flu Pandemic to protect pilots from contracting the Spanish Flu. The A-2 Leather Flight Jacket provided a barrier that can be sanitized from these type of illnesses.
THE QATSPY® A-2 Leather Flight Jacket is an Excellent Alternative to the Wool-Blend Sports or Cloth Jacket
You can use the same principle that World War II pilots used to protect themselves wearing the A-2 Leather Flight Jacket to protect yourself for business or on leisure. THE QATSPY® A-2 Leather Flight Jacket can go from the office to the field, or from the open road to the open skies, without having to change jackets. I wear mine as my motorcycle jacket and flight jacket. This A-2 Leather Flight Jacket has finesse and is tough enough to meet any occasion you find yourself.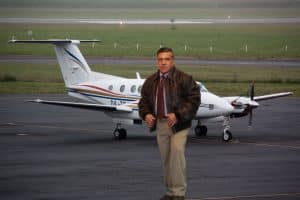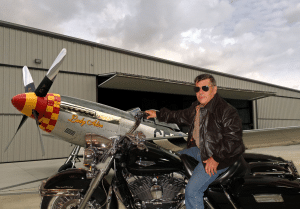 You can choose your A-2 Leather Jacket Option at Checkout, as shown above. Below these can also be worn by either a man or women, Miss US WINGS (Hailey) is wearing the same Reg. Fit, Medium size A-2 Leather Flight Jacket like I am wearing. We offer two weights of the A-2 Leather Jacket Goatskin or the toughest and finest leather in the world, Cape Buffalo Leather. I have both, based on what I'm doing.
Our A-2 Leather Flight Jackets are so authentic and durable that we supply the U.S. Military these Jackets, and we supply the Indy-Style Jacket to Walt Disney World for their production of the Indiana Jones Epic Stunt Spectacular. Both jackets are shown below: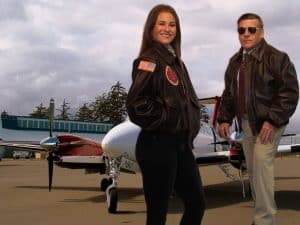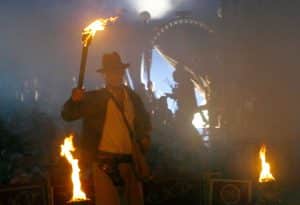 You can purchase any of the three (3) type leather jackets at checkout.
The US Made Washable protective mask features:
Commercial grade 2-ply cotton
Ant- bacterial coating
100% Breathable
Single needle ribbed binding
Hand Washable for reuse
Size: One size fits most
*

Due to Health and Safety reasons, these are non-returnable/non-refundable

.
These are perfect for corporations, universities, schools, police departments, government entities and active duty military.
COMING SOON! PRE-ORDER NOW!
CARE INSTRUCTIONS:
Hand Wash before wearing. Hand Wash to sanitize after wearing. Dry completely in dryer for form fit after each use. Individuals should be careful not to touch eyes, nose, and mouth when removing face mask and wash hands immediately after removing.
Disclaimer:
Cloth face coverings should not be placed on young children under the age 4, anyone who has trouble breathing, or is unconscious, incapacitated or otherwise unable to remove the mask without assistance. These masks are not medical grade and are not to take the place of the N95 masks. They are not suitable for use in a surgical setting or where there would be significant exposure to liquid, bodily or other hazardous fluids, use in a clinical setting, or use in the presence of a high-intensity heat source or flammable gas.