Description
The Aviation Charter Pilot 10-inch Diameter Hand-Painted Leather Back Patch Sewn-On Description:

The Aviation Charter 10-inch diameter Back Patch (Sewn-On) to one of THE QATSPY® Nylon or Leather Flight Jackets, This Hand-Painted Aviation Charter Aircraft Patch is featured on Ski-Blue background, top-grade leather, with dark-blue and gold border and white lettering of Aircraft name and nomenclature with the specific hand-painted aircraft featured, below is shown a Beechcraft 350 King Air Aircraft for example.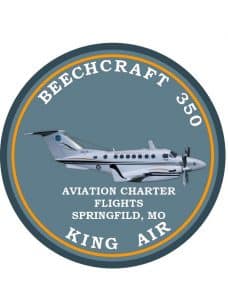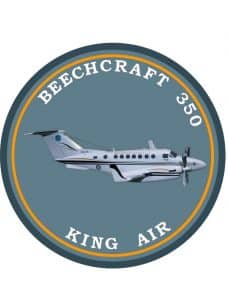 The patch to the left is for example ONLY of how you can add Business name and contact information including phone number.
NOTE: The price includes the Aviation Charter Patch and the sew-on fee of the patch onto one of THE QATSPY® Nylon or Leather Flight Jackets.
The 10-inch diameter Painted Leather Aviation Charter Patch is an option along with an option to add the 5-inch Diameter Patch onto the either side of the front panel of the jacket, shown below.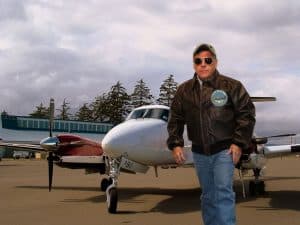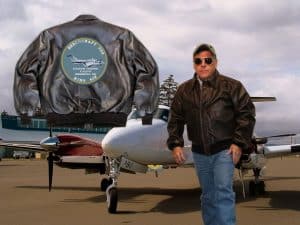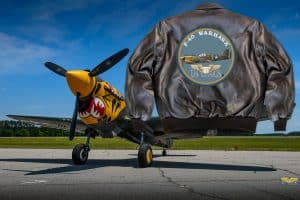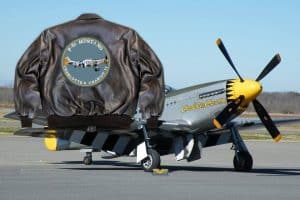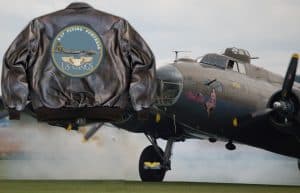 Designed by Charles W. Boatright and Painted by Jim Harley the renowned Nose Art Artist.
The optional Aviation Charter 5-inch patch sewn onto the right or left front panel of the jacket shown below as an example only with the Beechcraft 350 King Air Patch.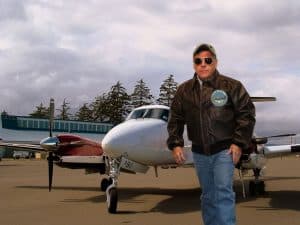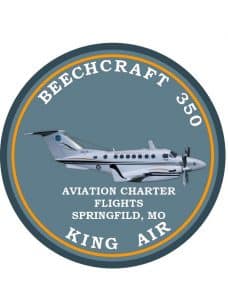 For specifying other aircraft on patch please select 'Other Aircraft Name' Option in the pull-down menu to be hand-painted and use comments section to write in name and nomenclature of aircraft and any contact information including:
NAME OF PILOT (Optional)
NAME OF COMPANY
CITY OF OPERATION ADDRESS
PHONE Number (Optional)
. See example below for noting other aircraft: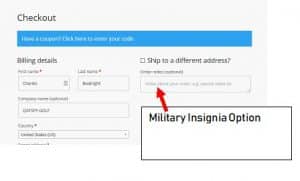 Example of Comments: BEECHCRAFT 250 KING AIR
If you select "Other Aircraft Name' PLEASE provide  DIGITAL PHOTOGRAPH of your aircraft you wish hand-painted onto the leather patch that is a perpendicular profile image and Email it to: espygolfapp@gmail.com
A-2 Cape Buffalo Jacket has FREE Shipping and includes any applicable Taxes.
The Aviation Charter Pilot Patches are available to be sewn onto any of our jackets, including the CWU-45P Nylon Flight Jacket.
NOTE: If you also chose the 5-inch Aviation Charter Pilot FRONT Patch during your CHECKOUT, please specify if you want your front Hand-Painted 5-inch Aviation Charter Pilot Leather Patch either on the LEFT or RIGHT side of the front panel of the jacket.
Some pilots and aviation enthusiast are Veterans that have been wounded while serving our country. You can specified the US WINGS Purple Option below:
The PURPLE HEART OPTION:
Don't forget, if you are a Purple Heart recipient, you or your family members can have an option to add your Purple Heart Certificate to the lining of the jacket(s), as shown below. For instructions for submitting your certificate, please refer back to the catalog description for The 2nd Amendment A-2 Cape Buffalo Hand-Painted Leather Flight Jacket, AFTER YOU COMPLETE YOUR CHECKOUT Process.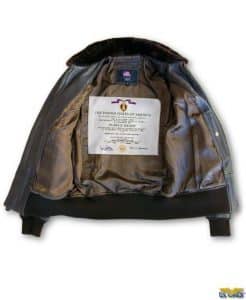 The Price includes the price of the patch and sewing-on fee.
Right Now, we have a 3-week lead time on delivering the 2nd Amendment Patch and/or Cape Buffalo Leather Flight Jackets. We hope in the near future to have only a 2-week lead time on delivery.