Description
The 2nd Amendment 5-inch Diameter Hand-Painted State Leather Patch ONLY Description:

The U.S. Bill-of-Rights Second (2nd) Amendment 5-inch diameter Patch (Sewn-On to one of THE QATSPY®a Nylon or Leather Flight Jackets), This Hand-Painted 2nd Amendment Patch is featured on Oxford-Red background, top-grade leather, with dark-brown/white border and white lettering of 'THE 2nd AMENDMENT' (top), 'U.S.' (Center), with the M-1 Garand and M-14 Rifles crossing, with a Model 1911 Pistol below the crossing rifles and 'RIGHT To BEAR ARMS' along the bottom of the patch.
NOTE: The price includes the Second Amendment Patch and the sew-on fee of the patch onto one of THE QATSPY® Nylon or Leather Flight Jackets.
The 5-inch diameter 2nd Amendment Hand-Painted Leather Patch is an option along along with an option to add the 10-inch Diameter Patch onto the back panel of the jacket.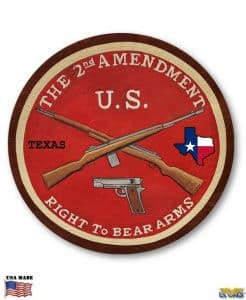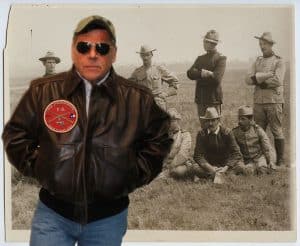 Designed by Charles W. Boatright and Painted by Jim Harley the renowned Nose Art Artist.
The optional 2nd Amendment 10-inch patch sewn onto the back of the jacket below, Shown as an example.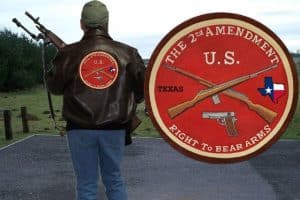 The two 2nd Amendment patches are available to be sewn onto any of our jackets, including the Rough Rider A-2 Leather and CWU-45P Nylon Flight Jacket.
The Price includes the price of the patch

ONLY

.
Right Now, we have a 3-week lead time on delivering the 2nd Amendment Patch and/or Cape Buffalo Leather Flight Jackets. We hope in the near future to have only a 2-week lead time on delivery.