Description
 The 2nd Amendment 10-inch Diameter Embroidered Patch ONLY Description:

The U.S. Bill-of-Rights Second Amendment 10-inch diameter Patch (ONLY), red background with black/white border and white lettering of 'THE 2nd AMENDMENT' (top), 'U.S.' (Center), with the M-1 Garand and M-14 Rifles crossing, with a Model 1911 Pistol below the crossing rifles and 'RIGHT To BEAR ARMS' along the bottom of the patch.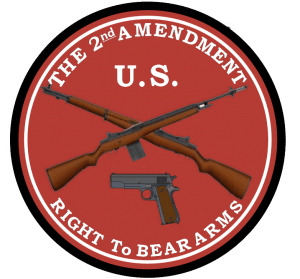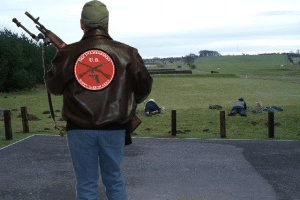 The two (2) images above show both the US WINGS Jacket with the 2nd Amendment embroidered patch sewn on and the patch only, as an example of how the patch will look on a jacket. You can purchase one of our Leather Jackets with the patch professionally sewn onto the Jacket. Our Cape Buffalo Collection Jackets in our Online-Store have an option to add the 2nd Amendment patch to these jackets at CHECKOUT.
If you chose to purchase the 2nd Amendment Cape Buffalo Jacket at CHECKOUT instead of the 2nd Amendment embroidered Patch by it self, simply select the (X) beside the item in your cart for the Patch to be removed and pick the 2nd Amendment Cape Buffalo Jacket in the various sizes in Tall or Regular fit to be automatically added to your cart. We think you will enjoy the look and feel of the Cape Buffalo Leather Jacket that is the same military specs of the A-2 Flight Jackets that we supply the U.S. Army and Air Force. This 2nd Amendment Cape Buffalo Jacket has FREE Shipping and includes Taxes.
The Price ONLY includes the price of the patch.
Right Now we have a 3-week lead time on delivering the 2nd Amendment Patch and/or Cape Buffalo Leather Flight Jackets. We hope in the near future to have only a 2 week lead time on delivery.