Description
An EFFECTIVE diet and fitness system to turn your body into a Turbocharged, Calorie-Burning Juggernaut to Lose Weight, Inches, and Years off the condition of skin not in months, but in weeks! At the end of this description I have included my actual Waistline Chart that I kept starting on November 28th, 2014 and still check my waistline every week for the past 7- years.
Table of Contents:
Description
1.0     RAMP Your Diet at the Start
2.0     The WHAT & WHEN FACTORS of DELPHI
3.0     The CAST FITNESS SECTION
4.0     The CAST FITNESS Training
5.0     Lifestyle
The DELPHI (Diet, Exercise, Lifestyle Performance Health Index) is a simple and easy diet based on using Nutrition Labels to determine a Health Index Factor (HI) of your food. The HI Factor consists of foods that are high in Protein, Fiber, and Omega-3's. These are the key factors that turn the body into a turbocharged, calorie-burning juggernaut to reach a healthy weight, with a reduced waistline. You're not just dropping weight, but you're dropping years off the appearance of your age. This is better than any age-defying skincare product that comes in a jar and is less expensive.
While we can't do anything about our age, we can have a tremendous impact on how we age. A major part of my business at age 64 is doing photoshoots, not just being the photographer, but being the model. On the cover shows a photograph of my young model and me doing a photoshoot of our two TOP ACE: MAVERICK Flight Jackets that we carry in my online store, THE QATSPY®.
The DELPHI DIET and CAST FITNESS is so effective that it has allowed me to do photoshoots of our sportswear and fitness regimen with my young models in their early 20's, while I'm 64 years old. There is not a more demanding role to fill than stepping from behind the camera to being in front of the camera, shown below taken after we did a photoshoot on May 19th, 2022 for our TOP ACE:MAVERICK Flight Jacket Collection. The camera crew challenged me to an AB Challenge at age 64, soon to be 65 in July.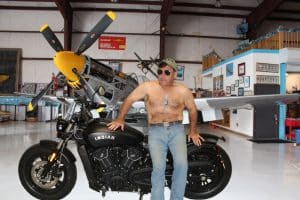 The DELPHI DIET is based on two IMPORTANT fundamentals of WHAT and WHEN to eat that provide your body with several unique benefits, besides obtaining and maintaining a healthy weight and fitness level. The combination and benefits of diet and fitness can't be measured or even calculated in terms of reducing health care cost, because what is the price of one's health and fitness.
The medical field is discovering numerous and important benefits of knowing how diet and fitness directly impact our quality of life as we age, I have listed just a few big hitters below:
Turns the body into a calorie-burning juggernaut, as mentioned.
Allows the body to burn your food as energy, instead of storing it as fat.
Burns the stubborn belly fats around the waistline, known as Subcutaneous Fat.
Reduces your risk of Hypertension.
Reduces your risk of diabetes.
Reduces your total cholesterol level.
Reduces your risk of certain cancers.
Reduces your risk of cardiovascular diseases.
Improves your quality of sleep.
Reduces inflammation and risk of Alzheimer's and Dementia.
Provides the best fashion statement, which is your fitness with an age-defying result.
But the biggest benefit that gets the most attention is the last one that we all would like to achieve, and that is having skin that is age-defying. I don't know too many women or men who wouldn't want younger-looking skin and to have a flat stomach.
If there is one area that gets the most attention, it is our fitness; it is the abdominal area. From looking through photographs to our wardrobe, our attention is drawn to two areas: the abdominal area and condition of our skin.
The DELPHI DIET and CAST FITNESS flatten stomachs and strengthen the body, but that is just the obvious key indicators. It also addresses blood pressure, blood glucose, and lowers combined cholesterol readings.
These are just a few benefits that I have received since November of 2014 by following The DELPHI DIET & CAST FITNESS System, or DELPHI, for short.
About the cover: On May 19, 2022, we did a photoshoot promoting our line of our authentic A-2 and G-1 Leather Flight Jackets that we supply to the U.S. Military. This also includes the TOP ACE: MAVERICK Authentic G-1 Leather Flight Jacket and the TOP ACE: MAVERICK CWU-45P Nylon Flight Jacket.
These photograph were taken in our hangar with my INDIAN Motorcycle and the P-51 Mustang. I'll let you be the judge if you think that the DELPHI DIET & CAST FITNESS is effective or not in providing an age-defying condition of the skin.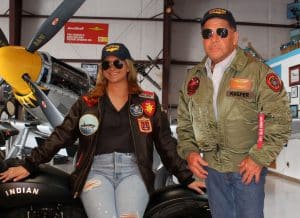 I appear here with one of our models in her 20's that works with my company, THE QATSPY- The Quapaw Aviation Tactical Sportswear Performance TARAK Outfitters.
Below is my actual Waist Chart that I kept. If you can't measure it; you can't achieve IT!