Description
Customer-provided Patch to QATSPY GOLF as a desired patch(s) to be sewn onto the A-2 Leather Jacket and doesn't exceed a dimension of 5 inches wide x 5 inches high. Please use the comments section to specify the NAME and LOCATION of your patch(s) to be sewn on the A-2 Leather Jacket SEWN-ON FEE ONLY..
Indicate the number of patches and the location of each patch to be sewn onto the A-2 Leather Jacket in the comment section. The patches can be sewn on in the following locations: RS-1, RC-2, LS-1, and LC-2. The customer patch(s) can't exceed the dimension of 5 inches sewn on the chest at (RC-2 or LC-2). The A-2 Leather Flight Jacket is a classic that will represent you and/or your organization for many years, so make it count!
No returns on all personalized leather jackets with patches. Please, No objectionable or explicit patches or wording on tags.
Patch/Tag designation Location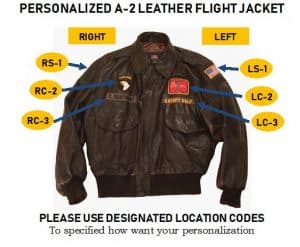 Right Side-
RS-1: Right Shoulder
RC-2: Right Chest
Left Side-
LS-1: Left Shoulder
LC-2: Left Chest