Description
The UNITED STATES SPACE FORCE 3.50- inch Diameter patch with Velcro on the backside in order to attach to military uniforms Velcro surface or that can be sewn onto hats, shirts, jackets, or other baggage or duffle bag.
The SPACE FORCE is under the Department of the AIR FORCE that was created by President Donald J. Trump on December 20, 2019. This is the sixth military branch created to defend and secure use of space.
The Space Force will fall under the Department of the Air Force, but after one yea,r it will have its own representation on the Joint Chiefs of Staff, according to the text of the law that created it. That makes it similar in structure to the Marine Corps, which is a part of the Department of the Navy, but has its own seat on the Joint Chiefs.
Hook side for Hook & Loop Velcro that the United States Military can use on their uniform.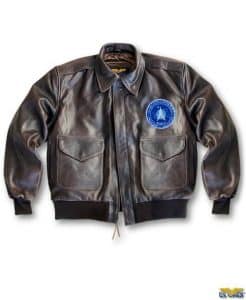 To show your support for both the U.S. Military and The United States Space Force, especially bikers, and pilots, purchase one of our US WINGS® A-2 Leather Flight Jackets or a Motorcycle Jacket and have United States Space Force Patch sewn on by our professional craftsmen at US WINGS® for a minimum fee, including the cost of either of these jackets, either on the right or front flap of our Leather Jackets. Nothing can make a better statement than our A-2 Leather Flight Jackets or Motorcycle Jackets, anywhere you travel. This will show your support for our Militar,y the greatest fighting force in the world or in space.