Description
US Military Web Belts & Buckle
The US Military Web Belts are a genuine military issue belt! The Navy blue, khaki, and black belts feature brass buckle and end cap. The navy blue belt features either brass or chrome buckle and end cap. The belts can be cut to size. These belts will last for years. Looks great with khakis or jeans and made for both men and women. These are not cheap imitations — they are 100% US Military issue. Made in the USA.
For the golfer, you can't have a better custom look to finish off your Chino Khaki pants that is like icing on the cake.
The US Military Web Belts feature:
100% Heavy-duty cotton canvas
Buckle Size: 2″ x 1.5″
Belt Size: 1.25″ x 54″
Colors: Khaki, Black, & Navy Blue
Suggestion on tailoring your belt to your specific size. I like a specific length of belt where I don't have the end of the belt that extends past the buckle more than an inch-and-a-half.
Procedure for modifying the length of your web belt: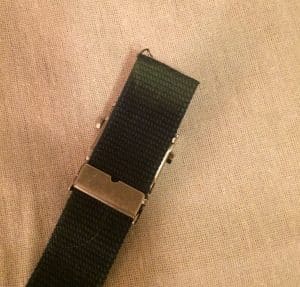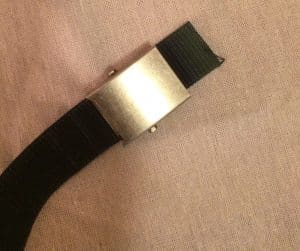 In the two photographs above, you see the Olive Drab color spray paint that I applied to the cut end of the web belt. This makes it nice and easy for feeding the belt through the buckle.
Place the set end of the web belt through the buckle, where is extends approximately one inch and close the catch.
Place the free end of the web belt through the buckle and slide the latch to secure the web belt.
Measure between two to three inches past the end of the buckle and cut the excess belt off. (Note, this end will be the end that will be the set end in the buckle.)
Use masking tape to tape off approximately 1 inch from the cut end.
Use the appropriate color of spray paint and apply three applications on each side and allow the appropriate drying time between applications.
This will prevent the cut end from unraveling and provide a hard end to feed the cut end through the latch.