Description
Embroidery Logo Setup Request
This allows you to make a ONE- TIME SETUP COST to request and to submit your logo to THE QATSPY® to be added to your L.L.Bean shirt. After paying the ONE-TIME SETUP COST, the shirts in my online store include the embroidery cost per shirt. There will not be an added cost for the shirt with your company, organization, or your cause logo on each shirt.
Below is my company's THE QATSPY® Logo on my L.L. Bean Oxford Button-Down Shirt that offers a great way to promote your company everywhere you, your associates, or your customers travel. One major advantage of having your logo on any apparel item is that each apparel comes with it a knowledgeable spokesperson that knows, likes, uses and support your company. The word of mouth is always the best method to promote your company, organization, and/or your cause.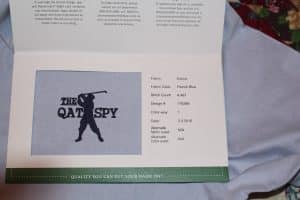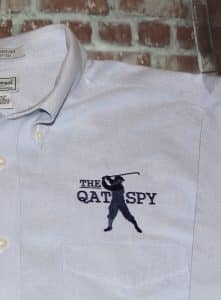 For effectiveness to present your embroidered logo in the best way, we request a minimum 1-inch x 1-inch, with a maximum of 3-inch x 3-inch area, as demonstrated above with my logo. Please enter your name and company name in the comment area at checkout. As a SIZE option, the width of your logo is listed in inches in 1/4-inch increments, from 1-inch up to 3-inches, with the height being prorated, so long it doesn't exceed 3-inches, based on your PDF image provided.
I don't go to anywhere to meet my customer, make presentations, or attend social events, without my logo shirt or my Logo US WINGS® A-2 Rough Rider Leather Jacket, shown below. Both are showstoppers anywhere you go. My advice to you is to make sure you have business or postcards, because people will stop and ask you about your shirt, jacket, and your logo. Just be ready to give them your business card or postcards, like I always do.