Description
Product Description:
Every morning I have my first cup of coffee to get my day started, but after two cups, I've reached my caffeine limit. By mid morning and afternoon, I'm looking to enhance cognitive performance, promote endurance, enhance motor performance, and help reduce fatigue. ARBONNE® ENERGY FIZZ STICKS Contains antioxidants and a botanical blend of ginseng, B vitamins, CoQ-10 for heart health, and chromium, combined with caffeine naturally derived from Guarana and green tea to help boost energy.
Available in two Flavors: Citrus or Pomegranate
Product size: 30 Sticks Package
Directions:
Add 1 stick pack to 8 oz. of water and stir in a 16 oz. container. Do not pour into a full water (16 oz.) bottle as fizzing could cause an overflow. Enjoy 2–3 times per day.
Features:
Temporarily helps promote alertness and endurance when you start to feel tired
Helps to further support cognitive performance when combined with Mind Health
Contains 55 mg of naturally derived caffeine
Contains antioxidants to help fight free radicals
Low-calorie, and features natural flavors, cane sugar, and stevia
•Maltodextrin-free
•Formulated without artificial flavors or colors
Available in Citrus or Pomegranate flavor
Personal Use and Application:
My four legged Alarm Clock, my Golden-Cocker Retriever.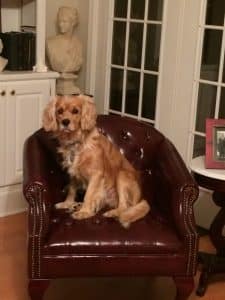 My day usually starts at 5:30 AM when my four legged alarm clock wakes me up. The first thing I do is to make a pot of brewed coffee. While the coffee is brewing, I shave and shower. My dog is ready come back in and join me for my first cup of coffee and meditation period of the day. That one thing about dogs, they are great listeners and are creatures of few words.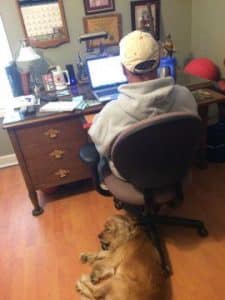 By 6:30 AM, I'm up stairs in my office working on sports articles and golf training guides for my students. By 8:00 AM, I have my second cup of coffee, than I on to playing golf with students or friends four days a week. At the turn, I have my first cool bottle of ARBONNE® ENERGY FIZZ STICKS mixed with a cool bottle of water that I sip on for the next three holes.
This gives me the energy and stamina to finish the back nine and get ready for the next nine holes with a starter student. I usually walk the course with golf bag in tow. The ARBONNE® ENERGY FIZZ STICKS allows me to walk 18-holes (9.2 miles over 3.5 to 4 hours).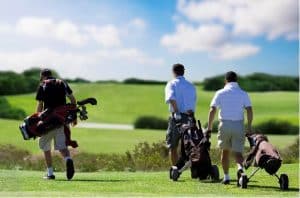 And if that wasn't a full schedule for one day, I cap off the evening with a 20 to 45 minute workout that I call the CASPER FITNESS Program. I did a brief video of part of my workout below (NOTE This Video is approx. 10:33 minutes):
I also write a weekly Sports/Fitness Page entitled 'QATSPY GOLF® Inside-the-Leather Sports & Fitness Page. Most of these article are listed along the right side of this product page. I also have a line of US WINGS® A-2 Leather Flight Jackets for purchase. These Leather Jackets can be personalized with your name, company name or logo patch (provided by customer) or Military insignia. Click on the image below for the full line of items in my online store.
Key Ingredients:
Proprietary botanical blend:
Guarana supports energy
Chromium helps support healthy blood sugar levels already in the normal range
Taurine, an amino acid, supports energy
Ginseng root helps support physical capacity and performance Coenzyme Q10, an antioxidant, helps support energy
Green tea and Guarana provide naturally derived caffeine
Riboflavin helps metabolize carbohydrates, fats and proteins to provide energy
•Niacin helps support energy-yielding metabolism of macro nutrients.
Our Support of ARBONNE
ARBONNE® has a team to help assist you with our line of products and ordering for men and women. ARBONNE has a line of products for nutrition, skincare, and beauty (makeup) needs. Please reach out and contact us at 1-888-514-1228:
QATSPY GOLF® 1-888-514-1228
Don't past up an opportunity to add golf as a great sporting and athletic activity to your weekly schedule. You can download you Self-coaching Training Procedures from my Online Store under the category of 'Online Golf Training'.
Also I have FREE Health/Fitness articles in my Locker Room that also includes: