The QATSPY Sports Page 4 Golfers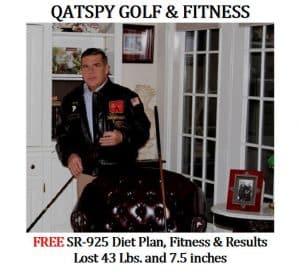 By: Charles W. Boatright
Author of The ESPY Golf Swing Coach, Delta Technique Geared for Distance and Control
The Weight Factor (WF) Detection of Hidden Sugar in Your Foods that Hinders Your Weight Loss
When I started making YouTube Videos on the ESPY golf swing technique, I knew I needed another approach to weight loss and obtaining a healthy lifestyle, especially being 56 at the time. I had just started a new weight program in early part of December in 2014 and for two weeks didn't realize any significant weight loss.
I started my diet program during the first week of December by eating my meals between 9 AM and 5 PM and saw some weight loss, but not what I would've liked.  So I went back to my office and started evaluating not only when I eat, but what I eat, and why I wasn't losing the weight. The WHY is always more important than the WHAT and WHEN.
So I started comparing foods that I knew were healthy (e.g., sweet potatoes) to those I knew that were not AS healthy (e.g., Idaho Potatoes) and tried to identify markers between these two foods. Then the markers that I found in these two foods could be used to evaluate other foods that I eat between 9 AM and 5 PM.
The Weight Factors (WF) Extrapolated from Nutrition Label

s
After I started running the numbers from 5 key factors, I started seeing  a correlation appear using the Nutrition Labels on foods. The Algorithms that I ran started detecting what I call hidden sugars from starches that when digested convert directly to sugar which hinders weight loss.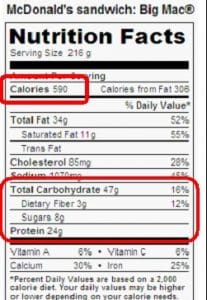 The Weight Factor (WF) is based on five factors from Nutrition Labels:
Calories
Total Carbohydrates
Dietary Fiber
Sugars
Protein
The WF is calculated from:
Dividing Calories/ by the Sum of Carbs + Fiber + Sugars + Protein

Once you create your WF chart like I have, I could start selecting foods that I could eat between 9 AM and 5 PM. Three weeks after I started evaluating foods based on the WF, I started seeing significant weight loss. I lost six inches in my waist within three months. By nine months, I lost an additional two inches in my waistline, which translates into losing 43- pounds.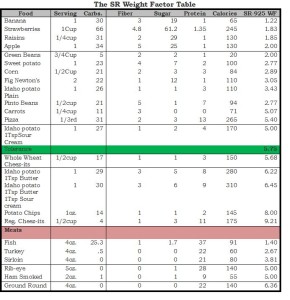 The WF Comparison Between the Sweet Potato and the Idaho Potato
Here is what is great about using the WF to evaluate your food you eat between 9 AM and 5 PM. In comparing the sweet potato to the Idaho potato, I found that the sweet potato has a higher gram content of sugar of 7, compared to that of the Idaho potato of 1 gram. Performing the WF calculations, sweet potato comes in at 2.778 and the Idaho potato comes in at 3.438.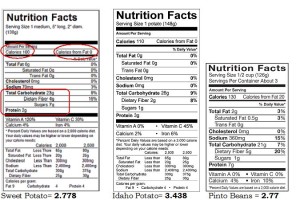 This means that you should not totally drop Idaho potatoes off your diet plan. Instead, you should reduce the number of times that you eat Idaho potatoes (e.g., instead of having Idaho potatoes at each meal, and only have them at one meal per week).
Out of the 21 meals I have, I like to keep 90 percent of my meals, or 18 meals below the WF of 3, and I don't eat 20 percent of my meals with food items that are above 5.75, except for my birthday, anniversary, and two holidays. These times I get to pick from my reward items, like cheesecake that I enjoy, from time to time.
Armed with the SR925 Diet Program and the Weight Factor (WF) evaluator, you can turn your body into a calorie-burning Juggernaut, where I lost 8-inches and 43-pounds within nine months. Better yet, the major indicator of a successful diet program is that I have kept the weight off.
While diet is 80 percent of maintaining a healthy lifestyle, 20 percent is based on an exercise and a fitness program. With any diet, exercise is essential for overall health. With my CASPER Fitness Program in Section 20 of my book, The ESPY Golf Swing Coach, I don't have any weights over 35- pounds and basic equipment shown below.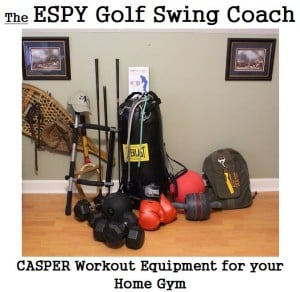 If you want a sport activity that you can enjoy for the rest of your life and enjoy developing friendships with others, take up the sport of golf. If you have no prior experience, are not proficient at this fascinating game, or would like to improve your golf game, purchase your copy of The ESPY Golf Swing Coach from the links below, or visit your local bookstore: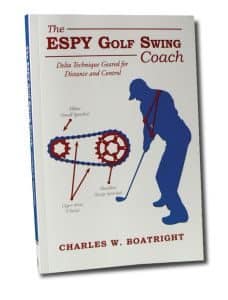 The ESPY Golf Swing Coach, a Self-Coaching Technique and simple Sports Psychology enabling the golfer to take the baseball swing sequence from the batter's box to the tee box.
My book can also be purchased at Edwin Watts Golf Store in Jackson, Mississippi. Phone No. 601-956-8784
820 East County Line Road, Ridgeland, MS 39157
My book can also be purchased on-line at:
To help develop a more effective golf training exercise in your backyard or vacant field, I would recommend purchasing a dozen or more of the Almost Golf Balls® from LIBERTY Health Supply. Please select one of the products below to purchase these golf balls that simulate the actual golf ball without the concern for property damage or personal injury to others. These balls only travel a third of the distance of an actual golf ball.
Pack of 10: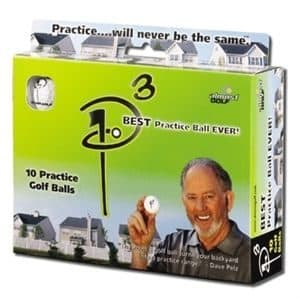 Pack of 36: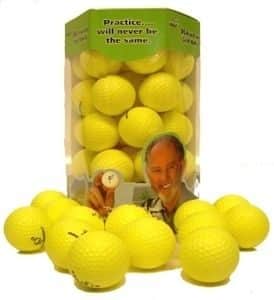 If you use the Promo Code: ALMOSTGOLF you will receive free shipment on any order of Almost Golf Balls® from LIBERTY Health Supply.
I have a utility bag full of these Almost Golf Balls that I practice with three to four hours per day, four days per week.
Health and Fitness Program Golf Exercise for Power
This book is based on a self-coaching forum (ASPEN Pyramid). The ASPEN Self-Coaching Technique provides the beginner and advanced single-digit handicap golfer with a safe, ergonomic classic golf swing mechanics. The ASPEN forum for coaching golf provides basic skills for more power and control in the golf swing sequence without debilitating injuries that are common with some modern-day golf swings. As part of The ESPY Golf Swing Coach forum is a workout program that includes golf exercises with medicine ball designed especially for golfers.
I have also included a FREE SR925 Diet program that anyone can access, where I lost over 40 pounds and 7.5-inches in my waist within nine-months. I went from 37.5 inches in November of 2014 down to 30.0 inches in July of 2015 with the effective SR925 Diet Program that I developed, see detailed below.
Please take advantage of my SR925 Diet Program, where I lost 6 inches in my waist in 3- months (FREE of CHARGE) with the CASPER Fitness Program, detailed in Section 20 of my book, great golf swing workout:
SR925 Diet Program lost 7-inches where I went from a 37.5 inches to 30.25 inch waistline within 9 months, and more importantly, kept the weight off and my waistline after 4 years. Not too many diet programs can provide results like this.
CASPER Fitness Program consist of golf exercises with medicine ball to develop a great golf swing workout for DISTANCE and CONTROL.
One component in my CASPER Fitness Program that I follow is using a Medicine Ball golf swing workout to perform what I call Stocking the Shelves, illustrated below in the figure:
A part of the CASPER Fitness Program are golf exercises with medicine ball – that includes Stocking the Selves and medicine ball exercises Burpees. For endurance and a full body workout, I also include a boxing glove-punching bag exercise.