The QATSPY Sports Page 4 Golfers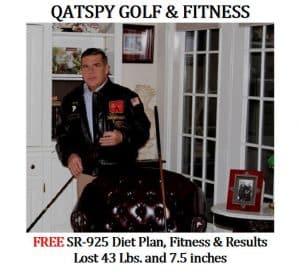 By: Charles W. Boatright
Author of The ESPY Golf Swing Coach, Delta Technique Geared for Distance and Control
The Weight Factor (WF) Detects More Than Just the Hidden Sugars
A couple of weeks after starting the SR925 Diet Program in December of 2014, I soon realized that I needed a means to evaluate my food consumption with this diet. So I turned to the only resource that I had, the Nutrition label on foods. I figured out a way to detect hidden sugars in foods, using five (5) factors that determine what I call Weight Factors (WFs) for various foods.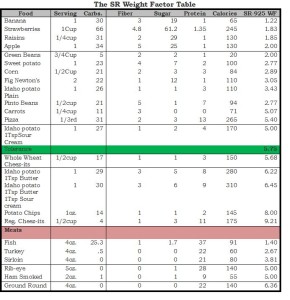 Once I started using the WF, I lost 6-inches in my waistline within 3- months. Then, after 9- months I lost an additional 2- inches in my waistline, which translates to 43- pounds that I have lost and kept off since August of 2015.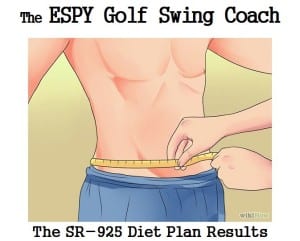 The Weight Factor (WF) and the Compound Factor
This WF is derived by dividing the Total Calories by the sum of the Carbohydrates + Dietary Fiber + Sugars + Proteins. This provided me a way to find out what I could eat between the hours of 9 AM to 5 PM for 90 percent of my meals. The number 2 in the SR925 Diet Program is the time the body has the highest consumption of food. This is why some people feel they need a snack around the 2 o'clock hour.
WF Formula= Calories/Carbs + Fiber + Sugars + Proteins
Now, there is one more critical factor involved with calculating the SR925 Weight Factor and that is considering the Serving Size of food. This is another interesting factor that I found interesting with the Weight Factor formula. The lower the WF number is, the larger the serving Size that was on the label.
I found that Weight Factors for items above 5.75 and up had significantly smaller Serving Sizes recommended. For example, Potato Chips have a WF of 8.42, and a Serving Size of 15 Chips, or 28 grams. I've been at enough parties to know that you eat more than 15 chips. If you eat 30 chips the WF just doubled to 16.84.
My top threshold number that I determined as a healthy score for my food items is 5.75 and be able to lose weight. Here's another tantalizing snack, Cheez-It, that has a WF of 7.143 and a Serving Size of 27 small crackers, or 30 grams. Believe me, I love Cheez-Its and I can eat a half a box in one sitting, if I start.
Now let's compare these with what I consider one of the perfect foods on earth, Pinto Beans, with a WF of 2.903 and Serving Size of a half cup, or about a 100 grams. Another favorite of mine, Sweet Potatoes, with a WF of 2.813 and Serving Size of a half cup, or 100 grams.
Comparing Volume, or the Weight in Grams to be Satisfied
To accurately compare the volume of chips and crackers just for this analysis to that of Pinto Beans and the Sweet Potato, you will have to crush up the chips and crackers, or just weigh them. Measuring in either volume or weight, you begin to see the issue with these type of snack foods. Not only the WF for the Potato chips or Cheez-It crackers are high, but the amount you would have to eat to equal 100 grams is also high.
By the time you have eaten a 100 grams of potato chips or Cheez-It crackers. you have just increased your WF by 333.3 (%) percent up to a WF of 28.067. Now you realize why you can't lose weight consuming high WF foods as a part of your diet. The higher the WF, the smaller the Serving Size is and transversely, the lower the WF, the higher the Serving Size is and the more satisfied you feel.
Please select the Icon below to get your

FREE

copy of the SR925 Diet Program

:
Health and Fitness Program Golf Exercise for Power
This book is based on a self-coaching forum (ASPEN Pyramid). The ASPEN Self-Coaching Technique provides the beginner and advanced single-digit handicap golfer with a safe, ergonomic classic golf swing mechanics. The ASPEN forum for coaching golf provides basic skills for more power and control in the golf swing sequence without debilitating injuries that are common with some modern-day golf swings. As part of The ESPY Golf Swing Coach forum is a workout program that includes golf exercises with medicine ball designed especially for golfers.
I have also included a FREE SR925 Diet program that anyone can access, where I lost over 43 pounds and 7.5-inches in my waist within nine-months. I went from 37.5 inches in November of 2014 down to 30.0 inches in July of 2015 with the effective SR925 Diet Program that I developed, see detailed below.
Please take advantage of my SR925 Diet Program, where I lost 6 inches in my waist in 3- months (FREE of CHARGE) with the CASPER Fitness Program, detailed in Section 20 of my book, great golf swing workout:
SR925 Diet Program lost 7-inches where I went from a 37.5 inches to 30.25 inch waistline within 9 months, and more importantly, kept the weight off and my waistline after 4 years. Not too many diet programs can provide results like this.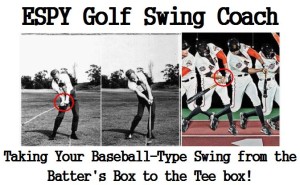 To add a great sport to your lifestyle pick up the game of golf. Never to late or old to learn or improve your golf game. I developed a book, The ESPY Golf Swing Coach, that allows an individual to take their baseball swing from the batter's box to the tee box: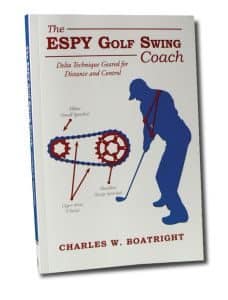 OR shop on: