The QATSPY Sports Page 4 Golfers

Classic Golf Swing Mechanics and simple golf swing tips for self-coaching techniques.
By: Charles W. Boatright
Author of The ESPY Golf Swing Coach, Delta Technique Geared for Distance and Control
Using Nutrition Label Factors to Develop a WF Algorithm Diet Program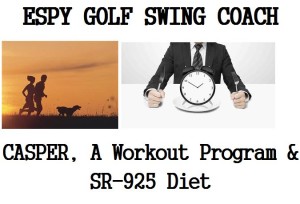 SR925 Algorithm is essentially a process of using specific Nutrition Labels to identify key factors to make effective dietary decisions for weight loss. In the case of the SR925 Diet Program, Algorithms have five (5) key factors to determine the Weight Factor (WF) for specific foods.
The importance and impact of Nutrition Label algorithms on one's diet of these five key factors can be used to determine where certain foods fall within the SR925 Diet Program. I realized, from dietary research, that Sweet Potatoes and Pinto Beans are among the most healthy foods that one can have in their diet. I've also realized that potato chips are among the worst dietary foods. What you have experienced with potato chips is the serving size, which is about 15 chips. The WF is based on the stated serving size, not what the person actually ends up consuming. Have you ever tried to stay within the stated serving size of potato chips?
Armed with the WF factors known about Sweet Potatoes and Potato chips, I wanted to use five criteria from Nutrition Labels to evaluate foods that I could include in my diet program to assist me in reaching my healthy weight.
Circadian Rhythm, Bases of the SR925 Diet Program
I had already had established how the body's digestive system works more effectively, based on Circadian Rhythms. For example, the body, on average, starts processing food between the hours of 9:00 AM until 5:00 PM, with the peak consumption rate being at 2:00 PM. Thus, the 9-2-5 designation that I gave to my diet program.
After I started having my meals between 9-to-5, I started seeing positive results in losing weight. But it wasn't until I started evaluating what I ate between 9-to-5 that I started realizing dramatic results. I used WF algorithms to evaluate foods that I eat, based on five factors to determine the Weight Factor. I was able to determine that if I kept my meal item selections below 5.75, I was able to turn my body into a calorie-burning-juggernaut.
Using WF algorithms that I developed, I started losing inches in my waist immediately. I went from a 37.50 inch waist, starting in December of 2014, down to a 31.0 inch waist, by mid March of 2015. I had never experienced this type of success before trying to get to a healthy weight. By August of 2015, I was able to lose an additional 2.0 inches, for a total of 8.50 inches, which put me down to a 29.0 inch waist. That translates to 48 pounds lost. After three years of being on the SR925 Diet Program, I have kept the weight off and maintained a 29.0 inch waist.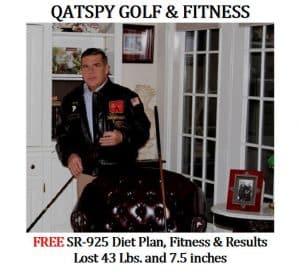 What the WF algorithms did, in my case, was to help me to identify hidden sugars and starches that are in foods. I didn't have to rely on charts, lists, or prepackaged foods that I had to order. I could just go to my grocery store, or even order off of restaurant menus. Most restaurants have nutrition labels available on their websites that you can use to figure the Weight Factors.
I was able to develop my own diet program that allowed me to reduce my intake of sugars and starches that had adverse effects on me losing weight. I didn't say eliminating sugars and starches, but restricting certain sugars and starches. Thus, the name of my WF algorithm diet SR925 Diet Program.
How the SR925 Diet Program Works
What is unique about the SR925 WF algorithm analysis is that it allows me to compare foods, like an Idaho potato, that has 1 gram of sugar, with the sweet potato, that has 7 grams of sugar. These five algorithm factors from the Nutrition Labels provide a person with a tremendous advantage in the pursuit of weight loss/or control program. The WF algorithm helps me find the hidden sugars and starches in foods.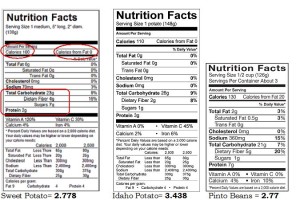 Twenty percent of my food selections that I make, I try to keep below a 5.75 WF. Seventy percent of my food selections, I try to keep below a 3.25 WF. This helps me to reduce sugars and starches from my diet. If you don't identify these hidden sugars and starches in certain foods, then you're fighting a losing battle and finally losing the war.
On foods that are above the 3.25 WF algorithms, you will have to pay close attention to the serving sizes. For instance, like potato chips, the serving size on the Nutrition Label is usually 15 potato chips. You will need to pay close attention to the serving size on food items above 5.75.
One of the biggest obstacles to the SR925 Diet Program isn't so much the 9 o'clock start time, but the 5 o'clock cut-off time. This can become an issue in social events and holidays events. Most social dinners are scheduled after 5 o'clock PM. This can be addressed by selecting what two meals you will have during each week, after the 5 o'clock time. For these meals after the 5 o'clock time, you can select salads and other foods below the 3.25 WF.
For 10 percent of meals, you can select foods above 5.75 or eat after 5 o'clock PM. But exercise caution here, as you don't want to eat within two hours of your regular bedtime. Eating within two hours of your regular bedtime can cause health risks. Remember, health and fitness is the very thing you are trying to achieve and improve.
The Advantage of the SR925 Diet Program
The major advantage of the SR925 Diet Program is:
No cost to you, it is FREE to use; just use the links below.
No expense for prepackaged foods that you have to order that are expensive.
You can use the SR925 Diet Program not only at home but also at restaurants. Most restaurants have Nutrition information available online to allow you to determine your WF selections. Refer to the Nutrition Label for a Big Mac below.
You have more flexibility in managing your diet program.
You have real results in real time, usually within a month.
You cannot only reach your healthy weight, but you can keep the weight off, without a tremendous amount of effort on your part.
Ninety percent of your meals you consume are below 3.25, but 10 percent of your meals can be selected from foods items above 5.75, but below 7.
You can celebrate your accomplishments by rewarding yourself. I usually observe my anniversary, birthday, and special holidays by selecting foods with a WF above 5.75.
The SR925 Diet Program can boost the effects of your exercise/fitness routine. A person depending only on their fitness program has very limited results. Your exercise/fitness routine has only a 20 percent effect on losing weight. Eighty percent of the ability to lose weight is based on your diet.
Calculating the SR925 Weight Factor (WF)

To calculate your SR925 Weight Factor, you use five criteria from Nutrition Labels that include the following data: Calorie (C), Carbohydrate (CB), Dietary Fiber (F), Sugar (S), and Protein (P).
The Weight Factor (WF) Formula is:
Calories divided by the sum of Carbohydrates + Fiber + Sugar + Protein
Or:     C/(CB + F + S + P)
Example, run the numbers on a Big Mac: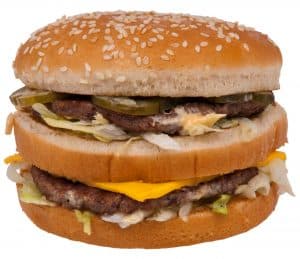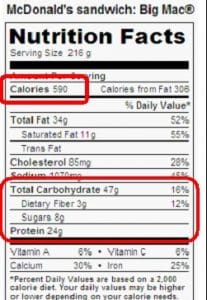 Calorie (C) =                   590
Carbohydrate (CB)=       47
Fiber (F)=                       3
Sugar (S)=                      8
Protein (P)=                   24
590/47 + 3 + 8 + 24 = 7.195 Weight Factor
I have compiled a list of familiar food items that are staples in most diets. This can be a basic list that can be added and stored on your I-phone for a quick Weight Factor (WF) reference guide.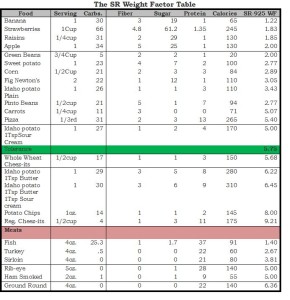 The SR925 Diet Program affects 80 percent of a person's health/fitness; and the remaining 20 percent is based on a person's exercise routine. To access the Home Gym CASPER Fitness Program in Section 20 of my book, The ESPY Golf Swing Coach, can be purchased from the following links below, or visit your local bookstore: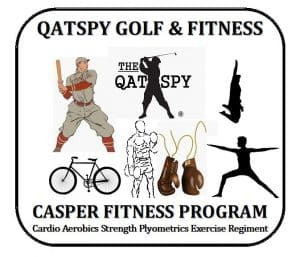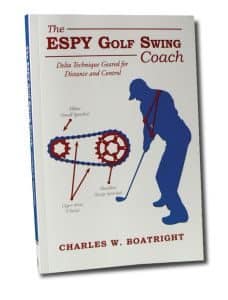 The ESPY Golf Swing Coach, a Self-Coaching Technique and simple Sports Psychology enabling the golfer to take the baseball swing sequence from the batter's box to the tee box.
The reason promote golf as a great sport is it makes for a great health/fitness routine based on the amount of strength and flexibility needed. Yoga is great technique essential for golf that can be included with the CASPER Fitness Program. Golf can be played from age eight to ninety-eight and beyond.
Golf is also a great cognitive exercise to prevent Alzheimer's and treat PTSD's. Golf is also a great sport for a homeschool curriculum, because it offers socialization, sportsmanship, and can be played either as an individual or team sport. And colleges offer students golf scholarships. Golf is a great marketing skill in any profession.
My book can also be purchased at Edwin Watts Golf Store in Jackson, Mississippi. Phone No. 601-956-8784
820 East County Line Road, Ridgeland, MS 39157
My book can also be purchased on-line at:
To help develop a more effective golf training exercise in your backyard or vacant field, I would recommend purchasing a dozen or more of the Almost Golf Balls® from LIBERTY Health Supply. Please select one of the products below to purchase these golf balls that simulate the actual golf ball without the concern for property damage or personal injury to others. These balls only travel a third of the distance of an actual golf ball.
Pack of 10: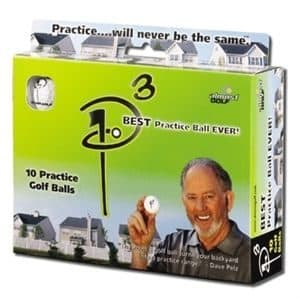 Pack of 36: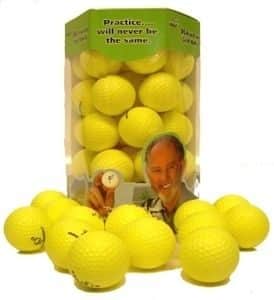 If you use the Promo Code: ALMOSTGOLF you will receive free shipment on any order of Almost Golf Balls® from LIBERTY Health Supply.
I have a utility bag full of these Almost Golf Balls that I practice with three to four hours per day, four days per week.
Health and Fitness Program Golf Exercise for Power
This book is based on a self-coaching forum (ASPEN Pyramid). The ASPEN Self-Coaching Technique provides the beginner and advanced single-digit handicap golfer with a safe, ergonomic classic golf swing mechanics. The ASPEN forum for coaching golf provides basic skills for more power and control in the golf swing sequence without debilitating injuries that are common with some modern-day golf swings. As part of The ESPY Golf Swing Coach forum is a workout program that includes golf exercises with medicine ball designed especially for golfers.
One component in my CASPER Fitness Program that I follow is using a Medicine Ball golf swing workout to perform what I call Stocking the Shelves, illustrated below in the figure: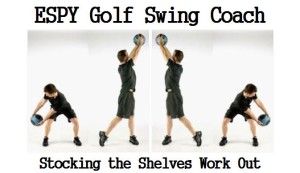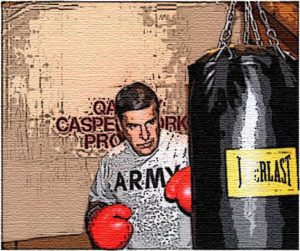 A part of the CASPER Fitness Program are golf exercises with medicine ball – that includes Stocking the Selves and medicine ball exercises Burpees. For endurance and a full body workout, I also include a boxing glove-punching bag exercise.
Please include an exercise routine in your weekly schedule.

       
Additional Motivation to Develop a Fitness Program
If you need addition motivation, which the subconscious mind works from and consist of 90 percent of the classic golf swing, include a fitness and exercise program designed for the golfer daily schedule. This type of exercise provides the critical overload underload training to improve the golfer's power and speed in the golfer's game, please look at another golf fitness enthusiast: The Fit Golfer Girl
Operation DOG TAG
Sports, such as golf, along with fitness and an exercise regimen that includes yoga, has been proven to be a great Cognitive Behavioral Therapy for trauma victims. Veterans and those who have experienced a traumatic situation where the mind has been traumatized and disrupted can use golf and yoga to help re-establish connection and pathways in the brain. Golf also provides an excellent opportunity  for trauma victims to reconnect in a social setting to develop a dialogue without the pressures of clinical visits.
Introduction- Forum for Coaching Golf and Life Skills Operation Dog Tag
Section 1- Operation DOG TAG | GOLF CBT Intervention for PTSD
Section 2- Operation DOG TAG | Objectives and Scope
Section 3- Operation DOG TAG| STRUCTURE GUIDELINES
ESPY Golf Swing Coach- Rhythm Without the Blues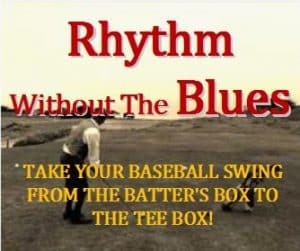 ESPY Golf Swing Coach- ESPY Golf App Develops the golfer's Rhythm w/o creating the golfer's Blues. The ESPY Golf Swing helps the golfer establish the correct wrist action in golf swing demonstrated by David Duval in an interview with Charlie Rymer on Golf Channel.
Also, learning The ESPY Golf Swing Coach process is an excellent way to develop natural Rhythm without experiencing the Blues in your golf game to build confidence; learn how to take your baseball-style swing from the batter's box to the tee box.
THE LOCKER ROOM a source for golf tips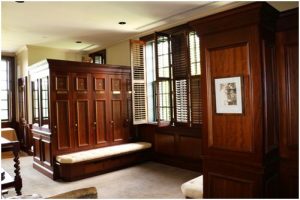 Please visit "The Locker Room" for an Index of all my golf articles to improve your golf game and life. Discover how you can take your baseball swing from the batter's box to the tee box.
Learn How to take your baseball-style golf swing from the batter's box to the tee box.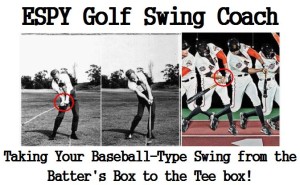 Time-lapse photography that I reviewed during my Kinesiology Xerox Box Golf Research Project compared the golf swing vs. baseball swing and how similar the Sync/Preset wrist action in the golf swing was to the baseball swing sequence.
Here's the QUESTION: How many times standing in the batter's box did you think about your golf swing mechanics, techniques, or elements. Your were only focused on the pitch. Why don't use the same Outlier technique in golf.
Sir Nick Faldo demonstration of the Preset Golf Swing Technique
One of Sir Nick Faldo's first golf swing fundamentals that he learned as demonstrated in this YouTube video entitled The Preset golf swing technique. Nick Faldo discussed the WHAT, but didn't explained the HOW in his YouTube video.
The Sync/Preset Elements in The ESPY Golf Swing Coach explains how to setup the classic golf swing maneuver to place the wrists into the key Lock Position. This was the same golf swing technique used by David Duval during an interview with Charlie Rymer on Golf Channel. These two Videos are probably two of the best Videos to discuss the wrist action in the golf swing.
For Comments or questions please contact me at 1-888-514-1228 Mon – Fri from 9 am to 4 pm CT Zone.
A Recommendation for your Golf Game:
I would like to recommend an interesting radio program that I regularly listen to originating from my home state Arkansas on my I-Heart Radio app on KARN 102.9 FM station, out of Little Rock. They air a golf show called Arkansas Fairways and Greens, at 7:00 AM CT each Saturday morning, hosted by Bob Steel, and co-hosted by Jay Fox and Charles Crowson. Bob occasionally as has his guess Alex Myers with Golf Digest and Ron Sirak with Golf Channel. I was interviewed on his show about my book, The ESPY Golf Swing Coach. This show is worth tuning into for golf news and information.
Jay Fox is an Administrator with Arkansas State Golf Association that discuss amateur golf and rules of the game.
Check out my full library of BLOGS @ www.espygolfapp.com/blog or purchase your copy of "The ESPY Golf Swing Coach" @ www.espygolfapp.com/store.
Facebook – The QATSPY Golf Approach
Twitter – @cwboatright
Google+ – ESPY Golf Swing Coach
YouTube – ESPY Golf Swing Coach
Once you learn WHY, you don't forget HOW!
YouTube Videos:
https://youtu.be/ZGVNrIw_wlo (Cam & Cam-over elements)
https://youtu.be/K2FDHZ3AX9w (Figuring your proper swing plane)
https://youtu.be/TO82PMO6G8M (Developing muscle memory)
Two decisions that you can make for yourself and your kids are to get a copy of my book and place the book and a golf club into their hands. You will never look back, but only forward. You will not miss with this for yourself and/or your kids.
Until next time– Be Synched, Tee-to-Green, with The ESPY Golf Swing!