The QATSPY GOLF Inside the Leather Sports Page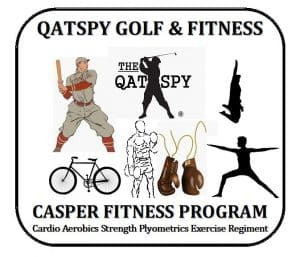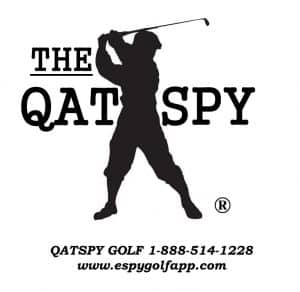 Inside the leather Classic Golf Swing Mechanics and simple golf swing tips for self-coaching techniques.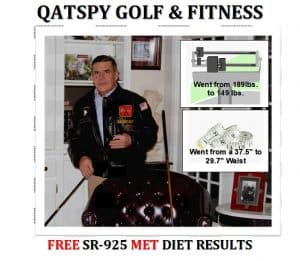 By: Charles W. Boatright
Author of The ESPY Golf Swing Coach, Delta Technique Geared for Distance and Control
The Science Behind Lifting Weights to Lose Weight (Body Fat)
The Science behind the SR925 MET Diet Program of How to Turn Your Body into a Fat-Burning Juggernaut for losing weight and inches while improving your health and fitness all within 9-months.
FACT:
Each pound (lb) of muscle burns an extra 50 calories
Each liter (61.02 cubic inches) of muscle weighs 1.06 Kg (2.3 Lbs)
Each liter of fat weighs 0.9 Kg (1.98 lbs)
When I wrote about the tremendous weight loss on my SR925 MET Diet (started in December of 2014), I posted my results in inches of my waistline, instead of pounds (lbs) lost. One reason for this is, like many others, you gauge you weight by clothes you can fit into.
For instance, I went from a waistline in my blue jeans and khaki pants that I routinely wear before December 2014 with a waist of 37 inches, down to a waist of 30 inches within nine (9) months. My actual waistline is 29.2 inches NOW.
I accomplished this by a combination of a strength program that I follow and by developing the SR925 MET Diet Program, where I turned my body's Metabolic process into a fuel-burning juggernaut. As the name implies, I eat my meals between 9 AM and 5 PM; and the number 2 is when the body burns fuel at the highest rate, which is at 2 PM.
While Exercises are Important, it is Your Diet that has the Biggest Impact  
Eighty percent of your health and fitness is based on your diet, and the other 20 percent is fitness and lifestyle changes. Even though strength training burns fuel (i.e., fat) at a rate of 50 calories per day, per pound of muscle, I use my strength program mainly for maintaining my muscle density and joint health.
As noted in the previous paragraph, I lost seven (7) inches in my waistline within nine (9) months, with 40 percent of inches lost within three (3) months. The success of a diet program isn't just losing the inches; it is keeping it off. December 14, 2018 marks four years since I started my SR 925 MET Diet Program.
Losing the Inches in my Waistline was Great; But the SR925 MET Diet Program IS FREE!
What's really nice about the SR925 MET Diet Program just isn't the seven (7) inches I lost, but this is FREE, and there's NO FOOD to pre-order or fees to use this program. If you eat between 9 AM to 5 PM, six days out of the week, and use a simple Weight Factor (WF) to evaluate your food, you can turn your body into a fat-burning juggernaut and start seeing results within weeks with moderate exercise.
Your strength and fitness don't have to be Olympic-type routines, so even working with an 8- to 12-lb Medicine Ball with aerobics can provide the results you want. I routinely perform 100 sit-ups per day with a 15 lb Medicine Ball and what I call Stocking the Shelves. Below are five of my CASPER Fitness routines and reference articles: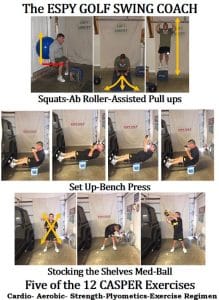 SR-925 MET Diet Program
925 Concept- http://goo.gl/RX1HzC; Food Selection- http://goo.gl/S8pgWA; Results of the 925- http://goo.gl/AGulqo (Free of Charge Please Share)
Above I have listed the information on the SR925 MET Diet Program and how to read the standard Nutrition Labels to determine the Weight Factor on food you buy from grocery stores or eat at restaurants. Most restaurants have nutrition data on their website that you can access with your I-Phone.
I broke all of the conventional wisdom with the SR925 MET Diet, since I started the diet during the holidays and was over the age of fifty-five (55). One reason for starting my diet plan in December was because I was starting my golf training videos in March. The camera isn't kind to people, and I needed to lose my belly fat.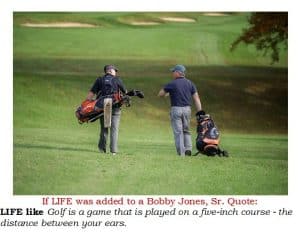 To develop a great sport at any age, pick up the sport of golf and a copy of my book, purchase your copy of The ESPY Golf Swing Coach from the links below, or visit your local bookstore: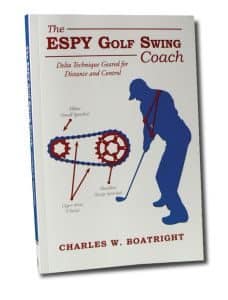 E-Book-                $ 8.99
Paperback-           $15.75
Hardback-            $31.42
My book can also be purchased on-line at:
The ESPY Golf Swing Coach, a Self-Coaching Technique and simple Sports Psychology enabling the golfer to take the baseball swing sequence from the batter's box to the tee box. Everyone needs an athletic activity to enjoy and help them keep active, GOLF is an excellent sport to pick up from age 8 to 98 and beyond.