The QATSPY GOLF Inside the Leather Sports Page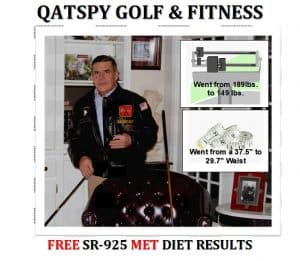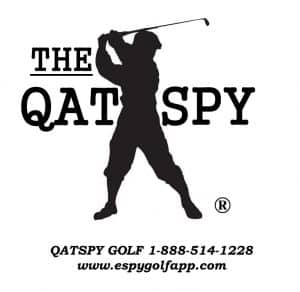 By: Charles W. Boatright
Author of The ESPY Golf Swing Coach, Delta Technique Geared for Distance and Control
A Healthy Delight 4 your Holidays and 4 the New Year's Health Resolution
Just because it is the Holidays, you don't have to abandon your SR925 MET Diet Program and still maintain or work toward your objective weight and waistline. What turned my SR925 MET Diet Program into the juggernaut was the Weight Factor that I included with the SR925 MET Diet Program. SR represents Sugar and Starch restriction and MET represents Metabolic rate that your body is able to consume food and turn it in to a fuel source.
I struggled to lose weight for the first few weeks following the diet that I was using by eating on a time schedule. I only managed to lose a couple of inches in my waistline until I developed the SR925 MET Diet Program with the Weight Factor (WF). Then I kicked my weight loss into high gear, losing 6-inches in my waist in two months and a total of 7-inches in 9-months.
The Weight Factor is a formula that you can use to evaluate your food selections, using the standard Nutrition Label on the back of foods or online with your I-Phone. Most of us have I-Phones that can search the Nutrition Label on food items from grocery stores and/or restaurants.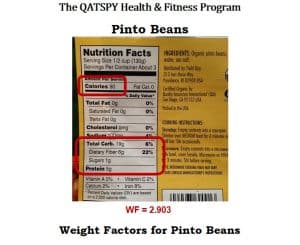 You can use the same Weight Factor for a delicious items you can have after a meal, or, as I do, for the breakfast of Champions, Pumpkin Pie with a cup of coffee. Don't buy the prep-mixed or ready-to-serve pumpkin pie, but instead mix your own ingredients using the Libby's® Pumpkin, below.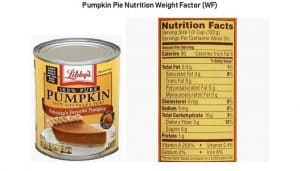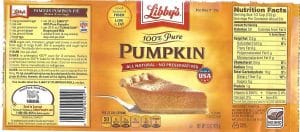 All the ingredients follow the recipe on the back of the Libby's® Pumpkin can recipe, except for the sugar. Instead of the three-quarter (3/4) cup of sugar, I use only (1/3) half-a-cup. This cuts your sugar intake by 33.3 percent on this Pumpkin pie. Also the best method to bake your pumpkin pie is on a cookie sheet or pizza pan to prevent the crust from burning, blistering or bubbling-up, and a great way to catch spills overs. Use PAM® on your pie pan to prevent sticking when serving.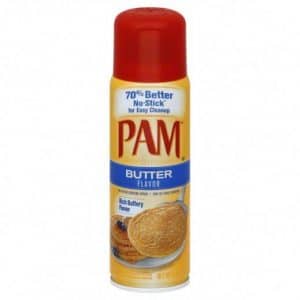 You might be asking yourself this question, what's a guy that writes a sport page about golf training drills and Sports Psychology providing tips on baking. As a kid and teenager, I worked in my grandfather's bakery where our specialty was breads and rolls including pies. We didn't do cakes, too much competition in the cake market.
I still have the Hobart oven and 20-Quart mixer in my commercial kitchen, you see part of the mixer in the photograph below. I do breads for neighbors and friends around the holidays. Below is a two- dozen-and-a-half (18) of my classic whole wheat rolls just out of my Hobart convection oven.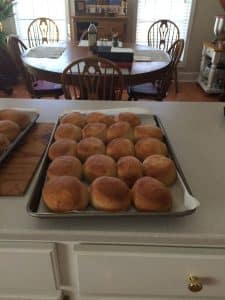 Ninety percent of my diet comes from foods below the Weight Factor of 3.5. By reducing the sugar in your Pumpkin pie recipe by 33.3 percent, the WF is 2.952. This is in the range of foods that I consider as the perfect food.
The Weight Factor Formula is:
(WF)= Calories / (Carbohydrates + Fiber + Sugar + Protein)
The actual calculation would be:
Calories= 682.0
Carbohydrates= 97.0 grams
Fiber= 3.0 grams
Sugar= 116.0 grams
Protein= 15.0 grams
Weight Factor per slice of pie (based on 10 slices per pie)
WF = 68.2 / (9.7 + 0.3 + 11.6 + 1.5) = 2.952
The reason the data above is different from that on the Nutrition Label on the back of the Libby's Pumpkin can is that the added ingredients include the 33.3% less sugar. I only use a third (1/3) Cup of sugar. Also, the eggs add 12 grams of Protein to the recipe. Eggs are a great source of protein by themselves. Pumpkin pie is a great way to get your protein.
For more information on my SR925 MET Diet Program select the icon below:
In the SR925 MET Diet Program, I lost 7-inches, where I went from a 37.5 inch to a 30.25-inch waistline within 9 months, and more importantly, kept the weight off and my waistline the same after 4 years. Not too many diet programs can provide results like this. UPDATE: As of November 27, 2018, I'm now have a waistline of 29.25″, that's 8.25-inches lost in my waistline since starting the SR925 Diet Program in November of 2014. Again this is a FREE Diet Program, NO COST to you except for the weight and inches you will lose.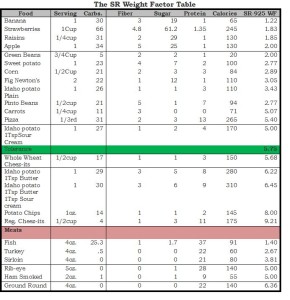 Don't miss my 12-Point Investment Plan to Significantly Change Your Life, a New Year's Resolution. Will be Published on December 30, 2018
Recipe for a 9-inch Deep Pie Crust Shell
2 cups of sifted Flour
1/2 teaspoon of Salt
2/3 cup of Shortening (for convenience use stick shortening)
6 Tablespoons cold water (place ice cubes in a glass of water)
Sift flour and add salt. Measure flour after sifting. Cut in shortening with a rubber spatula into flour/salt mixture in a mixing bowl and place bowl onto a electric mixer add medium mixing speed.
Gradually add cold water to flour/salt/shortening mixture one Tablespoon at a time until dough start forming a ball.
NOTE: NEVER add more flour to mixture after cold water is added. This will cause the crust to become tough.
Direction for rolling out the crust:
Rollout crust to approx. 1/8-inch thickness, slightly dust crust with flour to prevent sticking to rolling pin (Figure No. 1). To make the transfer of rolled out crust to the pie pan easy, use a piece of 1/4 or 3/8-inch piece of plywood that is large enough to handle the crust with a piece of parchment paper placed on the board. After rolling out the crust, just place the PAM sprayed pie pan upside down onto the crust and just flip the plywood board over and just lift the paper and plywood board off the pie pan and press shell into place (Figure No. 2 and Figure No. 3). Use a knife to trim off excess crust. You can use your fingers to create a design into the edge of the pie crust.
Prep Work: Prepare your crust first then prepare the filling. Make sure you use a whisk to make sure you mix the cinnamon, ginger, and clove spices in with the pumpkin, eggs, evaporated milk mixture. The spices has a tendency to settle out of the filling to the bottom of the bowl. When you place the filling into the pie shell, make sure your are standing right by the oven. Walking across the kitchen with a pizza pan and unbaked filled pie is a interesting venture.
Baking the pumpkin pie: (Figure No. 4) bake the pie as directed on the back of the Libby's Pumpkin can label. It is usually baked at two temperatures. I use a polished ice pick to test the pie to check if it has finished baking. A knife leaves a large mark in the pie's surface. The Ice pick hole will close back up as the pie cools.
HINT: The best rolling pin to use in baking is a marble rolling pin in Figure No. 1. This applies to rolling out rolls that I featured above. The weight and hard surface assist with rolling out crust and rolls that I do in my bakery. And it is easier to cleanup after the prep work.