The QATSPY Sports Page 4 Golfers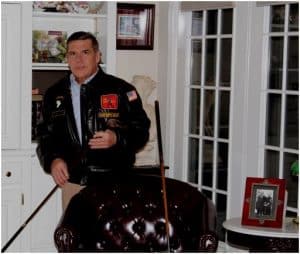 By: Charles W. Boatright
Author of The ESPY Golf Swing Coach, Delta Technique Geared for Distance and Control
Cross-training Golf Swing Technique for Physical Performance Using  Primary and Secondary Muscles
Some of the top performing professional and amateur athletes in various sports have adopted some form of Cross-training to improve their performance. These athletes use weight training, a boxing bag workout, cycling, yoga, plyometrics, swimming, and power walking, just to name a few types of Cross-training exercises. In addition to the physical benefit of Cross-training, the athlete also gains a mental dimension of confidence, stability, and consistency.
I will use an example of the mental dimension benefit of stability and consistency later on in this article on a story that aired on Golf Channel during the 2018 Drive, Chip, and Putt competition held at the Masters.
There are primary muscles, as well as secondary muscles that the golfer depends on to execute their golf swing sequence. The difference between the primary muscles and the secondary muscles is that while the primary muscles are directly engaged in the golf swing sequence, the secondary muscles are the stabilizing muscles.
Secondary muscles provide balance, posture, flexibility and, more importantly, resistance during the golf swing sequence. Resistance is just as important to the golfer as the actions of the primary muscles that are engaged in the golf swing sequence. I like the term golf swing sequence, because of the chain reaction that takes place. The golf swing isn't one movement with one muscle, but a sequence of muscles. Cross-training and fitness help improve the effectiveness of the secondary muscles, due to how the different muscles are worked.
The Importance of Stability in Learning and Performance
At age eight (8), after the first grade, I had a pre-existing learning disability that wasn't detected in preschool. I had impaired vision that also affected my balance and stability. After my vision was corrected, I worked with a physical therapist on my balance and stability issues. To my amazement, I made a tremendous improvement in my learning capabilities during the summer months to prepare me for the second grade. Learning was actually enjoyable, instead of an obstacle.
My experience with stability and balance was not unique. Studies have shown  that stability interferes with a person's learning ability. The multimodal balance task (MBT) that I performed during my physical therapy improved my stability and learning performance. Multimodal is another term for Cross-training. Research has shown that motor skills associated with other exercises alter the sensor motor function and brain structure to improve the learning capabilities of the student.
The positive effects of multi-discipline sports called Apperception help to reinforce and improve the athlete's motor skills, because the brain has to establish new pathways needed to support the athlete's activity called Neuroplasticity. The athlete has to develop their secondary muscle to provide their stability. Neuroplasticity is critical for early childhood development. My experience with Cross-training directly improved my learning capability and performance.
The term Neuroplasticity is an extravagant word for the brain's ability to reorganize itself by forming new neural connections, so this could possibly be key for Alzheimer's theory. Neuroplasticity allows the neurons (nerve cells) in the brain to compensate for injury and disease and to adjust their activities, in response to new situations or to changes in their environment. It activates new areas of the brain. This Cross-training approach, or apperception, can significantly help golfers.
The sport of golf, along with a proper diet, provides an excellent therapy treatment for various complications with medical issues such as: maintaining a healthy weight, lowering cholesterol and blood pressure, flexibility, mental health, and overall physical health. I typically use a pedometer on my I-phone when I play golf, and typically record up to 9.5 miles that I have walked when using a pull/push hand cart.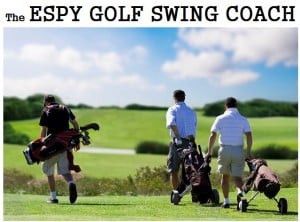 Cross-training develops ExtraSensory Performance (ESP)
The Cross-training technique of coaching golf goes far beyond just the physical benefits to provide the mental horsepower that accounts for 90 percent of the golfer's performance. There's a statement that is used by the medical and physical training field that states- What benefits the body and heart also benefits the mind. Multiple-discipline type sports and exercises, that I proved by overcoming my disability, have mental benefits, in addition to physical benefits. I refer to this Cross-training as ESP.
The example that I mentioned earlier in this article was from a story that aired on Golf Channel during the 2018- Drive, Chip, and Putt competition about a young man, Kaden Ford, that has epilepsy. During the Golf Channel interview, Kaden's mother explained how resilient the human brain really is. She described how one day while Kaden made his backswing, he had an epileptic seizure where Kaden blacked out.
Kaden recovered just in time at the top of his follow through swing to witness a great tee shot. His mother credited muscle memory for the execution of his golf shot. I would also, in addition to Kaden's muscle memory, credit his Cross-training that developed Neuroplasticity. Neuroplasticity is like a road detour, where the brain reroutes around the interference during Kaden's epilepsy that allowed him to complete his tee shot.
Another point that was brought up by Peter Jacobsen, with Golf Channel, was the multi-sports that the kids are participating in that was evident during the Drive, Chip, and Putt competition. Jacobsen described that most kids were engaged in other sports, like baseball, basketball, tennis, and soccer. Participating in other sports is the advantage of the coaching technique called Apperception, which is a key part in my book, The ESPY Golf Swing Coach. These sports enhance eye-hand coordination in kids. This is the major benefit that Cross-training has.
How to Apply Cross-training as a Golf Coaching Technique
This was a technique that my grandfather taught me when I was twelve. Besides using the baseball-style golf swing of Sync/Preset, shown in the time-lapse photo below, I also used the Home Plate golf swing technique as part of my golf swing and routine.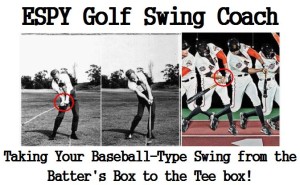 It is actually an easy golf swing technique to learn and apply with positive results used during training sessions and on the golf course. It becomes part of your normal golf swing routine, without even thinking. And that's what a routine is supposed to do, eliminate thinking. Your aim is to limit your thinking on the golf course and just develop a Concise Routine Optimum Swing Sequence Training. A major part of Home Plate Cross-training Technique is to create a mental image of a home plate and batter's box to increase the golfer's focus.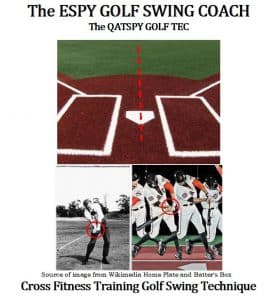 This refers back to what Peter Jacobsen was referring to by kids participating in other sports. The Home Plate Cross-training technique focuses the golfer's attention on a very small area that includes the golf ball and home plate. The length of the home plate (17- inches) is the length of my impact area and follow through alignment.
In the 2018 March issue of Sports Illustrated Golf Magazine on page 111, there is a golf swing technique drill called Channel Your Shots. Instead of clubs on the ground, I use the home plate coaching technique that allows me to come into the impact area on the target line and keep the clubface pointing toward the target, after impact, until the clubhead passes the front part of the home plate. You will be impressed with your performance and achieve the following:
Properly align your stance to your desired target line.
The batter's box places the golfer into a Designated Mental Zone of focus, like a batter focusing on the pitch.
Sync/Preset wrist action in golf swing, similar to That Wrist Thing as Charlie Rymer described David Duval's golf swing during an interview on Golf Channel.
Drop the tip of the handle of the club down at the back corner No. 4 of home plate. Keep your head down until the clubhead passes in front of home plate.
Keeps the clubface pointing toward the target line longer, until the clubhead swings past the front part of home plate on the follow through.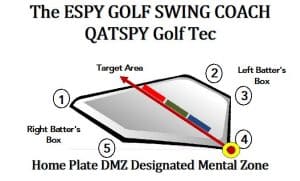 NOTE: Bullet number four (4) is key of dropping the tip of the handle of the golf club down toward the orange and red target of home plate shown above. The Cross-Training golf swing technique creates more power and accuracy in ALL of your golf shots.
These five points represent one corner of home plate. This is a great pre-shot routine to go through while standing behind the golf ball before stepping into your batter's, or golfer's, box. Once in your batter's box, nothing or no one else is allowed into your box, and your only focus is the ball and home plate. Everything else fades from your consciousness.
In Section 12.1.6 my book, I use another baseball batter's technique that Pernilla Lindberg used during the 2018 ANA Inspiration Golf Tournament. During Pernilla's setup routine, she raised her arms up into a baseball batter's position over home plate before lowering them again, placing the clubhead behind the ball. This is a great golf swing technique to properly set the golfer's elbows, in relation to the golfer's shoulders. This is what I call the dual sprocket technology.
Home plate and the batter's box are great coaching techniques that the golfer can use during training sessions and on the golf course for producing consistent golf shots and to set up shape shots, as described in Section 13.4 of my book.
Remember to allow the golfer's conscious mind and their subconscious mind to synchronize with each other, and that the practice has to resemble playing conditions. This is one reason why I like the Home Plate Coaching Technique over the two club techniques used in the Sports Illustrated Golf Magazine's Private Lessons Section, in the March 2018 issue.
Home plate is probably one of the best self-coaching techniques for power and consistency that the golfer can use, on and off the golf course. The simple home plate coaching tool is a unique coaching tool to create lag by presetting the proper wrist action in the golf swing, as these are two important components.
Select and Purchase NOW your copy of The ESPY Golf Swing Coach from the links below, or visit your local bookstore: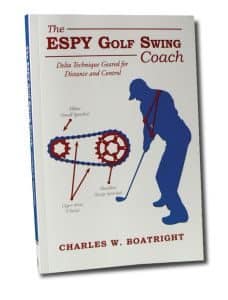 My book can also be purchased at Edwin Watts Golf Store in Jackson, Mississippi. Phone No. 601-956-8784
820 East County Line Road, Ridgeland, MS 39157
My book can also be purchased on-line at:
Health and Fitness Program Golf Exercise for Power
This book is based on a self-coaching forum (ASPEN Pyramid). The ASPEN Self-Coaching Technique provides the beginner and advanced single-digit handicap golfer with a safe, ergonomic classic golf swing mechanics. The ASPEN forum for coaching golf provides basic skills for more power and control in the golf swing sequence without debilitating injuries that are common with some modern-day golf swings. As part of The ESPY Golf Swing Coach forum is a workout program that includes golf exercises with medicine ball designed especially for golfers.
I have also included a FREE SR925 Diet program that anyone can access, where I lost over 40 pounds and 7.5-inches in my waist within nine-months. I went from 37.5 inches in November of 2014 down to 30.0 inches in July of 2015 with the effective SR925 Diet Program that I developed, see detailed below.
Please take advantage of my SR925 Diet Program, where I lost 6 inches in my waist in 3- months (FREE of CHARGE) with the CASPER Fitness Program, detailed in Section 20 of my book, great golf swing workout:
One component in my CASPER Fitness Program that I follow is using a Medicine Ball golf swing workout to perform what I call Stocking the Shelves, illustrated below in the figure: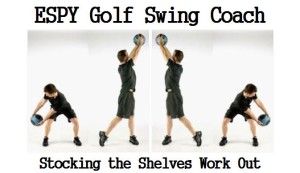 A part of the CASPER Fitness Program are golf exercises with medicine ball – that includes Stocking the Selves and medicine ball exercises Burpees. For endurance and a full body workout, I also include a boxing glove-punching bag exercise.
Please include an exercise routine in your weekly schedule.

       
Additional Motivation to Develop a Fitness Program
If you need addition motivation, which the subconscious mind works from and consist of 90 percent of the classic golf swing, include a fitness and exercise program designed for the golfer daily schedule. This type of exercise provides the critical overload underload training to improve the golfer's power and speed in the golfer's game, please look at another golf fitness enthusiast: The Fit Golfer Girl
Operation DOG TAG
Sports, such as golf, along with fitness and an exercise regimen that includes yoga, has been proven to be a great Cognitive Behavioral Therapy for trauma victims. Veterans and those who have experienced a traumatic situation where the mind has been traumatized and disrupted can use golf and yoga to help re-establish connection and pathways in the brain. Golf also provides an excellent opportunity  for trauma victims to reconnect in a social setting to develop a dialogue without the pressures of clinical visits.
Introduction- Forum for Coaching Golf and Life Skills Operation Dog Tag
Section 1- Operation DOG TAG | GOLF CBT Intervention for PTSD
Section 2- Operation DOG TAG | Objectives and Scope
Section 3- Operation DOG TAG| STRUCTURE GUIDELINES
ESPY Golf Swing Coach- Rhythm Without the Blues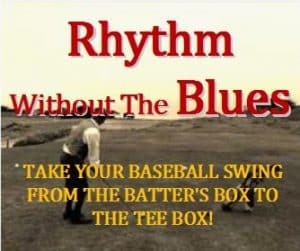 ESPY Golf Swing Coach- ESPY Golf App Develops the golfer's Rhythm w/o creating the golfer's Blues. The ESPY Golf Swing helps the golfer establish the correct wrist action in golf swing demonstrated by David Duval in an interview with Charlie Rymer on Golf Channel.
Also, learning The ESPY Golf Swing Coach process is an excellent way to develop natural Rhythm without experiencing the Blues in your golf game to build confidence; learn how to take your baseball-style swing from the batter's box to the tee box.
THE LOCKER ROOM a source for golf tips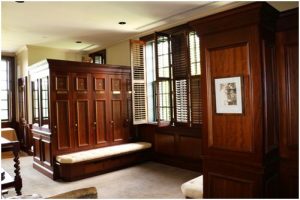 Please visit "The Locker Room" for an Index of all my golf articles to improve your golf game and life. Discover how you can take your baseball swing from the batter's box to the tee box.
Learn How to take your baseball-style golf swing from the batter's box to the tee box.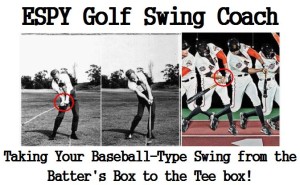 Time-lapse photography that I reviewed during my Kinesiology Xerox Box Golf Research Project compared the golf swing vs. baseball swing and how similar the Sync/Preset wrist action in the golf swing was to the baseball swing sequence.
For Comments or questions please contact me at 1-888-514-1228 Mon – Fri from 9 am to 4 pm CT Zone.
A Recommendation for your Golf Game: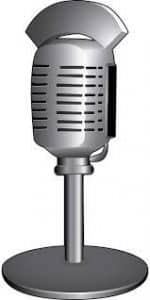 I would like to recommend an interesting radio program that I regularly listen to originating from my home state Arkansas on my I-Heart Radio app on KARN 102.9 FM station, out of Little Rock. They air a golf show called Arkansas Fairways and Greens, at 7:00 AM CT each Saturday morning, hosted by Bob Steel, and co-hosted by Jay Fox and Charles Crowson. Bob occasionally as has his guess Alex Myers with Golf Digest and Ron Sirak with Golf Channel. I was interviewed on his show about my book, The ESPY Golf Swing Coach. This show is worth tuning into for golf news and information.
Jay Fox is an Administrator with Arkansas State Golf Association that discuss amateur golf and rules of the game.
Check out my full library of BLOGS @ www.espygolfapp.com/blog or purchase your copy of "The ESPY Golf Swing Coach" @ www.espygolfapp.com/store.
Facebook – The QATSPY Golf Approach
Twitter – @cwboatright
Google+ – ESPY Golf Swing Coach
YouTube – ESPY Golf Swing Coach
Once you learn WHY, you don't forget HOW!
YouTube Videos:
https://youtu.be/ZGVNrIw_wlo (Cam & Cam-over elements)
https://youtu.be/K2FDHZ3AX9w (Figuring your proper swing plane)
https://youtu.be/TO82PMO6G8M (Developing muscle memory)
Two decisions that you can make for yourself and your kids are to get a copy of my book and place the book and a golf club into their hands. You will never look back, but only forward. You will not miss with this for yourself and/or your kids.
Until next time– Be Synched, Tee-to-Green, with The ESPY Golf Swing!