The QATSPY GOLF Inside the Leather Sports Page

12-POINT NEW YEAR'S RESOLUTION TO IMPROVE YOUR LIVE
By: Charles W. Boatright
During President George Herbert Walker Bush (The 41st President) Funeral, Brett Baier, with FOX News, mentioned A Letter by President Bush (41) to Live By. I have put together 12-Point Investment Plan for your Health/Fitness in Life. These are great items my grandfather gave me that still works today. These are great New Year's Resolutions to make and keep during the New Year.
12-Point Investment Plan in Health/Fitness/Lifestyle with a 600% Return
This 12-Point Investment Plan can make a significant difference in your life and the lives of others. These 12-Point Investment Plan have minimum cost to you, but have incalculable benefits to enrich your life with personal achievements. During the period between Christmas and the New Year, we pause to make an assessment of our lives. We examine what we have accomplished, what our present state is, and what we would like to accomplish in the future. Usually these assessments are done at birthdays, anniversaries, and at the end of the year.
Here are 12 Point Investment Plan that can significantly change our lives:
Start an IRA, a 401-(k) plan, or 529 College Saving Plan and contribute at least 10% to the plan.
Get at least an Associate's Degree or Vo-Tech Degree.
Learn a trade, in addition to your Degree.
Develop a close friendship with at least one person not related to you.
Pick an athletic activity that has a competition component to compliment your fitness workout.
Read at least five books a year.
Have a daily devotion with meditation.
Have a fitness program, consisting of Cardio, Aerobics, Strength training.
Develop a balanced diet program, based on a 925 Schedule. (SR925 MET Diet Program) This is a very inexpensive Program that pays big dividends.
Take a 30-minute walk each day and have a routine Exercise program. (CASPER Fitness Program) at least 3 x per week.
Drink at least 2 cups of coffee or hot tea each day.
Write at least one article per week covering an activity you are interested in (e.g., sports, your career, technology, or inspirational). You don't have to submit or post it for publication, but use it for your own mental development.
A brief outline of each of the 12 Opportunities you can do to significantly change your life:
Start an IRA or a 401-K-
DON'T MISS THIS ONE, THIS IS TOO IMPORTANT TO YOUR FUTURE and FUTURE of YOUR FAMILY and FRIENDS! PLEASE FEEL FREE TO POST THIS!

Start an IRA or a 401-K plan at work or on your own. It is never too late to start an IRA or a 401-K plan, but the earlier the better to take advantage of compound interest effect and dividend reinvestment opportunities. Some business are transitioning from a pension plans to IRA or 401-K, with matching funds up to six percent (6%) with payroll deduction. Small investments make the biggest differences over time. Time is really money!
In the book The Richest Man in Babylon by George Samuel Clason, George Clason stated that even investing as little as ten percent (10%) of your monthly income into an IRA or 401-K can have a major impact on the future value of your investment. Over your career of 25 to 30 years based on your weekly or monthly contribution, this could provide you between $500,000.00 to $1,250,000.00 to retire and start something you want to do, instead of something you have to do. This is the true meaning of independence.
Get at least an Associate's Degree or Vo-Tech Degree-
Eighty percent (80%) of the jobs in the near future will require only an Associate, based on Specialized Technology or Vo-Tech Degree. The highest paying jobs right out of school are based in technology with specialized skills like robotics, computers, welding, electricians/linemen, engineering techs, and nursing for example. It is never too late to go back to school to get retrained in a specialized technology field.
Learn a trade in addition to your Degree-
Even if you have an existing career in another field, it is a great idea to attend a Community College or Vo-Tech school to pick up a trade. These trades can be used for a second supplemental career or for retirement as a part-time job. These second careers can include fields like welding, electrical, carpentry, journalism, and landscaping, for example. An active lifestyle is a healthy lifestyle.
An excellent example of a Trade and Craft Training center is the Back Channel School that teaches furniture-type woodworking. This trade school is located minutes from downtown Pittsburgh, PA, in McKees Rocks. This is based on a Master Craftsmen and Artisan curriculum. Dante Dilanni is the master instructor and owner of the trade school. Back Channel contact information is 412-331-0009.
Making a passion, like woodworking, welding, or other trades, into your post-retirement profession is not only a great opportunity to help others in your available time, but this helps retirees remain healthy, both physically and mentally.
Develop a close friendship with at least one person not related to you-
Develop a rapport with an individual who has your total confidence and trust, other than a family member. Great traits of a close friendship are nonjudgmental, acceptance of who you are and who they are, accessible, available, mutual respect, appreciation of your view, help you move, put up with your golf game, and are available for a cup of coffee.
In the book Friendship Factor by Alan Loy McGinnis, Alan McGinnis describes how developing friendships with others has an important impact on the quality of life that you will have, and more importantly the influence you will have on others.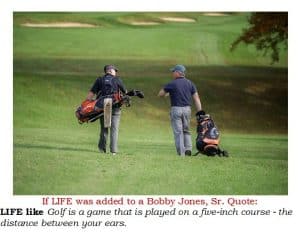 Pick an athletic activity that has a competition Component-
There are several low impact athletic activities that can be learned and practiced. The competition component associated with these activities, like golf or even dance, has a social benefit, as well. Golf or dance can stimulate and challenge the mind as much as working a crossword puzzle. I use golf because it has a longevity component that can be played from age eight to 98, or beyond. If you want to maximize the health benefit of golf, walk the course with a push/pull golf cart. The basic golf swing mechanics in the ESPY App provide a person with a great aerobic exercise.
 Click below to view the QATR-408 Palmer Technique (Wrist Action in the Golf Swing) This is a PDF Download to help your golf game.

Read at least five books a year-
We focus a lot of attention on physical fitness, but mental fitness is critical to a person's health also. Reading keeps the mind active to protect against certain diseases like Alzheimer's, or dementia, aging and reading improves memory. Books that are non-fiction improve a person socialization skills and understanding with communication and discussions. You are only as old or as young as your mind!
Have a Daily Devotion with Meditation-
Incorporate an active and a non-active function that has a meditation period in your daily schedule. Meditation allows a person to keep in touch with their potential and ability to enjoy their life. Take 30-minutes, preferably in the morning, to read, focus, and to establish strong principles in your life.
Compromise on objectives, but not principles, and seek out endeavors that are not your own, but help others. You will find that you will get significantly more back than you give, with peace of mind and satisfaction.
Have a Fitness program
Develop a fitness program that consists of Cardio, Aerobics, Strength training, Plyometrics, in an Exercise Routine. The CASPER Fitness Program doesn't have to be aggressive or strenuous to be effective and beneficial. Take 30-minutes, three-to-four times per week, using simple equipment, like Medicine Balls, dumbbells, Ab roller, resistant tubing, and bicycle to follow the CASPER Fitness Program. Weights or resistant equipment don't have to be over 25-lbs. Reps are the important factor.
A routine fitness routine benefits your health without question; but it is also a great anti-aging therapy procedure also. In the photograph below, I am 62-years old. I been working out and playing golf since I was 12-years old.

A great article about exercise and anti-aging I have attached below:
https://www.businessinsider.com/best-exercises-slow-aging-2018-4
Develop a Balanced Diet Program, based on a Schedule
The most important part of a balanced diet program is the emphasis placed on SCHEDULE. While it is important to select foods for a balanced diet, restricting sugars and starches, it is the schedule of when you eat that is important. If you want to lose or maintain your weight, and improve blood pressure, eat your meals and snacks between the hours of 9 am to 5 pm. You will be amazed at how effective the SR-925 Diet Program is on your health. This SR-925 Diet Program is absolutely FREE to download and use.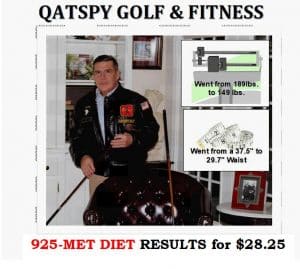 Take a 30-minute walk each day-
Walk 30-minutes each day for a great aerobic exercise that is low impact. This is good, especially if you have a four-legged friend to walk with. Walking after a CASPER Fitness Program is a great way to cool down to work off lactic acid that builds up in the muscles during an exercise routine. Lactic acid is what causes soreness and stiffness. As we age, flexibility and range of motion are essential to prevent falls. Falls are the number one cause of death in people over the age of 65.
Drink at least 2 cups of coffee or hot tea each day-
It has been well documented that drinking at least 2-cups of coffee or hot tea has several health and social benefits; refer to the health of drinking coffee link. There is nothing better than having a cup of coffee or hot tea with a friend, especially at the 19th Hole. This is time well spent. Also, drink plenty of water.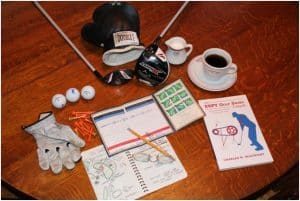 Write at least one article per week covering an activity you are interested in-
With the era of word processors and personal computers, like laptops, it is easier than ever to write down thoughts, quotes, and articles. If you are writing articles, it requires you to perform research, collect facts, analyze data, correlate drafts, and perform critical thinking. When you write down events, you engage the mind on a higher level, which improves memory. I love sports and particularly golf and fitness. I produce articles and publish them on my social media.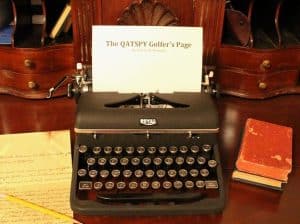 Your articles that you write don't have to be published, but for your own use and reference. What is surprising about your articles you write is how much you go back and refer to them at a later date. I'm forever going back to my archives and using excerpts from past articles for current articles.
Writing articles improves your mental sharpness, communication skills, vocabulary, and, most importantly, your memory. Also, your family and friends can enjoy your insights from the past.
This 12-point investment plan has a 600% return on your time and money. Not even Wall Street can provide that type of return. What the 600% return means is that for every dollar you spent in time and money following these 12 points, you save six dollars in health care costs (doctor visits, medication, and hospitalization).
So, as a new day or year nears, learn to apply these 12-points Investment Plan for a 600% return on your time and money.
Also visit THE QATSPY Coach's Film Room for all my Golf Training YouTube Videos and PDF Downloads: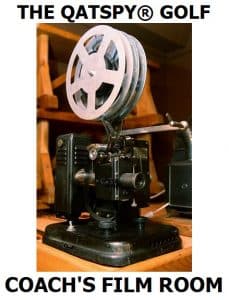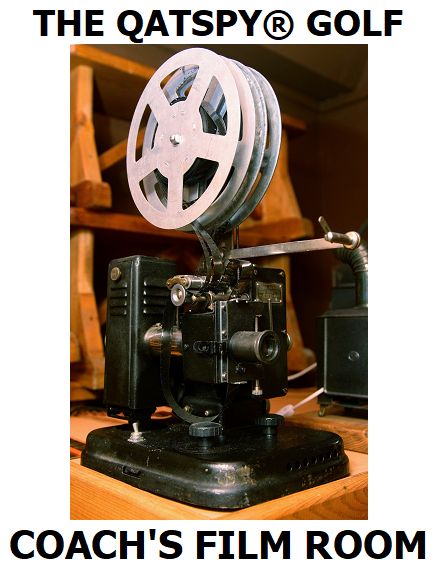 An additional article about applying ASPEN Self-Coaching Technique and Sports Psychology to your golf game is:
THE ESPY SELF-COACHING TECHNIQUE TO REDUCE YOUR HANDICAP AND FRUSTRATION
To help include golf as a low impact sport, purchase your copy of The ESPY Golf Swing Coach from the links below, or visit your local bookstore: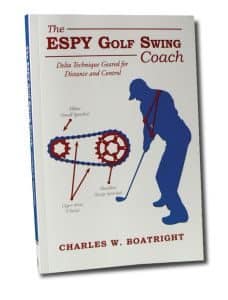 My book can also be purchased on-line at:
Health and Fitness Program Golf Exercise for Golf Swing Mechanics and Power
This book is based on a self-coaching forum (ASPEN Pyramid) that provides the beginner and advanced single-digit handicap golfer with a safe, ergonomic classic golf swing for more power and control, without debilitating injuries that are common with some modern-day golf swings. As part of the ESPY Golf Swing Coach is a workout program designed especially for golfers and an effective diet program detailed above in this 12-Point Investment Plan.
Learn How to take your baseball-style golf swing from the batter's box to the tee box.

For Comments or questions please contact me at 1-888-514-1228 Mon – Fri from 9 am to 4 pm CT Zone.
The title of my Sports Page includes Inside-the-Leather that represents the US WINGS line of Leather Jackets that I carry in my Online-Store. These Leather Jackets make excellent Sport Jackets that are fashionable and durable that fits any occasion. These Flight Jackets just don't make a statement; they are the statement. You can click the image below to view my entire line of US WINGS Leather Jackets: