The QATSPY Sports Page 4 Golfers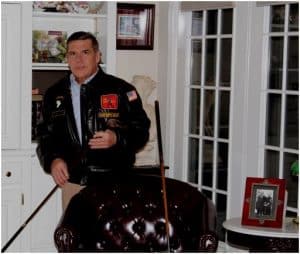 By: Charles W. Boatright
Monday Morning Cup of Coffee Review and Analysis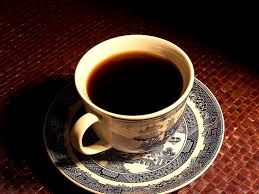 The ESPY Approach to Game Management- Golf is a Game of Percentage, Not Perfection
The 2018 Honda Classic 2-Hole playoff played on Sunday, February 25, was a great example of my coaching approach to game management. A tee shot can set up the hole for the golfer, but it is the approach shot that is the most critical golf shot, more so than putting. The 2-Hole playoff between Luke List and Justin Thomas on the eighteenth hole supports my game management approach to golf.
The first playoff hole on the eighteenth at the Honda Classic, Luke List's tee shot landed in the fairway, while Justin Thomas's tee shot landed in the right rough where Thomas's ball settled down in the rough. One would think, advantage Luke List. This forced Thomas to layup to within 120 yards of the pin. List was able to hit his approach shot that landed in the back part on the green, giving List about a 45-foot putt.
Thomas's approach shot landed within four feet from the pin, at about the 3 O'clock position. Thomas made his par, and List had to two-putt for his par to extend play into the second playoff hole on the 18th. This first playoff hole also gave Thomas some confidence in his game management approach for the second playoff hole.
The Second Playoff Hole, Game Management at the Honda Classic
The second playoff hole on 18, Thomas's tee shot landed in the fairway, while List's tee shot landed in the right rough behind some trees, making List's approach shot into the green very difficult if not impossible. List had to layup, while Thomas's approach shot landed to the right about 20 to 25 feet from the pin on the green.
List overshot his layup shot landed near the viewing stands off to the left of the green in the rough. List had about a 60-yard approach shot into the green. List got relief from the stands, which is a process that needs to be changed from a golfer dropping his/her ball from shoulder height to placing the ball. The USGA needs to change this rule. In this case it consumed about 12-minutes of daylight.
List's approach shot from the relief spot landed at the 11 O'clock position, with about a 15 to 20-foot putt. Both Thomas and List two-putted, giving Thomas the win in the 2018 Honda Classic.
Each time during the two-hole playoff, the approach shot, game management, and how well it was executed were the determining factors. In my opinion, List's layup shot out of the rough was the determining factor in the second playoff hole. As for List's layup shot, instead of landing in the fairway giving him a 120 to 100 yard approach, he overshot his landing zone and hit his layup shot into the rough. This was a distraction that a golfer doesn't need in their game management approach to golf.
Discipline of Game Management is to play the Percentages, not Perfection
The discipline and maturity of how Justin Thomas decided to layup his second shot during the first playoff hole set up his win in the second playoff hole. This proves that game management in golf is about percentages, not perfection. This game management approach to green also proves that the golfer's efficiency in putting is directly tied to the accuracy of their approach shot. (See the PGA Statistics below)
Statistics Showing that the Approach Shot is the Most Important Golf Shot
These are Putting Statistics for a professional golfer, and why the approach shot is the most important golf shot in game management. Professional golfers can make:
99% of putts from 3 feet
69% of 6-foot putts
54% of 8-foot putts
31% of putts between 10 and 15 feet
These statistics not only show why Justin Thomas won the playoff, but why the approach shot should be the most important golf shot in the golfer's game management strategy. Thomas's first playoff hole where he laid up gave him a significant advantage, where he had an 85 percent chance of making his putt within five feet to that of only 20 percent of List making his putt from over 40 feet.
So the next time you are practicing your golf game, work on your best golf game management approach; and work on your approach shot within 150 yards. This will be the best time you will spend in the golfer's game management strategy.
To improve your golf game and game management strategy, purchase your copy of The ESPY Golf Swing Coach from the links below, or visit your local bookstore: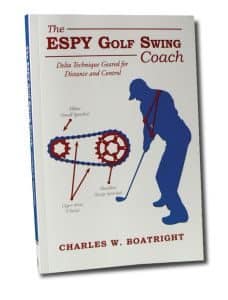 My book can also be purchased at Edwin Watts Golf Store in Jackson, Mississippi. Phone No. 601-956-8784
820 East County Line Road, Ridgeland, MS 39157
My book can also be purchased on-line at:
Health and Fitness Program Golf Exercise for Power
This book is based on a self-coaching forum (ASPEN Pyramid). The ASPEN Self-Coaching Technique provides the beginner and advanced single-digit handicap golfer with a safe, ergonomic classic golf swing mechanics. The ASPEN forum for coaching golf provides basic skills for more power and control in the golf swing sequence without debilitating injuries that are common with some modern-day golf swings. As part of the ESPY Golf Swing Coach forum is a workout program designed especially for golfers with an effective SR925 Diet Program detailed below.
Please take advantage of my SR-925 Diet Program, where I lost 6 inches in my waist in 3- months (FREE of CHARGE) with the CASPER Workout Program, detailed in Section 20 of my book, great golf swing workout:
One component in my CASPER Workout Program that I follow is using a Medicine Ball to perform what I call Stocking the Shelves, illustrated below in the figure: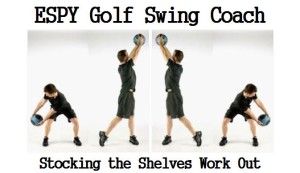 Please include an exercise routine in your weekly schedule.
Additional Motivation to Develop a Fitness Program
If you need addition motivation, which the subconscious mind works from and consist of 90 percent of the golf swing, include a fitness and exercise program into your daily schedule. This type of exercise provides the critical overload underload training to improve the golfer's power in your golf game, please look at another golf fitness enthusiast: The Fit Golfer Girl
ESPY Golf Swing Coach- Rhythm Without the Blues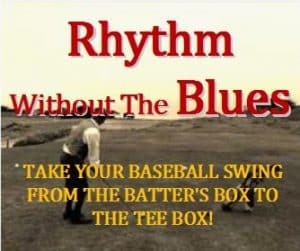 ESPY Golf Swing Coach- ESPY App Developing the golfer's Rhythm w/o creating the golfer's Blues. The ESPY Golf Swing helps the golfer establish the correct wrist action in golf swing demonstrated by David Duval in an interview with Charlie Rymer on Golf Channel.
Also, learning The ESPY Golf Swing Coach process is an excellent way to develop Rhythm without experiencing the Blues in your golf game for confidence; learn how to take your baseball-style swing from the batter's box to the tee box.
THE LOCKER ROOM a source for golf tips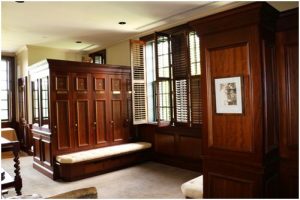 Please visit "The Locker Room" for an Index of all my golf articles to improve your golf game and life. Discover how you can take your baseball swing from the batter's box to the tee box.
Learn How to take your baseball-style golf swing from the batter's box to the tee box.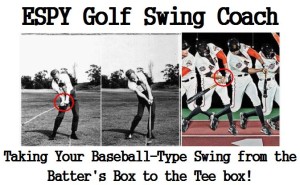 Time-lapse photography that I reviewed during my Xerox Box Golf Research Project comparing the golf swing vs. the baseball swing and how similar the Sync/Preset Maneuver are in both swings.
For Comments or questions please contact me at 1-888-514-1228 Mon – Fri from 9 am to 4 pm CT Zone.
A Recommendation for your Golf Game: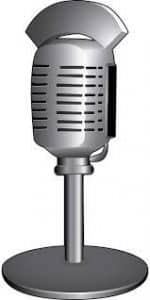 I would like to recommend an interesting radio program that I regularly listen to from my home state Arkansas on my I-Heart Radio app on KARN 102.9 FM station, out of Little Rock, AR. They air a golf show called Arkansas Fairways and Greens, at 7:00 AM CT each Saturday morning, hosted by Bob Steel, and co-hosted by Jay Fox and Charles Crowson. Bob occasionally as has his guess Alex Myers with Golf Digest and Ron Sirak with Golf Channel. I was interviewed on his show about my book, The ESPY Golf Swing Coach. This show is worth tuning into for golf news and information.
Jay Fox is an Administrator with Arkansas State Golf Association that discuss amateur golf and rules of the game.
Check out my full library of BLOGS @ www.espygolfapp.com/blog or purchase your copy of "The ESPY Golf Swing Coach" @ www.espygolfapp.com/store.
Facebook – The QATSPY Golf Approach
Twitter – @cwboatright
Google+ – ESPY Golf Swing Coach
YouTube – ESPY Golf Swing Coach
Once you learn WHY, you don't forget HOW!
YouTube Videos:
https://youtu.be/ZGVNrIw_wlo (Cam & Cam-over elements)
https://youtu.be/K2FDHZ3AX9w (Figuring your proper swing plane)
https://youtu.be/TO82PMO6G8M (Developing muscle memory)
Two decisions that you can make for yourself and your kids are to get a copy of my book and place the book and a golf club into their hands. You will never look back, but only forward. You will not miss with this for yourself and/or your kids.
Until next time– Be Synched, Tee-to-Green, with The ESPY Golf Swing!