The QATSPY GOLF Inside the Leather Sports Page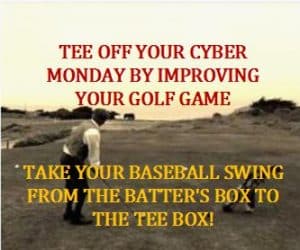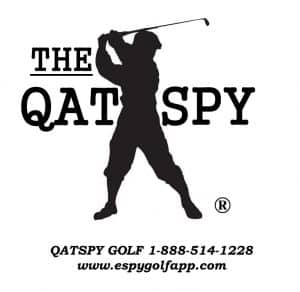 Inside the leather Classic Golf Swing Mechanics and simple golf swing tips for self-coaching techniques.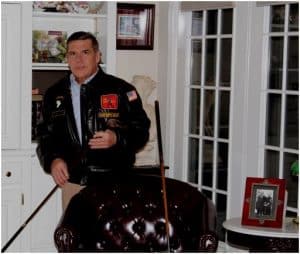 By: Charles W. Boatright
Author of The ESPY Golf Swing Coach, Delta Technique Geared for Distance and Control
How to Take Advantage of Cyber Monday to Improve Your Golf Swing Tee-to-Green
Shop Cyber Monday is a great opportunity not only to shop, but to improve and develop a consistent golf swing for less than the cost of a dozen golf balls. As the name implies, Cyber Monday Virtual ESP Golf means- to replicate a virtual world of training at your fingertips for your golf game. The golfer who is trying to improve and develop a more consistent golf swing and game can use Cyber Monday to create a simple virtual ESP Golf Swing APP to improve their golf game and lower their score.
APP is a term for Apperception, where a golfer can, for instance, take their instinctive baseball swing, which doesn't require thinking, from the batter's box to the tee box. ESP Golf Swing Apperception is where an athlete can take well-established motor skills from one sport and directly apply these same motor skills to another sport. This is the same as what I did in the Ergo Sync/Preset (ESP) Golf Swing Training Drill. Below is a YouTube video of the Pitch golf shot drill.
On Cyber Monday, in addition to shopping, you can use your I-Phone to create a cyber (virtual) golf swing training drill technique. Your I-Phone gives you the ability to shoot time-lapse videos of your golf swing. Then you can compare your swing to that of other golfers and even baseball players. The ESP Golf Swing APP compares the golf swing to the baseball swing, as shown in the time-lapse photos below. This is the basis for the ESP Golf Swing APP.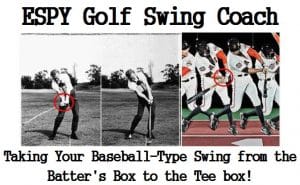 Solving The Biggest Obstacle in the Golf Swing Sequence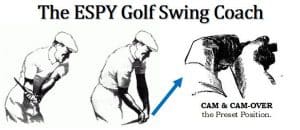 The biggest obstacle that the golfer has to figure out in their golf swing is how to set the proper wrist action in the golf swing. The wrists account for 80 percent of your golf swing mechanics and sequence. Figure out the wrist action in the golf swing and you'll  figure out the essential elements of you golf swing. Even Sir Nick Faldo illustrated this in his YouTube Video: Pre-Set Drill – Perfect Top of Backswing Position.
The ESP Golf Swing APP is based on two simple maneuvers with the wrist, and these are Dorsiflex and Pronation, noted below. You develop the motor skills to perform these two elements in the ESP Golf Swing Training Drill, and you will have a golf swing that will stand up on the golf course, from tee-to-green, even with layoffs. Just concentrate on two of your knuckles in setting up the ESP Golf Swing, the right Middle knuckle for the Dorsiflex and left Pinky Knuckle for the Pronation, for the right-handed golfer.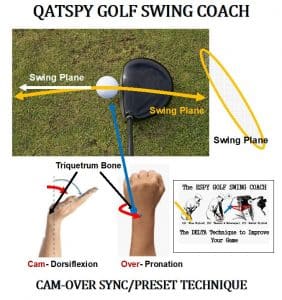 To demonstrate the ESP Golf Swing Training Drill, I produced a YouTube video of one of the most difficult golf shots that the golfer has to face on the golf course, which is the pitch golf shot. This is the same chip shot that you see professionals perform around the green. This YouTube video is of a 12-foot pitch shot that I set up in my indoor training facility, shown above.
My YouTube Golf Swing:
Anywhere you practice your putting, you can perform the virtual ESP Golf Swing Training Drill. Just make sure that you have a backstop, as noted below. The backstop can stop any wayward golf shot that will happen, from time-to-time, especially if you are rusty at performing the chip/pitch shot.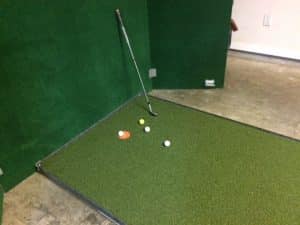 This Chip/Pitch/Putting green that I have in my indoor training facility you can shop for on Cyber Monday from my TACK ROOM, including my book, The ESPY Golf Swing Coach. These are direct links to manufacturers or distributors. The only item that's not in the TACK Room is the backstop. But, you can place the putting green end up against a wall with padding and execute the same ESP Golf Swing Training Drill.
I have dropped, on average, one stroke per hole with the ESP chipping green drill and putting drills. When you train, follow three simple training techniques listed below:
Normal and routine tasks and conditions must exist.
Rely on a high degree of relaxation, confidence, and muscle memory.
The conscious and subconscious minds are focused on two different situations.
These three training techniques will allow you to get into To Your Zone, like you stepping into the batter's box. You didn't think about your swing, but just focused on the pitch or ball. By training with the ESP Golf Swing Training Drill APP, your performance will take care of itself on the golf course.
These three training techniques will be described in my next article: The Driver for ESP² Subconscious Golf Tech. released on November 28, 2018
On Cyber Monday, you can develop The ESP Golf Swing Training Drill to enhance your performance on the golf course, purchase your copy of The ESPY Golf Swing Coach from the links below, or visit your local bookstore: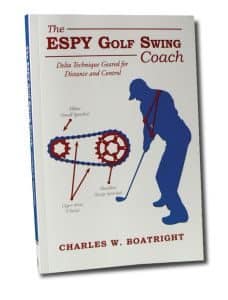 E-Book-                $ 8.99
Paperback-           $15.75
Hardback-            $31.42
The ESPY Golf Swing Coach, a Self-Coaching Technique and simple Sports Psychology enabling the golfer to take the baseball swing sequence from the batter's box to the tee box.
My book can also be purchased on-line at:
TACK ROOM: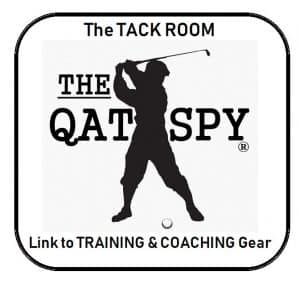 Training Assisted Coaching Kiosk
The TACK Room is list of training equipment and gear that I use in my routine practice and self-coaching techniques. The golfer can incorporate this equipment and gear into their routine practice sessions to help develop techniques to improve their mechanics, or muscle memory, on a consistent basis. Before a golfer can develop their golf swing sequence feel, they first will need to develop and establish their golf swing mechanics. The following are training equipment and gear that I have personally purchased and use in my self-coaching approach.
The golfer can use the TRACK Room as a Kiosk to link to the manufacturer and distributor websites to purchase this training equipment and gear. Just by selecting the images below, the manufacture or distributor site can be accessed.
BirdieBall® Putting Greens
Develop a complete Tee-To-Green practice session in the convenience of your home or office. To complete the golfer's practice session, the golfer will need to have access to a putting surface. Without installing an expensive artificial green in your backyard, the golfer can use an affordable option of the storable BirdieBall® putting greens that has realistic, undulating surfaces and green speeds that match those of an actual green on the golf course. This can be placed in the garage, spear room, or in a business sitting.
To improve one of the most important areas of the golfer's game, putting, look at the BirdieBall® website to build your own putting green to fit your needs and budget:
DW Quail Golf®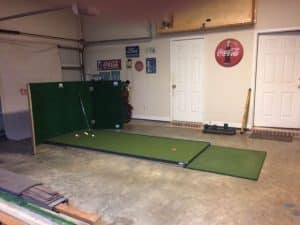 The DW Quail Golf Chipping and Pitching mat is an indispensable part of your golf game practice allowing the golfer to turn their garage into their indoor golf training facility. DW Quail Golf has a variety of Chipping/Pitching mats that are professional grade for indoor/outdoor use. These make excellent gifts for your golfer. This is a link to DW Quail Golf website.
Almost Golf Balls®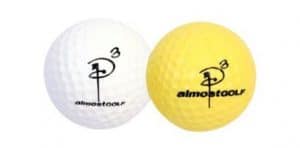 To help develop a more effective golf training exercise in your backyard or vacant field, I would recommend purchasing a dozen or more of the Almost Golf Balls® from LIBERTY Health Supply. Please select one of the products below to purchase these golf balls that simulate the actual golf ball, without the concern for property damage or personal injury to others. These balls only travel a third of the distance of an actual golf ball, up to 100 yards.
Pack of 10: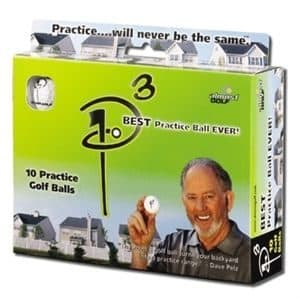 Pack of 36: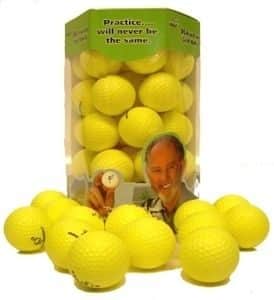 If you use the Promo Code: ALMOSTGOLF, you will receive free shipment on any order of Almost Golf Balls® from LIBERTY Health Supply.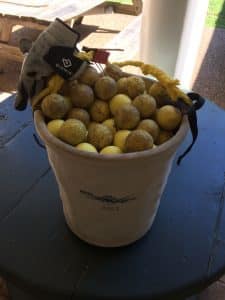 I have a utility bag full of these Almost Golf Balls that I practice with, three to four hours per day, four days per week.
Health and Fitness Program Golf Exercise for Power
This book is based on a self-coaching forum (ASPEN Pyramid). The ASPEN Self-Coaching Technique provides the beginner and advanced single-digit handicap golfer with a safe, ergonomic classic golf swing mechanics. The ASPEN forum for coaching golf provides basic skills for more power and control in the golf swing sequence without debilitating injuries that are common with some modern-day golf swings. As part of The ESPY Golf Swing Coach forum is a workout program that includes golf exercises with medicine ball designed especially for golfers.
I have also included a FREE SR925 Diet program that anyone can access, where I lost over 40 pounds and 7.5-inches in my waist within nine-months. I went from 37.5 inches in November of 2014 down to 30.0 inches in July of 2015 with the effective SR925 Diet Program that I developed, see detailed below. REMEMBER an easy RULE-OF-RULE to determine if you have a healthy BMI, you can take half your height; and your waistline should fall below this figure.
Please take advantage of my SR925 Diet Program, where I lost 6 inches in my waist in 3- months (FREE of CHARGE) with the CASPER Fitness Program, detailed in Section 20 of my book, great golf swing workout:
SR925 Diet Program lost 7-inches where I went from a 37.5 inches to 30.25 inch waistline within 9 months, and more importantly, kept the weight off and my waistline after 4 years. Not too many diet programs can provide results like this.
CASPER Fitness Program consist of golf exercises with medicine ball to develop a great golf swing workout for DISTANCE and CONTROL.
One component in my CASPER Fitness Program that I follow is using a Medicine Ball golf swing workout to perform what I call Stocking the Shelves, illustrated below in the figure: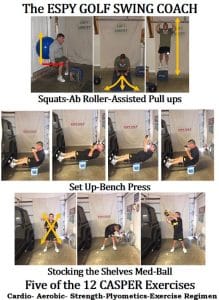 A part of the CASPER Fitness Program are golf exercises with medicine ball – that includes Stocking the Selves and medicine ball exercises Burpees. For endurance and a full body workout, I also include a boxing glove-punching bag exercise.
Please include an exercise routine in your weekly schedule. 

      
Operation DOG TAG
Sports, such as golf, along with fitness and an exercise regimen that includes yoga, has been proven to be a great Cognitive Behavioral Therapy for trauma victims. Veterans and those who have experienced a traumatic situation where the mind has been traumatized and disrupted can use golf and yoga to help re-establish connection and pathways in the brain. Golf also provides an excellent opportunity  for trauma victims to reconnect in a social setting to develop a dialogue without the pressures of clinical visits.
Introduction- Forum for Coaching Golf and Life Skills Operation Dog Tag
Section 1- Operation DOG TAG | GOLF CBT Intervention for PTSD
Section 2- Operation DOG TAG | Objectives and Scope
Section 3- Operation DOG TAG| STRUCTURE GUIDELINES
THE LOCKER ROOM a source for golf tips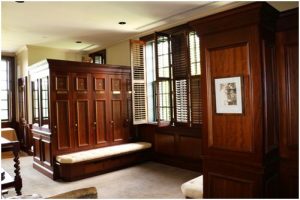 Please visit "The Locker Room" for an Index of all my golf articles to improve your golf game and life. Discover how you can take your baseball swing from the batter's box to the tee box.
Learn How to take your baseball-style golf swing from the batter's box to the tee box.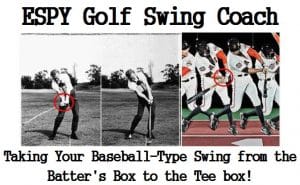 Time-lapse photography that I reviewed during my Kinesiology Xerox Box Golf Research Project compared the golf swing vs. baseball swing and how similar the Sync/Preset wrist action in the golf swing was to the baseball swing sequence.
Here's the QUESTION: How many times standing in the batter's box did you think about your golf swing mechanics, techniques, or elements. Your were only focused on the pitch. Why not use the same Outlier technique in golf.
Sir Nick Faldo demonstration of the Preset Golf Swing Technique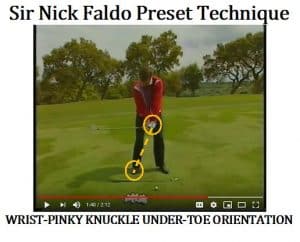 One of Sir Nick Faldo's first golf swing fundamentals that he learned as demonstrated in this YouTube video entitled The Preset golf swing technique. Nick Faldo discussed the WHAT, but didn't explained the HOW in his YouTube video.
The Sync/Preset Elements in The ESPY Golf Swing Coach explains how to setup the classic golf swing maneuver to place the wrists into the key Lock Position. This was the same golf swing technique used by David Duval during an interview with Charlie Rymer on Golf Channel. These two Videos are probably two of the best Videos to discuss the wrist action in the golf swing.
For Comments or questions please contact me at 1-888-514-1228 Mon – Fri from 9 am to 4 pm CT Zone.
A Recommendation for your Golf Game:
I would like to recommend an interesting radio program that I regularly listen to originating from my home state Arkansas on my I-Heart Radio app on KARN 102.9 FM station, out of Little Rock. They air a golf show called Arkansas Fairways and Greens, at 7:00 AM CT each Saturday morning, hosted by Bob Steel, and co-hosted by Jay Fox and Charles Crowson. Bob occasionally as has his guess Alex Myers with Golf Digest and Ron Sirak with Golf Channel. I was interviewed on his show about my book, The ESPY Golf Swing Coach. This show is worth tuning into for golf news and information.
Jay Fox is an Administrator with Arkansas State Golf Association that discuss amateur golf and rules of the game.
Check out my full library of BLOGS @ www.espygolfapp.com/blog or purchase your copy of "The ESPY Golf Swing Coach" @ www.espygolfapp.com/store.