The QATSPY GOLF Inside the Leather Sports Page

Inside the leather Classic Golf Swing Mechanics and simple golf swing tips for self-coaching techniques.
By: Charles W. Boatright
Author of The ESPY Golf Swing Coach, Delta Technique Geared for Distance and Control
Honor, Duty, Country, the Veterans' Creed of Courage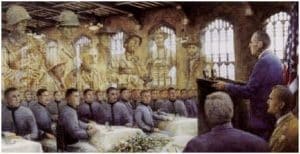 General Douglas MacArthur, in his farewell speech at West Point, mentioned in his speech these memorable words of Honor, Duty, and Country. This creed described the courage and sacrifice that our Veterans follow without fail. Their sacrifice and courage are often recognized with ribbons, medals, patches on hats, or decals on license plates. We see these insignias on a daily routine.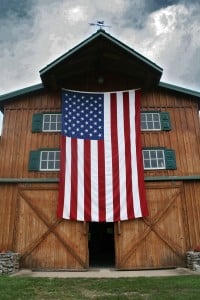 These ribbons, medals, patches and insignia on shirts, hats, and license plates that you see in your daily routine are more than insignias. These insignias represent courage, discipline, and duty to fulfill their mission in serving our country. Oftentimes their missions are carried out with peril and uncertainly to their own safety, clothed in the darkness of night or the exposure of day.
One of the best ways to honor these Veterans and their sacrifice is to take time and say thanks, and if the moment presents itself to ask them about their service; ask them about their ribbons and metals that they have displayed. Oftentimes this could be a brief reply of a unit or service location, but other times it could lead to a story that is encouraging and causes you to appreciate our great country. Whichever their response is, listen to them.
Veterans are among some of the modest Americans that considers their service as part of their duty to defend and serve our country. Their service are recognized by Ribbons, Metals, Bronze & Silver Stars, Purple Hearts, & The Metal of Honor that are often stored away in lockers or cigar boxes to only be revealed and talked about on special occasions.
In October of 2018, I pulled into a Sam's Club parking lot and noticed a Silver Star License Plate on an SUV that had a vacant parking space by it. The Silver Star is one metal below The Metal of Honor. I parked on the driver's side of the SUV on purpose. I normally go in to Sam's with my wife, but this time I asked my wife if she could go in by herself. I also told her to take her time. I had an alternative purpose to my request. I was going to wait until the driver came out to get into their SUV.
It didn't take but a few minutes for the driver to come out of Sam's Club to get into their SUV. As the gentleman unloaded his basket, I got out of my vehicle to talk with the gentleman. The Veteran was a Master Sergeant that flew the CH-47 Chinook Helicopter. His Silver Star was for mission that he flew into a hostile enemy-held stronghold to capture a high-ranking enemy combatant.
One thing that he stressed in his story was that he was told of the mission just hours before he was to go and didn't have any idea of the target or the mission until airborne. He was only told he was to transport a unit to a specified area. That unit turned out to be a squad of Special Forces that he flew and landed in a hot zone that successfully captured the high value target and safely returned to base.
Before he elaborated further, he pointed to my black and gold lettering front license plate, "AIRBORNE". I explained, "I was in the 101st Airborne with the 326 Combat Engineers." He replied "21-Bravo?" I replied "Roger." He asked, "What year?" I replied "1978."
He commented, "A lot of our unit commanders that I served under enlisted that year. I replied, "One of my high school buddies that flew Blackhawks was one of them." He asked, "Who?" I replied, "CWO Donovan Briley involved with in Somalia." I saw a puzzled look appeared on his face, not recognizing the name.
Then I mentioned Blackhawk Down, Operation Gothic Serpent. He instantly recognized the mission. I explained, "We both enlisted in the Army during our senior year in high school." He asked, "How can a mission go from humanitarian effort to a police action?" I replied, "You have civilian politicians that feel they are military experts in military operational planning, that sends the 75th Rangers and Delta Forces into a war zone with only Humvees and without heavy armor or adequate air support."
In closing, I commented, "Operation Gothic Serpent would have made The Charge of the Light Brigade a reasonable exercise in military planning. Even with political influence in operational planning and without armored vehicles and adequate air support with a Cobra gun ship, these guys carried out their mission. That is the testament to these guys and all of the military service personnel, like yourself, with commitment to Duty, Honor, Country.
On this Veterans' Day, make a special effort to express your thanks and, if possible, ask the Veteran where they served and let the conversation develop from there. One question can open up a whole world for yourself and for the Veteran that defends and supports our Freedoms and Liberties that we have and enjoy.
If you are a Veteran or know of a Veteran, please send them this article and my program called Operation Dog Tag. Operation Dog Tag uses golf to help our Veterans who are returning home.
For more information on Golf Self-Coaching and Operation Dog Tag, please visit my website and purchase your copy of The ESPY Golf Swing Coach from the links below, or visit your local bookstore: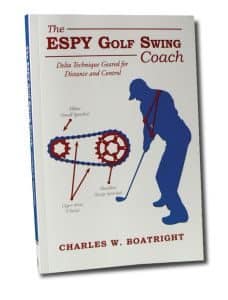 The ESPY Golf Swing Coach, a Self-Coaching Technique and simple Sports Psychology enabling the golfer to take the baseball swing sequence from the batter's box to the tee box.
My book can also be purchased on-line at:
TACK ROOM: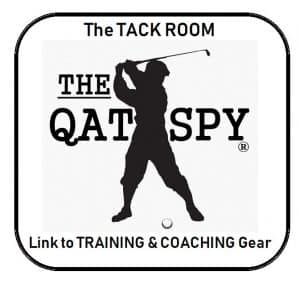 Training Assisted Coaching Kiosk
The TACK Room is list of training equipment and gear that I use in my routine practice and self-coaching techniques. The golfer can incorporate this equipment and gear into their routine practice sessions to help develop techniques to improve their mechanics, or muscle memory, on a consistent basis. Before a golfer can develop their golf swing sequence feel, they first will need to develop and establish their golf swing mechanics. The following are training equipment and gear that I have personally purchased and use in my self-coaching approach.
The golfer can use the TRACK Room as a Kiosk to link to the manufacturer and distributor websites to purchase this training equipment and gear. Just by selecting the images below, the manufacture or distributor site can be accessed.
BirdieBall® Putting Greens
Develop a complete Tee-To-Green practice session in the convenience of your home or office. To complete the golfer's practice session, the golfer will need to have access to a putting surface. Without installing an expensive artificial green in your backyard, the golfer can use an affordable option of the storable BirdieBall® putting greens that has realistic, undulating surfaces and green speeds that match those of an actual green on the golf course. This can be placed in the garage, spear room, or in a business sitting.
To improve one of the most important areas of the golfer's game, putting, look at the BirdieBall® website to build your own putting green to fit your needs and budget:
I just completed a Chipping/Pitching/Putting green in my indoor facility to perform what I call my VIP Training. VIP stands for Virtual Interactive Practice Training. Just this one training technique improved my short game where I was able to two putt or better from 10-holes to 17-holes. If you select the image on the right, it will take you to my YouTube video called:
QATSPY GOLF Sync/Preset Pitch Shot Drill
Almost Golf Balls®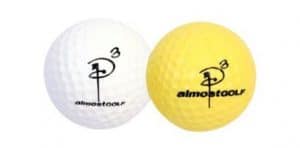 To help develop a more effective golf training exercise in your backyard or vacant field, I would recommend purchasing a dozen or more of the Almost Golf Balls® from LIBERTY Health Supply. Please select one of the products below to purchase these golf balls that simulate the actual golf ball, without the concern for property damage or personal injury to others. These balls only travel a third of the distance of an actual golf ball, up to 100 yards.
Pack of 10: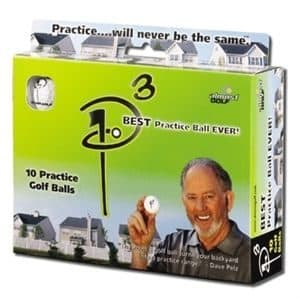 Pack of 36: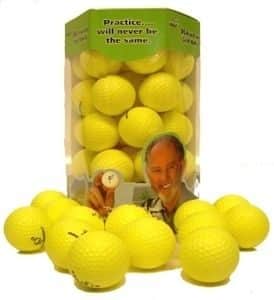 If you use the Promo Code: ALMOSTGOLF, you will receive free shipment on any order of Almost Golf Balls® from LIBERTY Health Supply.
I have a utility bag full of these Almost Golf Balls that I practice with, three to four hours per day, four days per week.
Health and Fitness Program Golf Exercise for Power
This book is based on a self-coaching forum (ASPEN Pyramid). The ASPEN Self-Coaching Technique provides the beginner and advanced single-digit handicap golfer with a safe, ergonomic classic golf swing mechanics. The ASPEN forum for coaching golf provides basic skills for more power and control in the golf swing sequence without debilitating injuries that are common with some modern-day golf swings. As part of The ESPY Golf Swing Coach forum is a workout program that includes golf exercises with medicine ball designed especially for golfers.
I have also included a FREE SR925 Diet program that anyone can access, where I lost over 40 pounds and 7.5-inches in my waist within nine-months. I went from 37.5 inches in November of 2014 down to 30.0 inches in July of 2015 with the effective SR925 Diet Program that I developed, see detailed below. REMEMBER an easy RULE-OF-RULE to determine if you have a healthy BMI, you can take half your height; and your waistline should fall below this figure.
Please take advantage of my SR925 Diet Program, where I lost 6 inches in my waist in 3- months (FREE of CHARGE) with the CASPER Fitness Program, detailed in Section 20 of my book, great golf swing workout:
SR925 Diet Program lost 7-inches where I went from a 37.5 inches to 30.25 inch waistline within 9 months, and more importantly, kept the weight off and my waistline after 4 years. Not too many diet programs can provide results like this.
CASPER Fitness Program consist of golf exercises with medicine ball to develop a great golf swing workout for DISTANCE and CONTROL.
One component in my CASPER Fitness Program that I follow is using a Medicine Ball golf swing workout to perform what I call Stocking the Shelves, illustrated below in the figure:
(A part of the CASPER Fitness Program are golf exercises with medicine ball – that includes Stocking the Selves and medicine ball exercises Burpees. For endurance and a full body workout, I also include a boxing glove-punching bag exercise.)
Please include an exercise routine in your weekly schedule. 

      
Operation DOG TAG
Sports, such as golf, along with fitness and an exercise regimen that includes yoga, has been proven to be a great Cognitive Behavioral Therapy for trauma victims. Veterans and those who have experienced a traumatic situation where the mind has been traumatized and disrupted can use golf and yoga to help re-establish connection and pathways in the brain. Golf also provides an excellent opportunity  for trauma victims to reconnect in a social setting to develop a dialogue without the pressures of clinical visits.
Introduction- Forum for Coaching Golf and Life Skills Operation Dog Tag
Section 1- Operation DOG TAG | GOLF CBT Intervention for PTSD
Section 2- Operation DOG TAG | Objectives and Scope
Section 3- Operation DOG TAG| STRUCTURE GUIDELINES
THE LOCKER ROOM a source for golf tips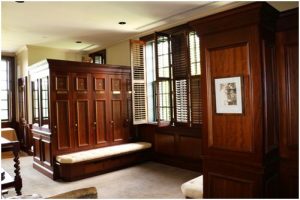 Please visit "The Locker Room" for an Index of all my golf articles to improve your golf game and life. Discover how you can take your baseball swing from the batter's box to the tee box.
YouTube Library for Self-Coaching Techniques:
QATSPY GOLF Sync/Preset Pitch Shot Drill
Learn How to take your baseball-style golf swing from the batter's box to the tee box.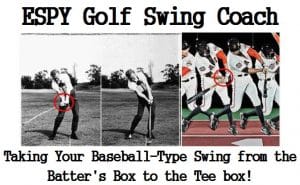 Time-lapse photography that I reviewed during my Kinesiology Xerox Box Golf Research Project compared the golf swing vs. baseball swing and how similar the Sync/Preset wrist action in the golf swing was to the baseball swing sequence.
Here's the QUESTION: How many times standing in the batter's box did you think about your golf swing mechanics, techniques, or elements. Your were only focused on the pitch. Why not use the same Outlier technique in golf.
Sir Nick Faldo demonstration of the Preset Golf Swing Technique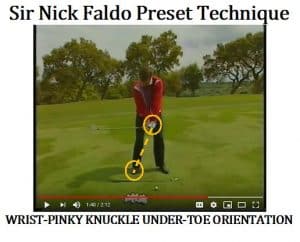 One of Sir Nick Faldo's first golf swing fundamentals that he learned as demonstrated in this YouTube video entitled The Preset golf swing technique. Nick Faldo discussed the WHAT, but didn't explained the HOW in his YouTube video.
The Sync/Preset Elements in The ESPY Golf Swing Coach explains how to setup the classic golf swing maneuver to place the wrists into the key Lock Position. This was the same golf swing technique used by David Duval during an interview with Charlie Rymer on Golf Channel. These two Videos are probably two of the best Videos to discuss the wrist action in the golf swing.
For Comments or questions please contact me at 1-888-514-1228 Mon – Fri from 9 am to 4 pm CT Zone.