By: Charles W. Boatright
SUBJECT– Developing a nice-and-easy golf swing under any condition.
ISSUE– What muscle memory and techniques can a golfer rely on for consistent power and control in their golf swing?
QUESTION– What key muscles can the golfer focus on to develop a nice-and-easy golf swing?
The Characteristics of a Nice-and-Easy Golf Swing
The question I hear most often from the amateur golfer is how does a professional golfer make a nice-and-easy golf swing with that much clubhead speed? What is puzzling to the amateur golfer, as well, is understanding how the low-handicap golfer they are playing with makes what seems to be such a nice-and-easy golf swing. I try to explain that it comes down to two key issues- One is sequence, and the second is linkage. Sequential elements and ability to link or sync the elbows with the golfer's shoulders are how low-handicap golfers make those golf shots with such a nice-and-easy golf swing.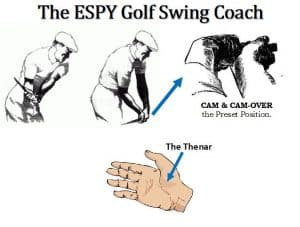 Mechanics play an important role in any athlete's performance, regardless if they are on the mound throwing a 95-mph fast ball, on a court swinging a tennis racket, or in the batter's box swinging a bat at those 95-mph fast balls. In golf, the basic mechanics in the golf swing are based on how the elbows and shoulders interact and function as sprockets. This is where the term batter's or golfer's wheelhouse comes from to produce the nice-and-easy golf swing.
In order to establish the sprocket mechanics, the golfer must be able to sync and preset their elbows with their shoulders.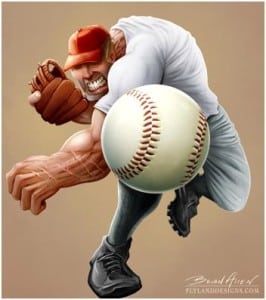 In order to establish the sprocket mechanics, the golfer must be able to sync and preset their elbows with their shoulders. Below is a list of the three simple Sync, Preset, and Yaw elements that allow the golfer to set up, to link, and to develop the critical sprocket mechanics on a consistent basis:
The SYNC– Use the dominant wristbands to sync the wrists with the elbows and the shoulders sprockets.
The PRESET– Using the lead wristband to lock the elbow with the shoulders to take advantage of one of the most effective mechanisms the human body has, the sprocket mechanics.
The YAW– Using the elbows (small sprocket) to coil the shoulders for power in the takeaway, and the shoulders (large sprocket) to uncoil the elbows to produce speed in the downswing.
Muscle Memory Used to Sync and Preset the Golf Swing
Golfers rely heavily on their muscle memory in order to synchronize and preset, or link, their golf swing. While the golfer uses the majority of the 320 pairs of muscles in the human body, I focus only on three of the 320 pairs muscles (left Thenar, Brachio-Radialis, and Supinator muscles) to establish what I call my nice-and-easy golf swing. I let my subconscious mind handle the other 318 pairs of muscles.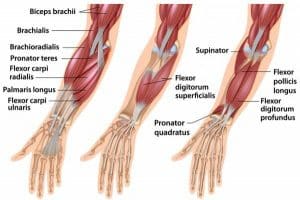 In other words, if you've ever played baseball, tennis, or racquetball before, you have extensively used these muscles.
One muscle is in the wrists, and the other two muscles are in the forearm. These three muscles are used in 80 percent of all voluntary maneuvers that we perform each day, so they are normal and routine maneuvers. The nice-and-easy golf swing is getting easier already. In other words, if you've ever played baseball, tennis, or racquetball before, you have extensively used these muscles.
I use a key muscle in each of my wristbands to sync my elbows. These two muscles also engage a key muscle in both my arms to preset, or link, the elbows with the shoulders. If the golfer can focus on these two pairs of muscles and how they are used to sync and preset the golf swing, the golfer can start making those effortless, nice-and-easy golf swings with confidence.
REMEMBER: There's no substitute for CONFIDENCE in golf!
Using Boxing Gloves to Improve the Golfer's Swing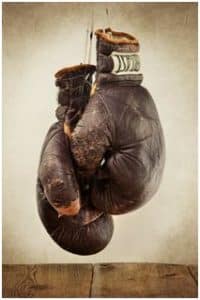 I constantly use a pair of EVERLAST® boxing gloves to help me visualize how these pairs of muscles in the wristbands are used to sync and preset my golf swing. I would recommend that the golfer refer to an anatomical chart of the forearms and arms to help develop the proper feel by syncing and presetting their golf swing. I discuss in detail these primary muscles in my book, The ESPY Golf Swing Coach.
The key benefit of the ESPY Golf Swing is the confidence from the feel and sequence that it provides the golfer. I work every day maintaining my muscle memory by linking my wristbands up with my elbows (the small sprocket). This presets and locks my elbows with my shoulders (the large sprocket). This sprocket configuration is perfectly demonstrated in an illustration below of the sprockets on a ten-speed bicycle.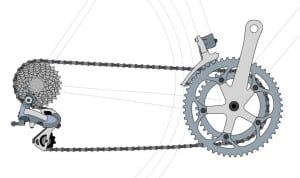 The professional golfers, besides talking about being in sync, also talk about proper tempo and rhythm needed for a nice-and-easy golf swing. A great way to establish tempo and rhythm in one's golf swing is with a slow and deliberate takeaway, because it allows the golfer to feel their larger core, high threshold, muscles properly coiling. The golfer's core muscles are responsible for producing the clubhead speed, instead of swinging the arms and forearms faster.
I depend on what I call my slow Mississippi golf swing (of ONE- MISSISSIPPI – TWO MISSISSIPPI) in setting up my sequential elements. This uses minimum effort for a nice-and-easy golf swing with less confusion on my part, especially setting up on the first tee box. Essentially, the ESPY Golf Swing is based on the golfer developing key muscle memory to sync their elbows with their shoulders in the takeaway swing. The only thing left to complete at the top of a nice-and-easy golf swing is simply executing the natural downswing, or the drop element.
REMEMBER Sir Isaac Newton's third law of motion: For every action (TAKEAWAY), there is an equal and opposite reaction (DOWNSWING).
The Interview with a Vietnam P.O.W.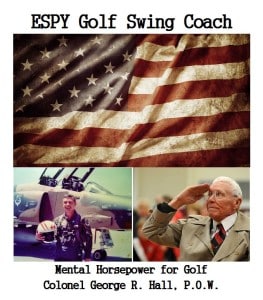 I had the pleasure of confirming the coaching and boxing gloves techniques in my book with a special interview I did with a Vietnam P.O.W. in March of 2002 at the Hattiesburg, MS, golf course in the clubhouse. These are the same techniques that my golf coach, my grandfather The Great Qatspy, used to instruct me as a young boy in the game of golf. He used the mentalization of a pair of boxing gloves and the baseball-type swing to help me take advantage of a well-developed muscle memory and motor-skill. This motor-skill I had already developed at young age by playing baseball.
Colonial George Robert Hall, the Vietnam P.O.W. was shot down on September 27, 1965 and was held at the Hanoi Hilton for seven-and-a-half years. He used his love of golf to survive his ordeal. Part of my interview with Col. Hall is contained in the following articles below. Please take time to read these, as they are inspirational and informative:
1973 GREATER NEW ORLEANS PRO-AM OPEN INVITATIONAL– HONORING OUR HEROES, A TRUE AMERICAN STORY!
IMPROVING YOUR GOLF GAME WITH SIMPLE MENTALIZATION TECHNIQUE!
What was significant about Col. Hall's story was while he was at Annapolis Naval Academy, he was the captain of the golf team and had a handicap of four before his deployment to Vietnam. What was even more remarkable was within six weeks after his release from Hanoi Hilton on February 12, 1973, he was asked to play in the Greater New Orleans P.O.W. Pro-Am in March of 1973, where he shot his handicap of four. Professional golfers would find it hard to turn in a performance like Col. Hall, especially with Col. Hall being one-hundred pounds lighter after his release.
There were two things that Colonel Hall credited his performance to at the Pro-Am. One was his ability to re-orientate his virtual golf ball from the floor of his cell, up to his hands, similar to how a baseball batter uses their bat. Second, was how he set up and used his wrist.
After I discussed with Col. Hall the techniques that my grandfather used to instruct me, Col. Hall concurred that these were the same techniques that he used during his seven-and-a-half years as a P.O.W. But, he was quite interested in how I used each of my thumbs to represent certain parts of my club during my golf swing. He commented at the conclusion of our interview that he wished he had thought about the thumbs in the same manner.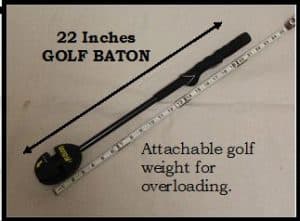 I explained to Col. Hall that the thumbs are a crucial part of my continued improvement as I worked out with my golf baton, featured above. This is what I call the overload nice-and-easy golf swing technique. I used the overloaded golf baton as a relief exercise from working at my desk while writing articles about the sport of golf, fitness, and promoting my book. The full index of my articles is under "The Locker Room" tab.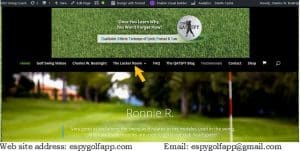 If you want a sport activity that you can enjoy the rest of your life and enjoy developing friendships with others, take up the sport of golf. If you have no prior experience, are not proficient at this fascinating game, or would like to improve your golf game, purchase your copy of The ESPY Golf Swing Coach from the links below, or visit your local bookstore: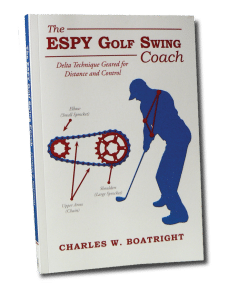 This book is a self-coaching guide that provides basic and advanced fundamentals to help you play golf with confidence and start lowering your handicap.
My book can also be purchased at Edwin Watts Golf Store in Jackson, Mississippi. Phone No. 601-956-8784
820 East County Line Road, Ridgeland, MS 39157
Please take advantage of my SR-925 Diet Program, where I lost 6 inches in my waist in 3- months (FREE of CHARGE) with the CASPER Workout Program, detailed in Section 20 of my book:
Please include an exercise routine in your weekly schedule.
Also, learning The ESPY Golf Swing Coach process is an excellent way to develop Rhythm without experiencing the Blues: