The QATSPY Sports Page 4 Golfers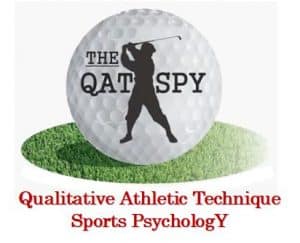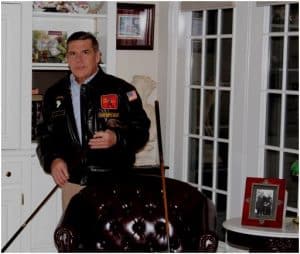 By: Charles W. Boatright
Golf Swing 101- Developing Your Golf Swing Mechanics and Golf Swing Sequence for a Single-Digit Handicap
In my article dated 17Feb2018 entitled Masterminding the Mental Game of Golf, I discussed how the golfer's conscious mind functions with their subconscious and permanent mind. Golf swing 101 consists of the using a different type of glove to develop a consistent golf swing mechanics based on a dependable golf swing sequence. This type of self-coaching technique develops the golfer's critical elements, muscle memory, and motor skills.
The secret to engaging the golfer's muscle memory and motor skills is to keep these current in the subconscious mind, just as the ingredients in a recipe must be kept fresh in order to yield a quality dish. The golfer's muscle memory and motor skills in the subconscious mind must be kept current. Treat your subconscious mind as a refrigerator that only keeps the muscle memory and motor skills fresh, and serves as the meat of your golf swing mechanics.
The golfer, working toward a single-digit handicap, has to develop a daily routine to keep their mechanics, consisting of their muscle memory and motor skills, current and reliable. The golfer should develop a routine that consists of golf swing sequence (conscious mind function) and golf swing mechanics (subconscious mind function) and develop their routine on and off the golf course, without even thinking.
Establishing and maintaining a streamlined golf swing sequence and golf swing mechanics shouldn't be restricted just to the golfer's practice sessions or the golf course. A golfer's swing sequence and mechanics should be structured where they are portable so that the golfer can work on these during the course of the day. Eighty percent of the ESPY Golf Swing sequence and golf swing mechanics are performed by just Syncing/Presetting the wrist and lower forearm, as shown below.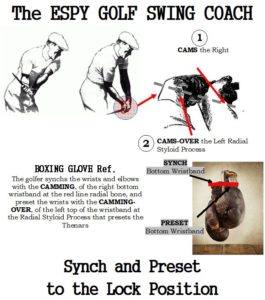 The reason why The ESPY Golf Swing Coach is effective is because it focuses on presetting the correct wrist action in the golf swing, without having to engage the majority of the body. Effectively Syncing/Presetting the golfer's wrists is a simple maneuver that the golfer can perform practically anywhere. This single Sync/Preset maneuver allows the golfer to integrate their physical golf game with their predominately mental golf game.
This Sync/Preset maneuver is similar to what the Olympic athletes were performing during the 2018 Winter Olympics. The Athletes, preparing to showcase their performance, mentally run through their routine, while waiting in the staging area. During this prep time, most athletes have their eyes closed, while they virtually run through each of their elements on their virtual course.
You see the athlete's head and body virtually going through their performance with simulated motion. Once the athlete is in competition, the athlete is just replaying what they just performed in their mind. A golfer can use this same self-coaching technique to virtually perform their golf swing sequence and fine-tune  their golf swing mechanics. Remember that the majority of the game of golf, like any sport, is played between the ears.
An Important Interview with a Vietnam War P.O.W.
I had the pleasure and honor of interviewing a Vietnam War P.O.W., who was held at the infamous Hanoi Hilton for over seven years. He lived in Hattiesburg, MS, where I met him in March of 2002. Hattiesburg is about 82 miles south from me, on U.S. Hwy 49. During the interview, he stressed the mental golf performance technique that he used in his seven-and-a-half foot square prison cell. This mental golf performance technique allowed him to keep his golf swing sequence current and also allowed him to keep his sanity.
He was able to survive his harsh conditions by mentally replaying, shot by shot, in his head all of the golf courses that he played while at Ole Miss and as a cadet at the Naval Academy, where he was a captain of the golf team. Before his deployment to Vietnam, he had a handicap of four (4). Each day during his captivity he would go through his daily routine of mentally dressing for his golf round, even down to putting on his socks and golf shoes to picking up his clubs and heading out to the designated golf course for that day.
After his release in February of 1973, he played in a PGA Pro-Am in New Orleans, where he shot his handicap of four, only six weeks after his release and 100 pounds lighter. The reason for the weight loss is that the daily rations contained only 300 calories. To read more about this P.O.W. experience, please see Colonel George R. Hall's story.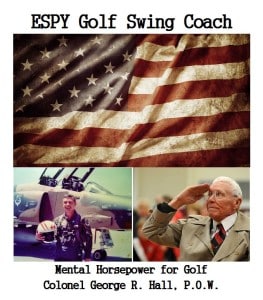 A Wristwatch Self-Coaching Technique to Improve Your Golf Swing
With my last name being Boatright, Col. Hall asked me some questions during my interview with him like, How did you know  If you had preset your golf swing sequence correctly? I replied, That I felt and watched how my wrist and lower forearm preset during my pre-golf swing sequence,  as I'm a rule of thumb-type guy and wrist-watcher.
I explained to Col. Hall that if I could feel how my left wrist and right forearm and wrists preset (I'm right-handed golfer), I knew that 80 percent of my golf swing sequence was completed and set correctly by Syncing/Presetting my left wrist and lower right forearm. The only thing I had to be conscious of next was to make sure that my takeaway and downswing were slow. You want to create Rhythm without the blues in your golf swing sequence.
Col. Hall's second question was, How do you mentally perform that? One thing that was critical to Col. Hall's survival was his mental strength. This extended to his mental game of golf that was very evident during my interview. I explained, I mentally visualize that I'm wearing a pair of boxing gloves; and my left wrist (Hypothenar) was a pinball machine flipper; and my right lower forearm is acting like a rear gear on a ten-speed bicycle. The boxing glove golf swing self-coaching technique is illustrated below.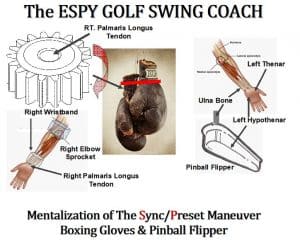 The red line on the boxing gloves is a significant mental marker for the golfer to take note of because it allows the golfer to synchronize the left wrist with their right lower forearm (for a right-handed golfer). The boxing gloves are arranged as if the golfer mentally traded in their golf glove for a pair of boxing gloves to grip the handle of the club. The visualization of a pair of boxing gloves make a great self-coaching technique to use on and off the golf course.
This helps the golfer to develop and focus on the three key muscle memory technique instead of thinking about the majority of the muscles that will be used in the golf swing. This is called kinetic chain muscle memory development. The only three muscles I focus on in my golf swing sequence are the- left Hypothenar (Preset), right Pronator Quadratus (Sync), and the right Brachio-Radialis (take the club to the top of the swing). An important point to make about pronation maneuver is it has five times the strength and power of that of the supination maneuver. When the golfer is naturally closing the clubface at impact they are using the pronation maneuver, shown below.
A great exercise to strengthen these three key muscles consist of simply putting on a pair of boxing gloves and do a 3-minute workout with a punching bag. It will works and strengthen these three key muscles that I mentions above.
Col. Hall remarked- I didn't even consider boxing gloves as a visual aid in setting up my golf swing sequence, but that might have been very helpful to me, since I didn't have any props, except for my mental game of golf. I explained to Col. Hall that I essentially traded in my golf glove for a virtual pair of boxing gloves on the tee box and during my round. It helps me to focus instead of Think. This is a very small trade-off for the golfer to make, considering the muscle memory that is developed.
Using the ESPY Golf Swing Coaching Technique Off the Golf Course to Improve Your Golf Score
One thing that is essential to understanding in the golf swing mechanics and fundamentals of golf swing 101 is to understand where the wrists are located. The wrists aren't where you would wear a wristwatch, for this is the lower forearm, see Figure below. The wrists consist of two of the strongest muscles (Hypothenar and Thenars) in the body that have direct contact with the handle of the golf club. This should peak every golfer's attention. The boxing gloves help the golfer to isolate and sync the left wrist with the right lower forearm, shown in the Figure of the boxing gloves above.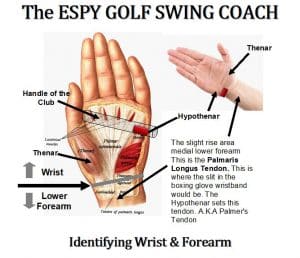 The boxing gloves, for me, represent the pinball machine flipper and a gear that  are a critical self-coaching technique that I use, on and off the golf course. This self-coaching technique keeps my muscle memory and golf swing mechanics current and active. The boxing gloves are a great self-coaching technique to allow the golfer to practice and perform their baseball-style golf swing anywhere, both on and off the golf course.
I utilize the boxing glove concept to help me synchronize the pinball flipper with the gear as a mental self-coaching technique. The golfer can use this pre-golf swing sequence- at the office, waiting in line at the grocery store, or at the doctor's office, after waking up or especially before bedtime. Using this technique before bedtime programs the golfer's subconscious mind with the Sync/Preset elements.
Also, where the virtual pair of boxing gloves are really important to the golfer is warming up before a round of golf and during their pre-shot routine. During the actual golf swing, the golfer is just replaying their pre-golf swing sequence. This self-coaching technique is almost like having that second golfer make your golf shot for you.
The boxing gloves are important to the golfer's mental game of golf because the boxing gloves provide a direct connection between the conscious mind (sequence and elements) and the subconscious and permanent mind that contains the golf swing mechanics (muscle memory and motor skills). The more vivid the image of the golfer's golf swing mechanics is, the better the muscle memory and motor skills can be used.
The most critical element in The ESPY Golf Swing Coach is the ability to preset the correct wrist action in the golf swing and properly preset the golf swing sequence. Just knowing that 80 percent of the golfer's golf swing sequence and golf swing mechanics can be preset and confirmed provides a tremendous amount of confidence to the golfer, especially the golfer who is standing on the first tee box.
As the golfer performs the pre-golf swing sequence on a regular basis, the only element left for the golfer to perform is to just replay their golf swing sequence during their actual golf swing. This is how you can practice like a professional golfer, without having the 25 to 40 hours available to practice. Colonel George Robert Hall proved that you don't have to be on a practice range to work on your mental game of golf.
Charlie Rymer did what I consider one of the most important interview about golf swing mechanics and golf swing sequence with David Duval on Golf Channel. David Duval demonstrated to Charlie Rymer his preset golf swing sequence routine. This is very similar to my pre-golf swing sequence in my book. Charlie Rymer was so impressed with this pre-golf swing sequence that Charlie Rymer dubbed it as That Wrist Thing.
To learn a simple Sync/Preset maneuver and develop a consistent golf swing sequence and golf swing mechanics, purchase your copy of The ESPY Golf Swing Coach from the links below, or visit your local bookstore: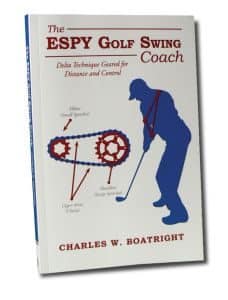 My book can also be purchased at Edwin Watts Golf Store in Jackson, Mississippi. Phone No. 601-956-8784
820 East County Line Road, Ridgeland, MS 39157
My book can also be purchased on-line at:
Health and Fitness Program Golf Exercise for Power
This book is based on a self-coaching forum (ASPEN Pyramid). The ASPEN Self-Coaching Technique provides the beginner and advanced single-digit handicap golfer with a safe, ergonomic classic golf swing mechanics. The ASPEN forum for coaching golf provides basic skills for more power and control in the golf swing sequence without debilitating injuries that are common with some modern-day golf swings. As part of the ESPY Golf Swing Coach forum is a workout program designed especially for golfers with an effective SR925 Diet Program detailed below.
Please take advantage of my SR-925 Diet Program, where I lost 6 inches in my waist in 3- months (FREE of CHARGE) with the CASPER Workout Program, detailed in Section 20 of my book, great golf swing workout:
One component in my CASPER Workout Program that I follow is using a Medicine Ball to perform what I call Stocking the Shelves, illustrated below in the figure: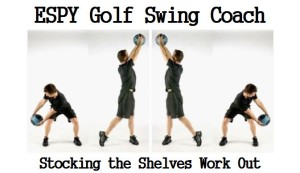 Please include an exercise routine in your weekly schedule.
Additional Motivation to Develop a Fitness Program
If you need addition motivation, which the subconscious mind works from and consist of 90 percent of the golf swing, include a fitness and exercise program into your daily schedule. This type of exercise provides the critical overload underload training to improve the golfer's power in your golf game, please look at another golf fitness enthusiast: The Fit Golfer Girl
ESPY Golf Swing Coach- Rhythm Without the Blues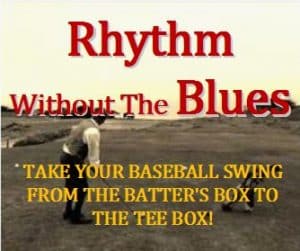 ESPY Golf Swing Coach- ESPY App Developing the golfer's Rhythm w/o creating the golfer's Blues. The ESPY Golf Swing helps the golfer establish the correct wrist action in golf swing demonstrated by David Duval in an interview with Charlie Rymer on Golf Channel.
Also, learning The ESPY Golf Swing Coach process is an excellent way to develop Rhythm without experiencing the Blues in your golf game for confidence; learn how to take your baseball-style swing from the batter's box to the tee box.
THE LOCKER ROOM a source for golf tips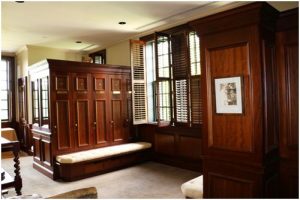 Please visit "The Locker Room" for an Index of all my golf articles to improve your golf game and life. Discover how you can take your baseball swing from the batter's box to the tee box.
Learn How to take your baseball-style golf swing from the batter's box to the tee box.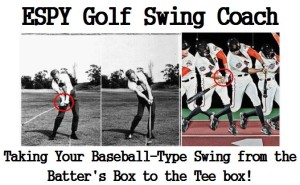 For Comments or questions please contact me at 1-888-514-1228 Mon – Fri from 9 am to 4 pm CT Zone.
A Recommendation for your Golf Game: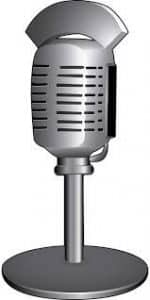 I would like to recommend an interesting radio program that I regularly listen to from my home state Arkansas on my I-Heart Radio app on KARN 102.9 FM station, out of Little Rock, AR. They air a golf show called Arkansas Fairways and Greens, at 7:00 AM CT each Saturday morning, hosted by Bob Steel, and co-hosted by Jay Fox and Charles Crowson. Bob occasionally as has his guess Alex Myers with Golf Digest and Ron Sirak with Golf Channel. I was interviewed on his show about my book, The ESPY Golf Swing Coach. This show is worth tuning into for golf news and information.
Jay Fox is an Administrator with Arkansas State Golf Association that discuss amateur golf and rules of the game.
Check out my full library of BLOGS @ www.espygolfapp.com/blog or purchase your copy of "The ESPY Golf Swing Coach" @ www.espygolfapp.com/store.
Facebook – The QATSPY Golf Approach
Twitter – @cwboatright
Google+ – ESPY Golf Swing Coach
YouTube – ESPY Golf Swing Coach
Once you learn WHY, you don't forget HOW!
YouTube Videos:
https://youtu.be/ZGVNrIw_wlo (Cam & Cam-over elements)
https://youtu.be/K2FDHZ3AX9w (Figuring your proper swing plane)
https://youtu.be/TO82PMO6G8M (Developing muscle memory)
Two decisions that you can make for yourself and your kids are to get a copy of my book and place the book and a golf club into their hands. You will never look back, but only forward. You will not miss with this for yourself and/or your kids.
Until next time– Be Synched, Tee-to-Green, with The ESPY Golf Swing!