The QATSPY Sports Page 4 Golfers

Setting Up The Classic Golf Swing, Based on Knowing Your Wrist Factors
The PRO-Tract is based on the classic golf swing biomechanics of how the low-and high-threshold muscles are properly engaged and preset. There are two types of muscles; one is called the low-threshold muscles that should precede the second class of muscles, called the high-threshold muscles in the golf swing sequence.
The low-threshold muscles are those that are mainly in the wrists and forearms, while the high-threshold muscles are the large muscles in the arm (upper arm) and the upper and lower body. These high-threshold muscle engage after the Syncing/Presetting the wrists and lower forearm in the golf swing sequence that has been documented by many professional golfers.
If the golfer who is trying to establish the classic golf swing uses the wrong approach, or strategy, the golfer can cause long-term injury, particularly to the lower back. This stems from the golfer coinciding the coiling of the core muscles with the movements of the forearms, wrists, and hands at the start of the golf swing without presetting the wrists and forearms.
Ergonomics and Kinesiology play important parts to allow the golfer to develop the classic golf swing. I had a phone conversation with a golf instructor in Arkansas, about the fundamentals of a golf swing. Prior to our conversation, I sent him a copy of my book, The ESPY Golf Swing Coach. On a follow-up phone call, the instructor informed me that he would not instruct golfers to use the Sync/Preset golf swing technique, as described in my book. The following is a brief part of our conversation:
Boatright– "How would you initiate the golf swing sequence in your coaching philosophy then, if you don't use the Sync/Preset technique?"
Instructor– "By taking the arms back with the core muscles in the shoulders and torso."
Boatright– "Are you aware of the stresses that are placed on the lower back using that technique you described and how low-threshold muscles should precede the higher-threshold muscles?"
Instructor– "What do you mean by threshold muscles?"
Boatright– "The process of how certain muscles should be engaged in the golf swing sequence."
Instructor-"My method is based on the modern-day golf swing."
Boatright– "Are you aware of injuries that are associated with the modern-day golf swing?"
Instructor– "I haven't notice any significant issues."
Boatright– "Peter Kostis wrote an article that addressed these issues with the modern-day golf swing, in a March 2016 issue of Sports Illustrated Golf Magazine. In this article, Peter Kostis addressed a number of injuries that are occurring with the modern-day golf swing that didn't exist with the conventional golf swing like performed by Sir Nick Faldo."
Instructor– "I haven't read that article."
Boatright– "Do you know Ken Duke?"
Instructor– "I do personally."
Boatright– "Have you watched the interview on Golf Channel that Lisa Cornwell did with Ken Duke, where he demonstrated his hinge element at the Alotian Golf Club. This hinge element is similar to my preset technique in my book, except I cover how the golfer's dominant elbow is used in the golf swing sequence. This Sync/Preset technique was also illustrated by Sir Nick Faldo in two of his YouTube videos."
Instructor– "I will have to watch these videos."
Boatright– "I will send you the link to both Nick Faldo's YouTube videos."
The Wrist Factor Used to Establish the Fundamentals of the Classic Golf Swing

       
I had a rare opportunity to interview Colonel George R. Hall, who is probably one of the most definitive persons on the subjects of Sports Psychology and classic golf swing mechanics. His Sports Psychology and golf swing mechanics weren't just based on theory, but on practical experience that kept him alive as a POW.
Colonel Hall was a POW at the Hanoi Hilton in North Vietnam for seven-and-a-half years. He was held in solitary confinement under horrendous conditions that included torture and malnutrition. He used his mental game of golf to help him survive these horrendous conditions at the Hanoi Hilton. Hanoi Hilton was the most notable of the twelve other prison camps in North Vietnam.
Colonel Hall credited his ability to feel and mentally visualizing each element used to preset his wrists, thumbs, and elbow to correctly set up and execute his golf swing sequence, shown in the Sync/Preset/Lock technique sketch above. Colonel Hall placed a significant amount of importance on his preset golf swing technique.
Colonel Hall developed a vivid mental image of the Sync/Preset/Lock sketch above, before completing his golf swing sequence without a golf club or a golf ball in his seven-and-a-half foot square prison cell.
Colonel Hall, using what Sports Psychologists called Sports Mental Imagery, that gave him enough confidence to play in the 1973 PGA Pro-Am at The Greater New Orleans Open. This Pro-Am took place within six weeks after Colonel Hall was released from the Hanoi Hilton in February of 1973. Colonel Hall shot his handicap or four (4) at this Pro-Am.
Before concluding my interview with Colonel Hall, which can be accessed using this Colonel Hall Interview link, Colonel Hall explained to me his preset technique. He pointed to his lead lower forearm, wrist, and his dominant elbow.
Knowing and Understanding The Wrist Factors in Your Classic Golf Swing

        
There are two YouTube videos on the Sync/Preset golf swing sequence that were demonstrated by Sir Nick Faldo. One of Nick's Faldo's videos was entitled The "Faldo" Pre-Set Drill – Perfect Top of Backswing Position , and the second was entitled Nick Faldo – Pre-Set Drill.
Both of these videos focused on the preset drill that both Ken Duke and David Duval demonstrated on Golf Channel. Charlie Rymer, who interviewed David Duval, was so impressed with the preset technique demonstrated by David Duval that he (Charlie Rymer) dubbed it as That Wrist Thing.
That Wrist Thing that Charlie Rymer referred to is simple to set up by using just three wrist factors or points in the Sync/Preset golf swing sequence. For the right-handed golfer, it is important to understand a few golf swing fundamentals that I discussed with Colonel Hall. One key fundamental that I discussed with Colonel Hall was that The Left leads and the right rides along. In my book, the left forearm leads the golf swing.
The anatomy of the preset golf swing technique consists of three factors featured below- The first factor is a nodule on the left lower forearm that is located above the left pinky knuckle, called the Ulnar Styloid Process (USP). The second factor is a muscle at the base of the left thumb, called the Thenar. The third factor is the nodule above the left middle knuckle, called the Radial Styloid Process (RSP).
If you watch both Sir Nick Faldo's YouTube videos, pay close attention to his left wrist in his golf swing sequence. You'll see how Nick Faldo initiates his preset golf swing technique using the left- USP, Thenar, and RSP. If the golfer looks down at the Sync/Preset/Lock Position, as Nick suggested in his YouTube videos, the golfer should observe their lower forearms, wrists, hands, and the handle of the golf club in the Lock Position, as shown in the sketch below.

While the left USP (1) and Thenar (2) are active, the RSP (3) is a reference point. The RSP allows the golfer to sync and lock their right elbow with their right side. This was demonstrated in both of Sir Nick Faldo's video. While focusing on Nick's wrists and hands, pay close attention on how Nick's right elbow syncs and locks with his right side.
This was a golf swing technique that Arnold Palmer gave to President Eisenhower before a Pro-Am. This golf swing technique is comprised of the Sync/Preset golf swing sequence, which is one of two objectives covered in my book, The ESPY Golf Swing Coach.
The Anatomy of the Drop Element
The only thing that is as important as the Sync/Preset golf swing sequence is how to initiate the downswing. The drop element is like a cat that climbs a tree; getting up is easy, getting down is another issue. Tom Watson wrote a great article entitled For better rhythm on the downswing, let your arms drop. This article appeared in the 2013 March issue of Golf Digest, on page 48.
My book is more than a WHAT book, as it also explains the HOW, which is just as important as the WHAT. Not only do I go into the golfer's short game and putting, including the ability to read greens, but I explain the drop element. I expound on Tom Watson's article by going into the anatomy of the downswing.
Ben Hogan talks about two maneuvers in his book, and these are supination and pronation. These two maneuvers are not only used to preset the golfer's wrists, but also used to close the clubface through impact. There are three muscles that are prevalent in both the takeaway and the downswing. These are the left Pronator Quadratus, the Brachio-Radialis, and the right Pronator Teres muscles.
There is an excellent reason for me to use the middle posterior (back) of my right forearm to initiate my downswing. This is where the Pronator Quadratus muscle connects to the right Radial bone. This is important to the golfer because it allows the golfer to pronate their right forearm through impact to close the clubface.
In the drop element, the right forearm plays an important supportive role. There are two points that allow me to initiate the downswing, shown in the diagram above. These two points are the midpoint of the right posterior forearm (4) and the left USP (1). These two points prevent me from casting at the top of my golf swing. I think about gradually pulling down on a rope, using these two points.
To develop your Sync/Preset and Lock golf swing technique, purchase your copy of The ESPY Golf Swing Coach from the links below, or visit your local bookstore: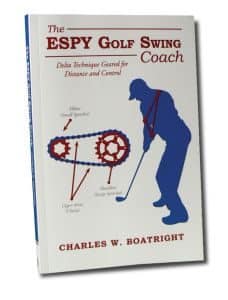 My book can also be purchased at Edwin Watts Golf Store in Jackson, Mississippi. Phone No. 601-956-8784
820 East County Line Road, Ridgeland, MS 39157
My book can also be purchased on-line at:
To help develop a more effective golf training exercise in your backyard or vacant field, I would recommend purchasing a dozen or more of the Almost Golf Balls® from LIBERTY Health Supply. Please select one of the products below to purchase these golf balls that simulate the actual golf ball without the concern for property damage or personal injury to others. These balls only travel a third of the distance of an actual golf ball.
Pack of 10: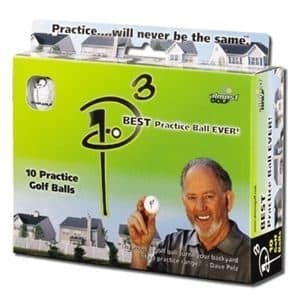 Pack of 36: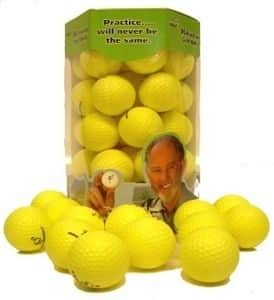 If you use the Promo Code: ALMOSTGOLF you will receive free shipment on any order of Almost Golf Balls® from LIBERTY Health Supply.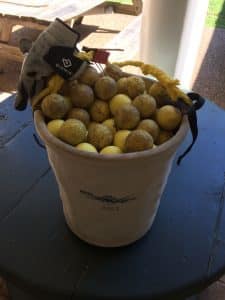 I have a utility bag full of these Almost Golf Balls that I practice with three to four hours per day, four days per week.
Health and Fitness Program Golf Exercise for Power
This book is based on a self-coaching forum (ASPEN Pyramid). The ASPEN Self-Coaching Technique provides the beginner and advanced single-digit handicap golfer with a safe, ergonomic classic golf swing mechanics. The ASPEN forum for coaching golf provides basic skills for more power and control in the golf swing sequence without debilitating injuries that are common with some modern-day golf swings. As part of The ESPY Golf Swing Coach forum is a workout program that includes golf exercises with medicine ball designed especially for golfers.
I have also included a FREE SR925 Diet program that anyone can access, where I lost over 40 pounds and 7.5-inches in my waist within nine-months. I went from 37.5 inches in November of 2014 down to 30.0 inches in July of 2015 with the effective SR925 Diet Program that I developed, see detailed below.
Please take advantage of my SR925 Diet Program, where I lost 6 inches in my waist in 3- months (FREE of CHARGE) with the CASPER Fitness Program, detailed in Section 20 of my book, great golf swing workout:
One component in my CASPER Fitness Program that I follow is using a Medicine Ball golf swing workout to perform what I call Stocking the Shelves, illustrated below in the figure: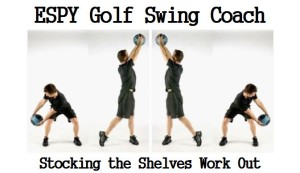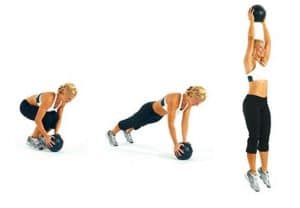 A part of the CASPER Fitness Program are golf exercises with medicine ball – that includes Stocking the Selves and medicine ball exercises Burpees. For endurance and a full body workout, I also include a boxing glove-punching bag exercise.
Please include an exercise routine in your weekly schedule.

       
Additional Motivation to Develop a Fitness Program
If you need addition motivation, which the subconscious mind works from and consist of 90 percent of the classic golf swing, include a fitness and exercise program designed for the golfer daily schedule. This type of exercise provides the critical overload underload training to improve the golfer's power and speed in the golfer's game, please look at another golf fitness enthusiast: The Fit Golfer Girl
Operation DOG TAG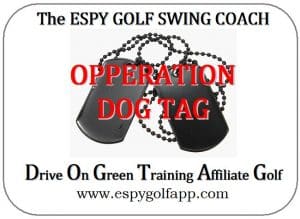 Sports, such as golf, along with fitness and an exercise regimen that includes yoga, has been proven to be a great Cognitive Behavioral Therapy for trauma victims. Veterans and those who have experienced a traumatic situation where the mind has been traumatized and disrupted can use golf and yoga to help re-establish connection and pathways in the brain. Golf also provides an excellent opportunity  for trauma victims to reconnect in a social setting to develop a dialogue without the pressures of clinical visits.
Introduction- Forum for Coaching Golf and Life Skills Operation Dog Tag
Section 1- Operation DOG TAG | GOLF CBT Intervention for PTSD
Section 2- Operation DOG TAG | Objectives and Scope
Section 3- Operation DOG TAG| STRUCTURE GUIDELINES
ESPY Golf Swing Coach- Rhythm Without the Blues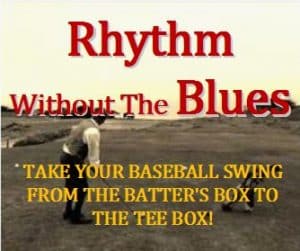 ESPY Golf Swing Coach- ESPY Golf App Develops the golfer's Rhythm w/o creating the golfer's Blues. The ESPY Golf Swing helps the golfer establish the correct wrist action in golf swing demonstrated by David Duval in an interview with Charlie Rymer on Golf Channel.
THE LOCKER ROOM a source for golf tips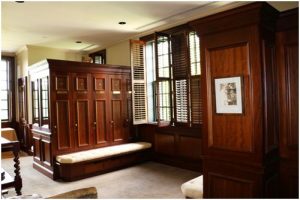 Please visit "The Locker Room" for an Index of all my golf articles to improve your golf game and life. Discover how you can take your baseball swing from the batter's box to the tee box.
Learn How to take your baseball-style golf swing from the batter's box to the tee box.
Sir Nick Faldo demonstration of the Preset Golf Swing Technique
One of Sir Nick Faldo's first golf swing fundamentals that he learned as demonstrated in this YouTube video entitled The Preset golf swing technique. Nick Faldo discussed the WHAT, but didn't explained the HOW in his YouTube video.
The Sync/Preset Elements in The ESPY Golf Swing Coach explains how to setup the classic golf swing maneuver to place the wrists into the key Lock Position. This was the same golf swing technique used by David Duval during an interview with Charlie Rymer on Golf Channel. These two Videos are probably two of the best Videos to discuss the wrist action in the golf swing.
For Comments or questions please contact me at 1-888-514-1228 Mon – Fri from 9 am to 4 pm CT Zone.
A Recommendation for your Golf Game: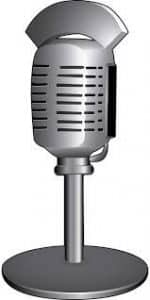 I would like to recommend an interesting radio program that I regularly listen to originating from my home state Arkansas on my I-Heart Radio app on KARN 102.9 FM station, out of Little Rock. They air a golf show called Arkansas Fairways and Greens, at 7:00 AM CT each Saturday morning, hosted by Bob Steel, and co-hosted by Jay Fox and Charles Crowson. Bob occasionally as has his guess Alex Myers with Golf Digest and Ron Sirak with Golf Channel. I was interviewed on his show about my book, The ESPY Golf Swing Coach. This show is worth tuning into for golf news and information.
Jay Fox is an Administrator with Arkansas State Golf Association that discuss amateur golf and rules of the game.
Check out my full library of BLOGS @ www.espygolfapp.com/blog or purchase your copy of "The ESPY Golf Swing Coach" @ www.espygolfapp.com/store.
Facebook – The QATSPY Golf Approach
Twitter – @cwboatright
Google+ – ESPY Golf Swing Coach
YouTube – ESPY Golf Swing Coach
Once you learn WHY, you don't forget HOW!
YouTube Videos:
https://youtu.be/ZGVNrIw_wlo (Cam & Cam-over elements)
https://youtu.be/K2FDHZ3AX9w (Figuring your proper swing plane)
https://youtu.be/TO82PMO6G8M (Developing muscle memory)
Two decisions that you can make for yourself and your kids are to get a copy of my book and place the book and a golf club into their hands. You will never look back, but only forward. You will not miss with this for yourself and/or your kids.
Until next time– Be Synched, Tee-to-Green, with The ESPY Golf Swing!