The QATSPY Sports Page 4 Golfers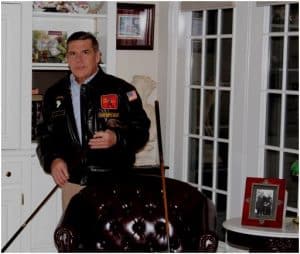 By: Charles W. Boatright
Author of The ESPY Golf Swing Coach, Delta Technique Geared for Distance and Control
The QATSPY- Quintessential Apperception Technique of Sports PsychologY
When I write an article for my QATSPY Sports Page 4 Golfers, it's usually to convey the golf swing mechanics in the classic golf swing technique. The sport of golf and its impact on the mental and physical health/fitness of the reader is just as essential. Golf is the quintessential sport for the athlete in all of us. I even write about the economical benefit that golf has on business.
Because ladies and gentlemen, when you have a client, prospective client, or a friend you are trying to reach out to, golf provides the best avenue. On the golf course, you have a captive audience for over three-and-a-half hours to develop a relationship with and make a positive impact. This is especially true with people dealing with PTSD.
A golf swing technique is only effective to the golfer if it can pass the mustard test, as being golf course certified. It's not in golf lessons or practice sessions that the golfer can develop their golf swing, but on the golf course.
The main purpose of this article is to present the golfer with a vital golf swing technique from my book that the golfer can actually use to improve their golf game. A golf swing technique is only effective to the golfer if it can pass the mustard test, as being golf course certified. It's not in golf lessons or practice sessions that the golfer can develop their golf swing, but on the golf course. This is really the essence of sports in general, to develop an athlete's characteristics of Sportsmanship that can be used in life.
Visualization, the Quintessential Mental Game of Golf
One golf swing technique that the golfer can use to strengthen their golf game is how to develop their mental game of golf. Yogi Berra's quote about baseball applies equally to golf. Baseball is 90 percent mental and the other half is physical. Inside that 90 percent is the significant role that the subconscious mind plays in golf.
The subconscious mind accounts for 90 percent of the golfer's game. One way to strengthen the golfer's subconscious mental game of golf is to develop the golfer's vision and feel for the game. In Sports Psychology, the vision part of the game is referred to as Sports Mental Imagery. This is like the old adage that A picture is worth a thousand words, or in this case, A mental picture is worth ten hours of golf lessons and practice sessions.
Sports Mental Imagery to Develop Your Golf Swing Technique
Sports Mental Imagery in Sports Psychology is being able to feel and visualize, thus the term muscle memory. The best golf swing coaching technique a golfer can use is not so much developing a new muscle memory, but learning how to use a well-established muscle memory and motor skill. This golf swing technique draws from prior experiences, like tennis, baseball, or even boxing, to assist the golfer in learning the golf swing mechanics.
This type of learning process or coaching technique is called Context-based learning. Context-based learning was originally referred to as Problem-based learning, which I prefer using. Because experience is forged more often than not from failures than successes. That is the reason I'd rather like to use the term Apperception-based learning, or self-coaching APP, for short.
Apperception-based learning takes skills we have developed in one sport, like the tennis swing, baseball swing, or even boxing, to redefine the muscle memory and motor skills needed for our golf game. The advantages of using the self-coaching APP in golf is that it reduces the lead time needed to learn a new skill-set. Familiarity and confidence are assets that are quintessential in the golf swing.
Confidence on the golf course is KING, as it is the single biggest factor that the golfer has that is irreplaceable. While I was in the process of writing my book, I played golf with a minor league baseball player with a triple-A team that played for LSU. I mentioned LSU, because of their notoriety for hitting coaches. The minor league player hadn't played golf in several months, and he was still able to crush the ball right down the fairway. He had master control of his power and distance with precision, even around the green. He credited his baseball-style swing for his golf game.
Side note: If you have an opportunity to watch LSU play baseball, watch what we call small ball. This small ball is getting base hits and RBIs. They can pick their opponent apart with their small ball approach.
The QATSPY Golf Swing Techniques
The major part of my Xerox Box Golf Research Project that I did for a kinesiology class was on comparing the golf swing vs. baseball swing in time-lapse photo, like the time-lapse photo shown below. The most significant similarity in both swings is how the lower forearms and wrists preset. While there are several golf swing techniques used in the golf swing sequence, the critical Sync/Preset of the lower forearms and wrists accounts for 80 percent of the total golf swing.
The boxing gloves were a favorite coaching tool used by my golf coach, H.Q. Boatright. The key golf swing technique is the red sync line, as noted in the boxing gloves shown below. The significance about the boxing gloves is how the wristbands are orientated and synced, like the boxing gloves are holding the handle of a golf club. The key to the classic golf swing, as has been demonstrated by Ken Duke and in David Duval's golf swing on Golf Channel, is presetting the forearms and wrists, or what Ken Duke referred to as hinging.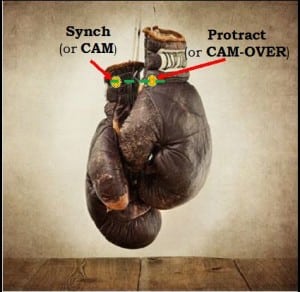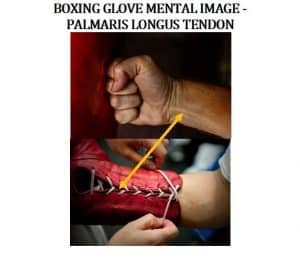 I have three muscle memory skills that I use as part of my golf swing mechanics, and these are the Thenars, Pronator Quadratus, and the Brachio-Radialis muscles. A key golf swing technique I use is to set the Sync/Preset Position about what is called the Palmaris Longus Tendon, or what I refer to as the Palmer Tendon, to honor Arnold Palmer. The visualization that I use in establishing this golf swing technique is the split in each of the boxing gloves, shown below. This tendon is easy to identify by the raised area on the forearm.
The Sync/Preset golf swing sequence allows the golfer to simplify their golf swing sequence and reduce their frustration, as well as their handicap. If you buy a pair of boxing gloves, you can use them not only for this golf swing technique, but for your fitness program. I work out with a punching bag as part of my CASPER Fitness Program. The boxing bag workout offers the golfer a full body workout in 3-minutes.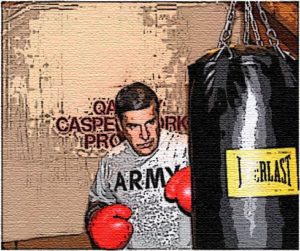 Summary of both the conscious and subconscious mind in regards to one's golf game is that the:
Conscious Mind functions based on                 
A Logical process.
A well-define golf swing sequence consisting of elements.
It takes longer period of time to process and retain skills and information.
Subconscious Mind function based on
Uses the five senses to help retain skills and information.
Uses motivation i.e., vision (Sports Mental Imagery) and feel.
Sticks to what it known best and sabotages any new techniques that can't be support with current muscle memory or motor skills.
Acts like a refrigerator only keeping current muscle memory/motor skills for short period of time.
The subconscious mind accounts for 90 percent of the athlete's performance.
To learn how to develop an Apperception-type golf coaching technique in your golf game, purchase your copy of The ESPY Golf Swing Coach from the links below, or visit your local bookstore: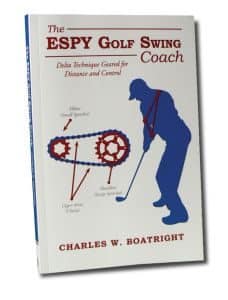 My book can also be purchased at Edwin Watts Golf Store in Jackson, Mississippi. Phone No. 601-956-8784
820 East County Line Road, Ridgeland, MS 39157
My book can also be purchased on-line at:
Health and Fitness Program Golf Exercise for Power
This book is based on a self-coaching forum (ASPEN Pyramid). The ASPEN Self-Coaching Technique provides the beginner and advanced single-digit handicap golfer with a safe, ergonomic classic golf swing mechanics. The ASPEN forum for coaching golf provides basic skills for more power and control in the golf swing sequence without debilitating injuries that are common with some modern-day golf swings. As part of The ESPY Golf Swing Coach forum is a workout program that includes golf exercises with medicine ball designed especially for golfers.
I have also included a FREE SR925 Diet program that anyone can access, where I lost over 40 pounds and 7.5-inches in my waist within nine-months. I went from 37.5 inches in November of 2014 down to 30.0 inches in July of 2015 with the effective SR925 Diet Program that I developed, see detailed below.
Please take advantage of my SR925 Diet Program, where I lost 6 inches in my waist in 3- months (FREE of CHARGE) with the CASPER Fitness Program, detailed in Section 20 of my book, great golf swing workout:
One component in my CASPER Fitness Program that I follow is using a Medicine Ball golf swing workout to perform what I call Stocking the Shelves, illustrated below in the figure: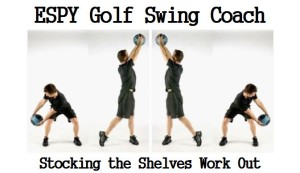 A part of the CASPER Fitness Program are golf exercises with medicine ball – that includes Stocking the Selves and medicine ball exercises Burpees. For endurance and a full body workout, I also include a boxing glove-punching bag exercise.
Please include an exercise routine in your weekly schedule.

       
Additional Motivation to Develop a Fitness Program
If you need addition motivation, which the subconscious mind works from and consist of 90 percent of the classic golf swing, include a fitness and exercise program designed for the golfer daily schedule. This type of exercise provides the critical overload underload training to improve the golfer's power and speed in the golfer's game, please look at another golf fitness enthusiast: The Fit Golfer Girl
Operation DOG TAG
Sports, such as golf, along with fitness and an exercise regimen that includes yoga, has been proven to be a great Cognitive Behavioral Therapy for trauma victims. Veterans and those who have experienced a traumatic situation where the mind has been traumatized and disrupted can use golf and yoga to help re-establish connection and pathways in the brain. Golf also provides an excellent opportunity  for trauma victims to reconnect in a social setting to develop a dialogue without the pressures of clinical visits.
Section 1- Operation DOG TAG | GOLF CBT Intervention for PTSD
Section 2- Operation DOG TAG | Objectives and Scope
Section 3- Operation DOG TAG| STRUCTURE GUIDELINES
ESPY Golf Swing Coach- Rhythm Without the Blues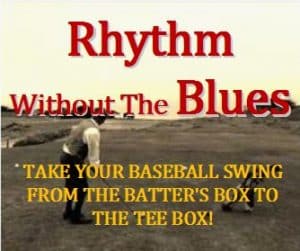 Also, learning The ESPY Golf Swing Coach process is an excellent way to develop natural Rhythm without experiencing the Blues in your golf game to build confidence; learn how to take your baseball-style swing from the batter's box to the tee box.
THE LOCKER ROOM a source for golf tips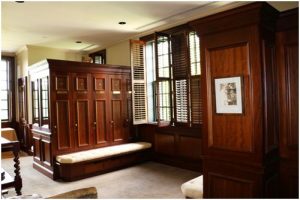 Please visit "The Locker Room" for an Index of all my golf articles to improve your golf game and life. Discover how you can take your baseball swing from the batter's box to the tee box.
Learn How to take your baseball-style golf swing from the batter's box to the tee box.

Time-lapse photography that I reviewed during my Kinesiology Xerox Box Golf Research Project compared the golf swing vs. baseball swing and how similar the Sync/Preset wrist action in the golf swing was to the baseball swing sequence.
For Comments or questions please contact me at 1-888-514-1228 Mon – Fri from 9 am to 4 pm CT Zone.
A Recommendation for your Golf Game: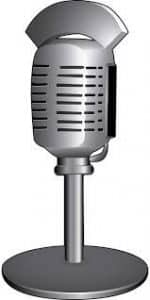 I would like to recommend an interesting radio program that I regularly listen to originating from my home state Arkansas on my I-Heart Radio app on KARN 102.9 FM station, out of Little Rock. They air a golf show called Arkansas Fairways and Greens, at 7:00 AM CT each Saturday morning, hosted by Bob Steel, and co-hosted by Jay Fox and Charles Crowson. Bob occasionally as has his guess Alex Myers with Golf Digest and Ron Sirak with Golf Channel. I was interviewed on his show about my book, The ESPY Golf Swing Coach. This show is worth tuning into for golf news and information.
Jay Fox is an Administrator with Arkansas State Golf Association that discuss amateur golf and rules of the game.
Check out my full library of BLOGS @ www.espygolfapp.com/blog or purchase your copy of "The ESPY Golf Swing Coach" @ www.espygolfapp.com/store.
Facebook – The QATSPY Golf Approach
Twitter – @cwboatright
Google+ – ESPY Golf Swing Coach
YouTube – ESPY Golf Swing Coach
Once you learn WHY, you don't forget HOW!
YouTube Videos:
https://youtu.be/ZGVNrIw_wlo (Cam & Cam-over elements)
https://youtu.be/K2FDHZ3AX9w (Figuring your proper swing plane)
https://youtu.be/TO82PMO6G8M (Developing muscle memory)
Two decisions that you can make for yourself and your kids are to get a copy of my book and place the book and a golf club into their hands. You will never look back, but only forward. You will not miss with this for yourself and/or your kids.
Until next time– Be Synched, Tee-to-Green, with The ESPY Golf Swing!