The QATSPY Golfer's Sports Page: Golf Swing Tips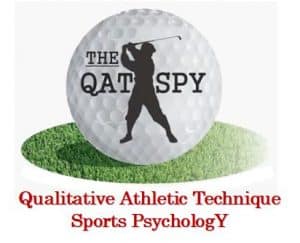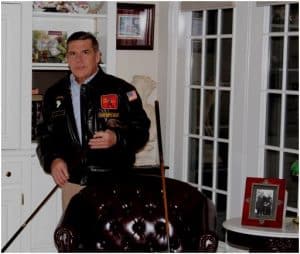 By: Charles W. Boatright
ESPY APP- JOC Joint Orientation Concept of Synchronizing the Golfer's Swing
The ESPY APP addresses a major obstacle that many golfers have to learn to overcome, especially if they are amateurs. This is not being able to play golf on a regular basis. Due to severe weather, scheduling issues, and responsibilities during the course of the year. Like what occurred to me first part of 2017, I was unable to get out to the golf course, like I'm accustomed to.
Then when you are able to go to the course after a long time off, you're hesitant in getting back into the swing of things, because of the rust buildup on your golf game. The ESPY APP allows the golfer to maintain their muscle memory, even during winter months, or the off season. This is like having a can of WD-40 for your golf game to prevent rust. One of the biggest benefits of the ESPY APP is that it allows the golfer to maintain their muscle memory and mental confidence in their golf game or their JOC Joint Orientation Concept.
February 01, I had to deal with such a case in my own golf game. The severe weather pattern during the first part of 2017 did not allow me to play golf since just before Christmas. In January, we, in Mississippi, had to deal with weather systems, like what produced the EF-3 tornado that impacted Hattiesburg, Mississippi, on January 21.
For the last few years, I decided to invest a tremendous amount of time in developing my mental game, with what I call the incremental JOC process. This was not a hard decision for me to make, based on a special interview I did while writing the outline for my book, The ESPY Golf Swing Coach.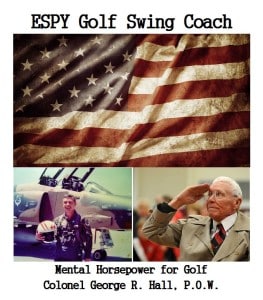 During the latter stages of my outline for my book, I had the sincere pleasure of interviewing a Vietnam P.O.W. in Hattiesburg, Mississippi. While I was leaving the Hattiesburg Country Club, I noticed a gentleman setting up a table for the Vietnam Vets benefit for the upcoming weekend. I was mainly just going to make a contribution to his Vets association. But it turned out to be one of the most amazing interviews I have ever conducted. The P.O.W. that I interviewed was Colonel George Robert Hall.
Colonel Hall was held at the infamous Hanoi Hilton for seven-and-a-half years. During my interview with Colonel Hall, he explained how he used his love of golf to survive his horrendous experience as a P.O.W. Col. Hall described how he mentally played his home course and Pebble Beach each and every day in his cell, all 18-holes, not just to maintain his handicap, but to maintain his sanity.
Colonel Hall's experience as a P.O.W. at the Hanoi Hilton might have also proven that golf might be even more than just 90 percent mental. Golf is more in line with what Bobby Jones stated about golf- being between the ears. He proved that you can actually compensate for the lack of physical play by maintaining your mental golf game.
Six weeks after his release from the Hanoi Hilton, in March of 1973, Col. Hall was invited to play in the Greater New Orleans P.O.W Pro-Am Open, where he shot his handicap of four (4). This was more than a miraculous feat. This was a spectacular performance, especially given the fact that he was a 100 pounds lighter, prior to his experience at the Hanoi Hilton. Not even many professional golfers after seven-and-a-half years of not even touching a club could have that type of performance on such a big stage as a PGA Pro-Am.
During my interview with Col. Hall, he was more interested in how I used my thumbs, particularly the thenars and what I call the DR-JOC Technique to mentally develop the feel for my golf swing. I described to Col. Hall how I used each thumb to represent a particular part of the golf club and my right elbow to sync with the shoulders.
Col. Hall explained to me during those years as a P.O.W., he wanted to feel his wrists set in a particular way before he even took his hands to the top of his swing in his cell. I explained to Col. Hall how I wanted to cam and cam-over my thenars, based on the DR-JOC Technique that allowed my right elbow to lock into place next to my right side (I'm right handed).
After my interview with Col. Hall, I started focusing more on the incremental process of using a golf baton to develop my muscle memory. In Section 4.4 of my book, I have four mentally applied checkpoints where I can verify that my golf club or golf baton is established correctly, even before I take the club or baton up to the top of my swing. Like I emphasize in my book, the key is nice-and-easy, or in other words, a slow pace in presetting the wrists.
Yesterday, I even surprised myself, shooting 72 at my home course after six weeks of not even playing golf, just working with my golf baton in my home gym. The scorecard is below:
To learn more about how to improve your mental golf game in order to improve your golf game purchase your copy of The ESPY Golf Swing Coach from the links below:
My book can also be purchased at Edwin Watts Golf Store in Jackson, Mississippi. Phone No. 601-956-8784
820 East County Line Road, Ridgeland, MS 39157

Please take advantage of my SR-925 Diet Program where I lost 6 inches in my waist in 3- months (FREE of CHARGE):