The QATSPY Sports Page 4 Golfers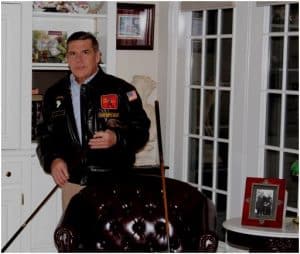 By: Charles W. Boatright
Author of The ESPY Golf Swing Coach, Delta Technique Geared for Distance and Control
Tee-to-Green: Strokes Gained Statistic and Coaching Process

 
The biggest part of coaching in any sport is analyzing the sheer amount of statistics that are available to the coach and/or athlete to improve performance. Statistics are essential to the coaching process, but only as indicators, and NOT a prediction of the athlete's performance. Just like in the investment industry where investment firms issue a disclaimer that states- Past performance is no guarantee of future results! The sport of golf confirms this disclaimer.  
Focusing on statistics should only be a means, not the objective in coaching. There are too many variables in athletics to predict a certain outcome, based only on stats alone. Some golfers are interested in Driving Distance and Accuracy and Strokes-Gained in Putting. This is supported by the old adage- That you drive for show, but you putt for dough. This statement looks at the coaching process and golfer's performance as bookends, on the tee box and on the green, instead of looking at the golfer's performance from tee-to-green.
There is actually data available now, under the term Tee-to-Green statistics, called Strokes Gained Tee-to-Green. This Tee-to-Green statistic, as the name implies, combines the total performance of the golfer from their tee shot to putting out on the green. The Strokes Gained Tee-to-Green analytic analysis was developed by Professor Mark Broadie of Columbia University. This program utilizes information gathered by ShotLink®.
The Tee-to-Green approach in this article doesn't describe a program for collecting statistical data, but a coaching process that I use on the golf course to improve the golfer's accuracy. I call this process TAB, Triangulation Alignment Bracket and is described in my book, The ESPY Golf Swing Coach. The TAB process can be used once on the green as well to determine the amount of break your putt will have and the break point that is detailed in Section 17.6.
The more mental images that I can develop, like the TAB and dartboard shown below, the less thinking I need to do on the golf course. Instead of thinking, I'm focusing my attention, like a person throwing darts. I use the entire dartboard for my tee shot represented in yards, then I narrow down my approach shot into the green, in feet, as the bull's eye.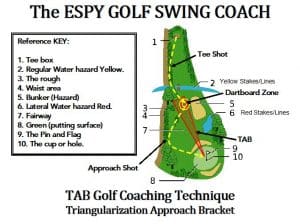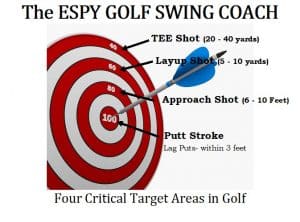 TAB Golf Coaching Technique
I'm not any different than any other golfer who has played this wonderful game of golf for years. I still like to take the big stick out of my bag on the first tee and hit a drive down the fairway, as far as I can, to improve my probability of making par or better. Making a confident tee shot off the first tee box also helps to break the ice for me. I look at my golf game and round like giving a speech. You experience butterflies until you make your opening statement. I call it my ice breaker to allow me to settle into my game.
If you ever have to give a public address or speech, try this ice breaker technique. I usually like to ask a rhetorical question or make a statement that has a degree of humor and self-deprecating. It gets me into my cadences. It will work; it puts you and your audience at ease. What I experience behind a podium and on the first tee box are the same adrenaline rushes; find ways to put your adrenaline to good use.
Another technique I use on the tee box, especially on the first tee box, is a baseball technique of a batter in the batter's box. Once I'm in the batter's box, I just focus on the golf ball and home plate that I have mentally flipped, where the back of the pentagon is pointing towards my dartboard target. I keep my mind focused only within the pentagon, or home plate. Reggie Jackson on Golf Channel was being interviewed by Charlie Rymer where he explained to Charlie Rymer that his area of focus was the area just around the golf ball. I use the pentagon, home plate, method because of the directional feature it has, shown below. This allows me to take my baseball swing sequence from the batter's box to the tee box.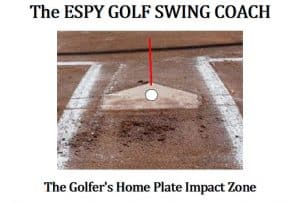 Using the TAB Technique, setting up behind my ball, facing my target, I'm mentally drawing a triangle from the pin location back to my landing area of my tee shot. I realize that Driving Accuracy is measured in yards so I have a higher degree of tolerance for my tee shot. I'm hitting my tee shot (with a driver or 3-wood) into an area that is 10 to 15 yards wide on the fairway, even though my target is one spot along the base of the triangle. My next shot (approach on 4's or layup on par 5's), I can't think in yards, but instead I have to think in feet instead. Every shot that I'm making toward the green my tolerance is smaller, from yards, to feet, down to inches once on the green.
In my book, in Section 13.3, I explain the mindset approach to par 3's, which in reality isn't your tee shot, but actually your approach shot in feet. Your accuracy is not measured in yards like in a tee shot, but in feet around the pin. I have to recalibrate my mind on par 3's from focusing on a tee shot measured in yards to focusing on an area measured in just feet. This is also a great example to use of your approach shots on par 4's and layup shots on par 5's.
This coaching technique of Tee-to-Green is more of a coaching philosophy than it is a stat. This TAB golf coaching technique allows the golfer to approach each hole as a cone or triangle bracket, where the closer to the green or pin the golfer gets, the more narrow their tolerance is. The golfer's tolerance goes from yards on tee shots, down to feet on layups and approach shots. Then it goes down to inches on putts. This is at the point of the triangle.
The Missing Link in Golfer's Game is Tee-to-Green   
TAB golf coaching technique also allows the golfer to focus on the next shot mentally, instead of their last shot. Regardless of where your previous shot lands on or off the fairway or green, your next shot is your next critical golf shot. This is like a hit IT and forget IT coaching technique.
Instead of thinking about stats on the golf course like Driving Accuracy, Greens in Regulation, or Strokes-Gained Putting; I focus on a Triangulation Technique. For example, I like to mentally draw a triangle from the pin location back to where I expect my tee shot to land. This allows me to use the dartboard approach of concentric circles from Tee-to-Green, instead of considering the entire fairway or green.
I like to take the dartboard and divide it up into sections, like on the dartboard. This allows me to narrow down my target area for each shot or putt. And the more precise the image is in my mind, the better the body can perform that mental image. Think about throwing darts; if you don't pick a grid out on the dartboard, your chances of hitting even the board is reduced. If you focus on a wide target area, then don't be surprised if you meet your expectation. Like Jordan Spieth stated- Aim small miss small.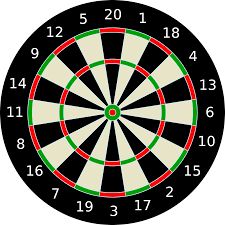 TAB Application
When strategizing a hole on the golf course from the tee box, most golfers would think of two areas right off the bat, their tee shot and putting. While these are critical areas, these don't have the biggest impact on getting you close to the pin and saving strokes tee-to-green, I actually have an excellent example of this.
Example– I was playing golf with one of my business partners, who is typically longer off the tee box than I am by 20 yards. The par 4, 10th hole at Lake Caroline, our home course, plays 397 yards slightly uphill, with water on the right. What makes this hole interesting besides being uphill with water on the right, a bunker on the left, with the left side of the potato shape green runs back and to the left side and toward the fairway. That's what makes for an interesting approach shot. You just have to remember to take an extra club length to compensate for the upgrade fairway.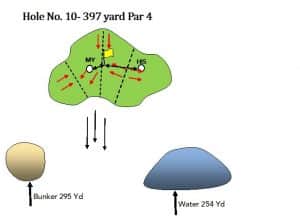 My friend drove his tee shot within 80 yards of the hole, and I was 100 yards out from the green. The pin placement was on a center ridge toward the back of the green, exactly where you don't want the pin placement to be, as shown below with the complex slopes on the green.
After we made our approach shots into the 10th green, my playing partner hit his approach shot 18-feet to the right of the pin over a right ridge. I hit my approach shot 6-feet, just below the hole on the left side of the pin. I holed out my putt for a birdie, and my partner two-putted for par. But our putts weren't surprising based on putting statistics for average amateur golfers as listed below:
Percent of Putts made by amateurs based on distance in feet from the hole:
Under 4-ft   86%
5 ft              75%
6 ft              65%
7 ft              56%
8 ft              49 %
10 ft            36%
Over 15 ft    less than 10%
Putting Work: I make it a habit to work on making putts inside a 10- foot radius from the hole. Anything over 10-feet, I'm lagging the putt to within 3-feet of the hole anyway. This is the reason that for my TAB approach shots I'm looking at a 10-foot radius around the pin. I don't even concentrate my time on putts outside 10-feet, except for making a couple of lag putts to within 3-feet of the hole. REMEMBER- Golf is a game of percentages not perfection.
To read more about the Tee-to-Green TAB approach and why your approach shot is the critical shot, purchase your copy of The ESPY Golf Swing Coach from the links below, or visit your local bookstore: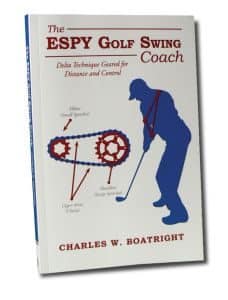 My book can also be purchased at Edwin Watts Golf Store in Jackson, Mississippi. Phone No. 601-956-8784
820 East County Line Road, Ridgeland, MS 39157
My book can also be purchased on-line at:
Health and Fitness Program Golf Exercise for Power
This book is based on a self-coaching forum (ASPEN Pyramid). The ASPEN Self-Coaching Technique provides the beginner and advanced single-digit handicap golfer with a safe, ergonomic classic golf swing mechanics. The ASPEN forum for coaching golf provides basic skills for more power and control in the golf swing sequence without debilitating injuries that are common with some modern-day golf swings. As part of The ESPY Golf Swing Coach forum is a workout program that includes golf exercises with medicine ball designed especially for golfers.
I have also included a FREE SR925 Diet program that anyone can access, where I lost over 40 pounds and 7.5-inches in my waist within nine-months. I went from 37.5 inches in November of 2014 down to 30.0 inches in July of 2015 with the effective SR925 Diet Program that I developed, see detailed below.
Please take advantage of my SR925 Diet Program, where I lost 6 inches in my waist in 3- months (FREE of CHARGE) with the CASPER Fitness Program, detailed in Section 20 of my book, great golf swing workout:
One component in my CASPER Fitness Program that I follow is using a Medicine Ball golf swing workout to perform what I call Stocking the Shelves, illustrated below in the figure: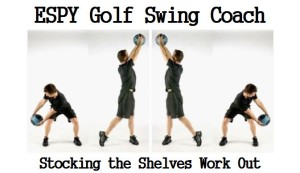 Please include an exercise routine in your weekly schedule.       
Additional Motivation to Develop a Fitness Program
If you need addition motivation, which the subconscious mind works from and consist of 90 percent of the classic golf swing, include a fitness and exercise program designed for the golfer daily schedule. This type of exercise provides the critical overload underload training to improve the golfer's power and speed in the golfer's game, please look at another golf fitness enthusiast: The Fit Golfer Girl
Operation DOG TAG
(Logo for Operation Dog Tag)   (Marker Robert C. Boatright)
Sports, such as golf, along with fitness and an exercise regimen that includes yoga, has been proven to be a great Cognitive Behavioral Therapy for trauma victims. Veterans and those who have experienced a traumatic situation where the mind has been traumatized and disrupted can use golf and yoga to help re-establish connection and pathways in the brain. Golf also provides an excellent opportunity  for trauma victims to reconnect in a social setting to develop a dialogue without the pressures of clinical visits.
Introduction- Forum for Coaching Golf and Life Skills Operation Dog Tag
Section 1- Operation DOG TAG | GOLF CBT Intervention for PTSD
Section 2- Operation DOG TAG | Objectives and Scope
Section 3- Operation DOG TAG| STRUCTURE GUIDELINES
ESPY Golf Swing Coach- Rhythm Without the Blues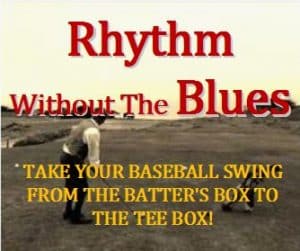 ESPY Golf Swing Coach- ESPY Golf App Develops the golfer's Rhythm w/o creating the golfer's Blues. The ESPY Golf Swing helps the golfer establish the correct wrist action in golf swing demonstrated by David Duval in an interview with Charlie Rymer on Golf Channel.
Also, learning The ESPY Golf Swing Coach process is an excellent way to develop natural Rhythm without experiencing the Blues in your golf game to build confidence; learn how to take your baseball-style swing from the batter's box to the tee box.
THE LOCKER ROOM a source for golf tips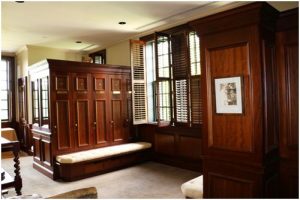 Please visit "The Locker Room" for an Index of all my golf articles to improve your golf game and life. Discover how you can take your baseball swing from the batter's box to the tee box.
Learn How to take your baseball-style golf swing from the batter's box to the tee box.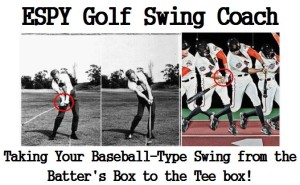 Time-lapse photography that I reviewed during my Kinesiology Xerox Box Golf Research Project compared the golf swing vs. baseball swing and how similar the Sync/Preset wrist action in the golf swing was to the baseball swing sequence.
For Comments or questions please contact me at 1-888-514-1228 Mon – Fri from 9 am to 4 pm CT Zone.
A Recommendation for your Golf Game: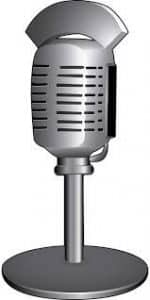 I would like to recommend an interesting radio program that I regularly listen to originating from my home state Arkansas on my I-Heart Radio app on KARN 102.9 FM station, out of Little Rock. They air a golf show called Arkansas Fairways and Greens, at 7:00 AM CT each Saturday morning, hosted by Bob Steel, and co-hosted by Jay Fox and Charles Crowson. Bob occasionally as has his guess Alex Myers with Golf Digest and Ron Sirak with Golf Channel. I was interviewed on his show about my book, The ESPY Golf Swing Coach. This show is worth tuning into for golf news and information.
Jay Fox is an Administrator with Arkansas State Golf Association that discuss amateur golf and rules of the game.
Check out my full library of BLOGS @ www.espygolfapp.com/blog or purchase your copy of "The ESPY Golf Swing Coach" @ www.espygolfapp.com/store.
Facebook – The QATSPY Golf Approach
Twitter – @cwboatright
Google+ – ESPY Golf Swing Coach
YouTube – ESPY Golf Swing Coach
Once you learn WHY, you don't forget HOW!
YouTube Videos:
https://youtu.be/ZGVNrIw_wlo (Cam & Cam-over elements)
https://youtu.be/K2FDHZ3AX9w (Figuring your proper swing plane)
https://youtu.be/TO82PMO6G8M (Developing muscle memory)
Two decisions that you can make for yourself and your kids are to get a copy of my book and place the book and a golf club into their hands. You will never look back, but only forward. You will not miss with this for yourself and/or your kids.
Until next time– Be Synched, Tee-to-Green, with The ESPY Golf Swing!