The QATSPY Sports Page 4 Golfers

The Lead Element in the Golf Swing Sequence
Two of the top questions concerning the golf swing sequence especially by golfers just taking up the game is how to initiate the takeaway and downswing. This isn't just a question from beginners only, but from all golfers concerning the takeaway and downswing. A great golf swing sequence, to answer the question is to sync the trail elbow, a major coaching techniques explained in The ESPY Golf Swing Coach.
The Sync/Preset golf swing sequence establishes 80 percent of the golf swing, just by presetting the golf swing, syncing, and locking the elbow with the golfer's side. This was a golf swing technique that Mr. Arnold Palmer brought to the attention of President Eisenhower before a Pro-Am golf tournament. Mr. Palmer detected the President's elbow separating from his side too early in the takeaway and not returning in the downswing.
Mr. Palmer wanted the President to tuck his right elbow in, toward his right side, at the start of his golf swing sequence and again just before impact. Sync/Presetting the golf swing sequence in order to tuck the golfer's right elbow for the right-handed have several advantages, among which are increased control, power, and clubhead speed.  This was a major golf swing technique that my grandfather taught me and one that I have to focus on continually.
Even boxers are trained to keep their elbows in toward their side while in a boxing match. The other key is to land a punch between the pinky and ring knuckle. This location is key for the golfer also. This alignment between the these two knuckles aligns with a preset point called cam-over ring.
The Sync/Preset golf swing sequence and tucking the elbow is explained in detail in my book using three easy Elements of Sync/Presetting and Yaw maneuvers. I always go back and review a video on one golfer in particular and his golf swing sequence, because of the techniques that are covered in his videos. The Video on Ken Duke's golf swing is a great example of a preset golf swing sequence that is narrated by Dr. Clay Ballard.
The Sync/Preset Golf Swing Sequence in the ESPY Golf Swing Coach
Ken Duke, at the present, leads the PGA in fairways hit, but as Dr. Ballard points out, Ken Duke isn't the longest off the tee, averaging 262 yards. But if I had a choice between distance and control, I would prefer control, especially in the approach shot, which is key in improving your golf game.
One point that Dr. Ballard brought out in this Ken Duke golf swing video was the height of Ken Duke's right elbow. Dr. Ballard stated that if there were one thing that he would suggest to Ken it would be to get his right elbow higher in the takeaway swing.
Two of the advantages of syncing one's right elbow (for the right-hander) with the right side is that it syncs and locks the right elbow with the shoulders. This syncing and locking golf swing technique allows the elbow (small sprocket) and shoulders (large sprocket) to act as sprockets on a ten-speed bicycle. By syncing the right elbow, this allows the golfer to position their right elbow into a more vertical position than in a lateral position behind them.
The advantages of using the Sync/Preset golf swing technique are that they provide both power (small sprocket turning the larger sprocket) in the takeaway, then in the downswing, the golf swing sequence is reversed for speed, where the large sprocket (shoulders) turns the smaller sprocket (elbows).
In evaluating Ken Duke's golf swing, I think that Dr. Ballard was suggesting that Ken Duke place his right elbow into a more vertical position. Even though Ken Duke is in his mid-40's, like Dr. Ballard pointed out, this is not a flexibility issue. I will be 60 this July, and I can reach a more vertical position with my right elbow if my right elbow is taken up from my right side.
The Important Component in Sync/Presetting the Golf Swing Sequence

     
In the tradition of the classic golf swing mechanics, there is one component that the golfer has to get correct, as even I found out last week. That is to make the distinction between the lower forearm (or wristband on the kickboxing gloves) and the wrist.  A lot of coaches harp on the golfer getting too much wrist action into their golf swing.
NOTE: The wrists are not where one would wear their wristwatch, for this is the lower forearm. The golfer's wrists are composed of two muscles (the Thenars) and eight carpal bones, shown below.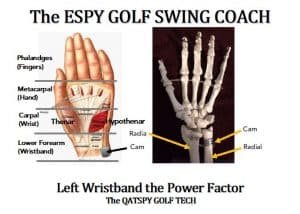 In my pre-shot routine, I perform what I call my baseball-style golf swing routine, illustrated below. This allows me to feel my left lower forearm Camming-Over to initiate the golf swing sequence. This not only syncs my elbow with my shoulders, but syncs my wrists, the right Hypothenar, with my forearms. After the Sync/Preset golf swing technique is completed, I feel that my right elbow is locked and loaded.
The Takeaway from the Cam-Over Golf Swing Technique
The Sync/Preset golf swing sequence locks the elbow, but, more importantly, it places the handle of the club onto the correct swing plane. Despite what you have heard that the swing plane doesn't matter, I agree with many PGA golfers who believe swing plane does matters. One reason is because it allows the golfer to achieve a higher position with the trail elbow for power that Dr. Ballard was referring to in the video of Ken Duke.
The icing on the cake is dropping the arms from the top, and the golf swing sequence is on autopilot. I'm like Tom Watson who described how he just dropped his arms in the 2003 March issue of Golf Digest, on page 48. I, like Tom Watson, like to drop my arms and forearms to start the downswing.
To learn how to preset your golf swing sequence for power, speed, and control, purchase your copy of The ESPY Golf Swing Coach from the links below, or visit your local bookstore: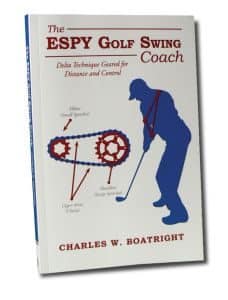 My book can also be purchased at Edwin Watts Golf Store in Jackson, Mississippi. Phone No. 601-956-8784
820 East County Line Road, Ridgeland, MS 39157
My book can also be purchased on-line at:
To help develop a more effective golf training exercise in your backyard or vacant field, I would recommend purchasing a dozen or more of the Almost Golf Balls® from LIBERTY Health Supply. Please select one of the products below to purchase these golf balls that simulate the actual golf ball without the concern for property damage or personal injury to others. These balls only travel a third of the distance of an actual golf ball.
Pack of 10: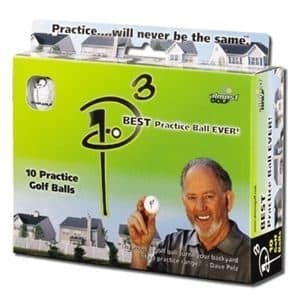 Pack of 36: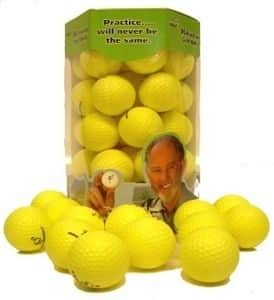 If you use the Promo Code: ALMOSTGOLF you will receive free shipment on any order of Almost Golf Balls® from LIBERTY Health Supply.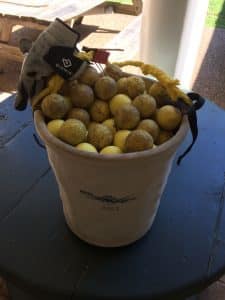 I have a utility bag full of these Almost Golf Balls that I practice with three to four hours per day, four days per week.
Health and Fitness Program Golf Exercise for Power
This book is based on a self-coaching forum (ASPEN Pyramid). The ASPEN Self-Coaching Technique provides the beginner and advanced single-digit handicap golfer with a safe, ergonomic classic golf swing mechanics. The ASPEN forum for coaching golf provides basic skills for more power and control in the golf swing sequence without debilitating injuries that are common with some modern-day golf swings. As part of The ESPY Golf Swing Coach forum is a workout program that includes golf exercises with medicine ball designed especially for golfers.
I have also included a FREE SR925 Diet program that anyone can access, where I lost over 40 pounds and 7.5-inches in my waist within nine-months. I went from 37.5 inches in November of 2014 down to 30.0 inches in July of 2015 with the effective SR925 Diet Program that I developed, see detailed below.
Please take advantage of my SR925 Diet Program, where I lost 6 inches in my waist in 3- months (FREE of CHARGE) with the CASPER Fitness Program, detailed in Section 20 of my book, great golf swing workout:
One component in my CASPER Fitness Program that I follow is using a Medicine Ball golf swing workout to perform what I call Stocking the Shelves, illustrated below in the figure: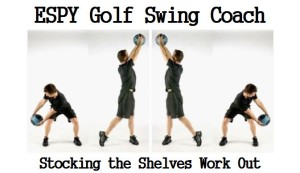 A part of the CASPER Fitness Program are golf exercises with medicine ball – that includes Stocking the Selves and medicine ball exercises Burpees. For endurance and a full body workout, I also include a boxing glove-punching bag exercise.
Please include an exercise routine in your weekly schedule. 

      
Additional Motivation to Develop a Fitness Program
If you need addition motivation, which the subconscious mind works from and consist of 90 percent of the classic golf swing, include a fitness and exercise program designed for the golfer daily schedule. This type of exercise provides the critical overload underload training to improve the golfer's power and speed in the golfer's game, please look at another golf fitness enthusiast: The Fit Golfer Girl
Operation DOG TAG
Sports, such as golf, along with fitness and an exercise regimen that includes yoga, has been proven to be a great Cognitive Behavioral Therapy for trauma victims. Veterans and those who have experienced a traumatic situation where the mind has been traumatized and disrupted can use golf and yoga to help re-establish connection and pathways in the brain. Golf also provides an excellent opportunity  for trauma victims to reconnect in a social setting to develop a dialogue without the pressures of clinical visits.
Introduction- Forum for Coaching Golf and Life Skills Operation Dog Tag
Section 1- Operation DOG TAG | GOLF CBT Intervention for PTSD
Section 2- Operation DOG TAG | Objectives and Scope
Section 3- Operation DOG TAG| STRUCTURE GUIDELINES
ESPY Golf Swing Coach- Rhythm Without the Blues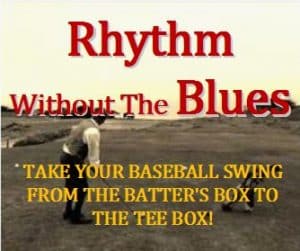 ESPY Golf Swing Coach- ESPY Golf App Develops the golfer's Rhythm w/o creating the golfer's Blues. The ESPY Golf Swing helps the golfer establish the correct wrist action in golf swing demonstrated by David Duval in an interview with Charlie Rymer on Golf Channel
Also, learning The ESPY Golf Swing Coach process is an excellent way to develop natural Rhythm without experiencing the Blues in your golf game to build confidence; learn how to take your baseball-style swing from the batter's box to the tee box.
Songs are a great method to use to develop your Rhythm and tempo in your golf swing sequence this helps the golfer to develop their mental game of golf. To get a firsthand and experience on the real Mississippi Delta Blues visit the Museum in Clarksdale, MS 662-627-6820.
THE LOCKER ROOM, a source for golf tips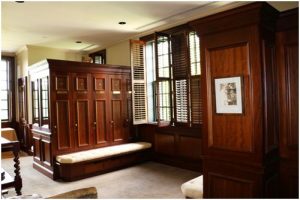 Please visit "The Locker Room" for an Index of all my golf articles to improve your golf game and life. Discover how you can take your baseball swing from the batter's box to the tee box.
Learn How to take your baseball-style golf swing from the batter's box to the tee box.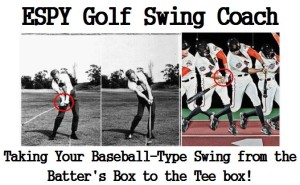 (Time-lapse photography that I reviewed during my Kinesiology Xerox Box Golf Research Project compared the golf swing vs. baseball swing and how similar the Sync/Preset wrist action in the golf swing was to the baseball swing sequence.)
For Comments or questions please contact me at 1-888-514-1228 Mon – Fri from 9 am to 4 pm CT Zone.
A Recommendation for your Golf Game: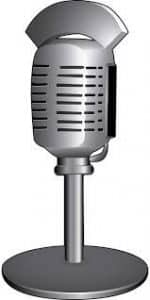 I would like to recommend an interesting radio program that I regularly listen to originating from my home state Arkansas on my I-Heart Radio app on KARN 102.9 FM station, out of Little Rock. They air a golf show called Arkansas Fairways and Greens, at 7:00 AM CT each Saturday morning, hosted by Bob Steel, and co-hosted by Jay Fox and Charles Crowson. Bob occasionally as has his guess Alex Myers with Golf Digest and Ron Sirak with Golf Channel. I was interviewed on his show about my book, The ESPY Golf Swing Coach. This show is worth tuning into for golf news and information.
Jay Fox is an Administrator with Arkansas State Golf Association that discuss amateur golf and rules of the game.
Check out my full library of BLOGS @ www.espygolfapp.com/blog or purchase your copy of "The ESPY Golf Swing Coach" @ www.espygolfapp.com/store.
Facebook – The QATSPY Golf Approach
Twitter – @cwboatright
Google+ – ESPY Golf Swing Coach
YouTube – ESPY Golf Swing Coach
Once you learn WHY, you don't forget HOW!
YouTube Videos:
https://youtu.be/ZGVNrIw_wlo (Cam & Cam-over elements)
https://youtu.be/K2FDHZ3AX9w (Figuring your proper swing plane)
https://youtu.be/TO82PMO6G8M (Developing muscle memory)
Two decisions that you can make for yourself and your kids are to get a copy of my book and place the book and a golf club into their hands. You will never look back, but only forward. You will not miss with this for yourself and/or your kids.
Until next time– Be Synched, Tee-to-Green, with The ESPY Golf Swing!