The QATSPY Sports Page 4 Golfers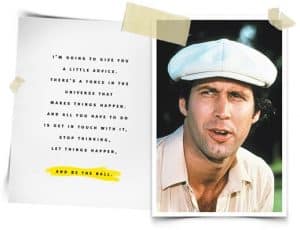 By: Charles W. Boatright
Author of The ESPY Golf Swing Coach, Delta Technique Geared for Distance and Control
Baseball Swing Vs. Golf Swing Sequence of Being IN THE ZONE
Most baseball players can perform flawlessly under pressure with thousands of spectators and under the bright lights. They contribute their performance to being IN THE ZONE, a great self-coaching technique that an athlete can develop. This same self-coaching technique can provide the golfer with an ability to be IN THE ZONE under course conditions. Being IN THE ZONE is a totally subconscious function, where the golfer's muscle memory and primary motor skills are located.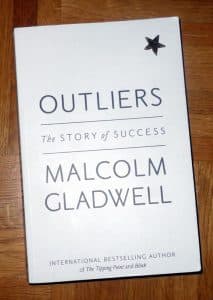 Malcolm Gladwell's book, Outliers, states that it takes 10,000 hours of practice (a conscious function) and performance (a subconscious function) to obtain professional or expert status. Achieving this objective takes effort to train and condition the subconscious mind, since the subconscious mind composes 90 percent of an athlete's ability. The subconscious mind is so powerful that it can change perception into reality.
IN THE ZONE perception technique is very effective in sports, especially the sport of golf. This technique is called Apperception, or APP. This gives the athlete the ability to use existing motor skills and muscle memory in one sport to perform in another sport at a high level without having to develop a new skill set.
Apperception is where an athlete can take previously developed muscle memory and primary motor skills from one sport and apply these to another sport with some refinements. In golf, the baseball swing sequence is an excellent prep for the golfer to use to achieve this 10,000 hour status.
For those golfers aspirating to achieve a single-digit handicap status, from my seven year research that I found, it would take approximately 6,000 hours of practice and performance work to train and condition the subconscious mind.
The ESP-Zone
The baseball players occasionally describe being IN THE ZONE as being in a tunnel. The tunnel, as the baseball player describes it, is a state of intense focus, or what I call ExtraSensory Performance ZONE (or ESP-ZONE), for short segments of time. One of the benefits of the ESP-ZONE is that time slows down. High-level performing athletes can actually slow down their perception of time.
The advantage of the ESP-Zone is that it links in directly with the subconscious mind, and the major advantage of the subconscious mind is that it has no concept of time. Baseball players in the batter's box looking at a 95-mph fast ball describe how the ball seems to be suspended in motion, where they can actually see the stitches on the baseball. Wade Boggs, in an interview with the Saint Petersburg Times staff writer Tom Jones, describes how he (Wade Boggs) was even able to see the MLB logo on the baseball.
High-level performing athletes can even be able to play beyond physical limitations with the ESP-ZONE, or by being IN THE ZONE. Now for the thousand dollar question. How do you, the golfer, develop this subconscious performance in golf by being IN THE ZONE?
The closest example of the golfer being IN THE ZONE, or ESP-ZONE, is what is called Driving Hypnosis. This is where driving tasks becomes so routine and repetitive that the subconscious mind takes over the functions of driving the vehicle down the highway. The driver doesn't even remember driving past certain stretches of the highway or landmarks. But the driver is still able to navigate the route safely.
Undoubtedly most have heard the term R&R in the military, but in athletics, this is Repetition & Routine. While Driving Hypnosis is an unsafe condition for driving a vehicle down the highway, Driving Hypnosis, or ESP-ZONE, works great for driving a golf ball down the fairway and onto the green.
Here are three conditions that must be present for Driving Hypnosis to occur:
Normal and routine tasks and conditions must exist.
2. Relying on a high degree of relaxation, confidence, and muscle memory.
3. The conscious and subconscious minds are focused on two different situations.
The ESP-ZONE, or IN THE ZONE, allows the golfer's conscious mind to focus on the golf ball or target, instead of thinking about their golf swing mechanics and techniques. If you want to derail your golf swing sequence, the golfer only has to start thinking about their golf swing mechanics and techniques. This was exactly what Ty Webb meant in the Be the Ball quote in the movie Caddyshack: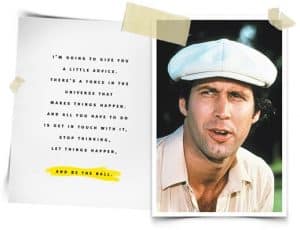 There's a force in the universe that makes things happen. And all you have to do is get in touch with it, stop thinking, let things happen, and be the ball.
Jordan Spieth at the 2015 Masters, Describes Being IN THE ZONE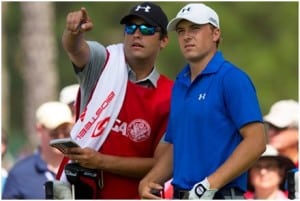 Jordan Spieth, at the 2015 Masters, shot an opening round of 64, one stroke short of tying the single round course record set by Nick Price in 1986 and Greg Norman in 1996. Nick Price is one of my favorite golfers. In the clubhouse at Augusta just after his round, Jordan was interviewed by the Golf Channel. Jordan, in the interview, credited his performance on the course to being IN THE ZONE. This allowed his subconscious mind to take over the golf swing.
Tiger Woods Winning the 2008 U.S. Open with an Injured Knee
Winning any U.S. Open is a significant accomplishment, given the conditions set up by the USGA. It would have been considered an insurmountable objective to win the 2008 U.S. Open over four days with good health, much less five days with an injured left knee. Tiger Woods was able to play beyond his physical limitation of a torn ligament with a double fracture to his tibia, shown in the figure below, to win that tournament, which was played on the following Monday against Rocco Mediate.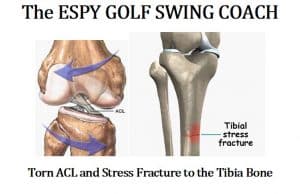 I personally have had four knee surgeries and one hip replacement surgery, and this was no easy feat for Tiger to accomplish. The pain level is huge, as I have experienced, and can be excruciating and difficult to block out, even with your subconscious mind on adrenaline.
Tiger Woods' injuries could have severely derailed his ability to use his subconscious mind of being IN THE ZONE, if it weren't for his mental horsepower. Here are some techniques that coaches and/or Sports Psychologists use to help an athlete's ability to be in THE ZONE, it would be the following:
Preparations that are structured and focused are more strenuous than any obstacles found on the course, court, or field.
2. Create the mental conditions for at least 30 minutes that would allow adrenaline to develop during practice, like the 405 Training Drill.
3. Quiet the mind and body to mentally focus to remove distractions and develop patience and confidence in yourself by meditation.
4. Visualize and develop conditions and circumstances during practice that the athlete will perform, based on Repetitive Routine. The athlete will practice using their conscious mind, but the athlete will perform using their subconscious mind, and this is where routine and repetition are essential.
5. Develop a natural, repeatable sequence routine that doesn't changes, based on muscle memory and primary motor skills, based on techniques and mechanics that are well- established.
6. Develop scenarios during practice that will exist during performance for effective decision-making on the course.
Self-Coaching Technique

of Sports Psychologists
Nick Faldo once stated at the 2015 Quicken Loans Golf Tournament that the golfer must be their own golf swing coach on the course. This is the same self-coaching technique that Sports Psychologists emphasize in preparing athletes for game-day using a football scrimmage-type practice session. The Scrimmage-type practice will create an ESP-ZONE.
If an athlete knows that their preparation is more difficult and strenuous than actual competition or performance, they are more able to have confidence and be relaxed on game-day. Confidence, Repetitive Routine sequence, allows the athlete to focus the majority of their attention and energy on maintaining a quiet mind and body that creates the IN THE ZONE, or ESP-ZONE, mentality.
Sports Psychologists use the term FOCUS, instead of THINKING. THINKING is about working to develop routine, whereas FOCUSING is about following an existing routine. If the athlete is persistent enough and follows the correct Repetitive Routine sequence, success or winning will happen. Success or winning is a by-product of being persistent and following a predetermined repetitive routine.
The predetermined repetitive routine in The ESPY Golf Swing Coach is based on Syncing and Presetting the wrist action in the golf swing. The Sync/Preset golf swing technique uses the kickboxing gloves training technique and baseball swing mechanics.
This repetitive routine approach of presetting the wrist action in the golf swing was illustrated by Nick Faldo, Ken Duke, David Duval, Marco Dawson, and Angela Stanford, all of whom are professional golfers, that were guests on the Golf Channel. Presetting the wrist action in the golf swing was also employed by Bobby Jones, Ben Hogan, and P.J. Boatwright, Jr., associated with the USGA, and a distant cousin of mine, shown below.
One Sports Psychologist Training Technique is Called Sports Mental Imagery APP
The major advantage of the Sync and Preset golf swing sequence is that 80 percent of the golf swing is established with one simple repetitive maneuver. A great golf swing technique used for presetting the wrists is called sports mental imagery and apperception. This technique uses kickboxing gloves and a tiny bone in the lead wrist, called the Hamate Bone, shown below.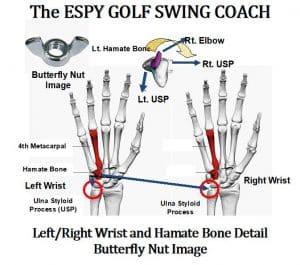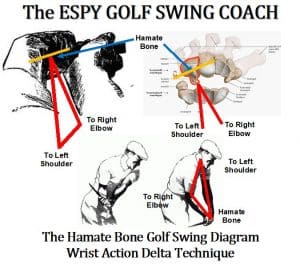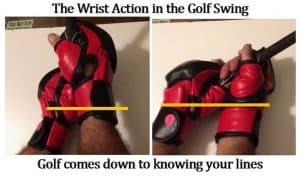 The kickboxing gloves with the Hamate Bone allow the golfer to train and directly connect with their subconscious mind, a huge benefit on the golf course. The kickboxing gloves, shown in the figure above, illustrates how the golfer syncs their wrists and elbows with their shoulders.
Essentially, the golfer is using the Hamate Bone like a Butterfly Wing Nut on a set bolt to sync two nodules on the lower forearms, called the Ulna Styloid Process (USP), shown above, with the nodules representing the elbows.
Syncing/Presetting the golfer's wrists allows the golfer to turn their elbows and shoulders into sprockets to create POWER and clubhead SPEED. The Hamate Bone allows the golfer to sync and lock the right elbow with the shoulders, in reference to a right-handed golfer. This takes advantage of the golfer's natural golf swing mechanics of allowing the elbows and shoulders to behave as sprockets.
This was a golf swing technique that Arnold Palmer gave to President Eisenhower on the practice range before the American Heart Association's Pro-Am Golf Tournament. Arnold Palmer was trying to get the President to tuck his right elbow next to his right side during the initial part of the takeaway swing and again right before impact.
Golf Swing 101– Baseball Swing Sequence APP
One of the biggest advantages of the Sports Mental Imagery APP is that it allows the golfer to tap into their baseball swing sequence. This is the Apperception process, or APP for short. This allows the golfer to use pre-established muscle memory and primary motor skills usually developed at a young age and use the baseball swing sequence during their golf swing sequence.
The advantage for the golfer is that they don't have to learn or develop new motor skills or muscle memory that already exists and is instinctive, or is second nature. I spent seven years conducting reach for my book, so I was able to review footage of time-lapse photography, shown below, that compares the baseball swing vs. golf swing. I was able to determine that the wrist action in the golf swing was actually similar to the baseball swing. The two swings are more similar than they are different.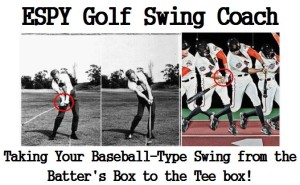 To develop your mental ESP-ZONE, IN THE ZONE, golf swing sequence, purchase your copy of The ESPY Golf Swing Coach from the links below, or visit your local bookstore: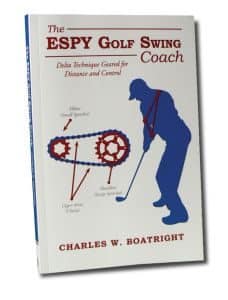 The ESPY Golf Swing Coach, a Self-Coaching Technique and simple Sports Psychology enabling the golfer to take the baseball swing sequence from the batter's box to the tee box.
My book can also be purchased on-line at:
To help develop a more effective golf training exercise in your backyard or vacant field, I would recommend purchasing a dozen or more of the Almost Golf Balls® from LIBERTY Health Supply. Please select one of the products below to purchase these golf balls that simulate the actual golf ball without the concern for property damage or personal injury to others. These balls only travel a third of the distance of an actual golf ball.
Pack of 10: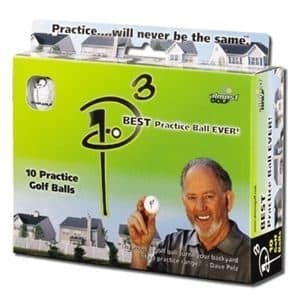 Pack of 36: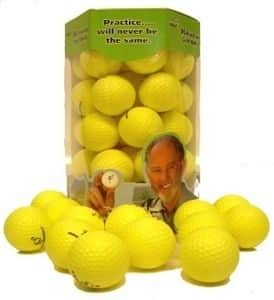 If you use the Promo Code: ALMOSTGOLF you will receive free shipment on any order of Almost Golf Balls® from LIBERTY Health Supply.
I have a utility bag full of these Almost Golf Balls that I practice with three to four hours per day, four days per week.
Health and Fitness Program Golf Exercise for Power
This book is based on a self-coaching forum (ASPEN Pyramid). The ASPEN Self-Coaching Technique provides the beginner and advanced single-digit handicap golfer with a safe, ergonomic classic golf swing mechanics. The ASPEN forum for coaching golf provides basic skills for more power and control in the golf swing sequence without debilitating injuries that are common with some modern-day golf swings. As part of The ESPY Golf Swing Coach forum is a workout program that includes golf exercises with medicine ball designed especially for golfers.
I have also included a FREE SR925 Diet program that anyone can access, where I lost over 40 pounds and 7.5-inches in my waist within nine-months. I went from 37.5 inches in November of 2014 down to 30.0 inches in July of 2015 with the effective SR925 Diet Program that I developed, see detailed below. REMEMBER an easy RULE-OF-RULE means to determine if you have a healthy BMI, you can take half your height and your waistline should fall below this figure.
Please take advantage of my SR925 Diet Program, where I lost 6 inches in my waist in 3- months (FREE of CHARGE) with the CASPER Fitness Program, detailed in Section 20 of my book, great golf swing workout:
One component in my CASPER Fitness Program that I follow is using a Medicine Ball golf swing workout to perform what I call Stocking the Shelves, illustrated below in the figure: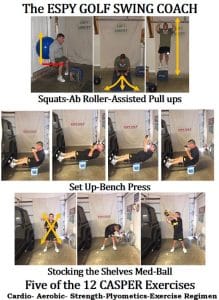 A part of the CASPER Fitness Program are golf exercises with medicine ball – that includes Stocking the Selves and medicine ball exercises Burpees. For endurance and a full body workout, I also include a boxing glove-punching bag exercise.
Please include an exercise routine in your weekly schedule. 

      
Additional Motivation to Develop a Fitness Program
If you need addition motivation, which the subconscious mind works from and consist of 90 percent of the classic golf swing, include a fitness and exercise program designed for the golfer daily schedule. This type of exercise provides the critical overload underload training to improve the golfer's power and speed in the golfer's game, please look at another golf fitness enthusiast: The Fit Golfer Girl
Operation DOG TAG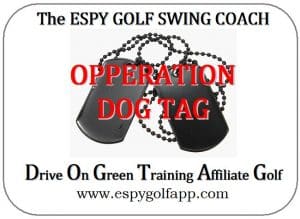 Sports, such as golf, along with fitness and an exercise regimen that includes yoga, has been proven to be a great Cognitive Behavioral Therapy for trauma victims. Veterans and those who have experienced a traumatic situation where the mind has been traumatized and disrupted can use golf and yoga to help re-establish connection and pathways in the brain. Golf also provides an excellent opportunity  for trauma victims to reconnect in a social setting to develop a dialogue without the pressures of clinical visits.
Introduction- Forum for Coaching Golf and Life Skills Operation Dog Tag
Section 1- Operation DOG TAG | GOLF CBT Intervention for PTSD
Section 2- Operation DOG TAG | Objectives and Scope
Section 3- Operation DOG TAG| STRUCTURE GUIDELINES
THE LOCKER ROOM a source for golf tips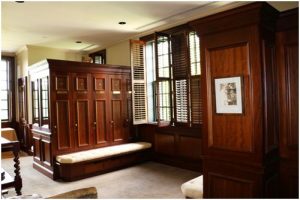 Please visit "The Locker Room" for an Index of all my golf articles to improve your golf game and life. Discover how you can take your baseball swing from the batter's box to the tee box.
Learn How to take your baseball-style golf swing from the batter's box to the tee box.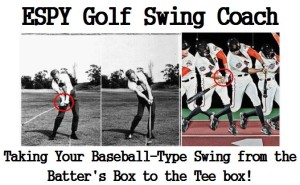 Time-lapse photography that I reviewed during my Kinesiology Xerox Box Golf Research Project compared the golf swing vs. baseball swing and how similar the Sync/Preset wrist action in the golf swing was to the baseball swing sequence.
Here's the QUESTION: How many times standing in the batter's box did you think about your golf swing mechanics, techniques, or elements. Your were only focused on the pitch. Why not use the same Outlier technique in golf.
Sir Nick Faldo demonstration of the Preset Golf Swing Technique
One of Sir Nick Faldo's first golf swing fundamentals that he learned as demonstrated in this YouTube video entitled The Preset golf swing technique. Nick Faldo discussed the WHAT, but didn't explained the HOW in his YouTube video.
The Sync/Preset Elements in The ESPY Golf Swing Coach explains how to setup the classic golf swing maneuver to place the wrists into the key Lock Position. This was the same golf swing technique used by David Duval during an interview with Charlie Rymer on Golf Channel. These two Videos are probably two of the best Videos to discuss the wrist action in the golf swing.
For Comments or questions please contact me at 1-888-514-1228 Mon – Fri from 9 am to 4 pm CT Zone.
A Recommendation for your Golf Game:
I would like to recommend an interesting radio program that I regularly listen to originating from my home state Arkansas on my I-Heart Radio app on KARN 102.9 FM station, out of Little Rock. They air a golf show called Arkansas Fairways and Greens, at 7:00 AM CT each Saturday morning, hosted by Bob Steel, and co-hosted by Jay Fox and Charles Crowson. Bob occasionally as has his guess Alex Myers with Golf Digest and Ron Sirak with Golf Channel. I was interviewed on his show about my book, The ESPY Golf Swing Coach. This show is worth tuning into for golf news and information.