The QATSPY Golfer's Sports Page: Golf Swing Tips

By: Charles W. Boatright
A Pyramid-Based Forum for Coaching Golf
Kaizen is a Japanese term that describes a systematic and incremental learning process, or an excellent forum for coaching golf. This is similar to how the great pyramids of Egypt were built, with one hewed stone at a time, fitted and placed on top of each other. The most effective learning process is built on prior experiences, called Apperception, derived from the subconscious mind.
A great forum for coaching golf is the ESPY Golf APP process, also referred to as Context-Based Learning, which has a 90 percent retention rate. This is where the golfer can take advantage of a well-established (gross/fine) motor-skill developed in the baseball-type strike zone golf swing. This baseball-type golf swing is usually developed at a young age and transfer these baseball-type skills to the golf swing.
A successful forum for coaching golf is not based on one 30-minute golf lesson per week, subject to the golfer's memory. In conventional lessons, the golfer tries to recreate from memory on the practice range or tee to green what they learned in 30-minute lesson. Doesn't work very effectively. There aren't enough hours available for the golfer to remember what was learned from a 30-minute lesson. The other issue is that the golfer using a conventional golf lesson forum has only about 20 percent retention rate from the lesson.
Bobby Jones Coaching is Between the Ears
Bobby Jones probably had the best forum for coaching and playing the game of golf in a quote. Bobby Jones stated very eloquently, Golf is a game that is played on a five-inch course – the distance between your ears. This means a effective forum for coaching and playing golf originates from between the ears. This might be a discouraging statement for some golfers. But the golfer should actually be encouraged by Bobby Jones' statement. Because everything the golfer needs to improve their golf game is located right between their ears. Sir Nick Faldo even stated during a tournament in 2015 that he was announcing that the golfer needs to have the capability to be their own golf coach on the course.
Here's another statement that might be daunting, according to Malcolm Gladwell's book, Outlier. It takes approximately 10,000 man-hours to become an expert, or in this case, working to become a professional golfer. In the data I collected in three Xerox boxes that I called my Xerox Box Golf Project, I discovered that it takes roughly 6,000 man-hours to obtain a single-digit handicap in golf. The single-digit handicap would be a more reasonable goal for most golfers who just enjoy the game of golf with friends. However, it requires a different type of forum for coaching the game of golf. This forum is based on the Pyramid system, or Self-coaching technique, that has the higher retention rate of upwards of 90 percent.
The ESPY Golf APP Forum for Coaching Golf
For the 6,000 man-hours required for a single-digit golf handicap, the avid golfer could expect to spend about 5.6 years working at least 3.7 hours per day. Most golfers where golf is their passion instead of their profession, don't have the amount of time available to achieve a single-digit handicap. However, we do have an opportunity to achieve not only the 3.7 hours needed, but actually put in 9.58 hours per day.
This is a part of the ESPY Golf App (Apperception) Process. This ESPY Golf App forum for coaching golf reduces the 5.6 years down to just 2.07 years or less, due to the intensity and retention level. This is less than half the time of conventional golf lessons of working toward a single-digit handicap. The term Apperception uses a previous developed skill like in the baseball swing sequence to intensify the golfer's perception and muscle memory.
This ESPY Golf App is a self-coaching technique the golfer can use to improve their learning process, while working on their golf game, fitness, and health. Experts in health and fitness advise people to get up and move for 10 minutes out of each hour in conjunction with regular relief exercises and workout program. These relief exercises are posted at the end of this article for your use and convenience. The ESPY Golf App Process uses a golf baton in an Overload procedure used by many professional golfers.
The Overload Process in Golf Coaching
The weighted golf baton is a 22-inch long club, cut from a graphite shaft with an attachable weight at the end of the shaft, as noted in the figure to the left. I made my golf baton from a piece of discarded broken graphite club I found at the clubhouse. I just took a hacksaw and cut-off a 22-inch section down from the handle of the club. I also re-gripped the club with a training grip for me to maintain the proper type grip, while following the ESPY Golf App Process.
Before I retired, I carried the golf baton featured here to my office every day to use as part of my fitness, while executing my ESPY Golf App Technique. This is a great forum for coaching golf to yourself on the job and during the course of the day and still get pay.
The golfer can a take weighted golf baton and practice for 10 minutes out of each hour at home or at work. The ESPY Golf App Process allows the golfer to develop and maintain the fine/gross motor skills needed to obtain a single-digit handicap. Typically, there are 17 waking hours during each day. If the golfer can use 10 minutes, 17 times per day and go through the ESPY Golf App Process with a golf baton, they can achieve amazing results.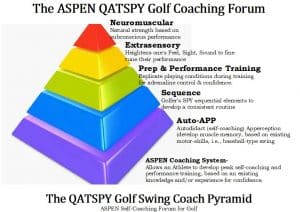 This relief exercise technique helps the golfer to develop and fine-tone their Quadplex Athletic Training of Sync/Preset and Yaw QATSPY Coaching technique. The Quad-muscles the golfer is working on are the Thenars, Pronator Quadratus, Brachio-Radialis, and Palmer Longus muscle and tendon. If the golfer can work on these muscle in their golf swing sequence, they can develop the baseball-type strike zone in their golf swing.
The golfer can accumulate 2.83 hours per day and build the base of their golf pyramid one stone, or element, at a time. Can you imagine being paid at work to actually work on your golf game; and also be more effective at work? Having something in your hand and swing your arms increases one's memory factor and cognitive function of creativity. It is not WHAT you learn, but HOW you learn that matters. There's a movie that proves this point.
In the movie A Few Good Men, Lieutenant Kaffee was trying to prove that Colonel Jessup, played by Jack Nicholson pictured here, ordered a "code red" on Private Santiago. The JAG team couldn't discover the evidence needed to prove that a code red was actually ordered. Lieutenant Kaffee, played by Tom Cruise, went to his closet to retrieve his baseball bat.
He explained to his team why having a baseball bat in his hands helped him to think better. While Lieutenant Kaffee was retrieving his bat, he noticed the clothes hanging in his closet, and he remembered Santiago's clothes were still perfectly arranged in his closet. For a Marine leaving on the first flight the next morning at Zero-six hundred hours, he wouldn't had left all of his clothes still hanging perfectly in his locker.
Lieutenant Kaffee, using his baseball bat, actually improved his cognitive ability, similar to the ESPY Golf App Process, or QATSPY Coaching Technique. The baseball bat made it easier for Lieutenant Kaffee's conscious and subconscious minds to connect with each other. Connecting the two sides of a golfer's mind is something the golfer has to do during their practice routine to increase their retention. The golfer can use the ESPY Golf App Process and weighted golf baton as a forum for coaching golf and practically practice their game anytime throughout the day. The ESPY Golf App Process is an excellent golf forum to increase the golfer's retention rate and man-hours needed to obtain a single-digit handicap.
The Golf Swing is All About the Numbers
Most sports, like baseball and golf, are about statistics and performing analysis based on raw data. I collected tree Xerox boxes full of raw data over seven years of my Xerox Golf Box research and interviews. And, I was able to compare two styles of coaching in the data below:
TYPICAL GOLF LESSONS:
Golf Lessons 0.5 Hrs./wk. x 0.20 x 52 =                        5.20 Hrs./yr.
Sub-coaching 4/day x 7 x 0.25 x 52=                            364.0 Hrs./yr.
Practice time 1.50/day x 7 x 0.20 x 40 =                       84.0 Hrs./yr.
Reading Journals 1.25/day x 7 x 0.80 x 52=                 364.0 Hrs./yr.
Playing Golf 3.5/day x 2/wk x 0.90 x 40 =                    252.0 Hrs./yr.
Total Hrs. per year developing your golf game=              1,069.2 Hrs./yr.
NOTE: These figures are for an avid golfer.
Based on conventional golf lessons, practicing, reading, and actually playing golf, it would take the avid golfer: 6,000/(1,069.2) = 5.61 yrs.
ESPY Golf APP SELF-COACHING LESSONS:
Sub-coaching 4/day x 7 x 0.90 x 52wk =                      1,310.4 Hrs./yr.
Practice time 4.33/day x 7 x 0.80 x 40 =                          963.2 Hrs./yr.
Reading Journals 1.25/day x 7 x 0.80x 52=                     364.0 Hrs./yr.
Playing Golf 3.5/day x 2/wk x 0.90 x 40 =                      252.0 Hrs./yr.
Total Hrs. per year developing your golf game=              2,889.6 Hrs./yr.
Golf lessons based on Self-Coaching Techniques of practicing and actually playing golf would take the golfer 6,000/(2,889.6) = 2.07 yrs.
Sub-coaching, or subconscious coaching, component is a major factor where the golfer's subconscious mind continues to run-through the golf swing sequence, even after the practice session has ended (17 x 10/60 + 1.5)= 4.33. The subconscious mind is trying to figure out how and where the particular skills fit into the sequence of used with a golf baton-type practice.
The reason this forum for golf coaching technique is more effective is because it takes advantage of the following factors:
Context-Based Learning (using other sports to support the golf learning process, i.e., baseball swing sequence and boxing).
Imagery Sports psychology, where the subconscious mind essentially works 24/7, non-stop.
The golfer being their own golf swing coach during the day, practicing, and during the round.
An Important Interview with a P.O.W.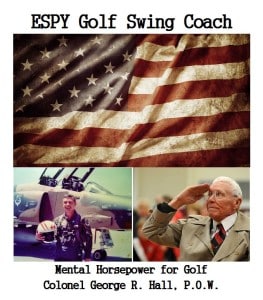 To support the ESPY Golf App process, a forum of coaching golf, was an interview I did in Hattiesburg, MS, while on business at the Country Club meeting with a major rep from Alcoa. As I was leaving the meeting, I noticed a gentleman setting up a booth to collect donations for Vietnam Veterans. I stopped to just inquire and make a donation. But a brief visit turned into a face-to-face interview for over an hour-and-a-half. Just by chances, I was able to interview Colonel George Robert Hall, who was held for seven-and-a-half years at the infamous Hanoi Hilton as a P.O.W. I was fortunate to have my steno pad with me that day in my attaché case and a series of questions.
The Hanoi Hilton was where Senator John McCain was held as a P.O.W. Colonel Hall described how he used his love of golf to survive his captivity in harsh conditions. Every day, without a golf club, and just by using his stick or his thumbs, Colonel Hall went through his swing sequence. Colonel Hall played either his home course at Hattiesburg, MS, or Pebble Beach by making each shot on each hole based on his memory. Less than six weeks after his release, Colonel Hall played in the 1973 Greater New Orleans P.O.W. Pro-Am Open, where he shot his handicap of four (4).
Colonel Hall contributed his performance to a similar golf technique that I developed during my seven years of research. The techniques Colonel Hall credited for his performance was how he integrated his thumbs and preset his wrists into his virtual golf swing, by synchronizing the elbows with his shoulders. Another technique Colonel Hall used was to bring the imaginary golf ball from the floor of his cell, up to his thumbs, like in tee-ball baseball swing sequence.
Colonel Hall knew that if he felt the wrists set into the Lock position, he had set the wrists properly and established the golf swing correctly. Especially Syncing/Presetting what I call the Palmer Tendon. This tendon is visible on the medial side of the golfer's lower forearm shown below in the illustration. I was able to confer with Col. Hall my ESPY Golf Swing process in my book from this interview. Plus, Col. Hall was especially interested in how I was using EVERLAST boxing gloves and the baseball swing sequence to Sync/Preset the wrists in my golf swing. He was essentially using the same techniques, without mentally using a pair of boxing gloves.
A person turning in such a grand performance at a PGA Pro-Am tournament after seven-and-a-half years of solitary confinement is remarkable. This supports the ability for the golfer to become their own golf swing coach. If you'd like to read his full story and my interview with Colonel Hall, please select this link: http://goo.gl/24lFvo
To learn more about the ESPY Golf App purchase your copy of The ESPY Golf Swing Coach using the links below:


My book can also be purchased at Edwin Watts Golf Store in Jackson, Mississippi. Phone No. 601-956-8784
820 East County Line Road, Ridgeland, MS 39157
Relief Exercises for the office or home: