Making Joe Your Best Golf Swing Partner
One of the best avenues that a golfer can take to improve their golf swing is a routine workout program. There aren't many golfers who do not want to have more power and distance on the golf course. Presetting the wrists and setting the golfers elbow are significant parts of developing more power and gaining more distance. But the golfer still needs a mechanism to develop power and to gain distance. The golfer needs optimum strength and flexibility from their body to develop the power factor.
It is important to distinguish between strength and power. Power is derived from the strength, or energy output, measured in amount of time acting on an object. In other words, the golfer needs to develop and improve their tempo and strength for power and speed in their golf swing.
Morning Joe to Maximize Your Golf Swing
If you are like me, if I'm going to invest the time in an exercise program, I want to maximize my effort. One method that helps me maximize my workouts is making Morning Joe part of my workout partner. Thirty minutes prior to starting my CASPER (Cardiovascular, Aerobic, Strength, Plyometrics, Exercise Regimen) Workout Program in the morning, I drink a minimum of two cups of coffee (Morning Joe) to boost the effects of my workout. Drinking coffee before my workout boosts my ability to burn calories by 12 percent. I wear a wristwatch that works with my I-Phone to monitor my heart rate, calorie consumption, and even my sleep patterns. You have to be able to measure results in order to improve your ability, especially in golf and other sports.
Also, your morning Joe time is a great opportunity to meditate and improve your mental faith and strength that are key in golf and life.
Coffee, or Morning Joe, is your best partner to include in your workout routine. Besides boosting your workout routine by 12 percent, coffee also has the following benefits:
Reduces post-workout discomfort, up to 48 percent.
Lowers your risk of Type-2 Diabetes by nine percent. Exercise increases this by 32 percent.
Lowers your risk of Alzheimer's and Parkinson's diseases by 60 percent.
Lowers your risk of heart disease.
Prevents cavities.
Protects you against melanoma. This is very important for the golfer, along with wearing sunscreen. Keep a tube of sunscreen in your golf bag and apply it at least twice during the round, at the start and at the turn.
Improves the psychoactive or cognitive function of the brain.
Blocks the inhibitors of neurotransmitters in the brain that improve the rate of retention. This is a part of Circadian Rhythm that governs how we learn and retain information.
Studies show that coffee increases the body's ability to burn fat and boost the metabolic rate by 12 percent.
Coffee contains the nutrients: Riboflavin, Pantothenic Acid, Manganese, Potassium, Magnesium, and Niacin. If you develop pain in your legs, potassium can help alleviate this discomfort.
Coffee can lower your risk of Liver and colorectal cancer by 40 percent. Liver and colon cancer are the third and fourth causes of cancer deaths.
Coffee can lower your risk of strokes by 20 percent.
Coffee has more antioxidants than fruits and vegetables combined.
The bottom line is that including Morning Joe as your workout partner is a very important component. And to improve your strength for more power and distance, I developed the CASPER Workout Program in Section 20 of my book. This program includes working out with a medicine ball, performing Burpees, and working out with a boxing bag to improve the golfer's core strength in the golf swing.
Keep in mind that The Delta approach to losing weight includes: Exercise, Lifestyle changes, and diet. You can't expect just to lose weight based on exercise alone. A diet plan that I developed from Circadian Rhythms governs how our body functions is called the SR-925 Diet Program. See the following links for:
SR-925 Concept- http://goo.gl/RX1HzC; Food Selection- http://goo.gl/S8pgWA; Results of the 925- http://goo.gl/AGulqo
Resources:
the Journal of Pain, March 2007
the Journal of Agricultural and Food Chemistry
From the Archives of Internal Medicine
the European Journal of Neurology
Journal of Neurology, Neurosurgery & Psychiatry
Annals of Internal Medicine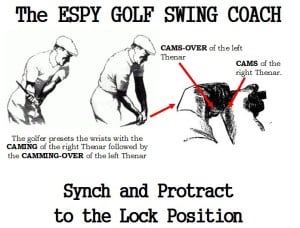 For more information on the CASPER Workout Program and how to preset the wrists and elbow purchase your copy of The ESPY Golf Swing Coach:


My book can also be purchased at Edwin Watts Golf Store in Jackson, Mississippi. Phone No. 601-956-8784
820 East County Line Road, Ridgeland, MS 39157