Lorena Ochoa, Character of the Game
Lorena Ochoa is expected to play in the exhibition round as part of her tournament in Mexico. She retired from the world of golfing in 2012.
Lorena Ochoa's True grit and sportsmanship are fundamentals of her golf game and life. These same principles develop character and help one become a successful person on and off the course. Lorena Ochoa's sportsmanship and character were demonstrated during her 2006 season that set up her success in the 2007 and 2008 golf season. Her grinding characteristic and spiritual fiber played an important factor in her becoming the number one LPGA player for 2007 and 2008. Lorena Ochoa took challenges and obstacle in her life and developed an opportunity to achieve her number one ranking. Lorena was determined to use her failure as an opportunity to improve.
She has another quality that contributes to her success as well. She has a quiet, unassuming spirit that she exhibited during her visit to the World Golf Hall of Fame, in November of 2007. She arrived unannounced to tour the facility and went unnoticed until a volunteer recognized her. The staff quickly organized an impromptu welcome reception in her honor. This speaks volumes of Lorena Ochoa and her humble character. Despite what politicians may state, character does matter. These attributes are the spiritual well-begin as person. A humble person doesn't have the burden that comes with pride. Lorena was humble in dealing with her success of being the number one LPGA golfer. She did something remarkable; she let her game speak for itself. In the book of Proverbs 20:11- It is his deeds that a person distinguishes them self….. In other words, let your work and life speak for itself.
Lorena Ochoa's  2006 Kraft Nabisco Experience
Lorena Ochoa's passion and persevering spirit was proven after her heart-wrenching loss at the Kraft Nabisco Championship to Karrie Webb in 2006. This loss only propelled her to work harder during the off-season to prepare for the next season. She used failure positively, as an educational experience and not as a dead-end. Failure tells you what not to do next time. The best inventions come from problems. Remember, things just do not happen; there's a root cause for everything in life. She used her true grit and sportsmanship to win eight LPGA events, including the Women's British Open at the Old Course, Saint Andrews, in 2007. Her character and work ethic allowed her to use the 2006 defeat and difficulties to motivate her to have a successful 2007 season. Remember, there's no such thing as luck, and nothing is free in life. Success takes hard work.
Every girl and boy looking at picking up the game of golf as their passion and possible as their profession can use Lorena Ochoa's character and sportsmanship as a road map for success on and off the golf course.
To learn how to take a setback and gain momentum in golf and life, purchase your copy of The ESPY Golf Swing Coach from the links below, or visit your local bookstore: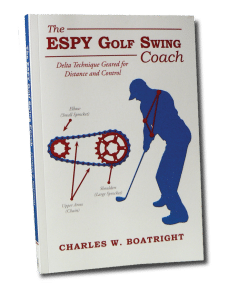 My book can also be purchased at Edwin Watts Golf Store in Jackson, Mississippi. Phone No. 601-956-8784
820 East County Line Road, Ridgeland, MS 39157
Please take advantage of my SR-925 Diet Program, where I lost 6 inches in my waist in 3- months (FREE of CHARGE) with the CASPER Workout Program, detailed in Section 20 of my book:
Please include an exercise routine in your weekly schedule.
Also, learning The ESPY Golf Swing Coach process is an excellent way to develop Rhythm without experiencing the Blues: