The QATSPY Golfer's Sports Page: Golf Swing Tips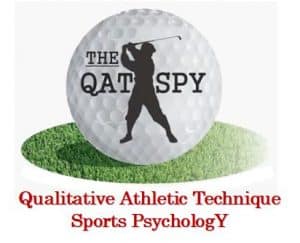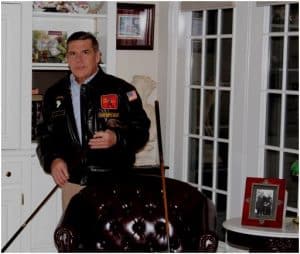 By: Charles W. Boatright
Applying Rule No. 9 of The 10- Mental Rules for Golf
In the field of golf Sports Psychology, there are 10- Mental Rules for Golf that will determine how well we will perform on the course. While all 10 rules are significant to the golfer's performance, Rule No. 9 can help actually pinpoint 90 percent of the golfer's failures and lapses on the golf course. Rule No. 9 applies equally to amateurs and professional golfers alike. Rule No. 9 states- The greater the conscious effort reduces the subconscious mind's intuitive response.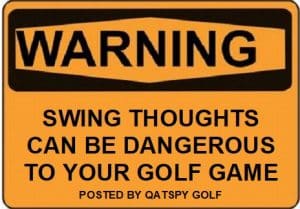 Rule No. 9 exposes the villain in the golfer's game, known as swing thoughts. Swing thoughts are the major stumbling block in a golfer's performance. Swing thoughts are at the heart of the golfer's inconsistency and frustration with the game of golf. The conscious mind is sometimes described as the golfer's demon or villain on the golf course. Swing thoughts are usually triggered by internal conflict that the golfer perceives.
We may very well learn the golf swing fundamentals and mechanics using our conscious mind, but I can guarantee you that we will perform the golf swing sequence using our subconscious mind on the golf course. (Charles W. Boatright)
Jordan Spieth, at the Sony Open in Hawaii, where he finished 18th, 11 under for the tournament, was interviewed by Golf Channel. He explained in the interview that the professional golfer's biggest obstacle to overcome is trusting their golf game, once on the golf course. This isn't just a cliché, but a fundamental issue of applying Sports Psychology that every golfer needs to pay close attention to.
Most professionals devote between 25 to 40 hours per week working on their golf game on the range and on the golf course. So focusing on the physical portion of the professional golfer's game isn't the issue. The golfer's inconsistency is due to what Yogi Berra and Bobby Jones, Sr. said was 90 percent of their game is the area between their ears.
Sergio Garcia probably came as close as anyone to identifying the golfer's villain, or demon, during a post-game interview he did after the 2007 British Open at Carnoustie.
Sergio lead the 2007 British Open, up until the last six holes of the final day. Sergio dropped his lead that forced a playoff with Pádraig Harrington, which Sergio lost. Sergio, in an interview, made the comment that caused bells and whistles to go off in my head. Sergio stated that- He was dealing with more than the golf course, I'm (Sergio) dealing with my demons. Both Jordan and Sergio's interviews underscore the mental issues dealing with the fact of failure, trust, focus, and the lack thereof.
A Golfer's True Grit, a Self-Coaching Technique 
Sports Psychology is more about the golfer's True Grit of perseverance, repetition, confidence, and focus than just golf swing mechanics and techniques alone. Golf, as Bobby Jones, Sr. stated, is played on a five-inch wide course, between the ears.
True Grit is the key in dealing with the golfer's trust factor, their consistency for developing a dependable golf game on the golf course. True Grit is more than just a title of a great movie with John Wayne and Robert Duval. True Grit is an excellent self-coaching technique allowing the golfer to actually utilize a simple Sports Psychology technique on the golf course, the area between the golfer's ears.
True Grit is an essential component to the golfer's game in trying to apply Sports Psychology. True Grit, in its simplest form, is nothing more or less than working your own way through countless combinations of elements and sequences to develop a dependable routine, without doubt or the thought process. Once the golfer develops their golf swing sequence, or True Grit routine, the golfer should practice their routine not until they get the routine right, but until they can't get their routine wrong on the course. This is the essence of golfer's True Grit.
Excerpts from my book, The ESPY Golf Swing Coach
Below are excerpts from my book, The ESPY Golf Swing Coach, about success and failure and how golfers can use them in their Sports Psychology:
6.5     Participating in sports, especially golf, can influence others with sportsmanship and true grit, the quiet strength. Athletes can capitalize on this quiet strength, or mental horsepower. The quiet strength is a discipline based on a dedicated work ethic, confidence, and perseverance to work through success and failure. Coaches realize that both success and failure are part of the athlete's development, especially if failure is used to gain experience, instead of doubt. Successful athletes do not differentiate between success and failure; they use them to improve future performance.
Most people have attained their greatest success just one step beyond their greatest failure.– Napoleon Hill
7.7     Forget about the past mistake, but not what you learned from the mistake. This is a great passage to demonstrate that past failure or success should never determine the future. Success and failure should help us gain experience and confidence.
The golfer should play how they practice; and practice how they play.
7.8     The 4O5 Training Drill allows golfers to play toward their strengths, while limiting exposure to weaknesses and doubt. Golfers realize that while conditions change, the objective, which is to make par or better, always remains the same. This requires golfers to develop management skills on the course, while keeping an eye on the objective. The definition of success is effectively learning to use success and failure to build confidence, instead of doubt.
Winners are not afraid of losing. But losers are. Failure is part of the process of success. People who avoid failure also avoid success."
– Robert T. Kiyosaki
One of the best techniques the golfer should have as part of their Sports Psychology is their mental concept that both failure and success are a process. Differentiating between failure and success causes the golfer to think instead of focus. Thinking can and most generally does lead the golfer to doubt and not to trust their golf swing sequence, routine, or golf game.
In my ESPY Golf Swing sequence, I have three very simple Elements (Sync, Preset, and Yaw) that I follow and have confidence in, on/off the course. These same elements are part of the basic baseball swing sequence that most kids learn at a young age as a well-developed motor skill. The significance about the age at which we learn the baseball swing sequence is the advanced motor skills that are developed in the form of long-term muscle memory, which is instinctive.
How many time does a golfer recall stepping into the batter's box and thinking about their golf swing mechanics, fundamentals, and techniques? I would guess NEVER! Usually when the batter is in the batter box, their mental zone, the batter is only focusing on the feel of the bat in their hands, on the movement of the ball, and the trajectory of the ball.
One of the golfer's biggest lessons that they could learn on the golf course is to expect failures and use these failures to gain experience and confidence. Experience on the golf course is equivalent to 20 hours of golf lessons on the range. A golfer who can fail miserably on the golf course can develop a great golf swing sequence.
(Photo of JFK).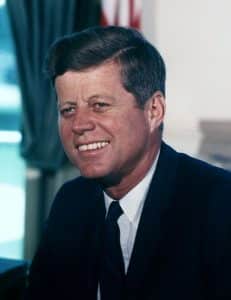 President John Fitzgerald Kennedy's Quote about Failure and Achievement

Those who dare to fail miserably can achieve greatly.
To be able to use both failure for experience and success for confidence to build a better golf game, purchase your copy of The ESPY Golf Swing Coach from the links below, or visit your local bookstore: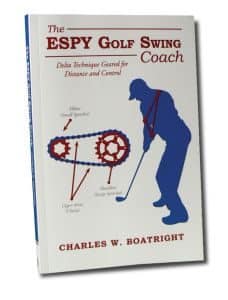 My book can also be purchased at Edwin Watts Golf Store in Jackson, Mississippi. Phone No. 601-956-8784
820 East County Line Road, Ridgeland, MS 39157
My book can also be purchased on-line at:
Health and Fitness Program Golf Exercise for Power
This book is based on a self-coaching forum (ASPEN Pyramid) that provides the beginner and advanced single-digit handicap golfer with a safe, ergonomic classic golf swing for more power and control, without debilitating injuries that are common with some modern-day golf swings. As part of the ESPY Golf Swing Coach is a workout program designed especially for golfers and an effective diet program detailed below.
Please take advantage of my SR-925 Diet Program, where I lost 6 inches in my waist in 3- months (FREE of CHARGE) with the CASPER Workout Program, detailed in Section 20 of my book, great golf swing workout:
One component in my CASPER Workout Program that I follow is using a Medicine Ball to perform what I call Stocking the Shelves, illustrated below in the figure: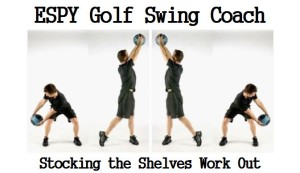 Please include an exercise routine in your weekly schedule.
ESPY Golf Swing Coach- Rhythm Without the Blues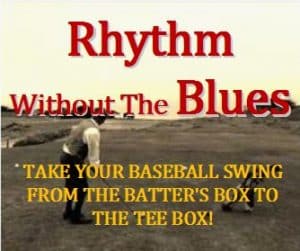 Also, learning The ESPY Golf Swing Coach process is an excellent way to develop Rhythm without experiencing the Blues in your golf game for confidence; learn how to take your baseball-style swing from the batter's box to the tee box.
THE LOCKER ROOM a source for golf tips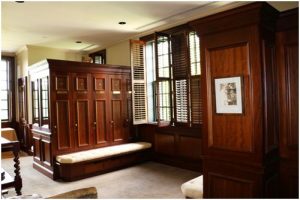 Please visit "The Locker Room" for an Index of all my golf articles to improve your golf game and life. Discover how you can take your baseball swing from the batter's box to the tee box.
Learn How to take your baseball-style golf swing from the batter's box to the tee box.

For Comments or questions please contact me at 1-888-514-1228 Mon – Fri from 9 am to 4 pm CT Zone.
A Recommendation for your Golf Game: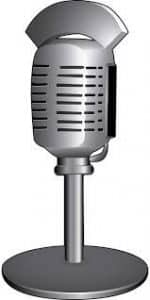 I would like to recommend an interesting radio program that I regularly listen to from my home state Arkansas on my I-Heart Radio app on KARN 102.9 FM station, out of Little Rock, AR. They air a golf show called Arkansas Fairways and Greens, at 7:00 AM CT each Saturday morning, hosted by Bob Steel, and co-hosted by Jay Fox and Charles Crowson. Bob occasionally as has his guess Alex Myers with Golf Digest and Ron Sirak with Golf Channel. I was interviewed on his show about my book, The ESPY Golf Swing Coach. This show is worth tuning into for golf news and information.
Jay Fox is an Administrator with Arkansas State Golf Association that discuss amateur golf and rules of the game.
Check out my full library of BLOGS @ www.espygolfapp.com/blog or purchase your copy of "The ESPY Golf Swing Coach" @ www.espygolfapp.com/store.
Facebook – The QATSPY Golf Approach
Twitter – @cwboatright
Google+ – ESPY Golf Swing Coach
YouTube – ESPY Golf Swing Coach
Once you learn WHY, you don't forget HOW!
YouTube Videos:
https://youtu.be/ZGVNrIw_wlo (Cam & Cam-over elements)
https://youtu.be/K2FDHZ3AX9w (Figuring your proper swing plane)
https://youtu.be/TO82PMO6G8M (Developing muscle memory)
Two decisions that you can make for yourself and your kids are to get a copy of my book and place the book and a golf club into their hands. You will never look back, but only forward. You will not miss with this for yourself and/or your kids.
Until next time– Be Synched, Tee-to-Green, with The ESPY Golf Swing!