The QATSPY Golfer's Sports Page: Golf Swing Tips

By: Charles W. Boatright
Important Part of Being Your Own Golf Swing Coach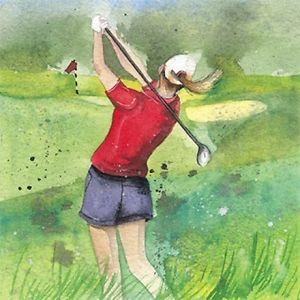 Why it is Necessary to Develop a Self Golf-Coaching Forum?
The 2015 NCAA Division-1 Golf Championship- great reason why the golfer has to develop their own self golf-coaching forum on/off the course. The important part of being your own golf swing coach is that you can make the necessary adjustments on the course in real-time. Golf's major asset is that it requires the person to be self-sufficient and develop a self golf-coaching forum skill and ability to be able to adjust and to grind it out on the course.
Athletics is a great self golf-coaching forum classroom for teaching individuals how to deal with adversity and failure, both on and off the course, in golf and in life. This is the reason why golf should be a part of a homeschool forum and curriculum. Failure, when used correctly, is actually more effective to fuel future success then success it self is. The 2015 Women's NCAA Division-1 Golf Championship proved this point very well.
The 2015 Women's NCAA Golf Championship was played at Concession Golf Course, in Bradenton, Florida. This venue proved to provide a very challenging course for the competitors. The golfers had to use more strategy than power to make good scores. The final day of the Championship had a match play where Stanford and Baylor Universities were paired with each other. This particular match was between two Titans that will go down as an instant classic for years to come in NCAA college golf. This Titan match, as I describe it, was between Hayley Davis of Baylor and Mariah Stackhouse of Stanford.
The University of Stanford Women's Golf Team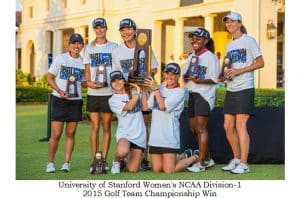 On the opening day of competition, I saw a particular swagger and determination in Mariah Stackhouse's demeanor, as shown here standing second from the right. She possessed one of the best mental game of golf I had ever witnessed. I could tell this young lady was confident, determined, and believed in her mental golf game, herself, and her coach. I told my wife on the first day of the tournament that Ms. Stackhouse would be a significant factor for the Stanford's team win. And the last day of match play proved this point. The following is the brief highlight of Ms. Davis' and Ms. Stackhouse's match from the 13th hole to the 18th hole on the last day of competition.
The tournament that was won by Stanford came down to one pressure putt on the 18th hole, by Stackhouse. But actually the real head-to-head match started back on the 13th hole earlier that day. The pin position on the 13th green was on a ridge that made it partially impossible to go for the flag within 12-feet. Matter of fact Lisa Cornwell, with Golf Channel, wrote me saying the pen position was practically impossible for the players to hit when she looked at it that morning. Davis had the best strategy of placing her approach shot just off the green in the fringe, at about the five-o'clock position, see the sketch I did of the 13th green below.
Even when I'm leisurely watching golf on television, I'm still mentally walking though each hole, fairway, and green. I like to do like Nick Faldo did when he was growing up. He would watch golf tournaments and do role playing, where he virtually became a golfer like Garry Player or Jack Nicklaus walking the golf course and making each golf shot.
I made a hand-drawn diagram of the green below, showing both the approach shots of Davis and Stackhouse. Without going into details, Stackhouse was not rewarded for making a great approach shot into the green near the pin. The pin placement made it virtually impossible for anyone to go for the pin and stick it close, unless the golfer could pull off a one-in-125 approach shot that hit a particular spot with an exact descending impact angle landing soft with some backspin.
If the golfer missed this spot, they weren't rewarded for a great approach shot. I don't know this for a fact, but I'm under the impression that this might have been the reason why Davis purposely placed her approach shot just off the 13th green. This proved to have been a wise self-coaching choice to place her shot just off the right front green fringe.
Conceding the 13th Hole in Match Play, How to Play Golf Forward

After Stackhouse had to concede the 13th hole to Davis, after five attempts for Stackhouse to just get on the green. Lisa Cornwell saw where the pin placement was before play started the last day of the tournament and thought it to be an extremely difficult spot.
Stackhouse could have taken one of three courses of action, after conceding the 13th hole: (A) display a golfer's coach mentality of playing it forward and be committed and confident that the next hole was hers, major part of the self golf-coaching forum. (B) Reacted with resentment or anger to the unfair placement of the pin, leading to a defeated attitude that only leads to frustration and distraction. Or (C) resorted to just giving up and not even put forth an effort; that is the definition of real failure.
It was no doubt that Stackhouse made the wise decision (A) to become her own golf swing coach and reaffirm her strategy for the next hole of playing golf forward, as she walked off the 13th green. What was especially supportive was the encouragement from her coach, Anne Walker.
This is where an important self coaching technique comes into play during the tournament– I do not think as if I have achieved or failed during the competition; but one thing I do: forgetting what lies behind and focusing what lies ahead and play golf forward.
When you double bogey a hole or worse, you have to reboot your mental golf game for the next hole. The golfer has to become their own golf swing coach and get back to their mental golf game strategy, and develop a self golf-coaching forum. You have to reboot in order to re-establish your routine and golf swing sequence going ONE, TWO, THREE, setting up each element.
I call it my Mississippi golf swing technique, of ONE- MISSISSIPPI, TWO- MISSISSIPPI, and THREE- MISSISSIPPI to help me reestablish my tempo. Sometimes under pressures of competition, a golfer forgets their tempo, elements, and golf swing sequence, it is called dealing with Adrenaline. Adrenaline is the mysterious elixir that can be either a turbocharger or toxin for the subconscious mind. Adrenaline can make an athlete perform like a champion or a choker. Missing one element is all it takes to get the golfer out of their routine and tempo. I address this type of situation in my book, THE ESPY GOLF SWING COACH, in Sections 4.3 and 9.4 as follows:
4.3     If a team or an athlete gets into a slump of paralysis-analysis, the only way out of the slump is to apply the TEAM (Techniques, Elements, Aptitude, and Mechanics) concept, or what I call mental horsepower. Mental horsepower is not being blind to reality, but changing your perception of reality. Coaches use the TEAM concept to train and develop an athlete's determination, grit, and perseverance, or the ability to grind it out on the course. This structure is used when the coach focuses the team's attention on the objective, rather than the conditions. Conditions will always change, but objectives remain the same.
9.4     Golfers realize that 80 percent of success is within 160 yards of the green. This is another lesson to convey to young people. Just as much attention is required for the short game, or details, as for the tee shot, the big event in life. With the odds stacked against a young person, the small things, performed consistently well, will allow for success. Several parallels can be drawn between sports and life. This is the reason that organized sports should be encouraged at a young age. The lessons learned from sports can allow a young person to reach their potential in life. Perseverance, faith, and confidence are the best responses to any difficult situation, instead of feeling resentment, showing anger, or seeking revenge.
This was also one of Coach John Wooden's 7-Principles of coaching.
Rebooting Your Golf Game as a Golf Swing Coach
Stackhouse went on a birdie tear on the last three holes to force a sudden death playoff, where Stackhouse won with a putt on the 18th hole. Both Stackhouse and Davis are great golf swing coaches and grinders on the course, who showed true grit, determination, and passion for the mental game of golf. This match between Davis and Stackhouse was what we refer to as 'Made for television Match.' I'm sure there are many young girls who were inspired by this final round of play in the tournament and have their own aspirations of playing competitive golf some day. That is what competitive sports is supposed to do, to inspire others to compete at the highest level, with sportsmanship.
I actually love the opportunity to coach others, not just in golf but in character building as well. This is the very reason that sports has an important role to play in our lives and educational system. Golf is also a great sport to incorporate into a homeschool curriculum. The self golf-coaching forum benefit the student in all areas of life to obtain success.
One of the best self golf-coaching forum techniques that a golfer can use on the golf course is what I call the Golfers Elbow Technique. This is the same coaching advice that Mr. Arnold Palmer gave to President Eisenhower by presetting his wrists in order to orientate and lock his elbow next to his right side to increase his power and control factor.
This is the very basis of my book of synching the elbows with the shoulders. This same story and self golf-coaching forum technique is covered in Section 2.16 of my book. This is recounted how Mr. Arnold Palmer helped President Eisenhower set up the sprocket mechanics, using his trail elbow and shoulders.


My book can also be purchased at Edwin Watts Golf Store in Jackson, Mississippi. Phone No. 601-956-8784
820 East County Line Road, Ridgeland, MS 39157