The QATSPY Golfer's Sports Page: Golf Swing Tips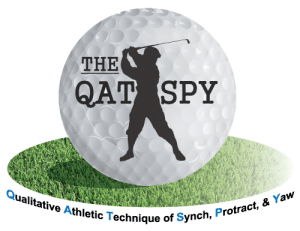 By: Charles W. Boatright
Sports Psychology- Developing Your Golf Swing Coach Sports ZONE   
Sports Psychology is a field of science that uses knowledge and the athlete's experience from several areas to develop and improve one's mental golf swing performance. This can be based on two approaches- One includes the theatrical and clinical approach to applying Sports Psychology, based on biomechanics, physiology, and kinesiology. This is the novel approach to applying Sports Psychology. The clinical approach would NOT be my first option, especially on the golf course.
Instead, I would prefer a more practical and effective approach to apply basic Sports Psychology, or golf swing mechanics 101. I would prefer the simple golf swing coach technique called Context-Based Learning. Context-Based Learning is  a simple golf swing coach technique that takes advantage of prior athletic skills, or what Sports Psychologists refer to as Apperception.
Apperception, or Context-Based Learning, is another way of describing how the golfer can take advantage of muscle memory developed in their baseball swing and develop and improve their golf swing and game. I must WARN YOU that there is one drawback of taking the golfer's baseball-style golf swing from the batter's box to the tee box. And that is, it's an easy golf swing technique. Most golfers correlate anything to do with their golf swing fundamentals with difficulty.
Apperception, or APP for short, is a major component of The ESPY Golf Swing Coach APP. The Apperception model is based on Rule No. 10 in the 10-Mental Rules of Golf. Rule No. 10 states- Suggestions and belief can be used to "program" the subconscious mind. Sports Psychologists use a golf swing coach technique called power of Self-Suggestion to help establish the golf swing sequence. Self-Suggestion, or mental suggestion, allows the golfer to use words, like Sync/Preset/Yaw, to establish each element in their golf swing sequence.
In my Book, The ESPY Golf Swing Coach, I use the term SPY, or Sync/Preset/Yaw, not only to establish my golf swing elements, but to establish my tempo and rhythm. This is like establishing a nice, even tempo and Rhythm in your golf swing sequence without experiencing the Golfer's Blues. Blues in golf is associated with the golfer trying to utilize golf lessons and directly apply them on the golf course! IT DOESN'T WORK THAT WAY!
Baseball-Type Golf Swing to Develop the Golfer's Sports Psychology, Sports ZONE
While playing baseball during the summer months, I could not think of a time when I stepped into the batter's box that I thought about my golf swing fundamentals or techniques. My main focus was on the movement of the ball and its rotation.
It seemed like once I stepped into the batter's box, I was in my Sports ZONE. The Sports ZONE was where my conscious mind focused on the ball, instead of thinking, or having swing thoughts. This only interrupts the subconscious mind and how it's supposed to work.
Sports Psychology behind the ESPY Golf Swing Coach is based on a ASPEN Self-Coaching technique, developed in 1927 by H. Q. Boatright, my grandfather. The basic principle of this self-coaching technique was based on the acronym ASPEN. This is a self-coaching technique represented by the pyramid featured below. This self-coaching technique helps the golfer develop their Sports ZONE, or Sports Psychology.
Below is a brief outline of The ASPEN Self-Coaching Technique that forms a Pyramid:
Apperception at the base – Is a Golf coaching technique that capitalizes on a routine and muscle memory that is well-established in another sport, like the baseball-type swing. This develops and improves the golfer's golf swing fundamentals and game. Apperception also avoids the grueling and arduous task of developing a new set of golf swing fundamentals. This could take the golfer years to develop and apply.
Sequence- A series of streamlined elements based on the fundamentals in the familiar baseball-type swing, consisting of Sync/Preset/Y The Sync/Preset golf swing sequence is a major component of Ken Duke, Marco Dawson, and David Duval's golf swings techniques. The preset golf swing sequence provides the golfer with a mental suggestion. David Duval was interviewed by Charlie Rymer on Golf Channel. Charlie Rymer was so impressed with this preset technique that David Duval used, that he referred to the preset technique as That Wrist Thing.
Performance-based Practice- The main emphasis of Sports Psychology, or the Sports ZONE, is a self-coaching style that is based on the old adage- Practice how you play; and play how you practice. Sounds simple, Right? But most golfers don't follow this simple golf swing fundamental. The ASPEN Self-Coaching Technique allows the golfer to establish game-like practice conditions during their practice sessions, similar to a football scrimmage game. This is explained in Section 7 of my book.
ExtraSensory Performance- This is what sports psychologists call Sports Mental Imagery. The ASPEN Self-Coaching Technique encourages the golfer to form mental pictures, or mentalization, of each element in their golf swing sequence. Like the illustration of the Mentalization of the Sync/Preset below. The more vivid the images are in the golfer's mind, the more effective the brain can provide directives in the form of muscle memory. This thereby increases the golfer's positive mental game, Sports ZONE, both on and off the course. This is like setting up a virtual golf course between the golfer's ears.
Neuromuscular- This self-coaching technique develops the essential advanced motor skills, or muscle memory, that the golfer's subconscious mind depends on. This muscle memory enables one to perform flawlessly on the golf course, without experiencing the Golfer's Blues. These neuromuscular exercises are specific, repetitive maneuvers that the golfer can perform, on and off the golf course, without conscious thought, or what sports psychologists refer to as swing thoughts. To avoid the Golfer's Blues, avoid swing thoughts. Swing thoughts only interrupt the golfer's subconscious mind, the Sports ZONE, which is responsible for executing the golfer's swing.
Tactics Used for Developing the Golfer's Sports ZONE
 The following is a golfer's guide for developing their Sports ZONE. The ASPEN Self-Coaching Technique is broken down by categories below:
APPERCEPTION–
Focus on presetting the wrists, like in the baseball-style swing shown in the time-lapse photography comparing the golf swing vs. the baseball swing featured above. Remember, the wrists aren't where the golfer would wear their wristwatch, as this is the lower forearm, or wristbands on a pair of boxing gloves.
Develop a reliable golf swing routine that is on autopilot. The Sports ZONE is a NO-THINKING ZONE.
During your practice sessions, start the sessions out slowly by establishing feel for each element. Focus on the key muscles (Thenars and forearm muscles; there are three key muscles). Remember, there are 640 muscles in the human body. You just want to focus on just these three muscles for your muscle memory development.
SEQUENCE–
Establishing a written sequence of your golf swing is critical for mental practice, or rehearsal. Writing the your golf swing sequence down and developing a mentalization of each element is essential for the next step in the ASPEN Self-Coaching Model. Your body can't perform what the mind hasn't prepared for.
Using a golf baton, the golfer can establish a virtual practice session almost anywhere they spend time (home, office, during an exercise routine). Getting up from the desk and going through the ESPY APP golf swing sequence is a great relief exercise. Also, the golfer can pick up valuable practice time during the day. Example: Going through the ESPY APP golf swing sequence for just a 10-minute period, 12 times a day, can add 14 hours of practice each week. The average golfer only gets 1.83 hours of practice each week.
The ESPY APP golf swing sequence should be so familiar that the golfer could perform it during their sleep. When this occurs, the ESPY APP has become an instinctive process of the golfer's subconscious mind.
I had the pleasure of interviewing Colonel George Robert Hall, a P.O.W. at the Hanoi Hilton during the Vietnam War. He kept his sanity by playing golf courses in his head for seven-and-a-half years. After his release in February of 1974, he shot his handicap of four (4) at The Greater New Orleans P.O.W. Open Pro-Am, less than six weeks after his release. Select Col. Hall's name to read my article and interview.
The objective of the ESPY Golf Swing Sequence is to place the golfer's wrists and forearms are synced and placed in the Lock Position shown below in the illustration:
Performance Practice–
Rule No. 7 of the 10- Mental Rules for Golf states- The subconscious mind always prevails in conflicts with the conscious mind. This means that for a golf swing sequence to become an instinctive process, like second nature, the golfer must train their subconscious mind, where muscle memory is formed.
Rule No. 1 of the 10- Mental Rules for Golf states- The subconscious mind does not and must not differentiate between visualizations and real situations. This is a stumbling block for most golfers. The stumbling block is that their practice sessions don't resemble the actual golf game.
Practice work on the range is only addressing the conscious mind. Performance practice addresses the subconscious mind.
The golfer on the course isn't hitting 15 to 20 golf balls into a 300-yard wide fairway from a perfect lie. This is like learning to drive a vehicle on the open road under various conditions in a parking lot.
We don't play golf with our conscious mind, but with our subconscious mind.
Practice must resemble performance conditions on the golf course.
If the conditions are different, the golfer isn't following the routine in their practice sessions (conscious function), but whatever routine the subconscious mind can associate with that activity and conditions.
In Section 7 of my book, I established a football scrimmage-type practice performance, called the 405- Training Drill. This fits the self-coaching technique that- the golfer must practice how they play; and play how they practice.
Remember, it takes 21-days to establish a habit; and the golfer's swing sequence is a habit. To fine-tune the golf swing sequence, the golfer must reinforce their habit.
E

xtra

S

ensory

P

erformance–
This is the golfer's mentalization of their golf swing sequence.
ESP is like a condition that can occur during driving called Driving Hypnosis.
Along a familiar stretch of road or scenic highway, the driver is relaxed, comfortable, and they are so familiar with driving conditions that they don't recall driving past certain landmarks or sections of the highway.
The driver's conscious mind is so confident in the subconscious routine, that the conscious mind can totally focus on something other than task of driving. This is the Sports ZONE. It's almost like someone else is driving the vehicle.
While Driving Hypnosis is unsafe for driving a vehicle down the highway, it works great for driving a golf ball down the fairway.
For the golfer to develop ESP– They must be: Relaxed, Comfortable, Familiar with Conditions, Confident, and Focused.
With ESP, the golfer wants their conscious mind FOCUSED and THINKING!
 Neuromuscular–
A vital part of establishing the golfer's muscle memory, a subconscious function, in the golf swing sequence is mental imagery.
I have a mental image for each element in my golf swing sequence to establish my Sports ZONE.
A major part of Sports Psychology is props from other sports to develop the critical muscle memory.
In my book, The ESPY Golf Swing Coach, I use four props to develop a self- coaching technique:

Baseball-type golf swing– To take advantage of techniques, elements, and muscle memory developed at a young age in the batter's box and convince the subconscious mind to incorporate these into their golf swing sequence on the tee box.
Boxing gloves– To understand how the golfer's wrists synchronize with the lower forearms to sync the golfer's elbows with their shoulders. The illustration below for the right-handed golfer demonstrates how the left Hypothenar behaves like a flipper on a pinball machine. The right lower forearm, forming the right forearm band on the boxing glove, behaves like a gear on a shaft. Remember the golfer's wrist isn't where the golfer would wear a wristwatch, for this is the golfer's lower forearm. The wrist consist of two of the strongest and most dexterous muscles that has direct contact with the handle of the golf club. In image above of the Mentalization of the Sync/Preset maneuver, pay close attention to the

RED LINE

.
10-Speed Bicycle Sprockets– To allow the golfer's elbows and shoulder to behave like sprockets on a 10-speed bicycle. In the takeaway swing- the elbow (small sprocket) turns the shoulders (large sprocket) to create POWER to coil the core muscles. In the Downswing- this is reversed, where the shoulders turn the elbows to create SPEED.
Balsa Wood Rubber Band Airplane– To develop confidence on how the elbows and shoulders are used to coil the core muscle and act like a large rubber band to uncoil the shoulders that act like a propeller.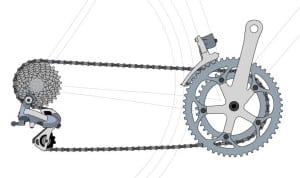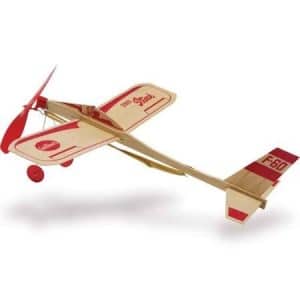 This brief description lays out the premise of The ASPEN Self-Coaching Technique that any golfer can use to develop, improve, and execute a golf swing, with rhythm and without the blues associated with some golf swings and coaching processes.
To learn how to develop The ASPEN Self-Coaching Technique for a Sports Psychology, Sports ZONE, approach to golf, purchase your copy of The ESPY Golf Swing Coach from the links below, or visit your local bookstore: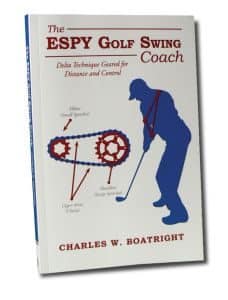 My book can also be purchased at Edwin Watts Golf Store in Jackson, Mississippi. Phone No. 601-956-8784
820 East County Line Road, Ridgeland, MS 39157
My book can also be purchased on-line at:
Health and Fitness Program Golf Exercise for Power
This book is based on a self-coaching forum (ASPEN Pyramid) that provides the beginner and advanced single-digit handicap golfer with a safe, ergonomic classic golf swing for more power and control, without debilitating injuries that are common with some modern-day golf swings. As part of the ESPY Golf Swing Coach is a workout program designed especially for golfers and an effective diet program detailed below:
Please take advantage of my SR-925 Diet Program, where I lost 6 inches in my waist in 3- months (FREE of CHARGE) with the CASPER Workout Program, detailed in Section 20 of my book, great golf swing workout:
One component in my CASPER Workout Program that I follow is using a Medicine Ball to perform what I call Stocking the Shelves, illustrated below in the figure:
Please include an exercise routine in your weekly schedule.
Establishing the Golfer's Rhythm w/o Creating the Golfer's Blues
Also, learning The ESPY Golf Swing Coach process is an excellent way to develop Rhythm without experiencing the Blues in your golf game for confidence; learn how to take your baseball-style swing from the batter's box to the tee box.
THE LOCKER ROOM a source for golf tips
Please visit "The Locker Room" for an Index of all my golf articles to improve your golf game and life. Discover how you can take your baseball swing from the batter's box to the tee box.
Learn How to take your baseball-style golf swing from the batter's box to the tee box.
For Comments or questions please contact me at 1-888-514-1228 Mon – Fri from 9 am to 4 pm CT Zone.
A Recommendation for your Golf Game: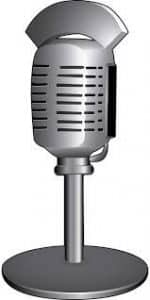 I would like to recommend an interesting radio program that I regularly listen to from my home state Arkansas on my I-Heart Radio app on KARN 102.9 FM station, out of Little Rock, AR. They air a golf show called Arkansas Fairways and Greens, at 7:00 AM CT each Saturday morning, hosted by Bob Steel, and co-hosted by Jay Fox and Charles Crowson. Bob occasionally as has his guess Alex Myers with Golf Digest and Ron Sirak with Golf Channel. I was interviewed on his show about my book, The ESPY Golf Swing Coach. This show is worth tuning into for golf news and information.
Jay Fox is an Administrator with Arkansas State Golf Association and discusses amateur golf and rules of the game.
Most states have either a State Golf Association and/or a P.J. Boatwright Internship that homeschooled students can take advantage of to help them establish an athletic activity into their curriculum. The State Golf Association provides young students with the ability to track and document their handicap, while competing in tournaments.
Golf is an excellent sport that homeschooled students can compete in, either on an individual or a team level without risk of severe injuries. The majority of Colleges offer scholarships to students to help them continue their passion for the sport of golf.
Check out my full library of BLOGS @ www.espygolfapp.com/blog or purchase your copy of "The ESPY Golf Swing Coach" @ www.espygolfapp.com/store.
Facebook – The QATSPY Golf Approach
Twitter – @cwboatright
Google+ – ESPY Golf Swing Coach
YouTube – ESPY Golf Swing Coach
Once you learn WHY, you don't forget HOW!
YouTube Videos:
https://youtu.be/ZGVNrIw_wlo (Cam & Cam-over elements)
https://youtu.be/K2FDHZ3AX9w (Figuring your proper swing plane)
https://youtu.be/TO82PMO6G8M (Developing muscle memory)
Two decisions that you can make for yourself and your kids are to get a copy of my book and place the book and a golf club into their hands. You will never look back, but only forward. You will not miss with this for yourself and/or your kids.
Until next time– Be Synched, Tee-to-Green, with The ESPY Golf Swing!