The QATSPY Sports Page 4 Golfers

Kevin Na's Golf Swing 101- Sports Psychology of Battling His Yips
I remember Jim Rome describing one of Kevin Na's highest scoring holes on the No. 9 hole at the Valero Texas Open, in April of 2011. This was when Kevin Na recorded a score of 16 on one hole. As dramatic as that was, Jim Rome's recounting of it was embellished just a little for his radio show audience. This, along with Kevin Na's Tee yips, presented Kevin Na with a lot of obstacles to mentally overcome in his golf swing mechanics and his golf swing sequence.
What was not unique about Kevin Na's experience is that it's not that uncommon for golfers or even baseball players to experience these yips in one way or another. The only difference is the severity of the problem and the duration of them. For some golfers, it is one shot, one hole, or an one round duration. The key to reducing the severity of these experiences is to expect them and allow for them to occur and never hesitate in your execution. You have to be a little carefree and relaxed. There are too many variables in golf to perfectly control every element in every golf swing.
In baseball, one of the most notable yips occurred with Jon Lester, an MLB pitcher who developed a problem of throwing to first base, in the attempt of keeping runners from stealing second. You would think a person that can throw 90 mph within a strike zone wouldn't have an issue of throwing to first, especially since Jon Lester is left-handed. If you want to read about a pitcher's yips, read about Jon Lester's interview with Sports Illustrated and how he overcame his yips. Hint, he got to a point where he didn't care, then he started holding runners at first.
My Personal Yips Experience
I had one yip that I had to overcome in my golf swing sequence. This was performing a pump action at the top of my golf swing sequence in order to start my downswing. If there was one thing worse than the first move in the takeaway swing, it is the first move to start the downswing.
One reason for my pump action at the top of my golf swing sequence was because I was trying to develop the proper technique for my downswing. One reason for using this baseball swing technique was because I was a big fan of Joe Morgan, who played with the Cincinnati Reds, in the early 70's. If you remember, Joe Morgan had pump action with his right elbow in his baseball swing sequence. There's a lot of great golf swing techniques that one can use to cross over from the baseball-type swing, but the pump action isn't one of them.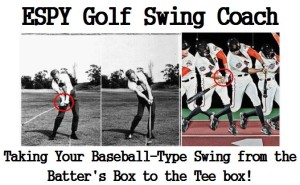 One of the best golf swing techniques that the golfer can use in their golf swing sequence is the wrist action in the golf swing, keeping your head behind the ball, and dropping the handle of the club down just behind the ball. In golf, I even like to imagine home plate that is flipped, where the point is toward my target. The biggest of these, however, is the wrist action in the golf swing that can easily be crossed over from your baseball-type swing to your golf swing sequence. This is shown in the time-lapse photo above of the golf swing compared to the baseball swing.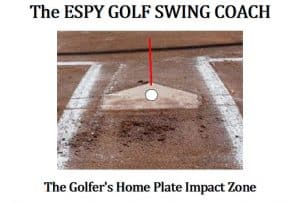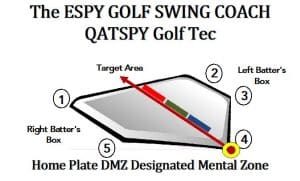 Matter of fact, the wrist action in the golf swing is a small movement for me to perform, which is to the golfer's advantage. This wrist action in the golf swing can become a natural instinct for the golfer. This wrist action is so instinctive that I don't even think about the wrist action that I use. Granted, it is a particular wrist action that I do use, but it is a natural function for the wrists. The key word is natural function of Pronation (Preset), Supination (Sync), and Dorsiflexion (Lock).
A great Sports Psychology technique to help develop a dependable golf swing sequence is routine and word association. In my preset routine, or practice swing, I run through my routine using word association of Preset, Sync, and Lock. If a golfer wants to harness the huge potential that is naturally provided by their subconscious mind, use word association. Now, the key word here is dependable, not perfect. We don't live in a perfect world, so why should we be expected to play perfect golf in a imperfect world.
Curing the Yips
Before you can cure the yips in your golf swing, errant shot, or putt, you have to focus more on WHAT happen than WHY it happens. The problem of WHAT boils down to one thing, getting out of your natural routine, rhythm, and/or the golf swing sequence. The subconscious mind, if it doesn't recognize a natural routine, it will sabotage the sequence as a self-defense measure. This is the subconscious mind's method of telling you something doesn't match up exactly.
One thing that leads to this sabotage situation is THINKING or HESITATING, and I wouldn't even say it's over-thinking. Like in Jon Lester's case, in throwing to first base, Jon got to a point where he stopped caring and just relied on his natural instincts. When Jon mentioned this in the Sports Illustrated article, in the above link, he stopped caring, he meant that he stop dwelling on his results and just went with his natural instinct.
The cure for your yips is developing a dependable routine with well-defined elements, techniques, and mechanics. Judy Rankin provided a great insight into developing the golfer's feel. Before the golfer can establish their routine and feel, they have to work on a well-defined golf swing sequence, based on elements and golf swing mechanics. The key to this process is to persistently work on your golf game under similar conditions that you will play under.
Using Sports Psychology to Improve Your Golf Swing Fundamentals
One of the best sports psychology techniques that the golfer can actually use is a Sports Psychology technique that I call ExtraSensory Performance, or ESP. This ESP Technique is similar to what occurs to the driver who is driving along scenic highways or very familiar stretches of highways; this condition is called Driving Hypnosis.
What occurs in Driving Hypnosis is that the driver is so zoned into driving and is so carefree that their conscious mind turns over all of the driving tasks to the subconscious mind and focuses on something else. The subconscious mind contains all of driver's motor skills and muscle memory that is automatically engaged, based on their routine and conditions. The subconscious mind recognizes this and takes over the driving duties. Driving Hypnosis is so complete that the driver doesn't even remember the traffic that they encounter or  the landmarks that they pass, but they still arrive safely at their designation.
The subconscious mind is naturally responsible for 90 percent of our daily routines that are habits. This ESP golf swing sequence should be how we perform on the golf course- instinctively and naturally. Our golf swing sequence should be so routine and instinctive that we don't even think about the golf swing itself. The subconscious mind recognizes the routine and conditions and performs accordingly.
Three Things that the golfer or driver has to have in place before ExtraSensory Performance takes place:
Normal and routine tasks and conditions must exist.
Rely on a high degree of relaxation, confidence, and muscle memory.
The conscious and subconscious minds are focused on two different situations.
I would dare say that Kevin Na persistently worked on these three components during his practice sessions, based on his interview with Amanda Balionis with CBS at the Military Tribute at The Greenbrier. Congratulations to both Kevin Na and his caddie, Kenny Harms.
NOTE: The term conditions is key in setting up your practice sessions in the first bullet above. You have to develop similar conditions during your practice sessions that will exist on the golf course.
The practice range doesn't offer this option to the golfer. The subconscious mind is where 90 percent of our capabilities are filed away, like on a computer RAM. If the subconscious mind detects a difference between how we practice and how we play golf, the subconscious mind will play the tape that best matches the course conditions, not the hours spent practicing your golf swing on the practice range or in golf lessons. Now you understand why golfers find it difficult of taking their golf game from the practice range to the golf course.
Warning: While Driving Hypnosis is unsafe for driving a vehicle down a highway, it works great for driving a golf ball down the fairway.
To learn to develop your own ExtraSensory Performance golf swing mechanics, techniques, and golf swing sequence, purchase your copy of The ESPY Golf Swing Coach from the links below, or visit your local bookstore: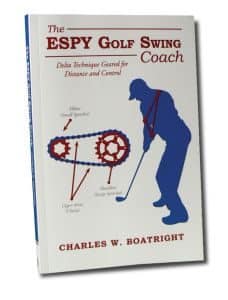 The ESPY Golf Swing Coach, a Self-Coaching Technique and simple Sports Psychology enabling the golfer to take the baseball swing sequence from the batter's box to the tee box.
My book can also be purchased at Edwin Watts Golf Store in Jackson, Mississippi. Phone No. 601-956-8784
820 East County Line Road, Ridgeland, MS 39157
My book can also be purchased on-line at:
To help develop a more effective golf training exercise in your backyard or vacant field, I would recommend purchasing a dozen or more of the Almost Golf Balls® from LIBERTY Health Supply. Please select one of the products below to purchase these golf balls that simulate the actual golf ball without the concern for property damage or personal injury to others. These balls only travel a third of the distance of an actual golf ball.
Pack of 10: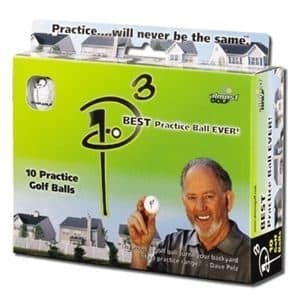 Pack of 36: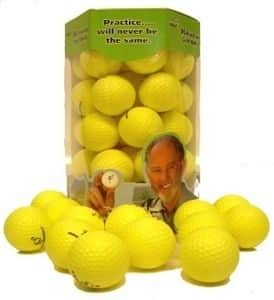 If you use the Promo Code: ALMOSTGOLF you will receive free shipment on any order of Almost Golf Balls® from LIBERTY Health Supply.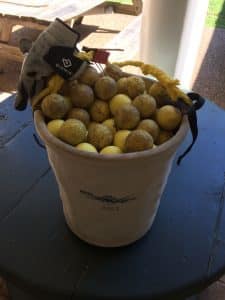 I have a utility bag full of these Almost Golf Balls that I practice with three to four hours per day, four days per week.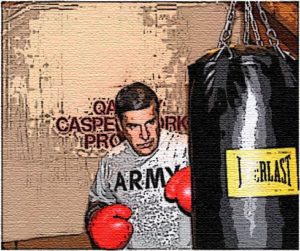 Health and Fitness Program Golf Exercise for Power
This book is based on a self-coaching forum (ASPEN Pyramid). The ASPEN Self-Coaching Technique provides the beginner and advanced single-digit handicap golfer with a safe, ergonomic classic golf swing mechanics. The ASPEN forum for coaching golf provides basic skills for more power and control in the golf swing sequence without debilitating injuries that are common with some modern-day golf swings. As part of The ESPY Golf Swing Coach forum is a workout program that includes golf exercises with medicine ball designed especially for golfers.
I have also included a FREE SR925 Diet program that anyone can access, where I lost over 40 pounds and 7.5-inches in my waist within nine-months. I went from 37.5 inches in November of 2014 down to 30.0 inches in July of 2015 with the effective SR925 Diet Program that I developed, see detailed below.
Please take advantage of my SR925 Diet Program, where I lost 6 inches in my waist in 3- months (FREE of CHARGE) with the CASPER Fitness Program, detailed in Section 20 of my book, great golf swing workout:
One component in my CASPER Fitness Program that I follow is using a Medicine Ball golf swing workout to perform what I call Stocking the Shelves, illustrated below in the figure: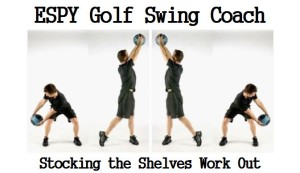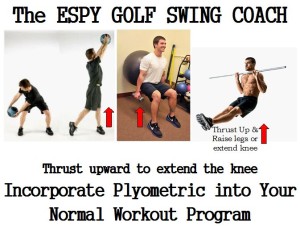 A part of the CASPER Fitness Program are golf exercises with medicine ball – that includes Stocking the Selves and medicine ball exercises Burpees. For endurance and a full body workout, I also include a boxing glove-punching bag exercise.
Please include an exercise routine in your weekly schedule.

       
Additional Motivation to Develop a Fitness Program
If you need addition motivation, which the subconscious mind works from and consist of 90 percent of the classic golf swing, include a fitness and exercise program designed for the golfer daily schedule. This type of exercise provides the critical overload underload training to improve the golfer's power and speed in the golfer's game, please look at another golf fitness enthusiast: The Fit Golfer Girl
Operation DOG TAG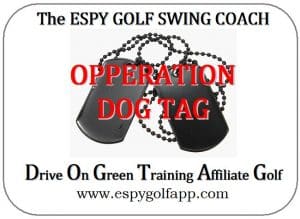 Sports, such as golf, along with fitness and an exercise regimen that includes yoga, has been proven to be a great Cognitive Behavioral Therapy for trauma victims. Veterans and those who have experienced a traumatic situation where the mind has been traumatized and disrupted can use golf and yoga to help re-establish connection and pathways in the brain. Golf also provides an excellent opportunity  for trauma victims to reconnect in a social setting to develop a dialogue without the pressures of clinical visits.
Introduction- Forum for Coaching Golf and Life Skills Operation Dog Tag
Section 1- Operation DOG TAG | GOLF CBT Intervention for PTSD
Section 2- Operation DOG TAG | Objectives and Scope
Section 3- Operation DOG TAG| STRUCTURE GUIDELINES
ESPY Golf Swing Coach- Rhythm Without the Blues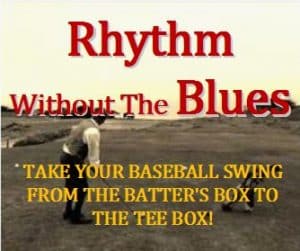 ESPY Golf Swing Coach- ESPY Golf App Develops the golfer's Rhythm w/o creating the golfer's Blues. The ESPY Golf Swing helps the golfer establish the correct wrist action in golf swing demonstrated by David Duval in an interview with Charlie Rymer on Golf Channel.
Also, learning The ESPY Golf Swing Coach process is an excellent way to develop natural Rhythm without experiencing the Blues in your golf game to build confidence; learn how to take your baseball-style swing from the batter's box to the tee box.
THE LOCKER ROOM a source for golf tips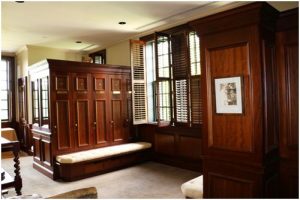 Please visit "The Locker Room" for an Index of all my golf articles to improve your golf game and life. Discover how you can take your baseball swing from the batter's box to the tee box.
Learn How to take your baseball-style golf swing from the batter's box to the tee box.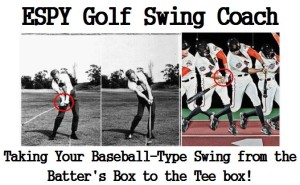 Time-lapse photography that I reviewed during my Kinesiology Xerox Box Golf Research Project compared the golf swing vs. baseball swing and how similar the Sync/Preset wrist action in the golf swing was to the baseball swing sequence.
Sir Nick Faldo demonstration of the Preset Golf Swing Technique
One of Sir Nick Faldo's first golf swing fundamentals that he learned as demonstrated in this YouTube video entitled The Preset golf swing technique. Nick Faldo discussed the WHAT, but didn't explained the HOW in his YouTube video.
The Sync/Preset Elements in The ESPY Golf Swing Coach explains how to setup the classic golf swing maneuver to place the wrists into the key Lock Position. This was the same golf swing technique used by David Duval during an interview with Charlie Rymer on Golf Channel. These two Videos are probably two of the best Videos to discuss the wrist action in the golf swing.
For Comments or questions please contact me at 1-888-514-1228 Mon – Fri from 9 am to 4 pm CT Zone.
A Recommendation for your Golf Game: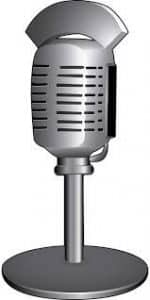 I would like to recommend an interesting radio program that I regularly listen to originating from my home state Arkansas on my I-Heart Radio app on KARN 102.9 FM station, out of Little Rock. They air a golf show called Arkansas Fairways and Greens, at 7:00 AM CT each Saturday morning, hosted by Bob Steel, and co-hosted by Jay Fox and Charles Crowson. Bob occasionally as has his guess Alex Myers with Golf Digest and Ron Sirak with Golf Channel. I was interviewed on his show about my book, The ESPY Golf Swing Coach. This show is worth tuning into for golf news and information.
Jay Fox is an Administrator with Arkansas State Golf Association that discuss amateur golf and rules of the game.
Check out my full library of BLOGS @ www.espygolfapp.com/blog or purchase your copy of "The ESPY Golf Swing Coach" @ www.espygolfapp.com/store.
Facebook – The QATSPY Golf Approach
Twitter – @cwboatright
Google+ – ESPY Golf Swing Coach
YouTube – ESPY Golf Swing Coach
Once you learn WHY, you don't forget HOW!
YouTube Videos:
https://youtu.be/ZGVNrIw_wlo (Cam & Cam-over elements)
https://youtu.be/K2FDHZ3AX9w (Figuring your proper swing plane)
https://youtu.be/TO82PMO6G8M (Developing muscle memory)
Two decisions that you can make for yourself and your kids are to get a copy of my book and place the book and a golf club into their hands. You will never look back, but only forward. You will not miss with this for yourself and/or your kids.
Until next time– Be Synched, Tee-to-Green, with The ESPY Golf Swing!