The QATSPY Golfer's Sports Page: Golf Swing Tips

By: Charles W. Boatright
Swing Coach Technique used by Sports Psychologist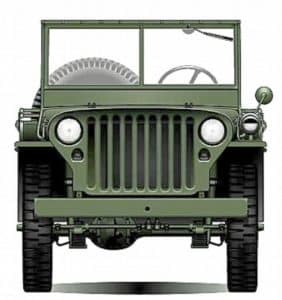 There is a great swing coach technique used by sports psychologists that the golfer can use by taking their admiration for classic cars and applying it to the golf game. In my case, this includes a '46 Jeep CJ-2A, the Ford '69 Bronco, and the Chevrolet '67 Stingray Corvette. I even use the Jeep front grill- OIIIIIO to help me initiate my muscle memory for my golf swing sequence. First, using the Jeep's grill distracts my conscious mind from thinking in thoughts about my golf shot to FOCUSING on an objective. Second, the Jeep's grill allows my subconscious mind to directly engage my muscle memory.
A great self swing coach technique that you can use to increase your mental game of golf is to engage images and colors. This sports psychologist technique improves your mental and physical performance in training and ball striking on the course. Driving a classic car can also have another benefit for the golfer. While Driving Hypnosis is unsafe for driving a vehicle down the highway, it works great for driving a golf ball down the fairway. This condition causes the driver to rely on their subconscious mind to take over the majority of the driving activities. This same Driving Hypnosis can improve your mental golf game.
Bobby Jones, Sr. had a great quote about the mental game of golf- Golf is a game that is played on a five-inch course – the distance between your ears.
Golfer's Driving Hypnosis to Shift Attention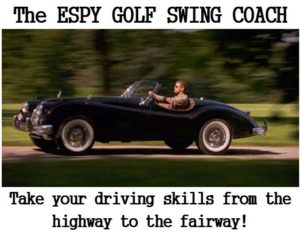 What occurs in Driving Hypnosis is that the driver, for short periods of time, doesn't remember driving past certain landmarks. Because their conscious mind is focused on something other than their driving. While this is very relaxing to the driver's conscious mind, it is an unsafe situation to fall into on the highway. But in golf, the fairway is a great application for using this technique. You as your own sports psychologist can apply this technique on the golf course.
This condition was discussed on Michael Breed's show, The Golf Fix, on Golf Channel, in April of 2015, with Dr. Molinaro, a sports psychologist. Dr. Molinaro used the phrase, Shift attention by being aware, not distracted. What Dr. Molinaro was describing was similar to taking Driving Hypnosis from the highway and applying it to the fairway.
For Driving Hypnosis to occur, these three conditions must be established:
(A) The task and conditions must be familiar, both normal and routine.
(B) A high level of relaxation, confidence, and muscle memory must be present.
(C) The main factor, the conscious and subconscious mind is focused on two different tasks at the same time.
Driving Hypnosis perfectly describes Dr. Nick Molinaro's statement of Shifting attention, being aware not distracted. When my mind is focused on the Jeep's grill- OIIIIIO-, my conscious mind gets out of the way of the subconscious mind. Because when the conscious mind is distracted, it allows the subconscious mind to take over what it does best.
This is shifting one's attention is exactly what the golfer wants to happen. Even Ty Webb, played by Chevy Chase in the movie Caddyshack, alluded to this coaching technique with his quote– I'm going to give you a little advice. There's a force (Subconscious mind) in the universe that makes things happen. And all you have to do is get in touch with it, stop thinking (applied Driving Hypnosis), let things happen, and be the ball (Objective).
The Key is to Perform and Stop Thinking
The key phrase is Stop Thinking! Trust your training. In The ESPY Golf Swing Coach elements of Sync, Preset, and Yaw, my subconscious mind just proceed through a series of simple elements we perform every day.
If the golfer trains their subconscious mind and muscles with a familiar routine (SPY) task, they can develop a golfer's strike zone mentality. Just by allowing the mind to focus on something totally different than the golf swing, the golfer can use the image of the Jeep's grill- OIIIIIO.
But, I'm like the driver under the influence of Driving Hypnosis, the conditions are familiar to what I want to experience as the golfer. The golfer must train under similar conditions that they will be playing on the course, like the 405- Training Drill. The golfer develops a high degree of confidence that allows them to relax the conscious mind.
And to start the automatic process, the golfer's conscious mind focuses on something other than their golf swing techniques. Use your favorite classic car image to develop the Golfer's Strike Zone Swing Coach Technique is a great sports psychologist technique. By using this swing coach technique, mental imaging, and the ESPY Golf Swing, I believe you will see more consistency in your golf game and write down lower scores on your scorecard.
My book can also be purchased at Edwin Watts Golf Store in Jackson, Mississippi. Phone No. 601-956-8784
820 East County Line Road, Ridgeland, MS 39157