The QATSPY Golfer's Sports Page: Golf Swing Tips

By: Charles W. Boatright
ASPEN Self-coaching System for Golfers
The ASPEN (Apperception, Sequence, Prep Performance, Extra Sensory, Neuromuscular) Self-coaching system, is a forum for coaching golf. This Quintessential Apperception Technique (QAT) takes the golfer's baseball swing from the batter's box to the tee box. This ASPEN Self-Coaching forum is based on what sports psychologists called Mental Imagery in Sports, or Context-Based Learning. These two concepts are at the centerpiece of the ASPEN Self-coaching system, a forum that my grandfather, Homer Q. Boatright, developed in 1927, while vacationing in Yellowstone National Park. The Aspen trees I guess left an indelible impression on him, and the acronym fits his Quintessential coaching system.
To be an effective coach, you have to develop the conditions and environment for the student to learn by training their mind, and not just the physical component of the student. A coach can always provide students with information, techniques, and mechanics to apply to golf, but until the students understand the WHAT, WHY, and HOW, they can't retain and use the information, techniques, or mechanics over the long periods of time. The golfer might be able to use a new technique for a couple of holes, before their subconscious mind kicks-in. The ASPEN Self-Coaching forum allow students to essentially coach themselves.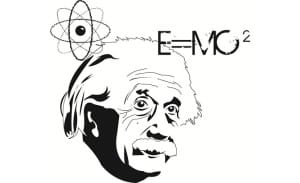 Albert Einstein, who is one of the best thinkers,  had four quotes that support both Mental Imagery and Context-Based Learning structures:
Imagination is more important than knowledge.
Imagination is everything. It is the preview of life's coming attractions.
I never teach my pupils, I only attempt to provide the conditions in which they can learn. Or I like to say, coach themselves.
The only source of knowledge is experience.
I refer to these four quotes as the four horsemen of learning philosophy.
The Golfer's ASPEN Self-coaching system Training Pyramid
My grandfather's QAT training pyramid that he developed is based on the acronym ASPEN (Apperception, Sequence, Prep Performance training, ExtraSensory, Neuromuscular) Self-Coaching Forum. Not only did his training pyramid help me to develop my golf game, but it also helped me through Engineering school. The ASPEN principles can be applied equally to all learning platforms.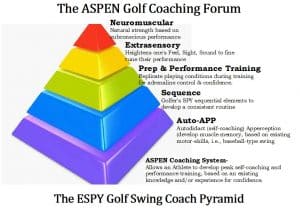 Apperception is an advanced learning process, or self-coaching system. This forms the base of the ASPEN Self-coaching pyramid, or Context-Based Learning. This allows the golfer to take skills and experience from a previous discipline, like baseball, and develop techniques for their golf game. The benefits of using Context-Based Learning is that it allows the golfer to incorporate the muscle memory and motor-skills from their familiar baseball-style swing to their golf swing. This provides the golfer with more confidence and command of their mental game of golf.
The additional benefit of incorporating the baseball-style golf swing is the fine motor-skills that are developed at a young age, usually before the age of eight. These motor-skills are usually are permanently register as a neuromuscular behavior. This becomes similar to learning to ride a bicycle; once you learn, you don't forget. The only thing the golfer needs to do is to convince their subconscious mind to transfer these skills to their golf swing.
Essentially, the ASPEN advanced self-coaching system allows the golfer to take their baseball-style golf swing from the batter's box to the tee box. One main advantage of this baseball-style golf swing has is that the batter rarely, if ever, thinks about their swing techniques or mechanics in the batter's box, especially looking at a 85-mph fastball.This is how the ESPY Golf Swing ASPEN Self-coaching forum was developed, where the golfer doesn't think about techniques or swing mechanics. They rely instead on their subconscious muscle memory and conscious focus, like riding a bicycle. Once you learn, you don't forget.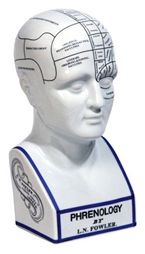 Sequence is a quintessential component in order for the subconscious mind to function correctly. To function at its peak performance, the subconscious mind must have a logical, repeatable sequence process to follow, like a mental walk-through. The Ergonomic process of Sync, Preset, and Yaw can allow the golfer to develop a repeatable sequence with consistency and confidence. The objective is to have the sequence be so dependable and repeatable that the golfer doesn't have to consciously think about their elements, but just focus on the objective.
Prep & Performance training replicates the same training conditions that the golfer will perform on the golf course. This is like the golfer taking a page out of the football practice book called scrimmage games. In The ESPY Golf Swing Coach training system, this is called The 405- Training Drilling. It allows the golfer to play a series of balls from tee to green similar to being on an actual golf course to achieve an 80 percent hitting average in their golf shots. Ninety percent of the golfer's success on the course will be tided to their preparation.
For the golfer to totally engage the subconscious mind, the golfer must replicate course conditions during their training sessions. If there is a discrepancy between training and performance conditions, the subconscious mind will invariably fall back to what its knows best and is confident in; and that might not be the hours the golfer just spent on the practice range. This might lead back to some bad habits, or what I call the Dr. Jekyll and Mr. Hyde Syndrome.
ExtraSensory is a key element in the development and the retention of a skill and/or knowledge. There is a quote that states that a picture is worth a thousand words. In the case of ExtraSensory, an mental image in the golfer's subconscious mind is worth a thousand hours of golf lessons and practice sessions.
ExtraSensory develops a strong mental image to directly engage the golfer's subconscious mind, or their muscle memory. The ESPY Golf Swing Coaching system uses two specific mental images, a pair of boxing gloves and the baseball-style golf swing to establish and consistently in executing the golf swing. One significant advantage of the subconscious mind is that it doesn't distinguish between the virtual world and reality.
If you what to experience this phenomena of the virtual world either put on a the Galaxy Virtual Goggles, or have a dream that when you wake up you have to asked yourself was it real or just a vision.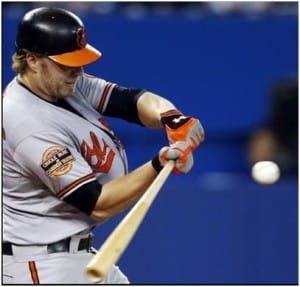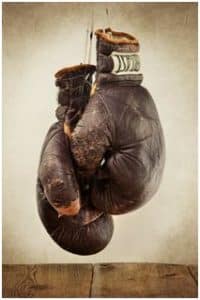 If you want to test this ExtraSensory theory, put on a virtual headset for your I- Phone, and your mind is convinced that it is experiencing what you are seeing. This is what the ESPY Golf Swing Coaching system does. If the golfer follows ASPEN self-coaching system contained in The ESPY Golf Swing Coaching, the actual golf shot is like déjà vu all over again.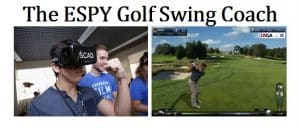 Neuromuscular performance and conditioning allow the golfer to have confidence in their subconscious muscle memory, instead of relying on a swing thought process to execute their golf shot. The mental image of the baseball-style golf swing and a pair of boxing gloves develops a Zone-like performance, where everything feels automatic and instinctive. This is how Wade Boggs describes his batting performance in the batter's box. Wade Boggs is 33rd in career batting average of 0.328. Just to give you a sense of the value of Wade's accomplishment, his 1983 rookie baseball card, shown below, is worth $1,472.99, not bad for a price of a piece of gum.
The ESPY Golf Swing Coaching system allows the golfer to take their baseball-style golf swing from the batter's box to the tee box.     
An additional article about applying ASPEN Self-Coaching Technique and Sports Psychology to your golf game is:
THE ESPY SELF-COACHING TECHNIQUE TO REDUCE YOUR HANDICAP AND FRUSTRATION
To learn more about the ASPEN Self-coaching and The ESPY Golf Swing Coaching system, purchase your copy of The ESPY Golf Swing Coach from the links below, or visit your local bookstore: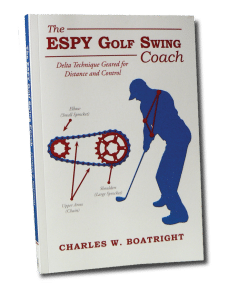 My book can also be purchased at Edwin Watts Golf Store in Jackson, Mississippi. Phone No. 601-956-8784
820 East County Line Road, Ridgeland, MS 39157
Please take advantage of my SR-925 Diet Program, where I lost 6 inches in my waist in 3- months (FREE of CHARGE) with the CASPER Workout Program, detailed in Section 20 of my book:
Please include an exercise routine in your weekly schedule.
Also, learning The ESPY Golf Swing Coach process is an excellent way to develop Rhythm without experiencing the Blues: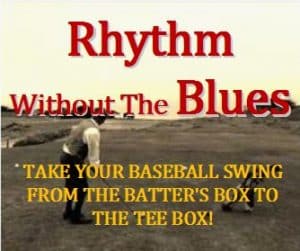 A Recommendation for your Golf Game:
I would like to recommend an interesting radio program that I regularly listen to from my home state Arkansas on my I-Heart Radio app on KARN 102.9 FM station, out of Little Rock, AR. They air a golf show called Arkansas Fairways and Greens, at 7:00 AM CT each Saturday morning, hosted by Bob Steel, and co-hosted by Jay Fox and Charles Crowson. Bob occasionally as has his guess Alex Myers with Golf Digest and Ron Sirak with Golf Channel. I was interviewed on his show about my book, The ESPY Golf Swing Coach. This show is worth tuning into for golf news and information.
Jay Fox is an Administrator with Arkansas State Golf Association that discuss amateur golf and rules of the game.