THE QATSPY GOLFER'S PAGE
By: Charles W. Boatright
Can you imagine being paid to work on your golf game at your work? Actually You Can!
It has been discovered that sitting is the new smoking concern its impact on your health while working on the job. Sitting doesn't only affect your health but also decreases your physical and mental ability. It is important to perform some form of physical exercise at least 10-minutes every hour while sitting at a desk and working on a computer, refer to the workstation below. This doesn't have to be strenuous exercises, but mainly stretching techniques. I have included some of these exercises below for your use. I encourage men and women who work in an office setting to adopt these in their daily routine. Especially look at how the wrists are in a flat neutral position to prevent tunnel carpal syndrome while at the key board. And how the eye are level with the terminal. Keep majority of the body in the natural position.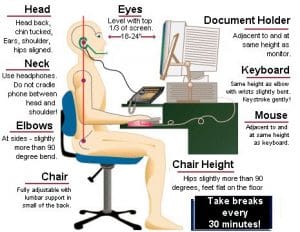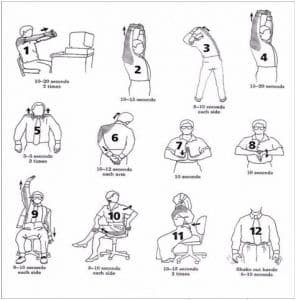 Along with these exercise are three other relief exercises that you can perform at your desk or workstation with these two procedures above. The first is an eye exercise, where every 15 minutes, you close your eyes for 10- seconds, then open your eyes and focus on a distance point. This reduces eyestrain and maintains proper vision. Second, keep a glass of water or tea near your desk. This ensures that you keep hydrated and helps to make sure that you get up and move.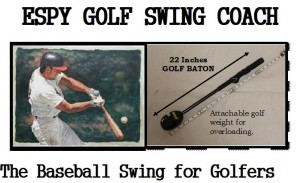 The third part of the relief exercises deals with improving your golf swing, using what I call the golf baton, see figure to the left. Baseball batters use this in the on-deck circle. The golf baton is a weighted golf club that the golfer can make using an old golf club shaft and placing a detachable weight on the end of the club, as shown. This allows the golfer to follow the specific over- and-under practice technique. This technique allows the golfer to set a key muscle, the Brachio-Radialis muscle, in the right forearm for the right-handed golfer. What is unique about the Brachio-Radialis muscle is that it performs three of the key maneuvers in the golf swing, the supinate, pronate the wrists, and flexes the elbow. All are key to the golf swing. The CAM and CAM-OVER in the ESPY Golf Swing sets this muscle.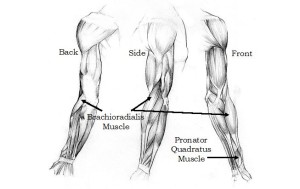 The over-weighted club should not exceed 20 percent of the weight of an actual club to be effective. Any more weight is detrimental to the golfer's timing and technique. This overload-underload technique will allow the golfer to increase their strength and also increase their normal golf practice routine by 410 percent over the average golfer's statistics of practicing their golf game for 1.138 hours per week. See the golf baton Link: http://goo.gl/D7iQcg
According to Malcolm Gladwell's book, The Outliers, he determines that it takes approximately 10,000 man-hours to become an expert or, in this case, a professional golfer. Through my experience and documentation of the golf swing over a period of 12-years, since 2002, I calculated that it takes approximately 7,000 man-hours to become a single-digit-handicap golfer. Single-digit handicap is a more reasonable goal, since golf is our passion and not our profession. The amateur golfer must develop an alternative approach to their routine practice due to their work schedule and other responsibilities in order to improve their golf game and handicap.
By using the ESPY Golf Swing and the golf baton at the office, the golfer can practice their golf swing for five minutes every hour at their desk or work station, while countering the negative effects of sitting for prolonged periods of time. Just by practicing the ESPY Golf Swing technique for five minutes at the end of every hour, twelve times per day, seven days per week, the golfer can gain 420 minutes of golf swing practice per week just by performing relief exercises that are healthy. This is like adding seven man-hours of practice time per week to improve your golf game. This type of practice, because it is virtual, involves mainly the subconscious mind. This is something different from the normal practice routine that involves mainly the physical portion of the golf game. Remember Yogi Berra's quote that can be applied to golf equally, "Baseball is 90 percent mental and the other half is physical."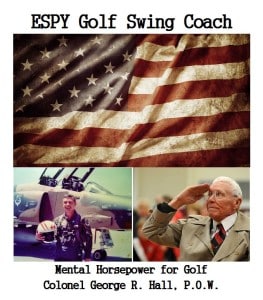 The significance of including the subconscious mind in your golf workout is that the subconscious mind determines how well the golfer will perform under actual playing conditions. This was a technique used by Colonel George Robert Hall, a P.O.W. held for seven-and-a-half years at the Hanoi Hilton. During those years, Colonel Hall's subconscious mind went through his golf swing routine everyday in his cell. Upon Colonel Hall's release, he shot a 76 at the Greater New Orleans Pro-Am Open, now called the Zurich Classic of New Orleans, this was within six weeks of his release in February of 1973. Not many professional golfers could accomplish this feat of being off seven-and-a-half years and still shot their handicap six weeks after returning to the game. Colonel Hall's handicap as a midshipman at Annapolis was four. Please refer to link: http://goo.gl/W1jAuC
The ESPY Golf Swing Coach focuses on the 90 percent mental part of the golf game that is sometimes neglected, even by professional golfers. During my interview with Colonel Hall at the Hattiesburg Country Club, I discovered that Colonel Hall used a similar technique detailed in the ESPY Golf Swing Coach that consists of three simple elements (SYNCH, PRESET, and YAW) to produce a consistent golf swing with power, speed, and control.
Please refer to the following link for more information: http://goo.gl/gkM39J.
By: QATSPY GOLF Approach
Charles W. Boatright
Madison, MS
1-888-514-1228
www.espygolfapp.com
The ESPY Golf Swing Coach– Price for Paperback $15.75 and E-Book $8.99, Hardback is also available on my website:  www.espygolfapp.com/store OR your local bookstore and also:
Lulu Publishing: The ESPY Golf Swing Coach, Charles W. Boatright
Amazon.com www.amazon.com/The-Espy-Golf-Swing-Coach/product-reviews/1483416356
Barnes & Noble.com http://www.barnesandnoble.com/w/the-espy-golf-swing-coach-charles-w-boatright/1120604749
Check out my full library of BLOGS @ www.espygolfapp.com/blog or purchase your copy of "The ESPY Golf Swing Coach" @ www.espygolfapp.com/store.
Facebook – The QATSPY Golf Approach
Twitter – @cwboatright
Google+ – ESPY Golf Swing Coach
YouTube – ESPY Golf Swing Coach
Once you learn WHY, you don't forget HOW!
YouTube Videos:
https://youtu.be/ZGVNrIw_wlo (Cam & Cam-over elements)
https://youtu.be/K2FDHZ3AX9w (Figuring your proper swing plane)
https://youtu.be/TO82PMO6G8M (Developing muscle memory)
Two decisions that you can make for yourself and your kids are to get a copy of my book and place the book and a golf club into their hands. You will never look back, but only forward. You will not miss with this for yourself and/or your kids.
A Recommendation for your Golf Game:
I would like to recommend a wonderful radio program that I regularly listen to on my I-Heart Radio app on KARN 102.9 FM station, out of Little Rock, AR. They air a golf show called "Arkansas Fairways and Greens," at 7:00 AM CT each Saturday morning, hosted by Bob Steel and Jay Fox. Bob occasionally has on his show a guest named Shawn Humphries, a Professional Golf Instructor from Dallas, Texas. One thing that Mr. Humphries stresses is the mental part of golf, not focusing on the results but the process.
Until next time– Be Synched, Tee-to-Green, with The ESPY Golf Swing!