The QATSPY Golf Swing Coach Sports Page
By: Charles W. Boatright
RIP Fitness APP to Improve Your Exercise Routine
A great golf swing workout to improve your golf game and include in your normal exercise routine is to increase the reps, or repetitions, of each exercise element. A great method for this is using the RIP Fitness APP, or Rest Interval Performance Fitness Approach. In any activity that we perform, whether work, sports, or exercise, breaks have been proven to be an important to the person's overall performance. Even when an athlete is training to run long distances, the best training technique is to run-and-walk until the runner can reach their training distance. This same approach can be applied to your normal exercise routine.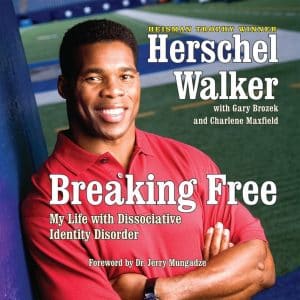 I use the RIP Fitness APP as part of my CASPER Workout Program that includes performing 100 sit-ups each day. Herschel Walker used sit-ups as a main component in his workout to achieve The All-American status and win The Heisman Trophy. The RIP Fitness APP that I use is where I perform 5 sets of 10 sit-up reps in the morning and again in the evening. Between the 5 sets of 10 sit-ups, I have a 10 to 15 count rest period before I continue to the next set of sit-up reps. This provides me with the ability to build my abdominal muscles, which is essential to my golf game by maintaining a strong core in order to prevent back injuries.
The CASPER Workout Program
I typically perform the twelve (12) exercise elements in my CASPER Workout Program four times per week, but I perform five of the CASPER Workout Program elements every day as part of my golf swing workout. These five golf swing workout elements consist of: Sit-ups, Abdominal Wheel, Stocking the Shelves using a 15-pound Medicine Ball, and an 80-pound Punching bag workout, and a three-mile bike ride. Strengthening the abdominal muscles is critical to my golf swing and is a predominant part of my daily golf swing workout routine. I don't perform my golf swing workout before I play golf, however. I just perform my GOLFER Q-Yoga routine to flex and help lubricate my joints.
The abdominal muscles are critical to provide power and speed in my golf swing, but even more essential to prevent injuries to my lower back. Abdominal muscles are important to prevent lower back pain and injuries that are common among golfers.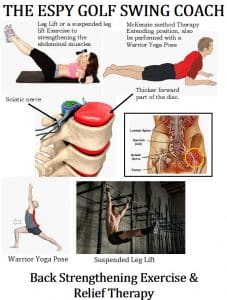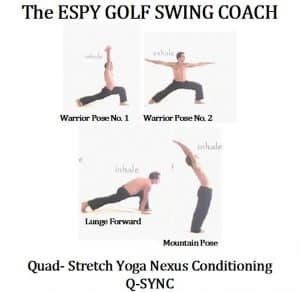 A great theory for your back is the McKenzie Method that I learned while attending Kinesiology school. Use the link to learn more about this method.
GPS Gear for Power and Speed Golf Swing Sequence
I depend on my abdominal muscles to provide the power I need to Gear up for my golf swing sequence. This is where I Preset my wrists and Sync my right elbow (I'm right-handed) with my shoulders to use them much like how I use gears on my ten-speed bicycle. The power I'm generating through the peddles of the bicycle is maximized, based on how the gears on the ten-speed are arranged.
The golfer can use their elbow to coil the shoulders and abdominal muscle to create power during the takeaway swing in order for the golfer to naturally reverse these gears in the downswing, where the shoulders are uncoiling to turn the golfer's elbows to create clubhead speed. Anyone who has compared the single-speed bicycle to that of the ten-speed realizes the advantages the ten-speed has over the single speed bicycle. There's simply no comparison.
The single-speed bicycle-type golf swing is how some amateur golfers are using to set up their golf swings. They are using the single-speed bicycle approach, where it is the middle of the road, not creating a significant amount of power nor speed.
David Duval and Ken Duke Golf Swing
Presetting the wrists is exactly what David Duval and Ken Duke demonstrated in each of their golf swings on Golf Channel, and Syncing the golfer's elbow is the tip that Arnold Palmer gave President Eisenhower, particularly concerning the President's right elbow. The GPS (Gear Preset and Sync) golf swing sequence allows the golfer to engage their abdominal muscles directly for more power, speed, and distance.
If you want the benefit of stronger abdominal muscles using the RIP Fitness APP, this will give you the ability for higher reps without experiencing fatigue or exhaustion. Even when you are working outside, especially during the summer period, taking breaks is important. I usually take a ten-minute break every hour while working. You'll actually accomplish more work by using this method. I depend on the RIP Fitness APP for working on my farm and for my golf game.
To learn more about the RIP Fitness APP for health and better golf swing, purchase your copy of The ESPY Golf Swing Coach from the links below, or visit your local bookstore: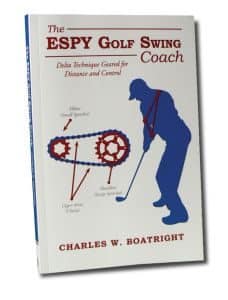 My book can also be purchased at Edwin Watts Golf Store in Jackson, Mississippi. Phone No. 601-956-8784
820 East County Line Road, Ridgeland, MS 39157
My book can also be purchased on-line at:
This book is based on a self-coaching forum that provides the beginner and advance single-digit handicap golfer with safe ergonomic classic golf swing for more power and control without debilitating injuries. As part of the ESPY Golf Swing Coach is a workout program designed especially for golfers and a effective diet program detailed below:
Please take advantage of my SR-925 Diet Program, where I lost 6 inches in my waist in 3- months (FREE of CHARGE) with the CASPER Workout Program, detailed in Section 20 of my book:
Please include an exercise routine in your weekly schedule.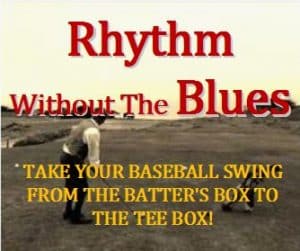 Also, learning The ESPY Golf Swing Coach process is an excellent way to develop Rhythm without experiencing the Blues in your golf game for confidence; learn how to take your baseball-style swing from the batter's box to the tee box.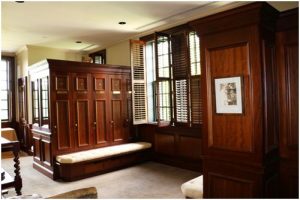 Please visit "The Locker Room" for an Index of all my golf articles to improve your golf game and life. Discover how you can take your baseball swing from the batter's box to the tee box.
For Comments or questions please contact me at 888-514-1228 Mon – Fri from 9 am to 4 pm CT Zone.
A Recommendation for your Golf Game:
I would like to recommend an interesting radio program that I regularly listen to from my home state Arkansas on my I-Heart Radio app on KARN 102.9 FM station, out of Little Rock, AR. They air a golf show called Arkansas Fairways and Greens, at 7:00 AM CT each Saturday morning, hosted by Bob Steel, and co-hosted by Jay Fox and Charles Crowson. Bob occasionally as has his guess Alex Myers with Golf Digest and Ron Sirak with Golf Channel. I was interviewed on his show about my book, The ESPY Golf Swing Coach. This show is worth tuning into for golf news and information.
Jay Fox is an Administrator with Arkansas State Golf Association that discuss amateur golf and rules of the game.
Check out my full library of BLOGS @ www.espygolfapp.com/blog or purchase your copy of "The ESPY Golf Swing Coach" @ www.espygolfapp.com/store.
Facebook – The QATSPY Golf Approach
Twitter – @cwboatright
Google+ – ESPY Golf Swing Coach
YouTube – ESPY Golf Swing Coach
Once you learn WHY, you don't forget HOW!
YouTube Videos:
https://youtu.be/ZGVNrIw_wlo (Cam & Cam-over elements)
https://youtu.be/K2FDHZ3AX9w (Figuring your proper swing plane)
https://youtu.be/TO82PMO6G8M (Developing muscle memory)
Two decisions that you can make for yourself and your kids are to get a copy of my book and place the book and a golf club into their hands. You will never look back, but only forward. You will not miss with this for yourself and/or your kids.
Until next time– Be Synched, Tee-to-Green, with The ESPY Golf Swing!