FITNESS FRIDAY
QATSPY GOLFER'S PAGE
By: Charles W. Boatright
Over half of all injuries in golf are due to not stretching or improper stretching before practicing or playing a round of golf.
The term Nexus- sequence of important connecting elements.
Just after I had hip replacement surgery in 2007 due to a rare disease, Perthes http://goo.gl/sCXZuy , I started incorporating yoga into my regular warm-ups before my workouts. This not only increases the range of motion, but I also increased my flexibility, which is a huge benefit for golfers.
The Quad- Stretch Yoga Nexus Conditioning (Q-SYNC) can be used even during the routine workout period, between elements as noted in the GOLFER Yoga Sequence Chart to the left. The Q-SYNC is also beneficial for golfers before practicing or a round of golf. I usually perform four sets of the Q-SYNC for the left and right sides. I usually start with Warrior No. 1 Pose before rotating into a Warrior No. 2 Pose, going to the Forward Lunge Pose, before ending with the Mountain pose as noted above in the Q-SYNC Figure.
This has another side benefit for golfers. It relaxes the golfer's mind and body. Relaxation is key for the golfer to increase both their consistency in their golf swing and focus like what Ty Webb was explaining to Danny in the movie Caddyshack about the process of Stop thinking…. and be the ball https://goo.gl/eOvz9J.
A great method to prep for a round of golf after performing Q-SYNC is to start hitting just chip and pitch shots first. This will increase the golfer's feel and control, or muscle memory, before hitting regular full golf shots on the range. This process that I use to prep for a round of golf also helps me develop my confidence. This allows my conscious mind to be shifted toward the objective, the ball, instead of interfering with me performing the actual golf swing. There's nothing worse than when the golfer starts to think about his/her swing mechanics or techniques. I refer to this as PAS, or Paralysis-Analysis Syndrome.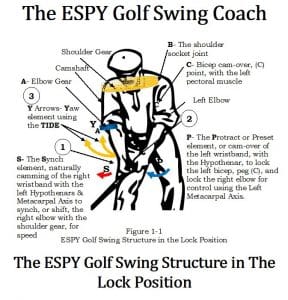 Just as important yoga is to relax the mind and body during a workout, yoga can also be used to relax the golfer's mind and body before and during a round of golf for better performance. I used the Q-SYNC technique last Monday before my first round of golf in twelve (12) weeks. During the twelve weeks off, I was rehabbing a pulled right Deltoid muscle, when I was clearing fallen trees across my fence row on my farm. The Yoga, along with my ESPY Golf Swing regimen in my book, The ESPY Golf Swing Coach, allowed be to shoot two under on the front nine. I just played nine-holes to prevent overworking a rehabbed right Deltoid muscle. I'm looking forward to playing 18-holes next Wednesday.
Links to relative Health and Fitness topics:
Concept of the SR-925 Diet- http://goo.gl/RX1HzC
SR-925 Food Selection calculator- http://goo.gl/S8pgWA
Results of my SR-925- http://goo.gl/AGulqo
Setup your own Home GYM 4- http://goo.gl/hsi3Ee
McKenzie Method exercise: http://goo.gl/U30YHk
Stocking the shelves Med Ball work out: http://goo.gl/8qYG9s
Method to prevent lower back problems: http://goo.gl/MO5Ltj
Boxing bag workout: http://goo.gl/6Usttm
Burpee Exercise and run in place tire exercise: http://goo.gl/ZCMu0I
Using overload/under-load 2 improve your golf swing: http://goo.gl/4hBMAv
Ergo, strength and Conditioning training: https://goo.gl/URyGU2
By: The QATSPY Golf Approach
Charles W. Boatright
Madison, MS
1-888-514-1228
The ESPY Golf Swing Coach:
Paperback $15.75
E-Book $8.99
Hardbacks, signed if desired, are also available
Purchase a copy of The ESPY Golf Swing Coach on my website, www.espygolfapp.com/store OR at your local bookstore.
You may also purchase my book from one of the following retailers:
Lulu Publishing: The ESPY Golf Swing Coach, Charles W. Boatright
Amazon.com: www.amazon.com/The-Espy-Golf-Swing-Coach/product-reviews/1483416356
Barnes & Noble.com: http://www.barnesandnoble.com/w/the-espy-golf-swing-coach-charles-w-boatright/1120604749
Check out my full library of QATSPY GOLF BLOGS @ www.espygolfapp.com/blog
Facebook – The QATSPY Golf Approach
Google+ – ESPY Golf Swing Coach
YouTube – ESPY Golf Swing Coach
Once you learn WHY, you don't forget HOW!
YouTube Videos:
https://youtu.be/ZGVNrIw_wlo (Cam & cam-over elements)
https://youtu.be/K2FDHZ3AX9w (Figuring your proper swing plane)
https://youtu.be/TO82PMO6G8M (Developing muscle memory)
You can make a difference for yourself and your kids by placing a golf club and a copy of my book into their hands. You will never look back, only forward. You should not miss this opportunity for yourself and/or your kids.
A Recommendation for your Golf Game:
I would like to recommend a wonderful radio program that I regularly listen to on my I-Heart Radio app on KARN 102.9 FM, out of Little Rock, AR. They air a golf show called "Arkansas Fairways and Greens," at 7:00am CST on Saturday mornings. It is hosted by Bob Steel and Jay Fox. Bob occasionally has on his show a guest named Shawn Humphries, a Professional Golf Instructor from Dallas, TX. One thing that Mr. Humphries stresses is the mental part of golf, not focusing on the results but the process.
Until next time– Be Synced, Tee-to-Green, with The ESPY Golf Swing!