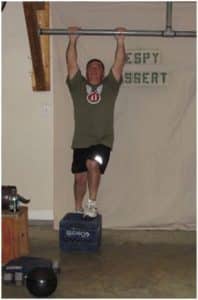 FITNESS FRIDAY
QATSPY GOLFER'S PAGE
By: Charles W. Boatright
Plyometrics is a great and important component to incorporate into your exercise routine. Plyometrics, or jumping aspect, excerpts maximum force on the core (high threshold) muscles during short time intervals. The reason Plyometrics is important to especially the golfer is the amount of speed and power that can be produced during the golfer's swing at impact. The golfer depends on their core muscles, shoulder, back, abdominal and quad muscles, to generate both speed and the ability to transfer power, without having to depend on swinging the arms and forearms faster. Wrong thing to do to swing the arms faster, the golfer will actually lose speed. This is based on basic sprocket mechanics applied to the body that my book, The ESPY Golf Swing Coach, is based.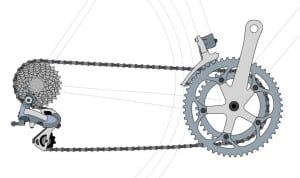 Using the core muscles allows, the golfer sets up an important mechanical advantage refer to as the body's natural sprocket mechanics, where the large sprocket, the shoulders, turns the small sprocket, the elbows, to create one of the basic fundamentals, speed, where the large sprocket turns the smaller sprocket and ability to use the arms and forearms to transfer power from the core muscles.
Incorporating Plyometrics into the golfer's normal exercise routine will allow the golfer to create a tremendous amount of power and speed in the golf swing. There are three low impact elements that are a part of my normal CASPER Workout Program. These three Plyometrics components are called Medicine Ball Burpee, Pull-up Assisted jump, and High Leg jog-in-place exercises.
The following are the details and illustrations of three simple Plyometric exercises people can incorporate into their normal exercise routine: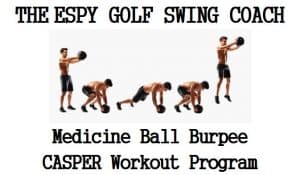 Medicine Ball Burpee– Use a Medicine Ball, held extended at chest level, in position No. 1 and proceed in the following manner (The steps are starting with one and processing through five to the right):
Squat down holding the Medicine Ball and place the ball on the floor.
With both legs, jump or leap backwards into a raised push-up position.
Using a mountain-climbing component, jump forward.
From a squat position in step No. 4, jump or spring upward, shown in step No. 5. One adjustment could include just thrusting upward, without jumping off the floor. The person would just spring up without lifting the feet off the floor. What can be done for a low impact intense exercise with the Medicine Ball Burpee is to spring upward with just enough force to lift the heels off the floor, but keep the toes on the floor. This alternative method is great for older or people rehabbing. I have a hip replacement so low impact workout is necessary, I just spring upward just lifting my heels off the floor.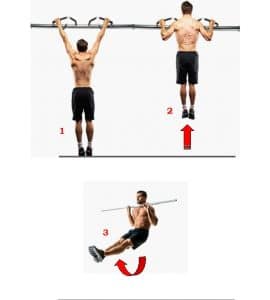 Chin-up Bar Assisted Jump-up– allows the person to use the chin-up bar to reduce the rebound impact on knees and lower back while taking advantage of thrusting or jump-up exercise position No. 2 without having to experience a hard impact landing. I follow this Chin-up Bar Assisted Jump-up with the Assisted Chin-ups shown In the introductory illustration, I'm shown here performing a assisted Chin-up exercise.
With feet placed on the floor with the knees slightly bent and the arms extended where the hands can grip the chin-up bar position No. 1.
The person thrusts upwards in position No. 2, where the person's chin is just above the bar and held while the person raises the legs at the hips to work the ab muscles in Position No. 3.
To reduce the rebound impact on the lower back and knees, the person needs to slowly lowers themselves back down into position No. 1.
Jog-In-Place High Step Tire Run- This is an exercise that I do between my exercise routines to include additional Plyometric component. I normally do the jog-in-place high step tire run for 30 steps counting every time my left foot hits the floor.
These three exercises and jumping rope are great ways to work the high Threshold core muscles that are important to the golfer for power and speed in their golf swing and for the person just wants to enhance his/her endurance and stamina.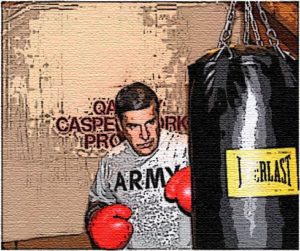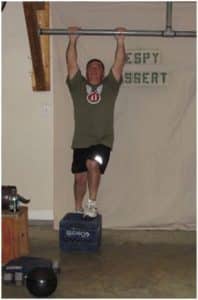 One addition Plyometric exercise I include in my workout is kick boxing during my punching bag workout for 2- 3 minute rounds.
If you want to turbocharge your exercise routine, just add a few Plyometric exercises in your normal routine to increase both your endurance and stamina. These particular type of Plyometric exercises offer a low-impact workout for the golfer, while reducing injuries to the knee and lower back. If you want to see a remarkable improvement and benefit from your exercise routine, incorporate a Plyometric element. This will add distance to your golf shots, while improving your stamina.
Links to relative Health and Fitness topics:
Concept of the SR-925 Diet- http://goo.gl/RX1HzC
SR-925 Food Selection calculator- http://goo.gl/S8pgWA
Results of my SR-925- http://goo.gl/AGulqo
Setup your own Home GYM 4- http://goo.gl/hsi3Ee
McKenzie Method exercise: http://goo.gl/U30YHk
Stocking the shelves Med Ball work out: http://goo.gl/8qYG9s
Method to prevent lower back problems: http://goo.gl/MO5Ltj
Boxing bag workout: http://goo.gl/6Usttm
Burpee Exercise and run in place tire exercise: http://goo.gl/ZCMu0I
Using overload/under-load 2 improve your golf swing: http://goo.gl/4hBMAv
Using the Q-Sync to reduce injuries/improve flexibility: https://goo.gl/uXsMo2
Using Nutrition Labels on package foods to lose weight: https://goo.gl/LpOzxc
Celebrate our Vets, include them in your foursome: https://goo.gl/kRgJr3
By: The QATSPY Golf Approach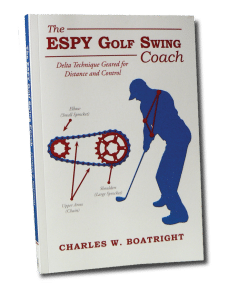 Charles W. Boatright
Madison, MS
1-888-514-1228
The ESPY Golf Swing Coach:
Paperback $15.75
E-Book $8.99
Hardbacks, signed if desired, are also available
Purchase a copy of The ESPY Golf Swing Coach on my website, www.espygolfapp.com/store OR at your local bookstore.
You may also purchase my book from one of the following retailers:
Lulu Publishing: The ESPY Golf Swing Coach, Charles W. Boatright
Amazon.com: www.amazon.com/The-Espy-Golf-Swing-Coach/product-reviews/1483416356
Barnes & Noble.com: http://www.barnesandnoble.com/w/the-espy-golf-swing-coach-charles-w-boatright/1120604749
Check out my full library of QATSPY GOLF BLOGS @ www.espygolfapp.com/blog
Facebook – The QATSPY Golf Approach
Google+ – ESPY Golf Swing Coach
YouTube – ESPY Golf Swing Coach
Once you learn WHY, you don't forget HOW!
YouTube Videos:
https://youtu.be/ZGVNrIw_wlo (Cam & cam-over elements)
https://youtu.be/K2FDHZ3AX9w (Figuring your proper swing plane)
https://youtu.be/TO82PMO6G8M (Developing muscle memory)
You can make a difference for yourself and your kids by placing a golf club and a copy of my book into their hands. You will never look back, only forward. You should not miss this opportunity for yourself and/or your kids.
A Recommendation for your Golf Game:
I would like to recommend a wonderful radio program that I regularly listen to on my I-Heart Radio app on KARN 102.9 FM, out of Little Rock, AR. They air a golf show called "Arkansas Fairways and Greens," at 7:00am CST on Saturday mornings. It is hosted by Bob Steel and Jay Fox. Bob occasionally has on his show a guest named Shawn Humphries, a Professional Golf Instructor from Dallas, TX. One thing that Mr. Humphries stresses is the mental part of golf, not focusing on the results but the process.
Until next time– Be Synced, Tee-to-Green, with The ESPY Golf Swing!