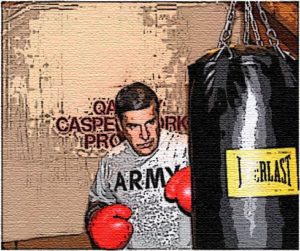 FITNESS FRIDAY
THE QATSPY GOLFER'S PAGE
By: Charles W. Boatright
Two of the most important components in the golf swing to develop power, acceleration, control, and speed (PACS) are oftentimes overlooked during the routine workout. These have the most impact on the golfer's ability to produce a consistent golf swing and shot.
The Thenars (Thenar and Hypothenar) and also the wrists are two areas that the golfer needs to address during the routine workout. The thenars are in direct contact with the handle of the club and are the strongest muscles in the wrists. The thenars are capable of transferring the power generated from the upper and lower body, including the powerful forearms.
Even Ben Hogan referenced the thenars in his book, Five Lessons: The Modern Fundamentals of Golf. The thenars are crucial not only to the golfer's swing but also to the grip. It goes to reason that a muscle that has direct contact with the handle of the golf club bears our attention during our workout.
Below is the diagram of the thenars and one other muscle, the Brachio-Radialis muscle that I use to develop muscle memory for a consistent golf swing. These two muscles are the missing links for improving your golf swing.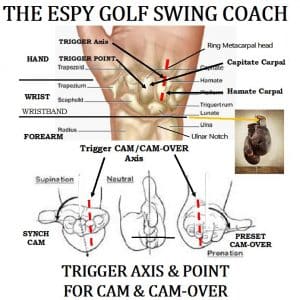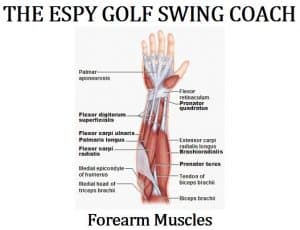 Three methods on working these two muscles are 1) Handball compression, 2) Curls with free weights, and 3) Working out with a punching bag for a minimum of two or three minute rounds. I include both in my CASPER Workout Program in Section 20 of my book, The ESPY Golf Swing Coach.
Developing muscle memory for the golf swing shouldn't end with golf practice and/or training. It should become part of your regular workout exercise as well.
Presetting the wrists is essential in golf, and setting these two muscles is critical. The wrist is not the lower forearm, but is between the forearm and the hand. So, if you are thinking where one would wear the wristwatch, that would be incorrect. The two muscles, the Thenar and Hypothenar, comprise the wrists, with eight small bones called carpals. There two carpals are used to preset the wrists by supinating and pronating. These are the Hamate and the Capitate carpals.
What is unique about the Brachio-Radialis muscle is unlike most muscles that  have one function, since the Brachio-Radialis muscle has three functions. This muscle can supinate, pronate the wrist, and retract the forearm at the elbow. All three are essential in the golf swing.
So during your exercise routine exchange your golf bag and golf glove for a different type of bag and gloves, a punching bag and a pair of boxing gloves to improve your golf swing.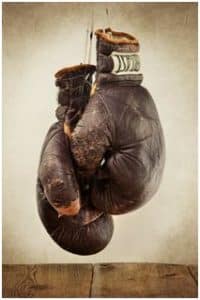 Links to relative Health and Fitness topics:
Concept of the SR-925 Diet- http://goo.gl/RX1HzC
SR-925 Food Selection calculator- http://goo.gl/S8pgWA
Results of my SR-925- http://goo.gl/AGulqo
Setup your own Home GYM 4- http://goo.gl/hsi3Ee
McKenzie Method exercise: http://goo.gl/U30YHk
Stocking the shelves Med Ball work out: http://goo.gl/8qYG9s
Method to prevent lower back problems: http://goo.gl/MO5Ltj
Boxing bag workout: http://goo.gl/6Usttm
Burpee Exercise and run in place tire exercise: http://goo.gl/ZCMu0I
Using overload/under-load 2 improve your golf swing: http://goo.gl/4hBMAv
By: The QATSPY Golf Approach
Charles W. Boatright
Madison, MS
1-888-514-1228
The ESPY Golf Swing Coach:
Paperback $15.75
E-Book $8.99
Hardbacks, signed if desired, are also available
Purchase a copy of The ESPY Golf Swing Coach on my website, www.espygolfapp.com/store OR at your local bookstore.
You may also purchase my book from one of the following retailers:
Lulu Publishing: The ESPY Golf Swing Coach, Charles W. Boatright
Amazon.com: www.amazon.com/The-Espy-Golf-Swing-Coach/product-reviews/1483416356
Barnes & Noble.com: http://www.barnesandnoble.com/w/the-espy-golf-swing-coach-charles-w-boatright/1120604749
Check out my full library of QATSPY GOLF BLOGS @ www.espygolfapp.com/blog
Facebook – The QATSPY Golf Approach
Google+ – ESPY Golf Swing Coach
YouTube – ESPY Golf Swing Coach
Once you learn WHY, you don't forget HOW!
YouTube Videos:
https://youtu.be/ZGVNrIw_wlo (Cam & cam-over elements)
https://youtu.be/K2FDHZ3AX9w (Figuring your proper swing plane)
https://youtu.be/TO82PMO6G8M (Developing muscle memory)
You can make a difference for yourself and your kids by placing a golf club and a copy of my book into their hands. You will never look back, only forward. You should not miss this opportunity for yourself and/or your kids.
A Recommendation for your Golf Game:
I would like to recommend a wonderful radio program that I regularly listen to on my I-Heart Radio app on KARN 102.9 FM, out of Little Rock, AR. They air a golf show called "Arkansas Fairways and Greens," at 7:00am CST on Saturday mornings. It is hosted by Bob Steel and Jay Fox. Bob occasionally has on his show a guest named Shawn Humphries, a Professional Golf Instructor from Dallas, TX. One thing that Mr. Humphries stresses is the mental part of golf, not focusing on the results but the process.
Until next time– Be Synced, Tee-to-Green, with The ESPY Golf Swing!