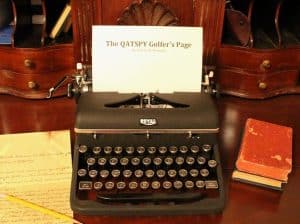 FITNESS FRIDAY
THE QATSPY GOLFER'S PAGE
By: Charles W. Boatright
Jen Murphy, reporter with The Wall Street Journal, conducted a recent interview with Troy Aikman, retired Quarterback with the Dallas Cowboys. The interview concerned his fitness routine to address his back issues and his diet regimen to avoid weight gain that he was concern about after his retirement. Initially, his fitness routine focused on strength and cardio training that still did not alleviate his back problems, but actually exacerbated his back problems as he explained in the article that was published 21Nov2016.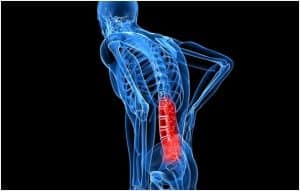 Troy Aikman's problems with his initial fitness program was it did not adequately addressing his back issues, this is not an isolated case. The reason why, back issues can't be alleviated with certain strength training regimens alone, is because the fitness and training doesn't address the core muscles including the back and especially the abdominal muscles, used to provide the critical stability and balance needed for back fitness and health. Without strengthening the abdominal muscles there is little to no improvement realized in the back area.
Without getting too deep into specifics of kinesiology, muscles are comprised of two different type fibers. The first muscle-type are the muscles that are engaged initially called low threshold (slow-twitch) muscles, or what I like to refer to as LOW and SLOW muscles. These are the smaller muscles, mainly in the limbs, responsible for high reps, low weight lifting capacity, with slow burst of energy, these are the darker red muscles. The second muscle-type are what I refer to as backup muscles called High threshold (fast-twitch) muscles, or HIGH and FAST muscles, the lighter color muscles located mainly in the torso, or core of the body. These are what I refer to as the larger backup muscles.
The larger muscles are responsible for high or heavier weight-lifting capacity, with fast burst of energy. This is one reason why Bo Jackson turned in a 4.12/40, because he was able to engage the HIGH and FAST muscles that are also important to the golfer to improve their golf swing with speed and power.
Another way to look how these two muscle-types are used is the contrast between the 40-yard dash, like Bo Jackson ran, using the HIGH and FAST muscles versus the LOW and SLOW muscles required to run a marathon, endurance muscles.
The HIGH and FAST muscles are the muscles that are responsible for back health, balance, and stability. These muscles require special strength training techniques that some exercise programs do not adequately address. One of the best methods to address these High capacity and Fast burst muscles is yoga using a Medicine Ball, or what I call Amp-Yoga. Like any yoga instructor will attest to, yoga focuses on working the core muscles for emotional and physical stability with emphases on flexibility and balance, that are critical in golf. Yes I did use the term emotional, because golf is 90 percent mental confidence, and confidence is KING in golf.
I specifically include elements of Amp-yoga in my CASPER (Cardiovascular, Aerobic, Strength, and Plyometric Exercises Regimen) Workout Program that includes some of the poses working with a Medicine Balls (between 6 to 20 lbs) to provide power and speed in my golf swing. Core muscles are critical, due to the high power/sudden burst of energy needed at impact in the golf swing. In Section 1.12 of my book, The ESPY Golf Swing Coach, I discuss how speed is generated from the core muscles and not from swinging the arm faster-
1.12   The Delta technique provides the golfer with the ability to produce speed and power by incorporating the lat, abdominal, and quad muscles. Professionals confirm this by describing how speed is generated from the shoulders and the core muscles, not by swinging the arms faster. The shoulders and core muscles develop inertia, or momentum, in the golf swing.
The Delta technique allows me to generate power by allowing the elbows to rotate the shoulders to the top of the swing. Then during the downswing, the shoulders rotate the elbows for speed. Strengthening the core muscles using the Amp-Yoga process during my CASPER Workout Program allows me to ergonomically generate the power and speed needed without injury to my back, shoulders, or elbows. Following are some of the specific Amp-Yoga elements that I use in the CASPER Workout:
Standard Forward Bend followed with Chair Pose using Med Ball-
Warrior Pose No. 1 with Med Ball
Stocking the Shelves with Med Ball (see blog below)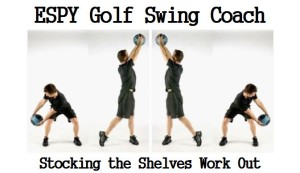 Medicine Ball Burpee (see blog below)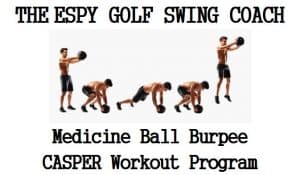 Also refer to my blogs on the following topics:
ONE FOOT FORWARD PICK-UP METHOD TO PREVENT BACK INJURIES! (golfer or athlete picking up golf ball and weight correctly) http://goo.gl/MO5Ltj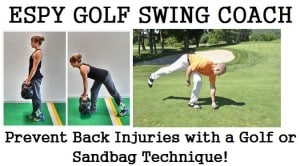 One of the best habits to get into is to place one foot forward before bending down, regardless of what you are picking up. This will ensure that you bend at the knees and hips, instead of the waist. Golf Instruction 101 is that the golfer bends at the hips and turns at the waist. DO NOT ever bend at the waist!
MEDICINE BALL BURPEE, A GREAT GOLF EXERCISE WORKOUT: http://goo.gl/T6qOfN
The last part of The Wall Street Journal article described a diet outline that Troy Aikman follows. I have developed a very effective diet plan that focuses more on when to eat, instead of what to eat that allowed me to lose 5.5 inches in my waistline, within six-months of starting the SR-925 Diet Plan in December of 2014. This is absolutely FREE to use and share with others:
925 Concept- http://goo.gl/RX1HzC; Food Selection for Weight Factor- http://goo.gl/S8pgWA; My results of the 925- http://goo.gl/AGulqo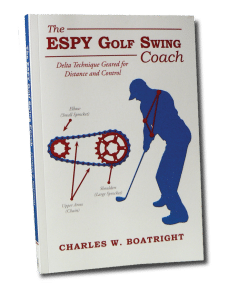 For the full CASPER Workout Program and to discover how to produce a golf swing that takes your baseball swing from the batter's box to the tee box producing power, acceleration, control, and speed, please purchase your copy of The ESPY Golf Swing Coach.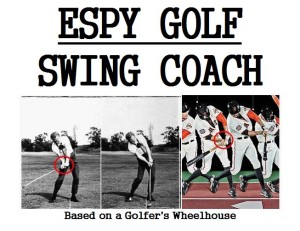 By: The QATSPY Golf Approach
Charles W. Boatright
Madison, MS
1-888-514-1228
The ESPY Golf Swing Coach:
Paperback $15.75
E-Book $8.99
Hardbacks, signed if desired, are also available
Purchase a copy of The ESPY Golf Swing Coach on my website, www.espygolfapp.com/store OR at your local bookstore.
You may also purchase my book from one of the following retailers:
Lulu Publishing: The ESPY Golf Swing Coach, Charles W. Boatright
Amazon.com: www.amazon.com/The-Espy-Golf-Swing-Coach/product-reviews/1483416356
Barnes & Noble.com: http://www.barnesandnoble.com/w/the-espy-golf-swing-coach-charles-w-boatright/1120604749
Check out my full library of QATSPY GOLF BLOGS @ www.espygolfapp.com/blog
Facebook – The QATSPY Golf Approach
Google+ – ESPY Golf Swing Coach
YouTube – ESPY Golf Swing Coach
Once you learn WHY, you don't forget HOW!
YouTube Videos:
https://youtu.be/ZGVNrIw_wlo (Cam & cam-over elements)
https://youtu.be/K2FDHZ3AX9w (Figuring your proper swing plane)
https://youtu.be/TO82PMO6G8M (Developing muscle memory)
You can make a difference for yourself and your kids by placing a golf club and a copy of my book into their hands. You will never look back, only forward. You should not miss this opportunity for yourself and/or your kids.
A Recommendation for your Golf Game:
I would like to recommend a wonderful radio program that I regularly listen to on my I-Heart Radio app on KARN 102.9 FM, out of Little Rock, AR. They air a golf show called "Arkansas Fairways and Greens," at 7:00am CST on Saturday mornings. It is hosted by Bob Steel and Jay Fox. Bob occasionally has on his show a guest named Shawn Humphries, a Professional Golf Instructor from Dallas, TX. One thing that Mr. Humphries stresses is the mental part of golf, not focusing on the results but the process.
Until next time– Be Synced, Tee-to-Green, with The ESPY Golf Swing!