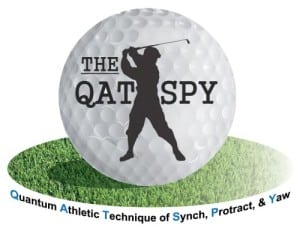 THE QATSPY GOLFER'S PAGE
By: Charles W. Boatright
The CASPER (Cardio, Aerobic, Strength, Plyometrics Exercise Regimen) Workout is for general fitness, health, and mental wellness. To maintain a productive and an active lifestyle for people of all ages, a person needs to adopt the philosophy of what benefits the body and the heart also benefits the mind as well. One great feature of this is that during an exercise regimen, a person can develop focus and meditation skills that allow them to be used in actual life situations. You will need all the focus and meditation ability when you are on the first tee box or over a critical chip or pitch shot just off the green.
There is no reason why, even as a person ages, even during retirement, a person shouldn't be able to enjoy and maintain an active lifestyle, including sports like baseball, softball, golf, jogging, basketball, power walking, weight training, boxing, swimming, hiking, kayaking, and other activities as part of their fitness. The key is to exercise and maintain a healthy diet, like the SR-925 Diet Program http://goo.gl/R52K67.
The healthcare profession is expressing concern with people who have adopted sedentary lifestyles, without even being aware of the dangers or that they are participating in this condition. It is not difficult to sit down and work on a computer for one to two hours and not be aware of the time spent sitting. Sitting is now considered the new smoking danger and its impact on health.
To deal with this sedentary lifestyle and improve one's physical and mental fitness, I developed the CASPER Workout that can fit into a person's daily schedule. This requires a minimum amount of equipment to purchase and to set up your own home gym. The reason I prefer a home gym is convenience. If it is convenient, people will be more likely to participate. I worked as a grid engineer with an electrical utility, and one thing I learned about putting together projects was that if it wasn't convenient, linemen will not follow the work processes.
Two of the main focuses of the CASPER Workout is reducing stress on joints and muscles, while conditioning the body. I wanted the minimum weight and exercise that would provide the maximum benefit for the body. This is why I included Medicine Balls, Resistance Tubing, and dumbbells with the majority of the exercises, with weights ranging from 10 lb to 35 lb in the 12 workouts. What's great about the CASPER Workout is that the person can increase reps or weight as needed, based on conditions and their needs. The CASPER even works for people who are rehabbing by following limited reps and weights.
The key is to assist and encourage the person to perform the 12 workouts and see progress, is not to overwhelm and discourage the person. The goal in any exercise regimen is consistency. It's just like investing for your retirement; the sooner and more frequent you participate, the better the results. There are two examples of this type of approach in the CASPER Workout. One element is Assisted Pull-ups and the other element is Stocking the Shelves, using a Medicine Ball. This is great for golfers who are trying to gain power and speed in their golf swing.
Assisted Pull-Ups: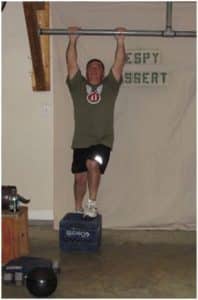 The goal of any exercise is to tailor the exercise for the specific muscle group. In pull-ups, the forearm, arm, and shoulder muscles are mainly being worked. These are considered Low Threshold or slow-twitch muscles responsible for performing light duty, high-frequency (reps) performance. The exercise should fit the actual performance. This is the reason for the using the Assisted Pull-Ups regimen, as noted here in this photograph, by performing between 24 to 40 reps. Why place the full body weight on a muscle group not designated for that type of performance? This assisted pull-ups exercise is designed to limit the pull up weight to approximately 45 to 50 percent of the full body's weight.
Stocking the Shelves: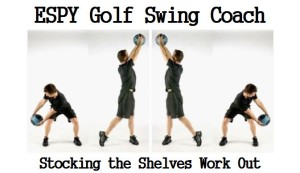 This exercise works the core muscles in the torso, abdominal, and quad muscles. These are High Threshold or fast-twitch muscles responsible for performing heavy duty, low-frequency sudden bursts of energy work. This is the reason I include a Medicine Ball (10 lb to 20 lb) performing 10 to 25 reps http://goo.gl/8qYG9s.
Of all 12 exercises I perform in the CASPER Workout, this is the most challenging for me. This take a lot of energy to perform and works the full body base on how the body works at its maximum efficiency.
The ESPY Golf Swing technique merges two group of muscles, similar to how sprockets on a ten-speed bicycle work to provide both power and speed. Power is combined to coil the massive High Threshold muscles in the upper and lower body with the speed of the muscles in the arm, forearm, and wrist, or Low Threshold muscles. This is based on simple sprocket mechanics applied to the golf swing.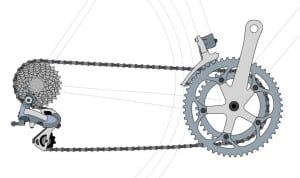 To understand the difference between Low-Threshold muscles is like a sprinter would have thin and lean muscles, compared to High-Threshold muscles, like a running back would have in football. The Low-Threshold muscles of a sprinter are geared for long distance running, where energy is being consumed over a longer period of time. The High-Threshold muscles are massive for sudden bursts of high energy, like how a fullback would use in running the 40-yard dash. Bo Jackson proved this when he ran a 4.13/40 http://goo.gl/MQeVms.
The other difference between High and Low Threshold muscles is the color of the muscle tissue. High Threshold muscles are dependent on an exterior energy source. This is why chicken breast meat is a lighter color. Low Threshold muscles can provide their own energy source. This is why the drumstick is darker meat.
I include Plyometrics in my CASPER Workout as part of the Burpee exercise below and perform a modified pull-up exercise. I use a modified pull-up exercise to jump up chest high to the bar, then lower myself slowly using my arms and forearms. This gives a new meaning to bar hopping. This reduces impact on the discs and improve joint health.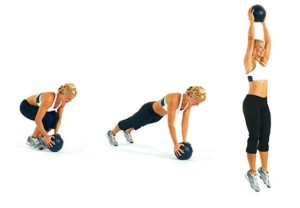 By: QATSPY GOLF Approach
Charles W. Boatright
Madison, MS
1-888-514-1228
www.espygolfapp.com
The ESPY Golf Swing Coach– Price for Paperback $15.75 and E-Book $8.99, Hardback is also available on my website: www.espygolfapp.com/store OR your local bookstore and also:
Lulu Publishing: The ESPY Golf Swing Coach, Charles W. Boatright
 Amazon.com www.amazon.com/The-Espy-Golf-Swing-Coach/product-reviews/1483416356
Barnes & Noble.com http://www.barnesandnoble.com/w/the-espy-golf-swing-coach-charles-w-boatright/1120604749
Check out my full library of BLOGS @ www.espygolfapp.com/blog or purchase your copy of "The ESPY Golf Swing Coach" @ www.espygolfapp.com/store.
Facebook – The QATSPY Golf Approach
Twitter – @cwboatright
Google+ – ESPY Golf Swing Coach
YouTube – ESPY Golf Swing Coach
Once you learn WHY, you don't forget HOW!
YouTube Videos:
https://youtu.be/ZGVNrIw_wlo (Cam & Cam-over elements)
https://youtu.be/K2FDHZ3AX9w (Figuring your proper swing plane)
https://youtu.be/TO82PMO6G8M (Developing muscle memory)
Two decisions that you can make for yourself and your kids are to get a copy of my book and place the book and a golf club into their hands. You will never look back, but only forward. You will not miss with this for yourself and/or your kids.
A Recommendation for your Golf Game:
I would like to recommend a wonderful radio program that I regularly listen to on my I-Heart Radio app on KARN 102.9 FM station, out of Little Rock, AR. They air a golf show called "Arkansas Fairways and Greens," at 7:00 AM CT each Saturday morning, hosted by Bob Steel and Jay Fox. Bob occasionally has on his show a guest named Shawn Humphries, a Professional Golf Instructor from Dallas, Texas. One thing that Mr. Humphries stresses is the mental part of golf, not focusing on the results but the process.
Until next time– Be Synched, Tee-to-Green, with The ESPY Golf Swing!